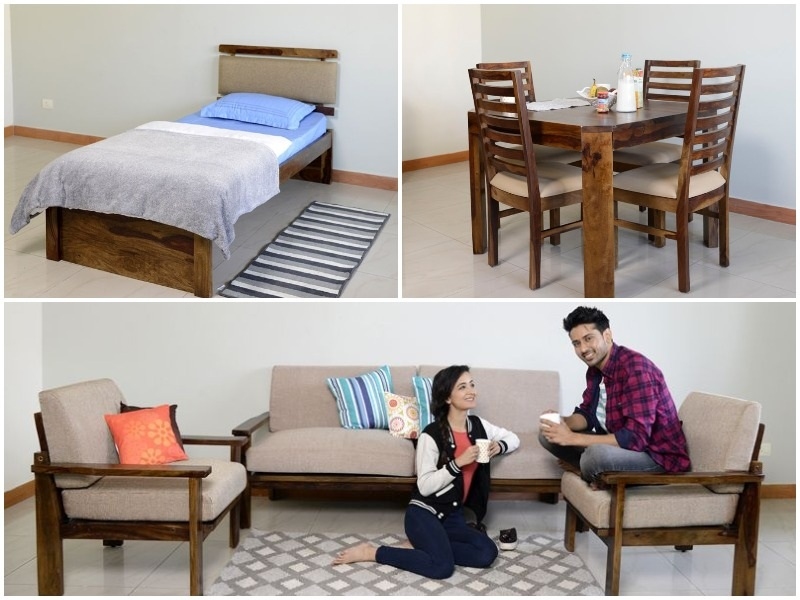 If you're just relocating to a new city for a few months, we're sure you've asked yourself this question: Should I bring all of my stuff with me? If you move regularly, bringing all of your furniture with you does not make any sense. Why relocate with a truck full of home furnishings when you can move with only what you need?
Moving to a new place may be difficult, especially if you have a lot of stuff to transport. As a result, it is suggested to follow the concept of renting furniture and home appliances to minimize relocation complications.
People now value experiences over goods, which has resulted in an exponential boom in the sharing economy. People are increasingly resorting to the rental process for a variety of items in their lives, ranging from real estate to apparel, and from electronics to household appliances.
The appeal of this notion may be attributed to the fact that it provides a person with access to a variety of utilitarian items in excellent shape without requiring them to purchase and maintain them. And if you think of it, renting does make a lot more sense.
When you're juggling a new profession, a tight budget, and numerous relocations, the last thing you want to think about is purchasing and selling furniture. As a result, renting furniture is the most cost-effective option for aspiring professionals. It is the simplest and quickest answer to all of the difficulties described above, as well as providing a slew of other benefits listed below.
Here's why you should take furniture and home appliances on rent –
Renting involves low cost
When a person decides to rent furniture or home appliances in their current location or in another city where they have just relocated, they save a large chunk of money that they would otherwise have had to spend on purchasing them. Furthermore, by renting furniture and home appliances every time a person relocates, they may save the money that would have been spent on transferring such goods from one place to another.
It is no secret that when the economy grows, so do furniture prices. A bedroom décor today might cost anywhere between Rs 50,000 & Rs 1 lakh. Similarly, the beginning price for a dining set or a couch set might reach Rs 20,000. This is a substantial chunk of one's budget and may need some cost-cutting. As a result, taking furniture on rent is the most practical alternative. Indeed, because of the variety of options and low prices, the practice is quickly gaining on among immigrants in major cities.
A no-hassle solution
Renting is a simple and hassle-free process. Looking for furniture and appliances that suit your interests while remaining within your budget may be a time-consuming endeavor. On the other hand, contacting mover and packer services and ensuring that they transport your items properly while you relocate to a different place may be fairly difficult.
However, the procedure of renting eliminates all of these inconveniences. You may just rent a thing and have it delivered to you in perfect condition in whatever location you are transferring to. Choose from a wide range of comfortable and economical furnishings from Cityfurnish to transform your rental area into a warm and welcoming environment.
Cityfurnish not only helps you get settled in comfortably, but it also provides you free delivery, pickup, and relocation.
Renting provides more Flexibility and Maintenance
A person's tastes, requirements, and wants vary with time. You may modify the look of your property whenever you desire with the aid of renting. You may change your appliances and devices, as well as your furnishings, whenever you choose.
Moreover, today's youth have little time to care for their furniture, and without appropriate care, furniture quickly loses its luster. When it comes to renting furniture, however, there is no such issue. Furniture care is never a headache for the consumer because rental furniture service providers not only lease furniture but also give free maintenance services.
Avoid the furniture-selling
When purchasing new furniture, one seldom considers the time it will take to dispose of it. Selling old furniture is a massive task, whether you want a total house renovation or to relocate to a new area. As a result, in order to avoid such difficulties in the future, more consumers are choosing for rental furniture. It not only provides for simple selection from the most recent variety of things, but it also assures an easy return policy.
Easily return the rented furniture and home appliances
When you move, all you have to do is return the appliances and furnishings to the place where you leased them. There is no need to worry about reselling or transporting those goods while relocating. Cityfurnish will help you move into your new home without any hassle. You can easily return your rented furniture or home appliances or choose to take them with you to your new place without paying any extra charges.
An excellent way to refresh the interior layout
Have you ever glanced at those enticing images in home improvement publications and wished you could change the interiors of your house? If this is the case, renting furniture will make your life simpler. You may select from a variety of possibilities, ranging from the most trendy to the most useful and attractive furniture, without spending a fortune. Remember that your home shows your individuality to the outside world, so why tie yourself down with outdated and bulky-looking furniture that was out of style 20 years ago?
These are just a few of the reasons why someone with a transferable profession should absolutely consider renting. Your one stop solution to reduce the relocation hassle is Cityfurnish – it's a sophisticated website from which you can always pick the things you want to rent and submit your order without the inconveniences of extensive paperwork or running about.
Browse through the website and select the furniture and home appliances and Cityfurnish will take care if the rest. You not only get your ordered furnishings within a short period of time, at your doorsteps, but also get free delivery. With that, Cityfurnish also provides free pick-up if you want to relocate. That's not it. You also get to have free of charge maintenance and installation.