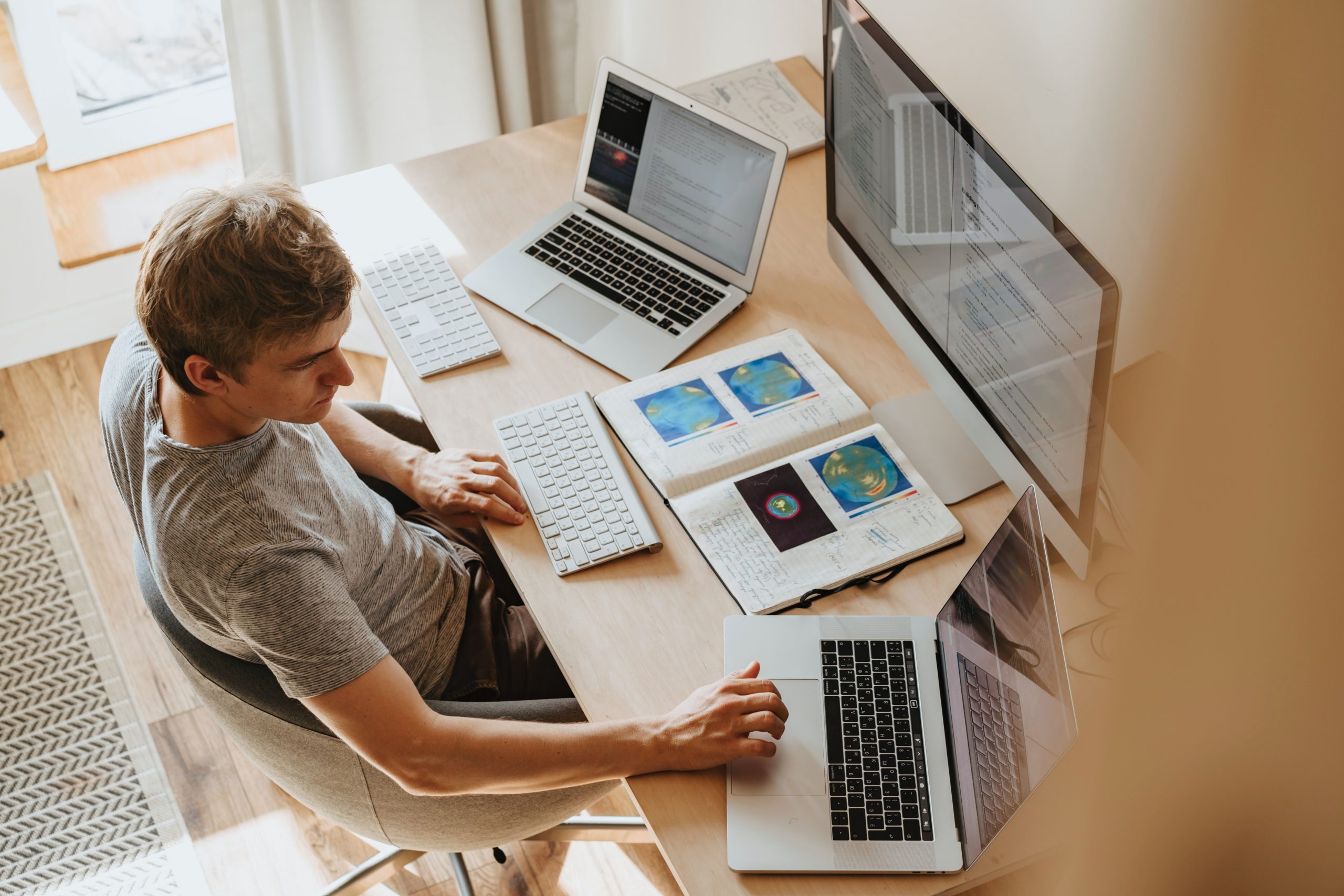 Home offices have been the room to build in most homes throughout the globe over the last year. The unexpected shift to working from home necessitated the creation of distinct functional workstations. On some days, it can be difficult to ignore household distractions and concentrate on your work.
However, we're confident that if you create the ideal working environment at home, you'll be encouraged to give it your all. You'll need to mark yourself a dedicated workspace, whether it's a corner of your bedroom, an isolated balcony, a hideaway beneath the stairs, or even a pull-out closet! You may even have your own study room.
Here are some of the finest home office ideas to help you be more productive and creative:
Functionality
There are lots of trendy desks, office chairs, and anything else you would need for your workstation out there, but none of it matters if it isn't functional. The good thing is that you don't have to sacrifice style in order to have efficient workplace furniture. Based on your needs what counts as functional can imply different things to different people.
Do you require free leg space behind your desk in order to stretch? Or do you need a large storage capacity but don't require a lot of space under your office desk? Since there is no such thing as a one-size-fits-all scenario, knowing the answers to these kinds of questions will greatly assist you in laying out your office furniture goals and what functional implies to you.
Measure the Space
Nothing is more frustrating than buying furniture and realizing that it is too large for the room, does not align with the wall space, or, worst of all, does not slide through the door! Taking the time to plan out your workplace and how you want your furniture to be arranged will save you a lot more time and hassle.
Lighting Matters
When it comes to designing a home office, lighting is often underestimated. While bad office lighting will not cause you to go blind, it will strain your eyes. Eye strain can induce headaches over time, making you a less productive employee.
Natural light can make you feel better and perhaps increase your productivity. Using direct sunlight to light your office is beneficial for the environment if nothing else. If you don't have space to let direct sunlight in, you can go for artificial lighting. You can choose from a variety of white lighting solutions that aren't as common. Mix your modular office furniture with elegant lighting and you have got yourself a more productive workplace.
Organize Small Things
Apart from large office furniture, it's a great idea to use baskets, containers, and consoles to keep clutter at bay. After all, your home office and the furnishings you choose will only seem attractive if your area is clean. And, as a result of the organization and order, the workstation becomes more productive and inspiring. To store cords, paperwork, and other knick-knacks and office supplies, use containers and baskets on bookshelves, consoles, or even the floor.
More organization means more order, which contributes to a more productive and inspiring workstation, which is especially important if you have small home office space.
Make Way for the Greens
Colors are a part of our daily life; some might help you relax, while others can make you feel agitated. Green, as they say, is an effective color since it is good for your health. It is refreshing and aids with vision. It also soothes the mind and body. Surrounding yourself with the color green has proven to be quite relaxing, which is why offices frequently include green in their room decor. Being in a green environment, on the other hand, is far more valuable. Getting a green plant would do the trick, as it will allow you to breathe fresh air while also adding beauty to your home office.
Comfort Seating is Key
One of the most essential aspects of any office is a comfortable workstation and chair, so take your time when choosing and investing in one. Again, ergonomics and comfort are important, so test the workstation and other furniture before purchasing. How long do you spend each day in your workplace chair? With respect to your workstation, what height will the chair put you? How much space do you require between your chair's arm posts? Select your chair according to how long you can sit comfortably in them. To test, get a office chair on rent and change it according to your comfort.
Optimize Your Space
Nobody does their best work in a cluttered home office. You can give it varied styles and even paint it to match your preferences, but it will all be for naught if your home's office nook is a wreck. Organize your working equipment as you see fit but in a logical order. Don't tuck printers, files, and other items into nooks and drawers to save room. Make the most of your vertical space by installing cabinets with varied types of storage up to the ceiling, as well as a wall-mounted pinboard to assist organize items that could otherwise end up stuffed in a drawer!
Fickle is Fun!
Don't be scared to use items from other areas of the house to decorate your room. Rather than looking like a showroom, a home office with a mix of antique and modern seems warm, lived in, and unique. There may be more attractive decor options in your other rooms. You can easily grab ideas from there and adapt them to whatever fits the work setting. You can mix and match as you see fit.
Invest in Warmer Tones
Based on the nature of work you'll be doing, warmer, soft tones may be preferable to bright colors. While the former might assist with concentration and relaxation, the latter can energize and inspire. Consider what you want your workstation to accomplish and decorate accordingly!