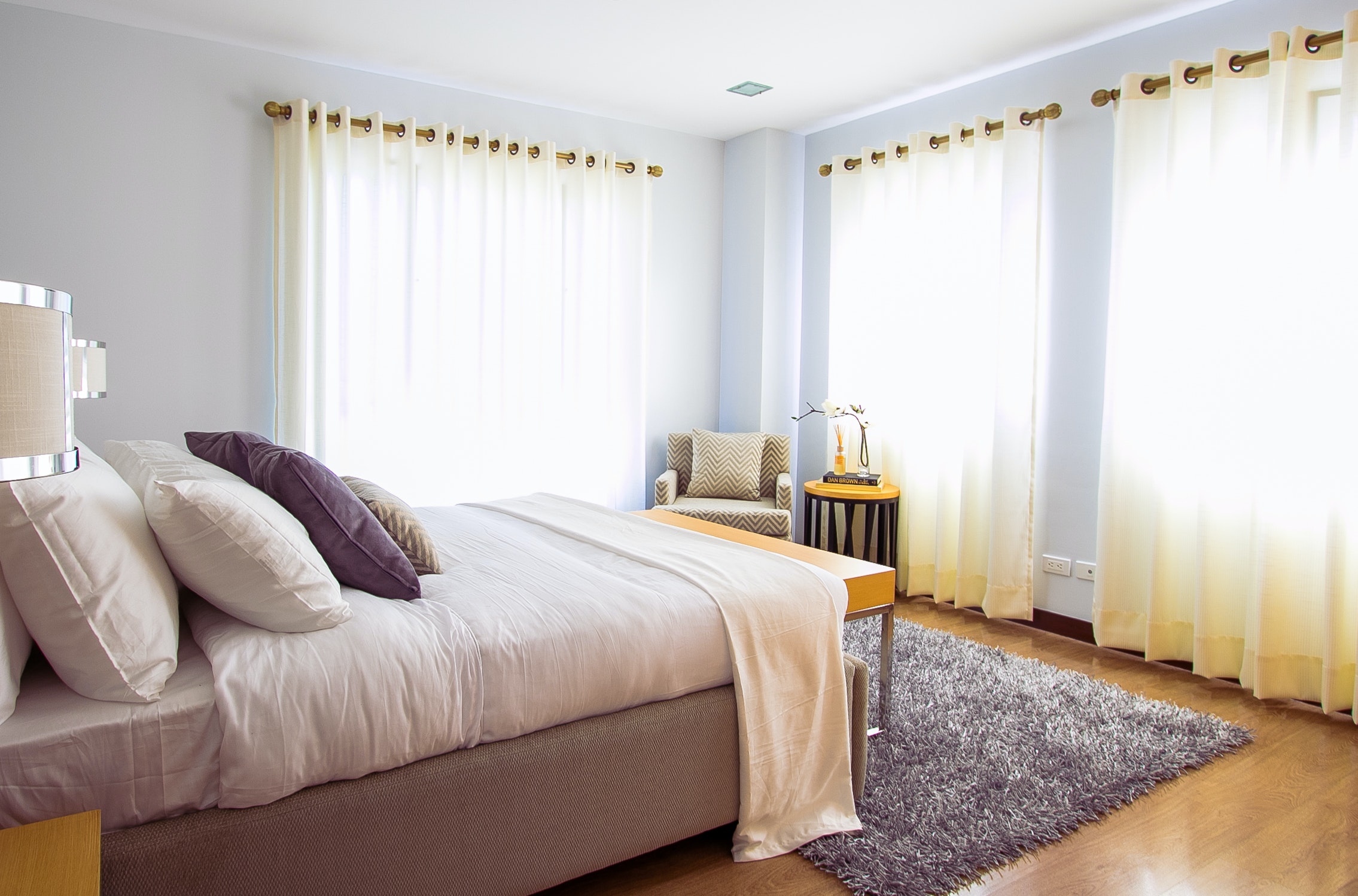 Your bedroom is one place in the house that is most neglected when it comes to design and decor. But considering the number of hours you spend in that space, it surely needs a makeover. From changing and layering the curtains, painting the walls with your favourite colour to buying or getting bedroom furniture on rent, do whatever you like. Just make sure to add a touch of your personality to it…after all, your den must be a reflection of your choices.
To lessen your burden, we have brainstormed some first-rate decor ideas that will turn your boring, dim and unlively bedroom into a fabulously stylish space. Scroll down to know more:
Choose the Right Palette
There is no rule for choosing the right colour palette for your bedroom. It can be as subtle as soft whites, grays or tans or as bright as orange and yellow – totally depending on your taste. Neutral colours are always a safe bet so paint the walls light and spice it up with little warm-coloured carpets, curtains and cushions. But if you are all up for experimenting with bright colours, go for an explosion of gold and orange. It won't look garish, for sure.
Moving on! How about going all black? It's a very bold choice with endless scope to play around. Either opt for the classic black and white theme or use pops of yellow and red against the black wall to get a cohesive look. Plums and deep crimsons are also great colours if you want to give your bedroom more oomph.
Play With Patterns
Whether you a traditionalist or a modern glam-lover, there is a never-ending list of options for everyone. When it comes to mixing and matching patterns, do not worry because you can never go over the top. Use boho textures to add a peculiar vibe to your surroundings. Floral patterns can give a very feminine vibe to your little space. Or create a balance with paisley, stripes and herringbone for a glamorous look.
Ikat designs, Animal prints, Damask and Toile are elegant and timeless and be a good option for mixing and matching. What's best about patterns is the fact that they are not just limited to walls. You can go crazy with patterns for your doors, spreadsheets, pillows and curtains to create a beautifully messy look. Adding a statement window boho-pattern cover to draw all the attention- how does that sound to you? Perfect, isn't it?
Wallpapers Are The Trend
It's a myth that elegant and stylish bedroom decor would create a hole in your pocket. Though you have all the liberty to spend as much as you want, there are so many budget friendly options. The unanimous opinion of interior designers and decorators is that wallpapers are the most effortless yet effective way to glamorize your bedroom. It's also the best option for tiny spaces that cannot accommodate much furniture.
Choose a delicate pattern and subtle color that complements your bedding to cover the entire room but if you want to focus on just one wall, go for peculiar options. If you are a nature lover, adorn your bedroom wall with a mountainscape or forest scenery wallpaper. Opt for Victorian-style, neutral colour wallpapers (preferable light blue and pink) if you are a minimalist. Geometric-shapes can also accentuate the whole look magically. Not only will it add sophistication but also an oomph factor to the comparatively dull space, and that too in the minimum possible budget.
Play with Mirrors
Mirrors are multi-purpose! They make the space look brighter, bigger while adding a decorative touch to it. And given the plethora of options available in the market, there is a lot that you can do- all that's required is a better study of the room and the best way to use available elements in that space. For example, you can go the conventional way by placing a mirror opposite the large window of your room as well as on both sides of your bed. Or use mirror to create a wall that goes right from the ceiling to the floor. Tiles and wooden panels will further give a finished look to it.
Here's another idea for the ones who aren't satisfied with the traditional use of mirrors. Collect small but statement pieces and create a wall collage for the broadest wall of the room. Creating a wall art out of the same can be another alternative. A life-size mirror alongside a vintage armchair or any other furniture can do wonders for the room.
Go Green
Well, plants in room can never go wrong. They will give a very refreshing feel to your bedroom and at the same time add color to it. Another benefit of having indoor plants is that they will keep the air pure and remove odour elements from the atmosphere.
These are not the only options. You can always experiment with art and use pieces available at your home in different unique ways. After all, it's your bedroom and no one else can suggest what's best for it.
Up Your Game with Modern Furniture
If you have decided to give your bedroom a new look, don't forget to upgrade its furniture as well. Smart, modern furniture do not only have glamour but functionality at the core. Go for a multi-media table for the corner of your room and use it for several other things. It's no less than a Pandora box with advanced technology packed inside.
Transformational furniture is also in vogue – multiple wooden pieces that can be attached as per individual's choice to form any furniture. New-age beds with adjustable trunks or digital cupboards for a whole new experience are some other options that can totally change the look of your room. Though these modern pieces are a little expensive, people can also go for furniture on rent. Not only one can save a lot of money that way but also change it when bored.