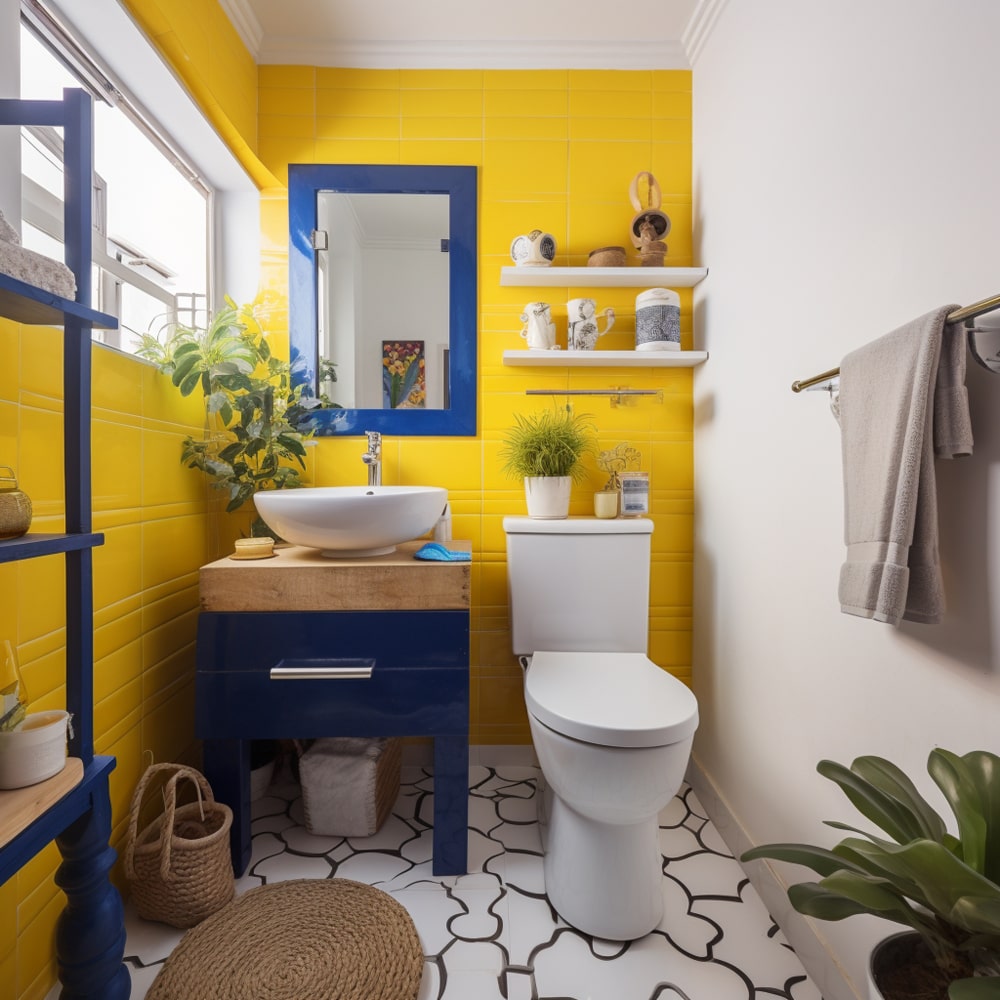 Have you ever walked into your bathroom and felt totally overwhelmed by the clutter and chaos? Between makeup products scattered on the counters, towels piled up waiting to be folded, and random knickknacks collecting dust, it's easy for your bathroom to feel cramped and messy. The good news is with a few simple upgrades, you can transform your bathroom into a luxurious retreat you'll actually enjoy spending time in. By decluttering your space, improving the lighting, and incorporating spa-like elements, you'll be well on your way to an organized oasis you can escape to each and every day. Keep reading to learn the top tricks to elevate your bathroom decor to a spa-worthy space you'll love.
1- Declutter and Organize Your Bathroom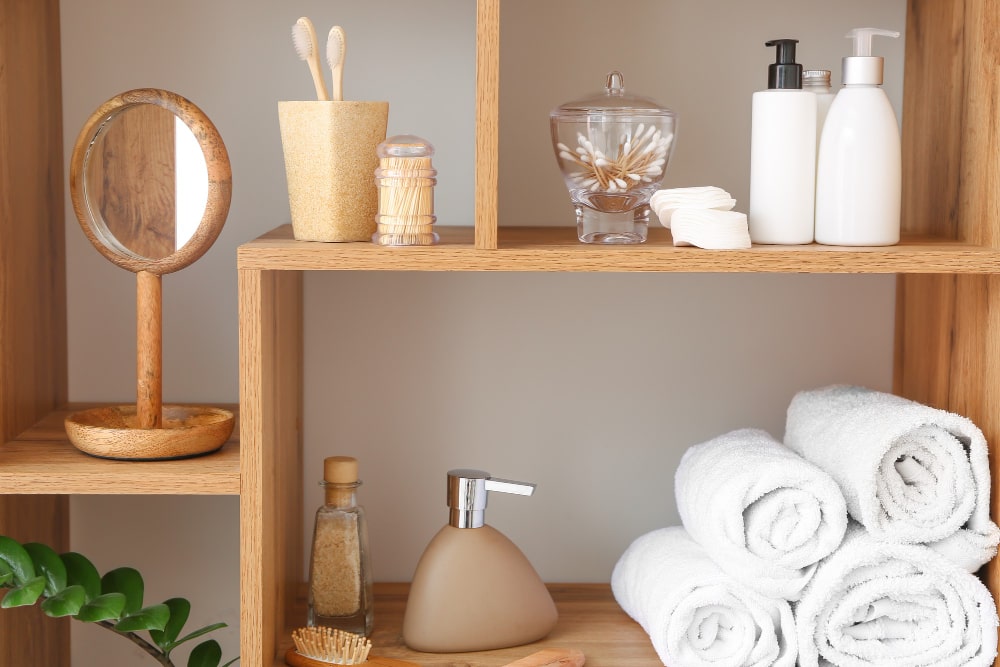 Decluttering your bathroom is the first step to transforming it into a spa-like retreat. Go through each cabinet and drawer and get rid of anything expired or that you do not use. Donate or throw away chipped or stained containers.
a- Organize
Once you have a clean slate, organize what's left. Group similar items together in matching containers or baskets – one for makeup, another for hair accessories, a third for lotions and potions. Label them to make items easy to spot and put back.
Under the sink, use drawer dividers, bins and trays to categorize everything from cleaning supplies to extra towels. An over-the-door organizer is perfect for holding hair dryers, curling irons and brushes up and off the counter.
A few decorative boxes or baskets on open shelves provide hidden storage for small items you want to keep out of sight but within easy reach.
With a decluttered and organized space, your bathroom will feel open, uncluttered and spa-like. You'll wonder how you ever lived without these simple but transformative tricks to elevate your bathroom decor to a luxurious retreat.
2- Upgrade the Lighting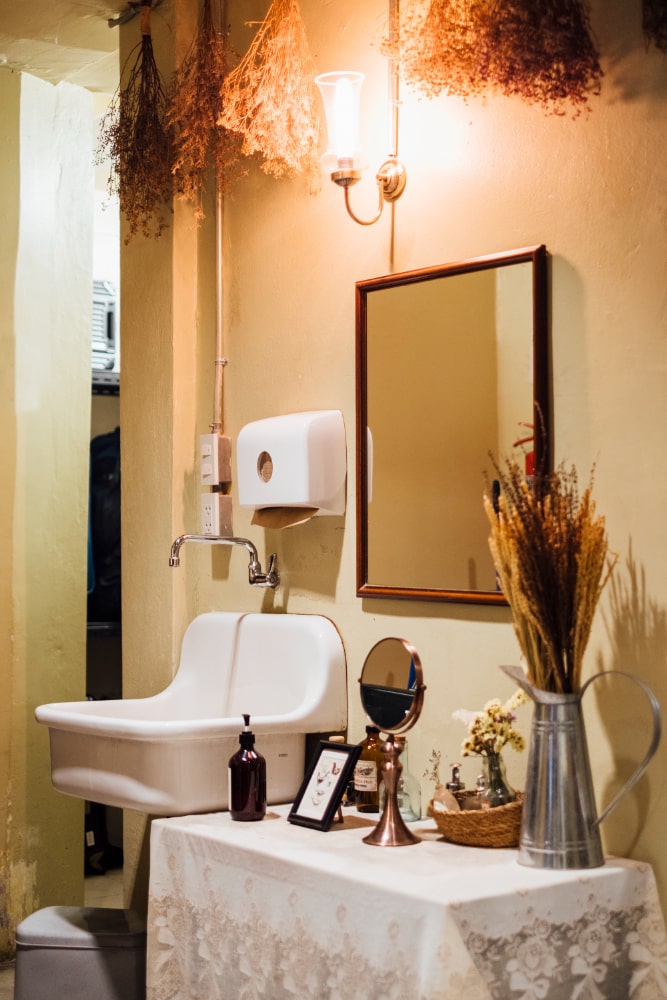 Upgrading your bathroom lighting can transform the space into a luxurious retreat. Swap out those boring overhead fixtures for statement pieces that create an ambient glow.
a- Types of Lighting
Install dimmable sconces or pendant lights on either side of the vanity. Their soft light will make daily routines like putting on makeup much more enjoyable. For a spa-like feel, string up decorative Edison bulbs or lanterns. Their warm, dusky glow pairs perfectly with natural elements like greenery, wood, and stone.
Recessed lighting is ideal for evenly illuminating the entire bathroom decor. Space the fixtures a few feet apart and dim them to your desired brightness. Their subtle glow will make middle-of-the-night trips to the bathroom decor much more pleasant.
b- Placement of Lighting
Don't forget task lighting for specific areas like the tub, shower, or toilet. Wall sconces with swing arms give you the flexibility to direct light where you need it. Then dim the overhead lighting for a perfectly relaxing ambiance during a long soak in the tub.
With strategic upgrades to your bathroom's lighting, you'll transform your utilitarian space into a luxurious retreat in no time. Your new spa-worthy space will become your favorite room for unwinding and de-stressing after a long day.
3- Invest in High-Quality Linens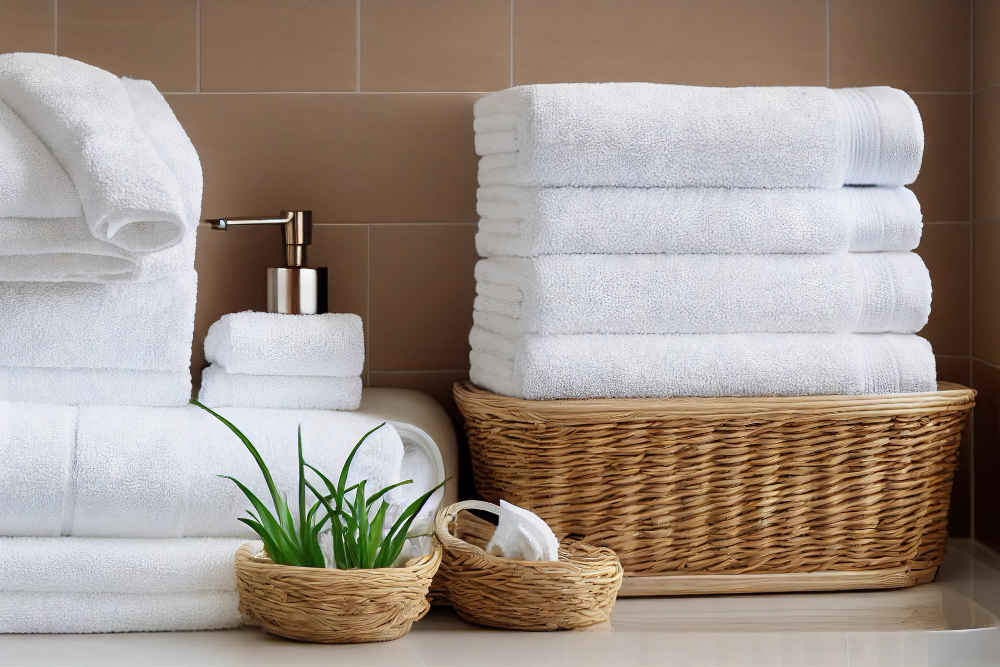 To create a luxurious spa-like feel in your bathroom, invest in high-quality linens. After all, there's nothing quite like stepping out of the shower or bath and wrapping yourself in an ultra-soft, plush towel. Look for towels, bathrobes, and bathmats made of premium, highly-absorbent fabrics like Egyptian or Supima cotton that get softer with each wash. For extra comfort, choose a higher thread count and oversized options.
a- Don't forget the details
Pamper yourself with washcloths, hand towels, bath sheets, and bath pillows. Coordinating all your linens and textiles in a matching color scheme or pattern helps pull the space together for a cohesive, upscale look. When purchasing, check the fabric content and construction to ensure maximum durability. Well-made linens may cost a bit more upfront but will last longer and feel more luxurious.
b- Linen & More
While white linens are a timeless, crisp choice, don't be afraid to incorporate pattern, texture or color for extra style. Muted, natural-inspired hues like sand, slate, cocoa or seafoam green are stylish yet soothing. You can also freshen up plain linens by adding decorative trim, embroidery or monogramming for a custom touch.
High-quality linens are an investment in your comfort and the overall ambiance of your bathroom retreat. Pampering yourself with soft, plush fabrics is a simple pleasure that can make a world of difference. When you step into your bathroom each day, quality linens will help you feel relaxed, rejuvenated and like you're at an upscale spa.
4- Incorporate Spa-Like Elements
To give your bathroom decor a spa-like vibe, incorporate elements that pamper the senses. Add a bathtub caddy for candles, bath salts, and a glass of wine. Essential oil diffusers fill the space with relaxing scents like lavender or eucalyptus. Fluffy towels, a plush bath mat, and a silk bathrobe make getting out of the tub a luxurious experience.
a- Lighting
Dimmable lighting lets you set the perfect ambient glow for a nighttime soak. Tealights, votives or LED candles create a soothing ambiance without the fire hazard. For a stylish touch, choose fixtures with a brushed gold, copper or chrome finish.
b- Natural Elements
Natural materials bring life and texture. A small potted plant, eucalyptus garland, sea shells, or river stones connect you to nature. Greenery also helps freshen and filter the air.
A neutral, spa-inspired color palette of creams, taupes, and pale blues or greens helps calm the mind. Accent with metallic or wood tones for warmth. Keep counters clear of clutter for a serene space.
Little details make a big difference. Floral prints, botanical line drawings or photographic prints of natural landscapes personalize the space. A tray corrals bath products, keeping your counters tidy.
With some simple additions, you can transform your everyday bathroom into a luxurious retreat for the senses. Take time each day to slow down, unplug from devices and savor the little moments of peace. You deserve it!
5- Upgrade Fixtures and Hardware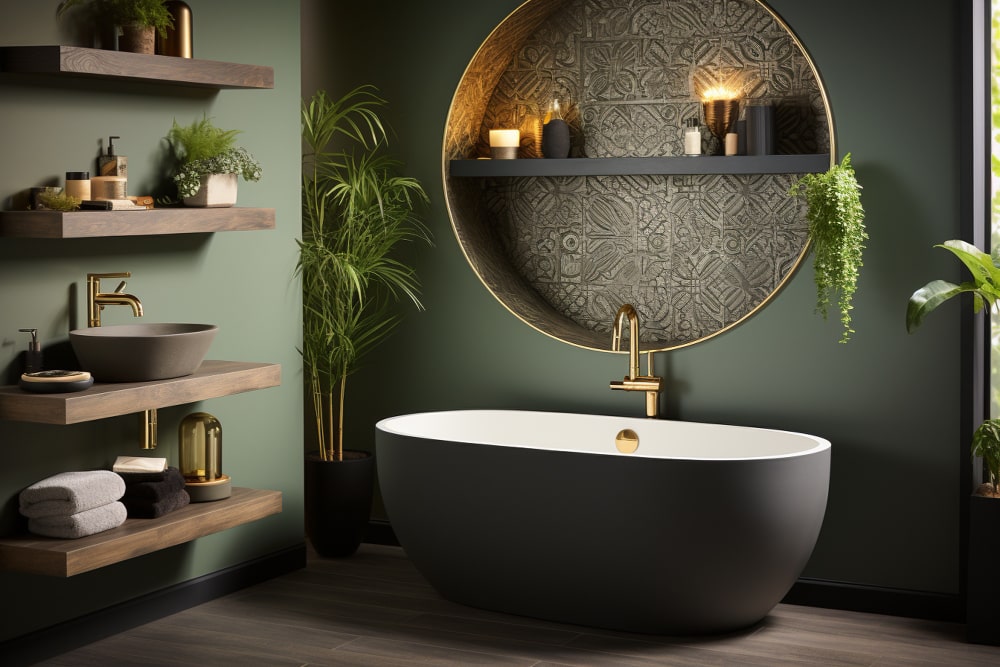 Upgrading your bathroom decor fixtures and hardware is one of the easiest ways to make your space feel luxurious. Install new faucets, cabinet hardware, and other accents to modernize your bathroom.
a- Faucets
Replace old or leaky faucets with stylish new ones. Look for brushed nickel, matte black or gold finishes which complement most decor styles. For a spa-like feel, choose a waterfall or rain shower head. New faucets improve function and boost your bathroom's ambiance.
b- Cabinet Hardware
Dress up your vanity cabinets with decorative knobs, pulls or handles. Metallic finishes like brushed brass or pewter pair well with wood cabinets. For a minimalist look, opt for simple bar pulls or knobs. Updating your cabinet hardware is an affordable way to revive your bathroom's style.
c- Towel Bars and Rings
Add luxury with decorative towel bars, rings and racks. Choose a finish that matches your faucets and cabinet hardware for a cohesive look. Place towel bars near showers and bathtubs for convenience.
d- Mirrors
An oversized mirror helps open up a small bathroom space. For a spa vibe, choose a mirror with an ornate frame. Frameless beveled edge mirrors impart a sleek modern style. Replace any cracked or foggy mirrors to brighten your bathroom decor.
Upgrading fixtures and hardware in your bathroom decor will make a huge impact. With a few simple changes, your bathroom can become a luxurious oasis. Treat yourself to a stylish and spa-like space with these easy improvements. Your new fixtures and accents will make a world of difference.
6- Add Greenery and Natural Elements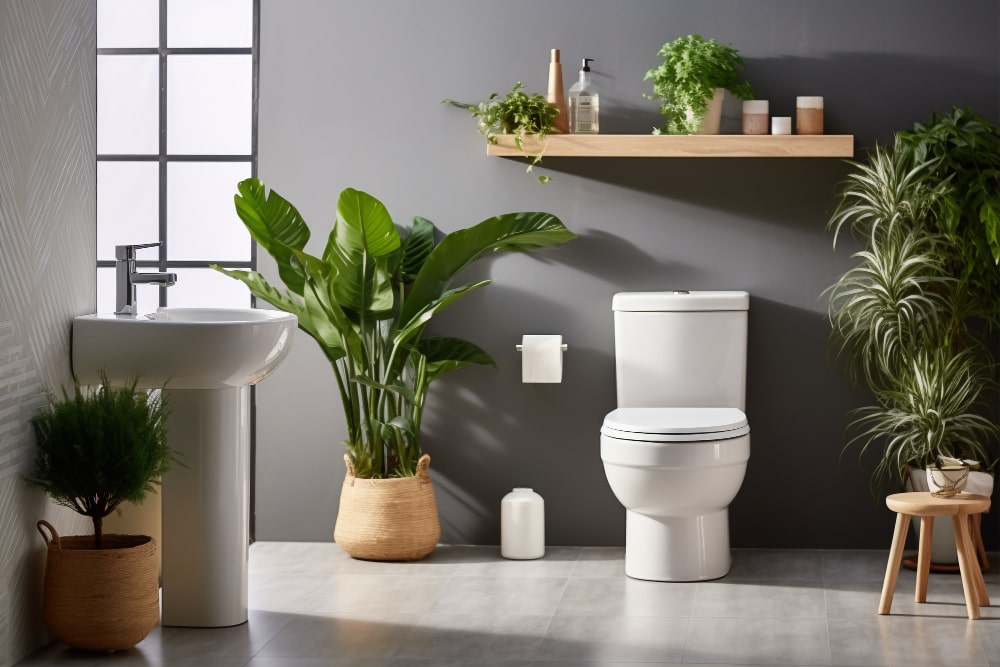 To give your bathroom decor a natural, spa-like feel, add some greenery. Low-light houseplants are perfect for bathrooms since they don't require much sunlight to thrive. Some easy options include:
Snake plants: Tall, sculptural snake plants are nearly indestructible. They help filter the air and can tolerate low light.
Pothos plants: The pothos plant, with its beautiful heart-shaped leaves, is a bathroom decor favorite. It grows on vines so you can let it trail or trim and propagate it.
Ferns: Delicate ferns, like asparagus ferns, add a lacy texture. Place them in a hanging basket or on a plant stand.
Succulents: Low-maintenance succulents, such as echeverias or haworthias, provide an architectural shape. Their waxy leaves retain moisture so they only need occasional watering.
Group several plants together on a table, hang them at different heights, or place them on the floor, counters and windowsills. The greenery will make your bathroom decor feel like an oasis of natural calm. Be sure to choose plants that can tolerate the warm, humid conditions in a bathroom. Mist them regularly and water when the top inch or so of soil is dry.
With the addition of green, living plants, you'll elevate your bathroom decor into a luxurious retreat in no time. Their natural beauty will help create a spa-like sanctuary in your own home.
7- Create a Relaxing Color Scheme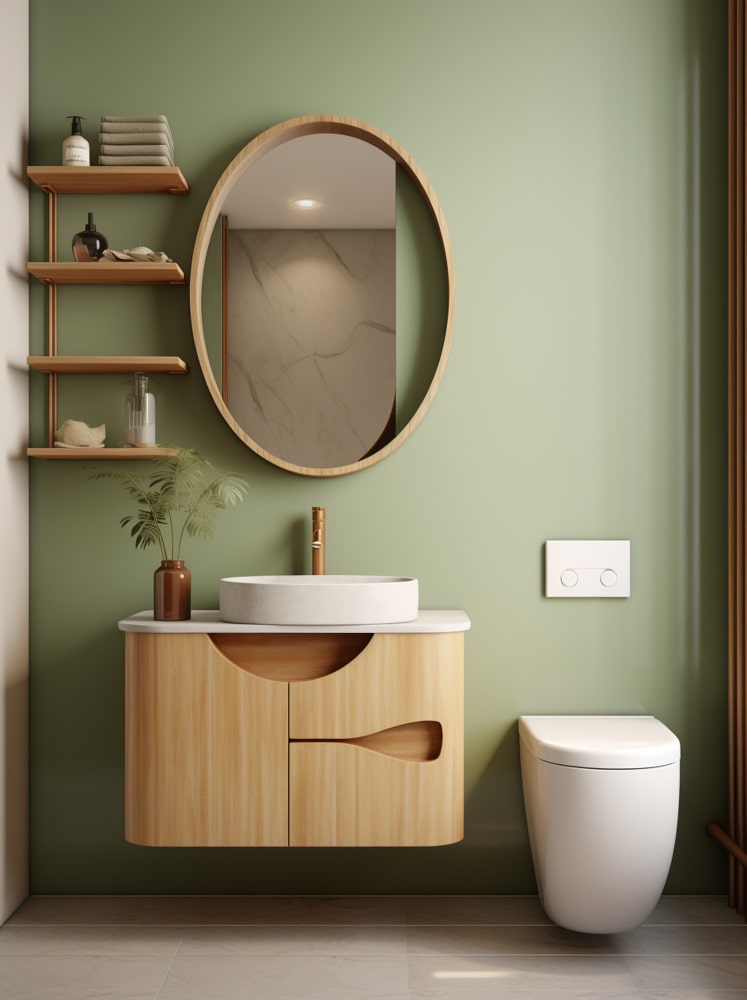 A calming color scheme can transform your bathroom into a peaceful oasis. Stick to muted, natural tones like soft blues, seafoam greens or neutral beiges. These hues have a soothing, spa-like quality and psychologically evoke tranquility.
a- Blues
Shades of blue, such as powder blue or navy, create a sense of serenity. Consider painting the walls a pale blue or choosing blue towels, bath mats and accessories. For a coastal feel, incorporate lighter aqua or teal accents.
b- Greens
Muted green tones, like sage, seafoam or mint, are refreshing and zen. Use them in small doses, such as in towels, plants or wall decor. Pair with wood or natural stone elements for an earthy, wellness-inspired space.
c- Neutrals
You can't go wrong with creamy beiges, warm grays or soft whites. Neutral walls provide a blank canvas, allowing you to layer in subtle colors through textiles and accessories. Natural wood or woven fiber accents complete the laid-back look.
A harmonious color scheme, natural light and minimal clutter are key to crafting your perfect bathroom retreat. Keep the space clean and uncluttered, open the blinds to let in natural light, add potted greenery and light a candle for the ultimate spa experience right at home. Your bathroom should be a personal sanctuary where you can unwind and de-stress.
8- Install a Statement Mirror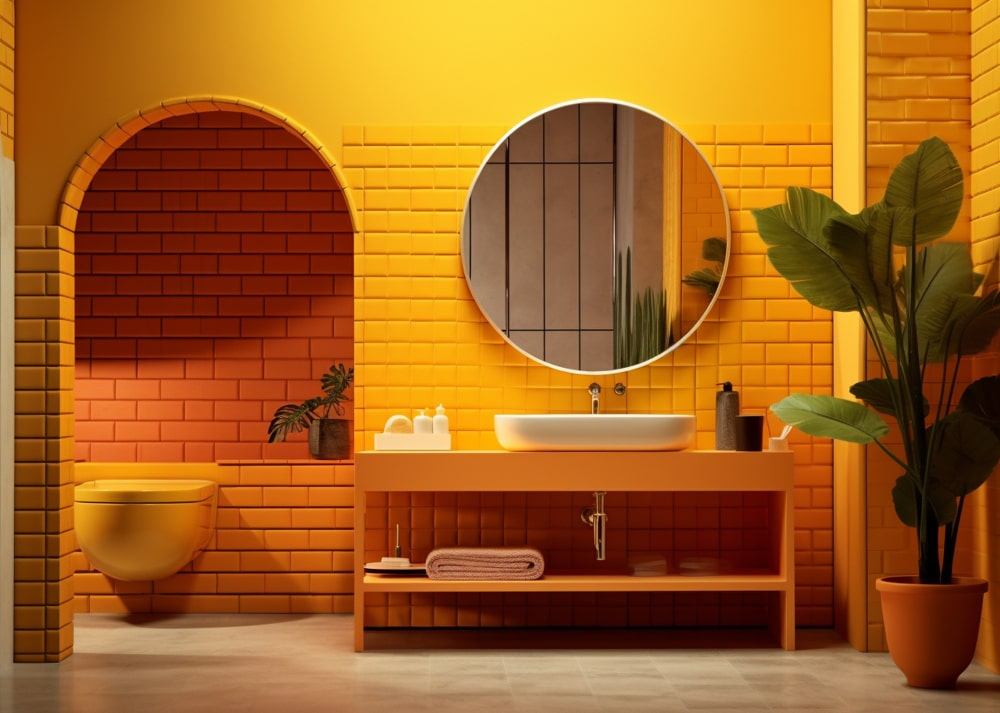 A statement mirror is the perfect decorative accent to make your bathroom feel luxurious. Install an ornate or oversized mirror as a focal point above the vanity. Look for a mirror with an interesting shape, like arched or oval, or one with an decorative frame to match your bathroom's style.
An oversized mirror, at least 24 inches high and 36 inches wide, will make your bathroom appear more spacious. Place sconce lights or pendant lights on either side of the mirror to provide ample illumination for tasks like applying makeup or shaving. For a spa-like feel, install dimmable lights so you can adjust the brightness.
To complete the look, incorporate natural elements like woven baskets, sea shells, pillar candles or eucalyptus stems around the mirror. Fresh flowers or greenery also help soften the space and bring life to your new statement piece. With the right lighting and accents, a decorative mirror becomes the centerpiece that ties the whole room together and transforms your basic bathroom into a luxurious retreat.
9- Personalize with Art and Décor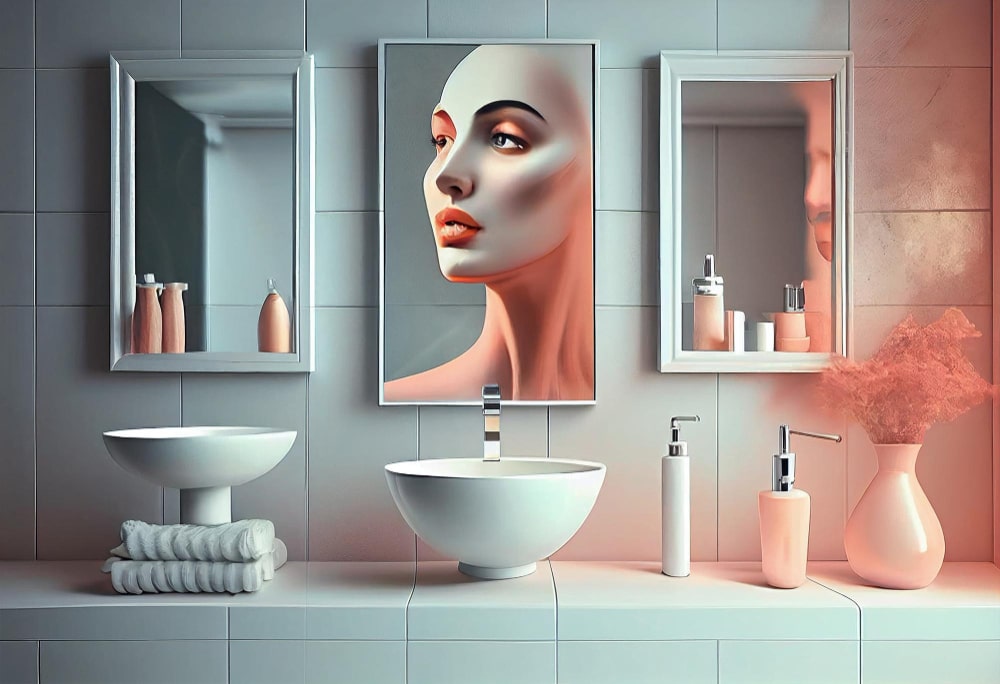 Add personal touches to make the space feel like your own private oasis. Hang artwork, framed photographs, or decorative accents that reflect your unique style. A gallery wall, decorative mirror, candles, plants or flowers are easy ways to make a stylish statement.
Group accessories together on a tray, plate or in baskets to keep them organized and create an inviting vignette. Candles, crystals, natural elements like seashells, stones or greenery help bring a spa-like ambiance. For a cohesive look, choose pieces in a similar color family, material or theme.
Don't forget the final touches like plush towels, a bath mat, shower curtain and rug to tie everything together. High-quality linens feel luxurious against the skin and last longer. Consider coordinating colors and patterns for a designer look.
Your bathroom should be a personal sanctuary where you can unwind and de-stress. Curate the space with items that bring you joy and help you relax. Keep surfaces clear of clutter and wipe down mirrors and fixtures regularly to maintain a clean and inviting atmosphere.
With some simple upgrades and decorating tricks, you can transform your basic bathroom into a luxurious retreat. Create an ambiance of calm and comfort with lighting, colors, textures and scents that soothe the senses. A well-organized, stylish space will make you feel pampered every time you step inside.
10- Maintain Cleanliness and Freshness
To maintain a luxurious feel in your bathroom retreat, regular cleaning and maintenance are key.
a- Deep clean at least once a week:
Dusting overhead vents, light fixtures and the tops of cabinets.
Wiping down mirrors, counters, sinks, toilets, showers, and tubs.
Mopping or vacuuming floors.
Emptying the trash, recycling and laundry hampers.
b- Freshen up in between deep cleans with:
Quick wipes of counters and sinks after each use.
A spritz of air freshener or essential oil diffuser.
Lighting a candle.
c- Keep towels, rugs, bathmats, and linens clean and fresh by:
Washing towels after 3-4 uses.
Rotating and washing bath rugs and bathmats weekly.
Laundering sheets, duvet covers and blankets biweekly or monthly.
d- Perform seasonal maintenance like:
Cleaning exhaust fans and air vents.
Unclogging drains.
Re-caulking showers and tubs.
Touching up paint and hardware.
A clean and well-maintained space will make your luxurious bathroom retreat even more rejuvenating and help you escape from the stresses of everyday life. Keeping things tidy and rotating linens will make each visit feel like a trip to an upscale spa.
Conclusion
You now have the tools to transform your basic bathroom into an oasis of calm and rejuvenation. With some strategic lighting upgrades, high-quality linens, natural elements, and a soothing color palette, you'll be well on your way to crafting your perfect spa-like space. Take it one step at a time and start with the quick wins like decluttering, deep cleaning, and swapping out harsh overhead lights for softer ambient ones. Then build on your successes by choosing plush towels, greenery, artwork, and hardware in a style you love. Before you know it, your bathroom will become your favorite room in the house – a luxurious retreat where you can unwind, recharge, and practice a little self-care. You deserve to make your everyday routines a little more special. Happy upgrading!