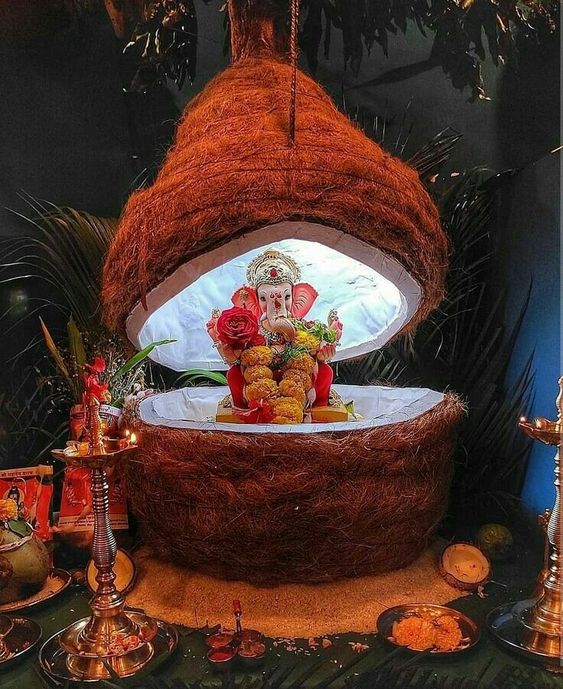 Have you been struggling with coming up with unique Ganpati Decoration ideas for this Ganpati festival this year? Not to worry, my friend, I've got you covered. In this article, I'll share some of the top themes and ideas that are perfect for a minimal yet memorable celebration. Sometimes less is more. Simplicity allows the true meaning and beauty of the festival to shine through. With clean lines, muted colors and small touches of cultural elements, you can create an elegant space to welcome Ganpati Bappa into your home. A minimalistic theme is a breath of fresh air and a chance to strip away the excess, focus on what really matters.
1- Traditional Elegance in Ganpati Decor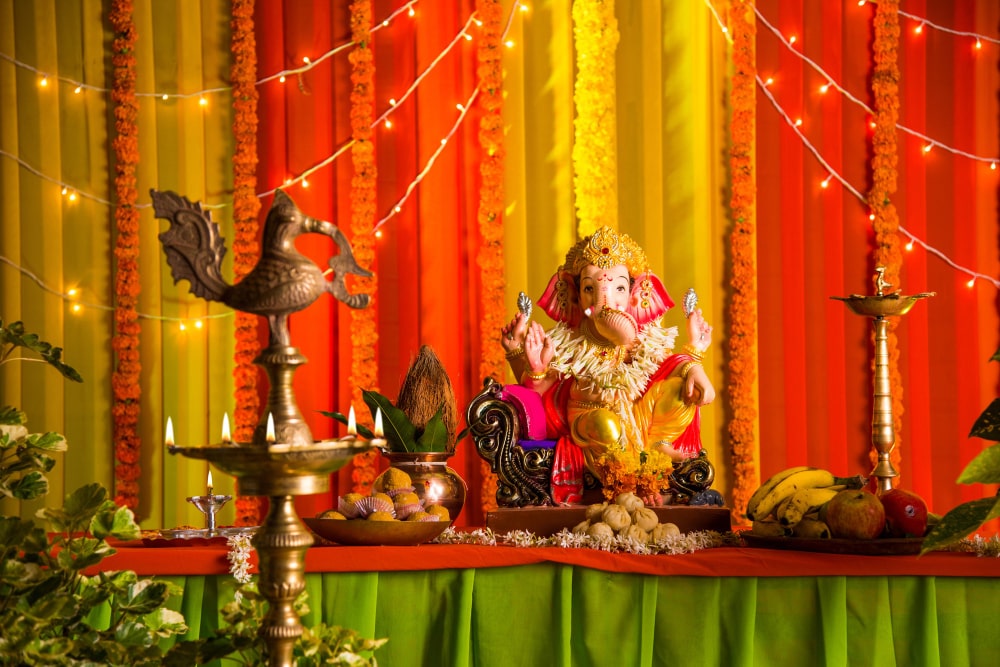 A minimalistic theme lets the focus remain on Lord Ganesha. By keeping decor simple yet meaningful, you highlight what really matters – faith, family and community.
a- Less is More
For a minimalistic ganpati decoration ideas, choose a neutral color palette of whites, creams, tans, and light wood tones. These open, airy hues give a sense of space while still being warm and inviting.
Keep furnishings to a minimum and avoid clutter. A few key pieces like a simple mandap, low seating, small side tables and minimal floor coverings are all you need.
Rather than going overboard with garlands and strings of lights, place light sources strategically to create a soft, ambient glow. A few lanterns, candles or fairy lights will do nicely.
b- Meaningful Focal Points
With a minimalistic theme, each decorative element takes on more significance. An ornate Ganesha murti becomes the natural centerpiece. You might also display a collection of framed photos of Lord Ganesha, your temple visits or family celebrations over the years.
Beautiful natural elements also make wonderful focal points. A large bowl of fresh flowers, leaves, fruits or petals offers a simple yet striking display. You could also create a nature-inspired mandala or rangoli on the floor around the murti.
Keeping Ganpati decor minimalistic allows you to focus on what really matters during the festival. By embracing openness, naturalness and meaningful details, you can craft a celebration that is both simple and memorable. May Lord Ganesha bless your home and loved ones!
2- Eco-Friendly Themes for an Environmentally Conscious Celebration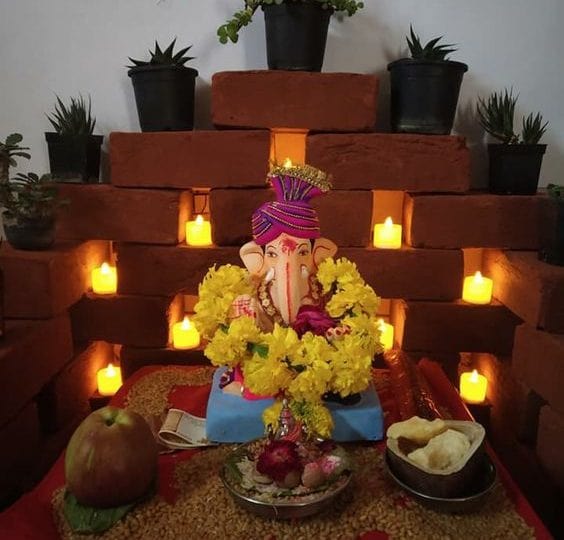 For an eco-friendly Ganpati decoration idea, consider a minimalistic theme using natural materials. Keep things simple yet meaningful.
a- Use natural materials for decor
Opt for materials like jute, cotton, bamboo and recyclable paper instead of plastics. Create garlands, torans and wall hangings using fresh or dried flowers, leaves, twigs and berries. Potted plants also make great decor and you can gift them to guests after the festival.
b- Choose an earthy color palette
Stick to colors inspired by nature – browns, greens, tans and terra cottas. These muted, earthy tones create a calm vibe and highlight your natural materials. Accent with pops of color from flowers or fabric.
c- Repurpose and upcycle
Put items you already have to a new use. Turn glass bottles, jars and containers into vases, pen stands or candle holders. Create a photoframe or jewelry organizer out of cardboard, paper mache or wooden boards. Use fabric scraps, jute or twine to make dreamcatchers, wall art or table runners. Get creative!
d- Keep it simple
A minimalistic theme focuses on clean lines and negative space. Don't overcrowd your space with too many decor items. Choose a few, high-impact focal points and keep other areas open. Subtle and sparse is the key.
An eco-friendly Ganpati celebration shows your respect for the environment. By using natural materials, an earthy color palette, repurposing items you have and keeping things minimal, you can create a simple yet memorable theme for the festival. Your guests and Ganesha will surely appreciate your green gesture!
3- Floral Extravaganzas With Fresh Flower Arrangements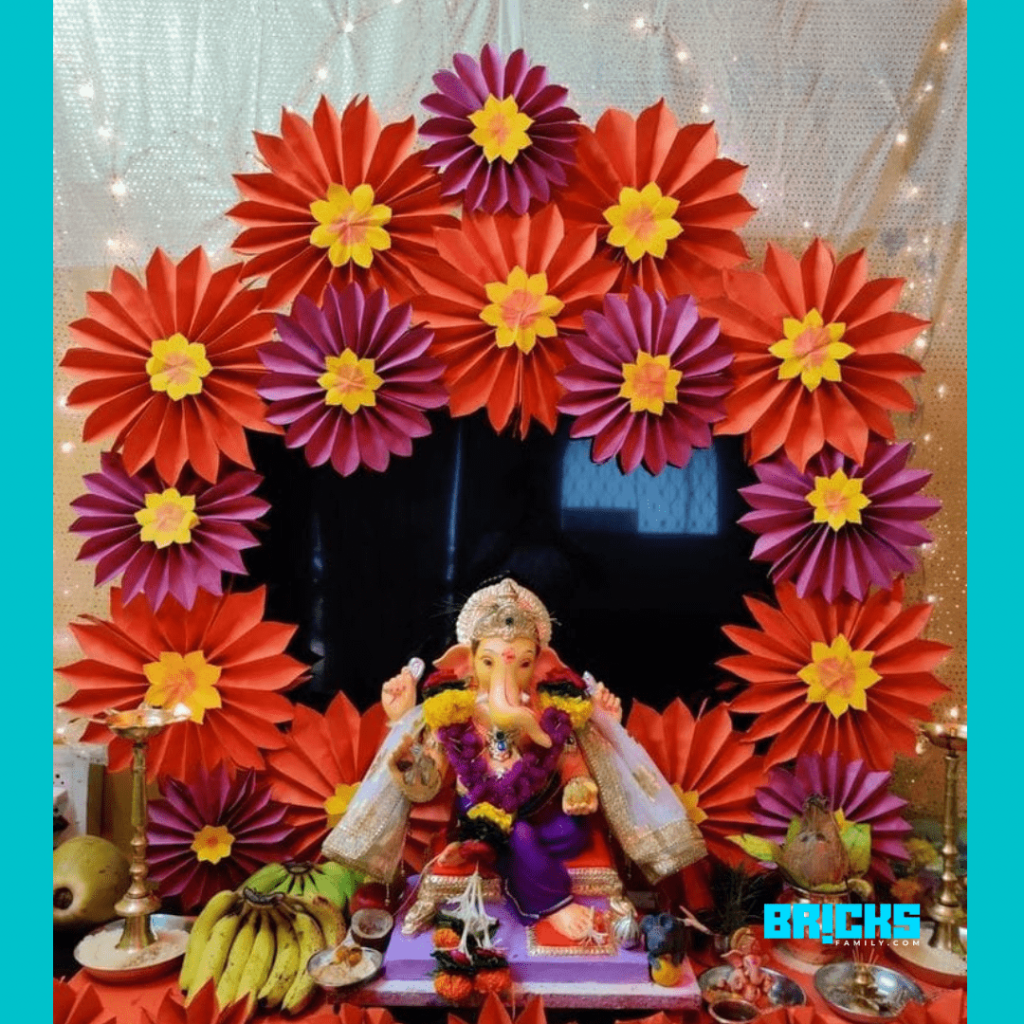 A floral extravaganza is a colorful, fragrant way to decorate for Ganesh Chaturthi. Focusing on fresh flower arrangements creates an enchanting yet minimalistic look.
a- Keep it Simple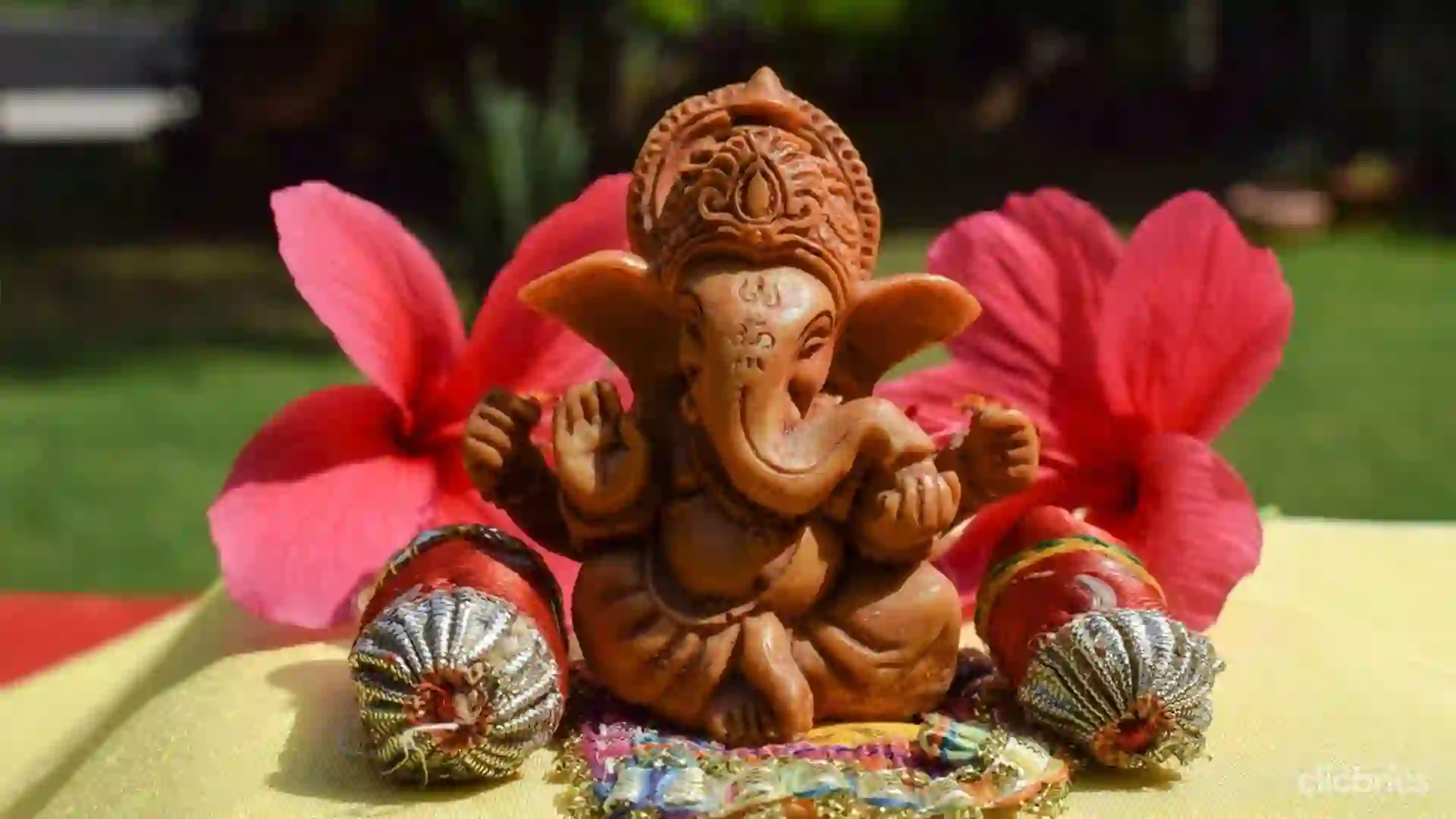 When using flowers as a focal point, less is more. Choose 2-3 types of flowers in complementary colors and groupings of the same flower for impact. For example, gather orange marigolds, pink lotuses and purple orchids for a vibrant yet cohesive look. Or mass together sunny sunflowers for a cheerful statement.
b- Natural Accents
Incorporate natural accents to complete the minimalistic feel. Add leafy greenery like eucalyptus, ferns or ivy for an organic touch. Scatter stone or crystal accents, wood slices or terracotta pots filled with moss or river stones. Natural fibers like jute, sisal or linen in place of plastic tablecloths or as runner create an eco-friendly vibe.
c- Flower Arrangements
Choose a large statement arrangement to be the centerpiece, with complementary smaller vases placed around. For the main arrangement, select a simple container like a stone urn, wooden box or wicker basket and fill it with seasonal flowers, berries and greenery. Surround it with bud vases, terracotta pots or glass jars containing a single type of bloom.
d- Cultural Elements
Subtly incorporate cultural touches through natural or handmade items. Place diyas, candles or lanterns amidst the flowers for a warm glow. Use a brass, copper or bronze container for an Indian-inspired look. Scatter marigold, jasmine or rose petals around the space for aroma and authenticity.
Keeping your floral Ganpati decor simple and natural allows the beauty of the flowers and cultural elements to shine through. Focus on a minimal color palette, natural materials, essential greenery and a statement centerpiece for an enchanting yet minimalistic celebration.
4- Vintage Vibes- Bringing in Style like older Times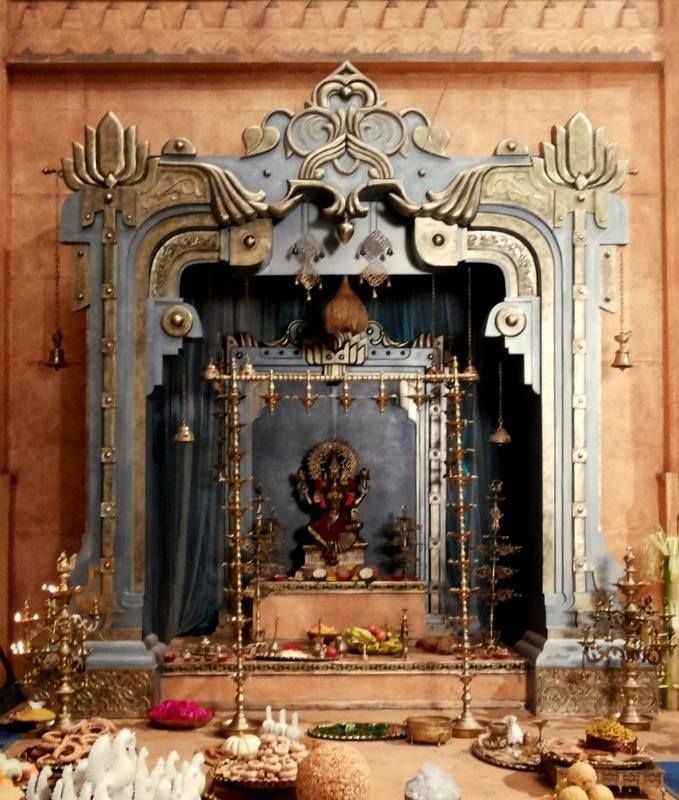 Vintage-themed Ganpati decoration ideas evoke nostalgia for simpler times. By incorporating elements from decades past, you can create a charming space that pays homage to cultural traditions.
a- Keep it simple
Minimalism was key to vintage style. Focus on clean lines, neutral colors, and high-quality, natural materials. Use a muted color palette of creams, tans, light wood tones and touches of gold. Keep clutter and excess ornamentation to a minimum. A few well-placed accent pieces make a statement without seeming busy.
b- Source authentic pieces
Seek out actual antiques or high-quality reproductions. An old trunk, table, or chair makes a perfect focal point. Vintage books, clocks, telephones and other functional decor instantly transport you to another era. Look for pieces with rich wood tones, metal accents and ornate, handcrafted details.
c- Include natural greenery
Plants were an integral part of vintage home decor. Incorporate potted palms, ferns or ivy for an authentic touch. Place greenery in corners, on tabletops or mounted on walls for an artful display. The living plants will make your space feel fresh, even when aiming for an old-fashioned style.
d- Use era-appropriate lighting
Complete the look with lighting fixtures from the early-mid 20th century. Options include art deco sconces, mid-century modern floor and table lamps with silk or linen shades, and vintage-style Edison bulbs. Dim lighting from multiple sources creates a warm, cozy glow perfect for intimate Ganpati celebrations.
e- Final touches
Small accents like old books, postcards or advertisements; a retro clock; an antique radio; or a vintage telephone help complete the vintage vibe. A gramophone or record player with era-appropriate music is a showstopping final detail.
By keeping decor simple yet high quality, sourcing authentic antiques, incorporating natural greenery, using appropriate lighting and adding final touches, you can create a stunning vintage-themed space to honor Ganpati in retro style. Focusing on cultural traditions of the past helps bring deeper meaning to your modern celebrations.
5- Minimalistic Elegance – The Beauty of Simplicity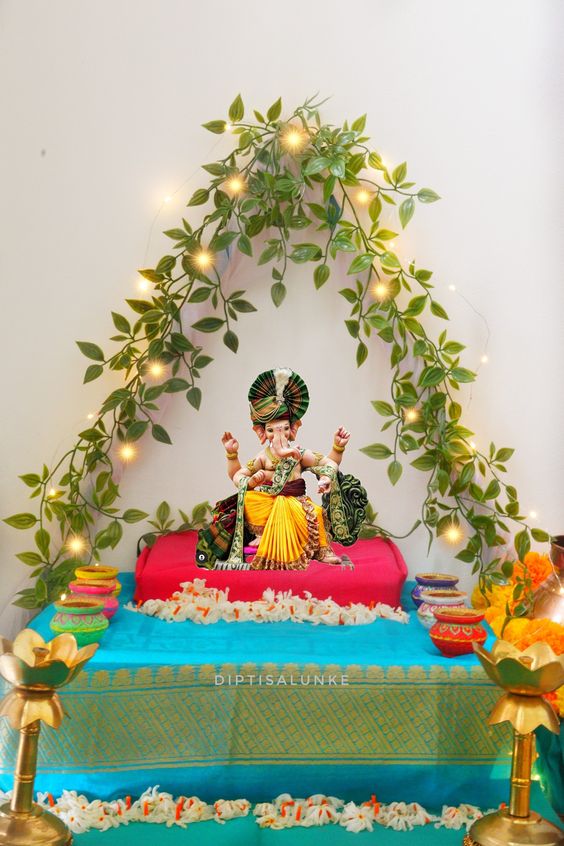 When it comes to Ganpati decoration ideas, minimalism can be equally striking. Simplicity has its own beauty. By focusing on clean lines, subtle color palettes, and impactful focal points, you can create an elegant space that lets Lord Ganesha take center stage.
a- Keep the color scheme neutral.
Stick to a simple palette of whites, creams, grays, and natural wood tones. These muted shades highlight the festive atmosphere while keeping the decor simple. Accent with metallics like gold or rose gold for a touch of shine.
b- Choose high-quality, simple decor.
Invest in a few key pieces that make a statement, rather than cluttering the space with lots of small trinkets. For example, focus on an ornate wall hanging, a decorative tray to hold pooja items, or an artful statue of Lord Ganesha. Keep other decor minimal.
c- Create a focal point.
Designate one area as the main focal point for your Ganpati decorations. This could be a tabletop mandap, a wall hanging, or the area where you place Lord Ganesha's murti. Keep the surrounding space open and avoid overcrowding this main focal area. Allow it to shine through.
d- Use natural materials.
Incorporate natural materials like wood, marble, terracotta and woven accents. These raw materials complement a minimalistic style and bring an organic, earthy feel to the festivities. They also connect the decor back to nature.
e- Keep lines clean.
Choose furniture, mandaps, wall hangings and other accents with simple, clean lines rather than overly ornate details. Curved lines and geometric shapes also help achieve a minimalistic look. Keep the overall silhouette of your decor simple and balanced.
A minimalistic approach to Ganpati celebrations allows the true meaning of the festival to shine through. By focusing on high-quality pieces, natural materials, neutral colors and clean lines, you can design an elegant space to honor the remover of obstacles. Simplicity at its finest.
Conclusion
In the end, the beauty of simplicity can create a stunning effect. A minimalistic decoration theme is an elegant choice that allows the spiritual and cultural significance of Ganesh Chaturthi to shine through. By focusing on clean lines, subtle earthy color palettes, natural materials, and a few impactful focal points, you can craft a minimalistic Ganpati decoration ideas that is both sophisticated and meaningful. So don't feel pressure to go over the top. Keep it simple, heartfelt, and focused on what really matters during this important festival. Simplicity and mindfulness are virtues Ganesha himself would surely appreciate in your tribute.