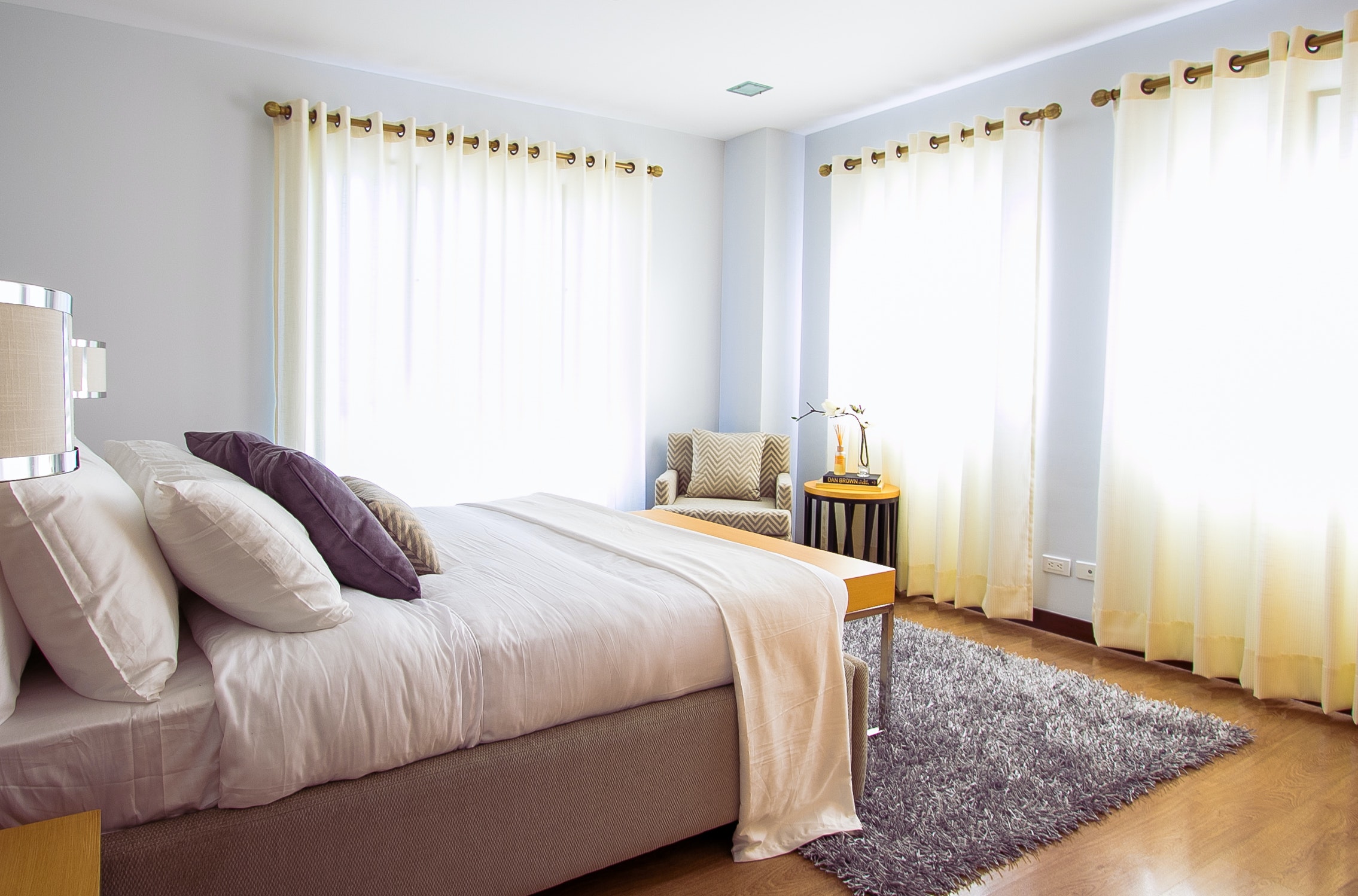 We all know that the bedroom is the most comfortable, cozy and personal corner in the entire house. It's where you go when you need to relax after a hard long day. So, an ideal bedroom is the one that makes you feel at ease, not with just the bedroom furniture that you put in it, but which can also visually awaken your need or desire to relax, both physically as well as mentally.
It is also said that a bedroom reflects how your life is. It reflects your taste and style. And NOT utilizing the room's space appropriately and just filling your bedroom with highly expensive home decor can make your bedroom look clustered and clumsy. Whether the room is in good shape or not, defines how you live your life.
Every small or large element in the bedroom actually affects the overall aesthetic & appeal of your bedroom. Whether you have taken the bedroom furniture on rent or purchased it, or whether the other furnishings are on point and in coordination with each other or not matters. So, let us explore some of the best bedroom decor ideas to make your bedroom feel a bit more modern, look elegant and comfortable.
Decide Your Bedroom's Colour Scheme
Don't you ever wish that your bedroom is painted in the colours that you like the most, with your favourite colour palette, that also complements your overall bedroom furniture? But the painful truth is that sometimes you have to cut down on your dream because every colour has a psychological impact. This is why you need to choose wisely.
For example, there's a trend of colouring bedroom walls with peppy colours like bright red, yellow or pink, which can be psychologically disturbing. You need to choose more soothing colours because the bedroom is a place where you need your mind to relax. Here are some colour options you can choose from.
Lavender: Its subtle shade and its intensity towards the dark take you to a calm zone, a relaxation mode.
Green: Green is a colour of tranquillity as well as growth. It is also pleasing and calming.
Blue: Blue is known to have an extremely calming effect on people. It's the best colour when you want to spend some quality time with yourself.
Neutrals: Sophisticated colours evoke relaxation when they are coupled with some other shades like black.
Some more colours that you can try are olive green, vintage pink, forest green etc. You can also get some art done on your walls to make them look more elegant.
Space It Up: Position Your Bedroom Furniture Better
What size is your bedroom? A small bedroom makes look even smaller if the bedroom furniture and the other things are not placed correctly in it. It makes the room look clustered. Therefore, it is very important to place the objects or assets in your room in the right positions. More importantly, the furniture that you've gotten for your bedroom should be of the right size.
Let's say you want a king size double bed, but do you have the space for it? The design and the size of your bed should appropriately fit the bedroom's decor and it should not take up all the place in the room. Besides the bed, there is another piece of furniture like storage essentials, chest of drawer etc. That can be mounted on the height of the wall or can be made into the wall. This will make the room look more spacious. Or choose a double bed with storage to empty up the space occupied by another wardrobe.
Choose the Right Bedroom Furnishings
Apart from the major assets like a bed, wardrobe or storage furniture, there are other things that change the overall appearance and feel of the room. These include curtains, pillow, bedsheet, or even the mattress of your bed. Curtains show the smartness of your bedroom and impact the other elements in the room. The choice of curtains can make or break your room's look. Therefore, keep in mind the colour of your room's walls and the bedroom furniture while choosing the curtains.
Other than curtains, you need a good bed mattress to keep your body relaxed. With that, there are good pillows and to make the room look even more elegant, you need good bedsheets. These may be the small items but each of these elements contribute to the overall feel and appearance of the bedroom. The better these small elements are the more elegant your bedroom can look. So, you are advised to make the right choice and maintain the cleanliness of the room as well.
Throw in The Right Lighting in the Bedroom
To bring life to the bedroom, make all the elements in the room pop out, and throw light on the decor designs, all you need is some appropriate and good lighting in your bedroom. To maintain the room's coziness, you need some soft as well as warm lights in your bedroom. These can be dimmed ones as well. It all depends on what kind of lighting sets your brain to relax.
You can add bedside lamps on the table beside your bed. Another thing you can do is add some adjustable wall lights to match up with the daylight or the night light that the room needs. There are some other options as well like small interior lights that you can include in the wardrobe.
Some Other Add-Ons in the Bedroom
To make the room stand out and look cheek, you can add other elements in the room. If you like pictures or art, you can place nice and classy frames on the walls. You can also add a mirror to reflect the light in the room. Mirrors also have the tendency to make the room seem bigger.
Other than these, you can add floor carpet for you to walk on a soft floor when you get out of bed. Conceptualize the overall look of your room, decide which element you want on which wall and place accordingly.
To keep everything under budget while decorating the room, you can take your bedroom furniture on rent, instead of making a heavy payment and putting a hole in your pockets. Renting is more practical and also give you the freedom to upgrade your furniture with the newest models.
Check out our wide range of bedroom furniture to place an order without the headache of going out and searching for the perfect furniture pieces separately. Get everything all in one place. Not only this, but with Cityfurnish you also get some more added benefits like free delivery, pickup, maintenance and installation.