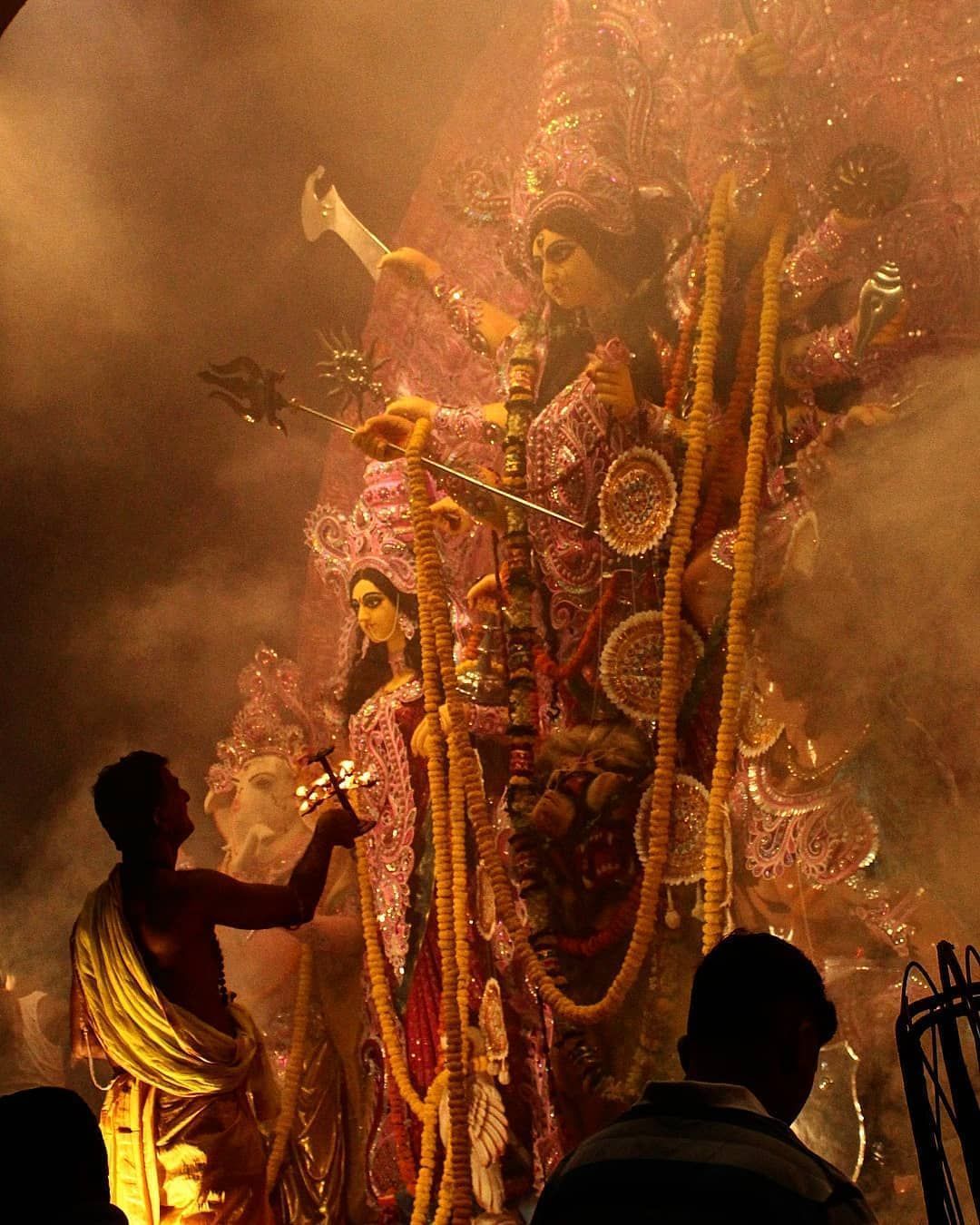 Alright, Navratri is just around the corner and it's time for you to start planning how you want to deck up your home for the festival. Whether you go all out with bright colors and traditional decorations or keep things minimal, a festive touch can uplift the mood and make the celebration more vibrant. In this guide, I'll walk you through some simple yet gorgeous navratri decoration ideas to make your home Navratri-ready. From floral arrangements and clay pot displays to traditional rangoli designs and garland drapes, you'll find inspiration for every corner of your home. Get ready to welcome Maa Durga in style!
1- Traditional Color Themes for Navratri 2023 Celebrations
The colors you choose for your navratri decoration ideas during Navratri are very important. They represent the different avatars of Maa Durga worshiped each day.
a- Navratri Colours 2023
Day 1: Yellow, the color of Maa Shailputri. Use yellow flowers, garlands, pillows and candles.
Day 2: Green, for Maa Brahmacharini. Add green rangoli powders, mango leaves and green fabrics.
Day 3: Gray, representing Maa Chandraghanta. Decorate with ash, silver or gray colored accents.
Day 4: Orange, the color of Maa Kushmanda. Use orange marigolds, lights and paint an orange swastika.
Day 5: White, symbolizing Maa Skandamata. Add white lilies, jasmine, pearls and milk.
Day 6: Red, representing the power of Maa Katyayani. Use red roses, bandhani fabrics, scarlet rangoli and red candles.
Day 7: Royal Blue, for Maa Kalratri. Decorate with blue orchids, hyacinths, fabrics and rangoli.
Day 8: Pink, symbolizing Maa Mahagauri. Use pink lotuses, bougainvillea and fabrics.
Day 9: Purple, representing Maa Siddhidatri. Add purple bougainvillea, orchids, fabrics and rangoli.
By using the colors that match the different avatars of Maa Durga each day, you'll create an authentic Navratri vibe in your home. Celebrate this festival with full devotion by decorating using these traditional color themes.
2- Dazzling Lights and Lanterns for Durga Pooja Decor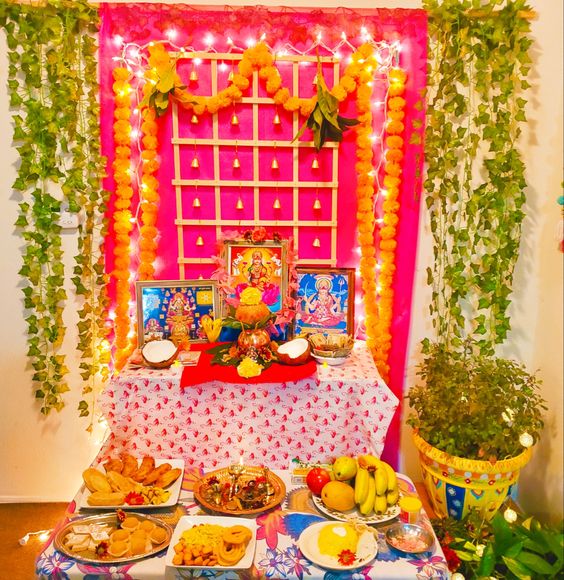 When it comes to Navratri decoration ideas, you can never have too many lights! String up colorful lanterns or hang fairy lights for an enchanting glow.
a- Twinkling Lights
Nothing says festive quite like twinkling lights. Wrap fairy lights around doorways, windows or staircases for an inviting radiance. Or string up lanterns in your porch or garden. LED strip lights also work great for highlighting pathways.
b- Flickering Flames
Add an ornate touch with oil lamps or floating candles. Their soft, flickering glow creates an authentic ambiance. Group several together for maximum impact or line pathways and entryways. Just be sure to keep an eye on open flames!
c- Neon Neon
Make a bold statement with neon lights. Spell out 'Navratri' or 'Jai Mata Di' in colorful tubing for an ultra-modern twist. Neon signs also work nicely as wall art or mounted on outside walls.
d- Spotlights
Use spotlights, floodlights or laser lights to highlight decor focal points like rangolis, garlands or idols. Move the beam for a dynamic light show or set it to rotate through different colors.
With the right combination of lights, your Navratri decorations will shine brightly. Whether you prefer the gentle glow of diyas, the dazzle of fairy lights or a high-tech laser show, lighting is key for creating the perfect celebratory atmosphere. Radiate the spirit of Navratri and welcome Maa Durga into your home!
3- Floral Arrangements and Garlands to Welcome Maa Durga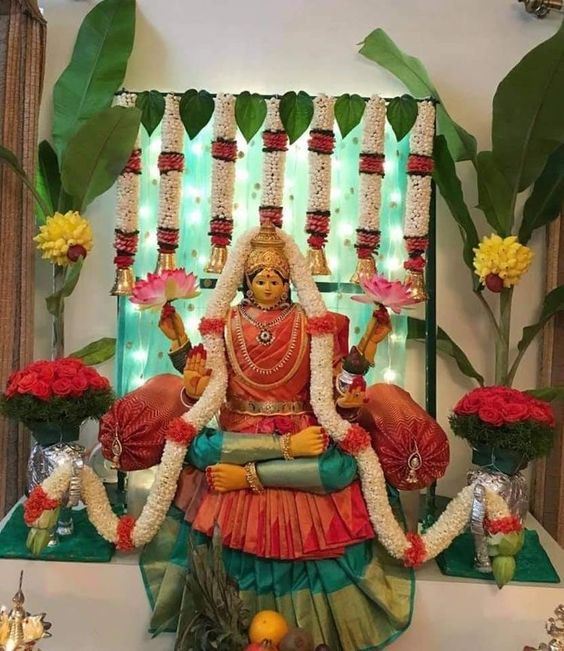 Floral arrangements and garlands are a must for welcoming Maa Durga during Navratri. Fragrant flowers like marigolds, roses, jasmine and chrysanthemums are traditionally used.
a- Floral decoration at Entrance
You'll want to decorate your entryway with a colorful floral toran or garland. String together fresh flowers to create a vibrant welcome for the goddess. Place potted plants on either side of the doorway for an inviting look.
b- Floral decoration for Navratri
Inside your home, groupings of flowers in brass or clay vases will fill the space with the sweet scents of the season. Choose orange and yellow blooms, like marigolds and gerbera daisies, to represent the warm autumn season. Red roses also symbolize love and beauty, perfect for honoring the divine feminine.
Create mandala-shaped floral rangolis on the floor to welcome Maa Durga into your home. Outline the shape with flower petals, then fill it in with colored sand or rice. A circular shape represents eternity and the cycle of life.
c- Floral decoration around Maa Durga
You can also put together small floral pooja thalis to use during your Navratri devotions. Place freshly picked blooms, leaves and petals around small clay diyas and images of the goddess. The natural fragrances will enhance your worship.
During Navratri, flowers connect us to the beauty of nature and the divinity all around us. Use floral decorations throughout your home to welcome Maa Durga and celebrate this vibrant festival of the divine feminine. Fill your space with the colors, scents and symbolic meanings of fresh blooms. Floral arrangements are a simple way to create an authentic ambiance for Navratri in your home.
4- Setting Up the Mata Ki Chowki for Navratri Pooja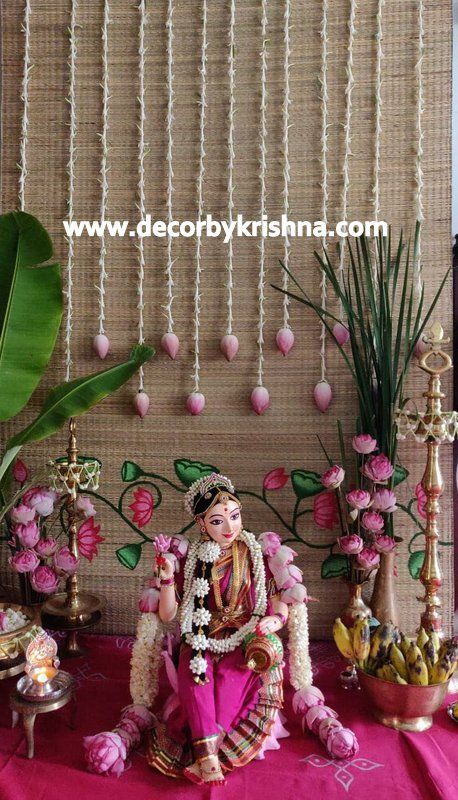 The Mata Ki Chowki is an important part of Navratri celebrations and pooja. To set one up properly in your home, here are some tips:
a- Select a place
Choose an area in your home that will be dedicated to the Chowki for all 9 days of Navratri. A spot in your puja room, living room or entrance is ideal. Make sure you have enough space for the idol, decorations and for people to gather.
b- The right direction for Durga Puja
According to Vastu Shastra, the best direction to place Maa Durga murti is east or north-east. Because it is associated with the element of air and the planet Jupiter, which represents knowledge, wisdom, and spirituality, this direction is considered auspicious.
c- Install the idol
Place an idol of Goddess Durga, Lakshmi or any of the Navratri goddesses in the center. You can also include pictures or wall hangings of the deities around the area.
d- Add decorations
Use colorful navratri decoration ideas to adorn the space. Hang torans or garlands made of marigold, mango or palm leaves over doorways. Place rangoli, diyas or string lights around the area to make it festive. You can also add potted plants, flowers and traditional Indian cushions, pillows or wall hangings.
e- Include puja essentials
Have a wooden chowki or table for the idol. Place a brass kalash, conch, aarti plate, incense sticks, diyas, kumkum and other puja items on the table. Make sure you have enough space for family and friends to do darshan and aarti.
f- Invite friends and family
The Mata Ki Chowki is meant for communal celebration and worship. Invite close friends, family and community members to join in the festivities, sing bhajans, do aarti and connect over the 9 days of Navratri. Their participation and blessings will make the experience even more special.
Setting up a dedicated space for the Mata Ki Chowki and coming together as a community during Navratri helps honor the divine feminine power in a traditional way. Follow these tips to make your Chowki a memorable part of the festive celebrations.
5- DIY Crafts and Decorations for Durga Pooja at Home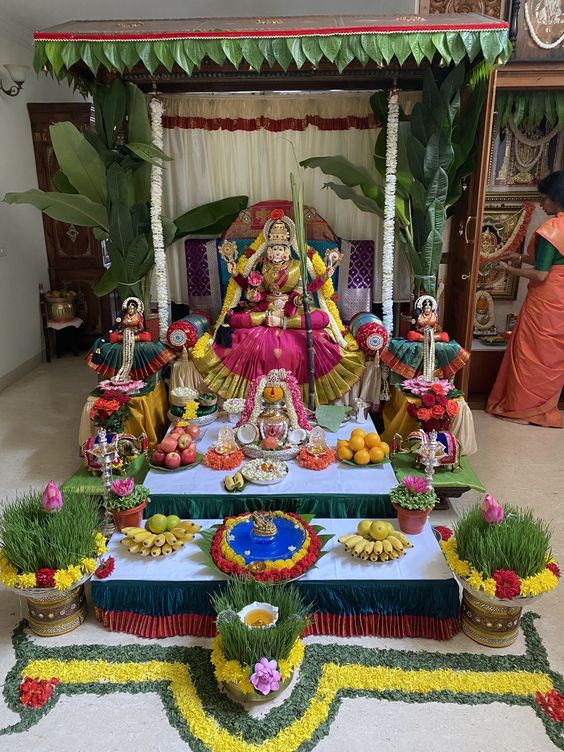 DIY crafts and navratri decoration ideas are a fun way to make your Navratri celebrations more personal. Here are some easy craft ideas to brighten up your home:
a- Paper flowers
Nothing says festive like fresh flowers. Make colorful paper flowers to decorate your puja area or hang from the ceiling. You'll need tissue paper, wire, floral tape and scissors. Cut circles, teardrops and leaf shapes from the tissue paper and attach onto wire stems. Arrange in vases or string together to make garlands.
b- Painted pots
Grab some clay pots or terracotta planters and paint Durga or Navratri-themed designs on them. You can paint the goddess riding a lion, the Navratri colors, or traditional motifs like the lotus or diya. Let your creativity flow! Once dry, fill the pots with fresh flowers, leaves or candles to complete the look.
c- DIY torans
Create your own decorative torans or door hangings using materials like paper, fabric, beads, tassels or dried flowers and leaves. Cut paper into diamond or teardrop shapes, punch holes along the edges and string onto twine to make a basic paper toran. Or use patterned fabric, beads and tassels to make more ornate hangings for your front entrance.
d- Rangoli stencils
If freehand rangoli isn't your forte, stencils are an easy alternative. You can find many Navratri stencil options to trace colorful rangoli patterns. Or make your own stencils by cutting designs from thick paper or cardboard. Place the stencil on the floor and fill in the pattern with colored powder or flower petals. Lift away the stencil and voila – a perfect rangoli!
Adding handcrafted navratri decoration ideas like these DIY ideas will make your Navratri celebrations even more memorable. Get creative with colors, patterns and materials to make this festival season extra special. Happy crafting and Navratri greetings!
6- Significance of Jau (Barley) in Navratri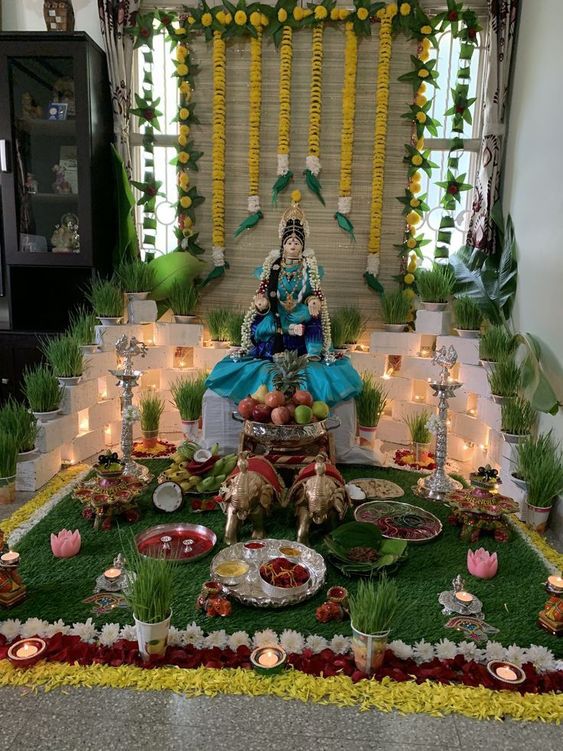 The barley plant, known as Jau, holds special significance during Navratri. This ancient grain is considered a symbol of growth, fertility and new beginnings.
During Navratri, Jau seeds are often germinated in earthen pots to represent renewal and new life. The sprouted grass is offered to the Goddess on the eighth or ninth day of Navratri. Some devotees plant barley seeds before Navratri and offer the fully grown grass to the deity on the final day.
a- Uses of Jau during Navratri
The green sprouts are also used to decorate the puja area, entrances and altars in homes and temples. Strands of sprouted barley grass, known as Jau ki mala, are often used to adorn doorways, giving a warm welcome to the Goddess.
Jau ki roti, or barley bread, is another important part of Navratri fare. It is usually consumed during the fast and offered as prasad. Barley flour is considered a pure, satvik ingredient and a favorite of the Goddess. Consuming jau ki roti is thought to calm the body and mind during the period of fasting and worship.
You may also see barley incorporated into Navratri rangolis, torans and wall hangings. Its symbolic meaning and auspicious association with new beginnings and fertility make barley an integral part of Navratri decor and rituals.
Whether as a sprout, in bread or as a decorative motif, jau is a constant throughout the nine days of Navratri celebrations. This nourishing grain represents growth, renewal and the divine feminine, epitomizing the spirit of this vibrant festival.
Conclusion
You've got so many bright and colorful ways to deck up your home this Navratri! With a vibrant theme, dazzling lights, floral arrangements and garlands galore, you're all set to welcome Maa Durga. A beautifully decorated chowki, decorative matkas and pillows, floor mats and wall hangings will give your place a festive vibe. And of course, the rhythmic beats of the dandiya will make you want to put on your dancing shoes.
With these navratri decoration ideas, you'll make your home the most happening place this Navratri. So go ahead, get creative and make the most of this festive season. May Maa Durga bless you and your loved ones with joy, peace and prosperity.