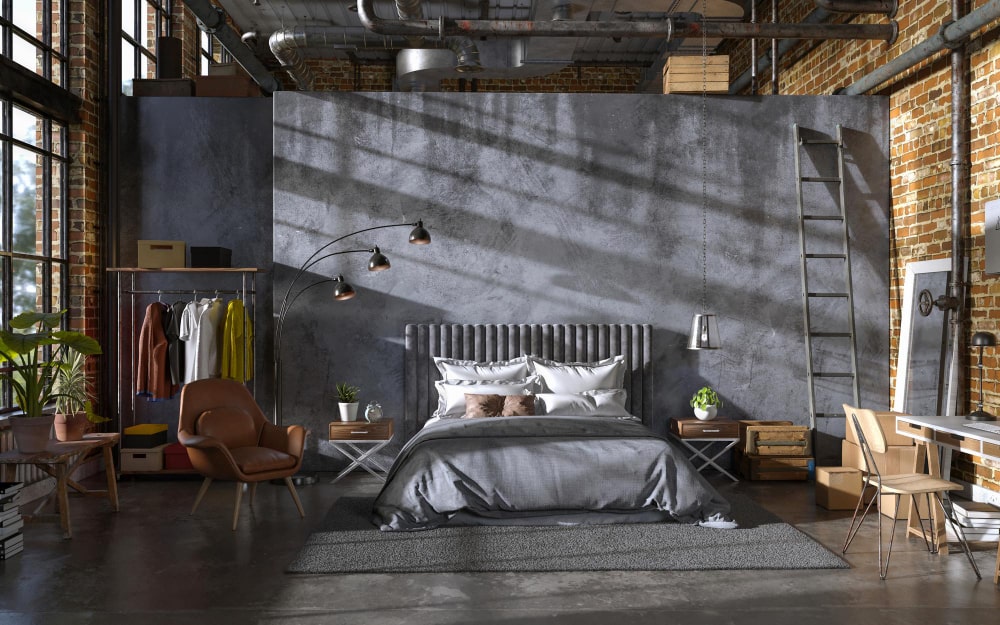 Have you been looking to give your bedroom a stylish makeover on a budget and make it most convenient at the same time? The good news is, there are plenty of easy and affordable bedroom essentials to transform your space into an Instagram-worthy retreat. Whether you're renting or own your place, these DIY projects and thrifted finds can help you curate a bedroom oasis without breaking the bank. From dreamy string lights to repurposed storage, you'll find plenty of inspiration ahead to craft a cozy space you'll never want to leave. Get ready to give your bedroom a refresh it deserves. The hardest part will be deciding which of these irresistible trends to start with!
1- DIY Headboards: Create an Elegant Focal Point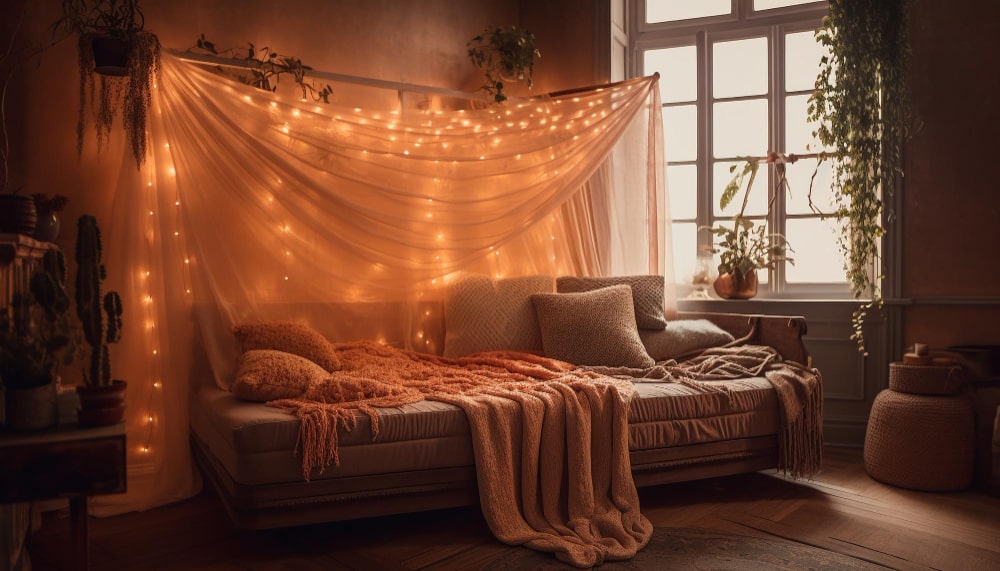 A DIY headboard is an easy project that makes a big impact in your bedroom. You can create a custom focal point without spending a fortune.
Head to your local hardware store and pick out some wood boards, planks, or pallets you want to use. Sand down any rough edges, then paint or stain the wood in your desired color. Once dry, you can stencil on a pattern or design for extra flair.
Different Material for Different Looks
For a rustic look, leave the wood unpainted and instead hammer on decorative accents like metal corners, knobs, or handles. String up some twine or rope across the back to hang photos, art, or string lights.
If wood isn't your thing, consider using an old door, gate, or metal headboard you found at a salvage yard. A little sanding and a fresh coat of paint can transform a thrifted find into a stylish DIY headboard.
However you choose to make it your own, a custom headboard is an easy, budget-friendly way to create an elegant focal point in your bedroom. Your DIY project will make a statement and give your space a designer look for less.
2- Thrifted Bedding: A bedroom Essential to Add Vintage Charm on a Budget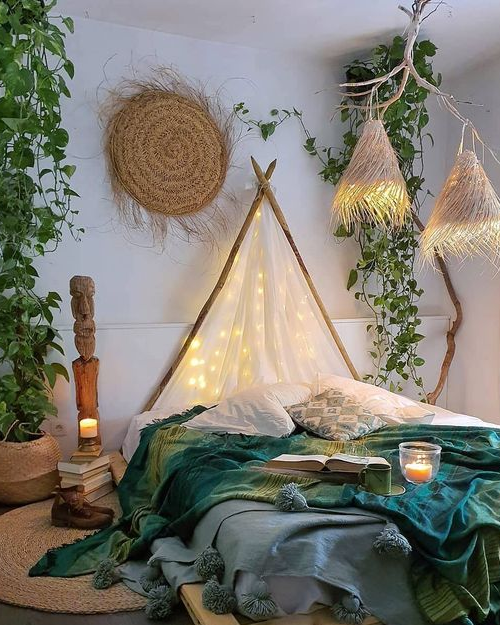 Adding thrifted bedding is an easy way to give your bedroom a bohemian vibe on a budget. Hit up local stores, seasonal sales, and online sale to find high-quality linens and blankets for a fraction of the retail price.
Using Bedding with Character
Look for vintage quilt sets, traditional bedspreads, crocheted afghans or handmade patchwork duvets. Not only will these one-of-a-kind pieces make a statement in your space, but they'll keep you cozy at night. Don't forget to inspect items closely for any damage or stains before buying, then launder them thoroughly once you get home.
If full bedding sets aren't your style, you can mix and match. Pick up a few thrifted blankets, throws or quilts and layer them on your existing bed for an eclectic boho look. Mixing and matching patterns is part of the charm.
Adding used bedding is an affordable and sustainable way to transform the look of your bedroom. Your thrifted finds will make your space cozy, stylish and uniquely you. And you'll feel good knowing you gave used linens and blankets a second life.
3- String Lights: Create Ambiance for Less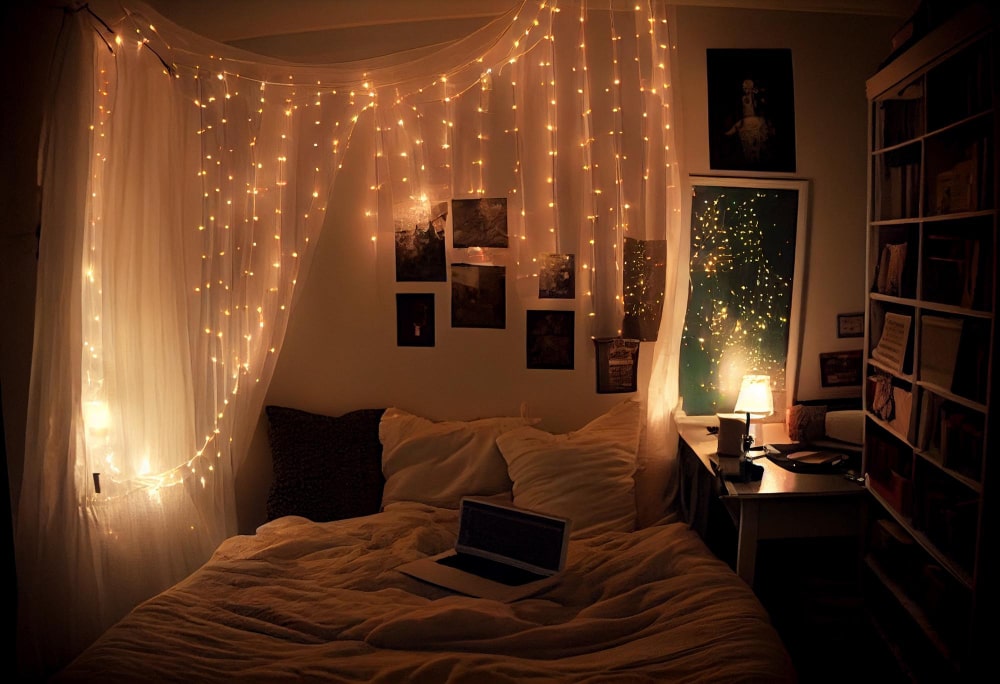 String lights are an easy, affordable bedroom essential to create ambiance in your bedroom. You can find string lights for under $20 and create a cozy space in just a few minutes.
Simply pick up a set of string lights, like copper wire lights or globe string lights, and decide where you want to hang them. The most popular spots are:
-Around the window frame: Gives a warm glow around the window at night.
-Above the headboard: Creates a focal point and highlights the headboard.
-Crisscrossed on the ceiling: For a whimsical look, criss-cross multiple strands on the ceiling.
You can also get creative by wrapping the lights around tree branches, an old ladder, or a decorative piece of wood for a rustic look. The possibilities are endless!
Once you've decided on a design, secure the ends of the string lights to the wall using small nails or command hooks. Then sit back, turn off the main light, and enjoy your cozy new space. String lights are an affordable way to make a big impact in your bedroom.
4- Secondhand/Rent Furniture: Save Money and the Planet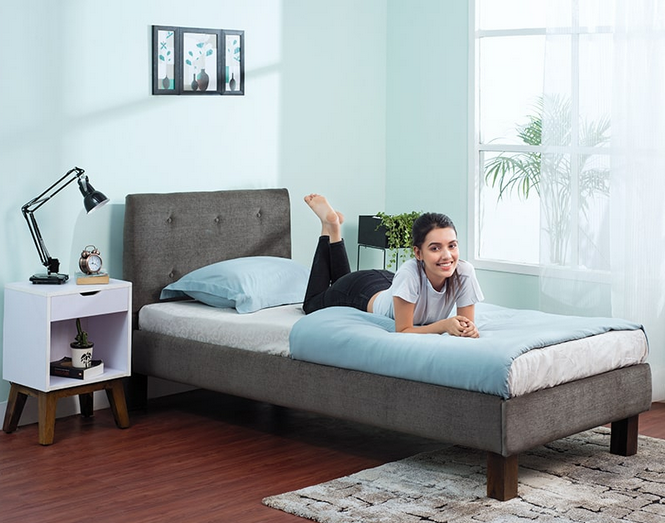 Secondhand furniture and furniture on rent are two easy ways to give your bedroom a stylish makeover without breaking the bank. Shop thrift stores, Facebook Marketplace, and local stores during the time of seasonal sale in your area to find unique pieces with character at a fraction of the cost of buying new.
Renting bedroom furniture is another great way to furnish your bedroom in budget. If you opt for bedroom furniture on rent, it gives you access to multiple gorgeous and quality furniture pieces for bedroom like beds, bedsides and wardrobes. Most furniture rental companies offer free delivery and assembly along with the furniture, so there's one less thing to worry. Also, in case you change your mind anytime if future about your decor or bedroom furniture, you can get your rented furniture picked up for free in no time.
Making the most of It
A worn dresser or chest of drawers makes a perfect bedside table. Look for a style that matches your existing decor and give it a fresh coat of paint or stain to make it your own. An armoire or wardrobe is ideal for extra storage. Put a mirror on the inside of one door to create a DIY vanity space.
Repurposed furniture helps reduce waste and is better for the environment. Do your part by choosing used over new whenever you can. The savings will add up and you'll end up with a bedroom that looks like it's straight out of a designer catalog.
5- DIY Artwork: A Fun Project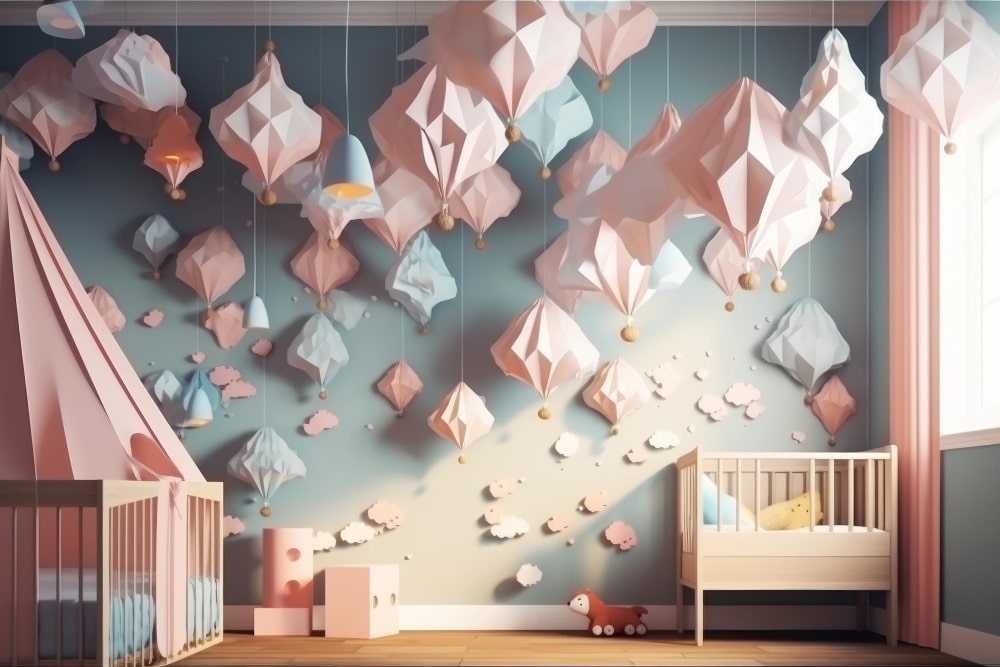 DIY artwork is a must have bedroom essential and an easy way to personalize your space on a budget. You can create custom pieces tailored to your tastes that make a statement in your bedroom.
a- Photos
Blow up your favorite photos to poster size at a copy shop and frame them. Black and white or sepia-toned prints have a chic, artistic vibe. For a cohesive gallery wall, print a series of pictures in the same style.
b- Paintings
Don't consider yourself an artist? Abstract art is easy to DIY. Apply paint to a canvas using brushes, rollers, or your hands. Splatter, drip, and blend colors together for a bold piece. Stencils and tape can help you create geometric shapes. Or, try your hand at simple landscapes, still lifes, or calligraphy.
c- Maps
Frame vintage maps, star charts, or sheet music for an eclectic look. You can find many public domain options online to print and hang. For extra flair, pin the location of meaningful places you've traveled.
With a little creativity, you can craft bedroom art that showcases your personality. And when you make it yourself, you'll appreciate it that much more.
6- Trendy Wall Decals: Give it a Personality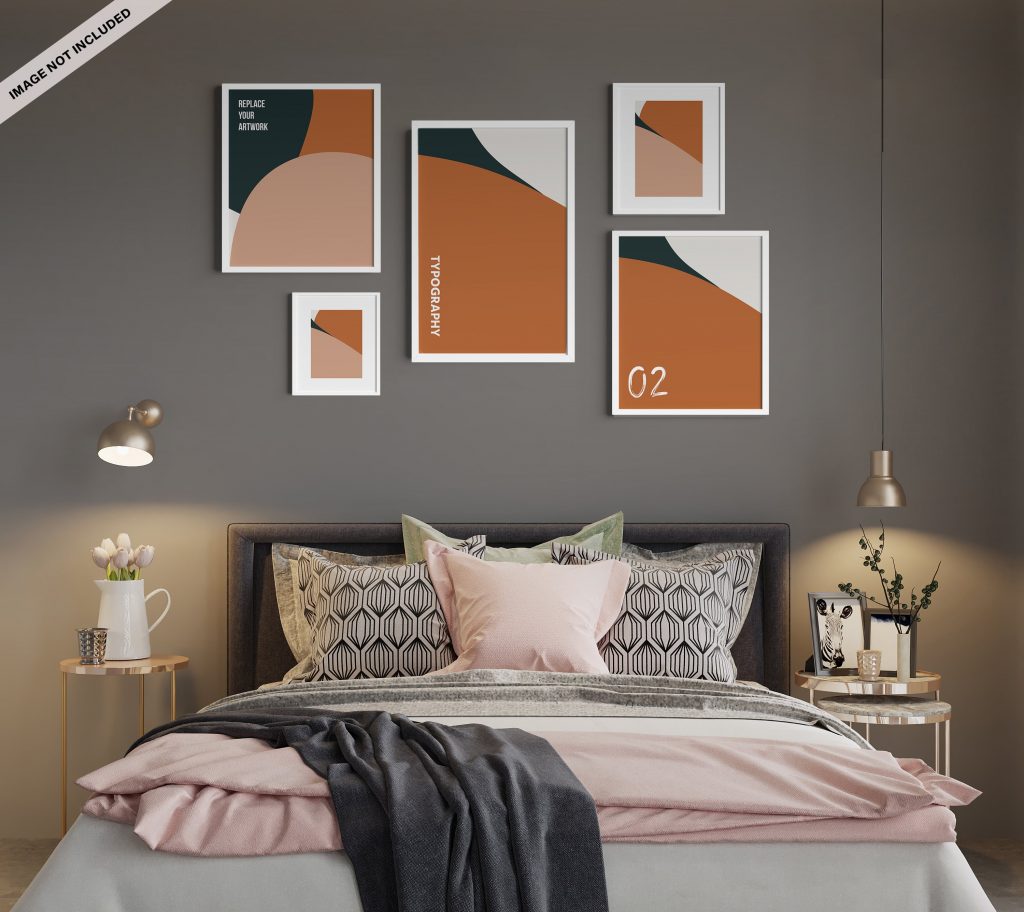 This one is more of a personalized bedroom essentials. Trendy wall decals are an easy, inexpensive way to give your bedroom personality. You can find decals for any style – boho, minimalist, rustic, glam, etc. Once you've chosen a theme, scout out decals that reflect your unique style.
If you're not into hammering nails, wall decals provide an easy alternative. Removable vinyl decals come in a variety of prints, quotes, and sizes that you just stick on and peel off. Arrange into a collage or spell out inspirational words on your wall.
Ideas for Wall Decor
Opt for nature-inspired decals like leafy vines, dreamcatchers or celestial designs for a calming vibe. Add whimsical touches with decals of your favorite book or movie characters. Frame out a gallery wall with different shaped decals in complementary colors. The options are endless!
When applying the decals, start with a clean, smooth wall surface. Carefully peel the decal from its backing and use the included application tape to position it on the wall. Slowly peel away the tape, smoothing out any air bubbles with a squeegee or credit card. For the most professional results, consider using a level to ensure decals are evenly aligned.
The best part about wall decals is that they're removable and repositionable. You can change up the look of your space in a flash by simply peeling them off and reapplying in a new spot or pattern. Play around with different decal designs and layouts until you find what makes your heart happy!
7- Bedside Caddy: DIY or Non-DIY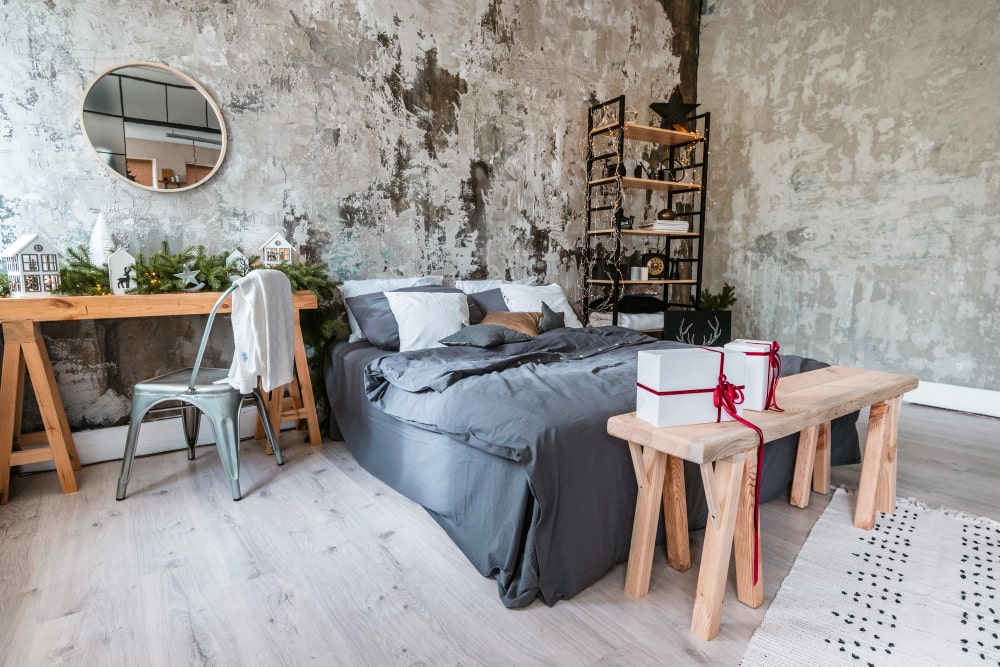 It is one of the most useful bedroom essentials. A bedside caddy is a DIY project that can add storage and style to your bedroom. You can find simple tutorials online to make your own or purchase an inexpensive option.
Either way, a caddy keeps essential items within easy reach so you can avoid interruptions to your sleep or relaxation. Store things like your phone, charger, headphones, books, journals, pens, lotion, water, snacks, or whatever you need close by.
Having dedicated storage prevents clutter from accumulating on your nightstand or dresser. And a caddy with handles makes it easy to move wherever you need it – to the living room couch, outside on the patio, etc.
Look for a caddy that matches your decor style. Rustic, boho, minimalist, glam – there are so many choices. Or get creative and make your own custom design! A bedside caddy is an organizational essential that helps you rest easy knowing everything has its place within arm's reach.
8- Area Rugs: Divide without Dividing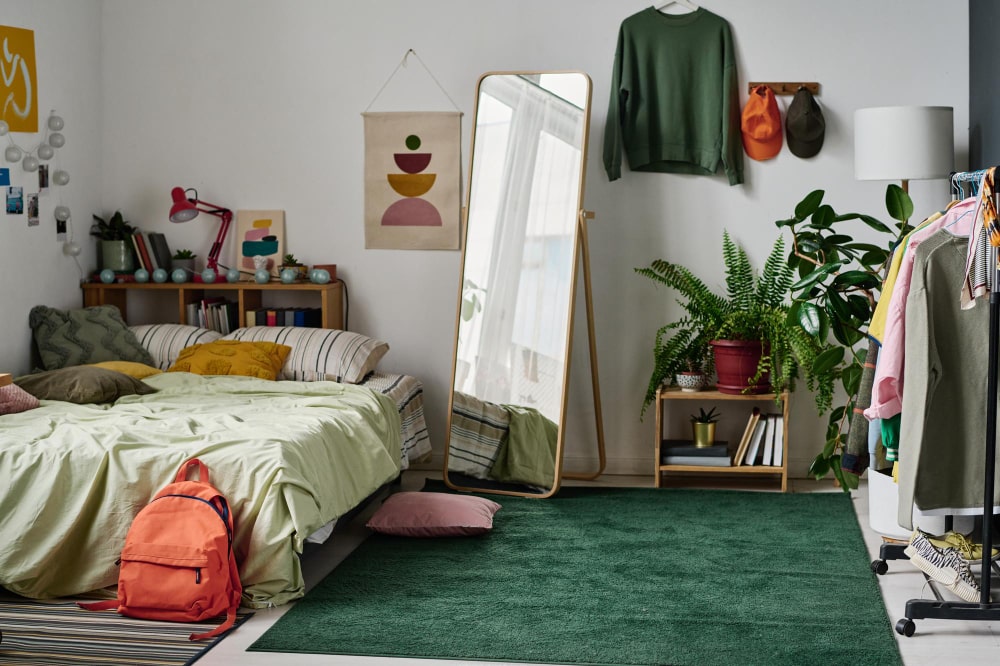 Area rugs are an easy way to define spaces in your bedroom without installing permanent dividers. They're ideal for separating a sitting area from your sleeping space or adding coziness under your feet when you wake up.
You can find inexpensive rugs at big box stores, thrift shops, and home decor outlets. Look for natural, breathable fibers like cotton, jute or wool in a size that suits your needs. A 5' x 8' or 6' x 9' rug is perfect for a small bedroom sitting area. If your space allows, try a larger 8' x 10' rug to anchor a seating arrangement. Rugs are the most way to include in your bedroom essentials if you love cozy yet decorative bedroom.
Be Bold in your Choices
Don't be afraid to layer multiple rugs for extra texture and dimension. Start with a larger neutral rug as your base, then add a patterned rug on top for a bohemian vibe. Or place a sheepskin or faux fur rug next to your bed for a touch of luxury when you step out of bed in the morning.
Rugs with non-slip backings or pads are safest for high-traffic areas. Make sure any rug you place in walkways or next to your bed is securely fastened to the floor to avoid tripping. Double-sided tape, rug anchors or non-slip pads are all easy, budget-friendly solutions to keep your rugs in place.
9- Repurposed Storage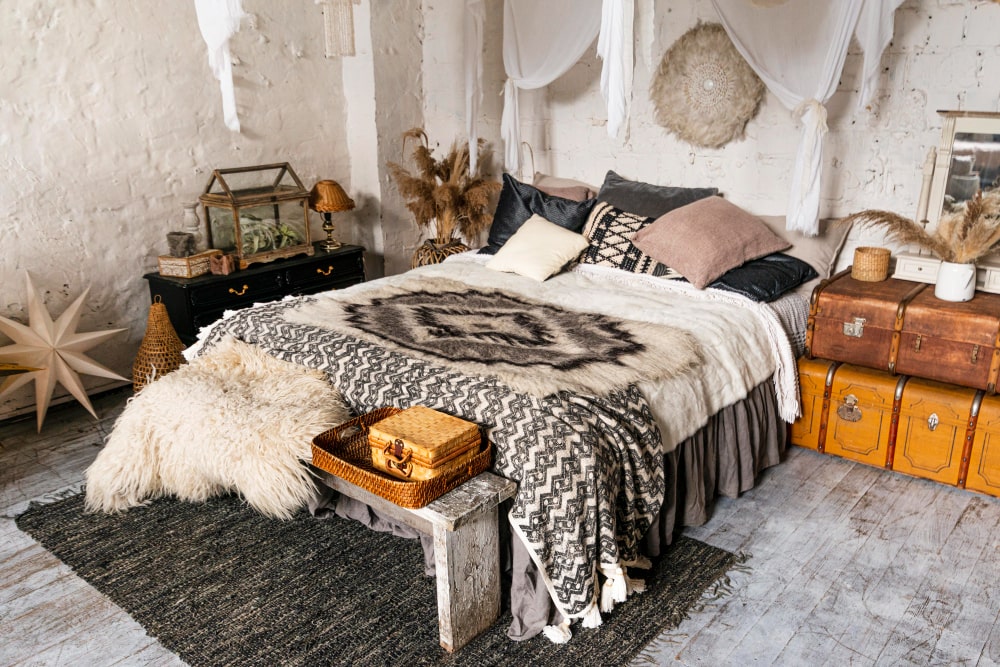 Repurposed storage is one of those bedroom essentials which are an affordable way to add character to your bedroom. Vintage trunks and wooden crates are perfect for this. You can find these secondhand at thrift stores, garage sales, and antique shops for little cost.
Look for trunks or crates in a style you like, such as travel trunks with leather straps or weathered wood crates. Clean them up if needed, then use them at the foot of your bed, under a window, or in your closet for extra storage. Stack a few together to create a rustic side table or nightstand.
Using Vintage Trunks or Wooden Crate
If the trunk or crate doesn't have a lid, you can make your own to turn it into a coffee table or bench. Paint or stencil designs on the sides to match your room's decor. Add casters to the bottom so you can easily move them around.
Repurposed storage is an eco-friendly way to keep clutter at bay. And unlike sterile store-bought furniture, vintage trunks and crates have character that gives your space a cozy, lived-in feel. They make great conversation pieces, and you'll love telling people about your thrifty finds!
10- Nightstands: Convenience & style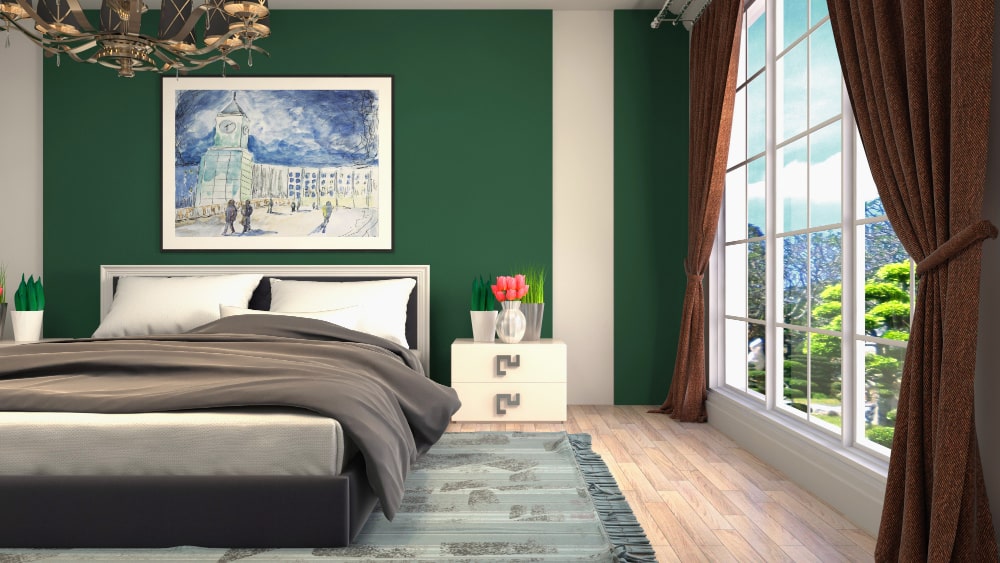 Nightstands serve double duty in any bedroom by providing storage and displaying decor. For maximum style and function, consider repurposing a small table or dresser. This bedroom essential actually complete the bedroom.
Look for a narrow console table at a thrift store or yard sale. The slim profile means it won't take up much floor space but still offers room for a lamp, books, and charging cords. Sand down the surface and paint it your favorite color for a custom look.
Opportunities in Nightstands
A vintage wooden crate also makes an ideal nightstand. Stack two or three crates together for extra height and storage. The rustic, industrial vibe complements many decor styles. Line the inside with felt or wallpaper to prevent scratches.
If DIY isn't your thing, affordable nightstand options abound. Look for minimal metal frames with a wood or laminate top. The open space underneath is perfect for baskets to hide clutter. For small bedrooms, consider space-saving wall-mounted shelves. They free up valuable floor area but still keep necessities within easy reach.
A stylish nightstand completes any cozy bedroom retreat. With the right piece, you'll gain storage and display space so you can keep essentials at your fingertips as you drift off to sleep.
11- Framed Mirror: Part Vanity, Part Decor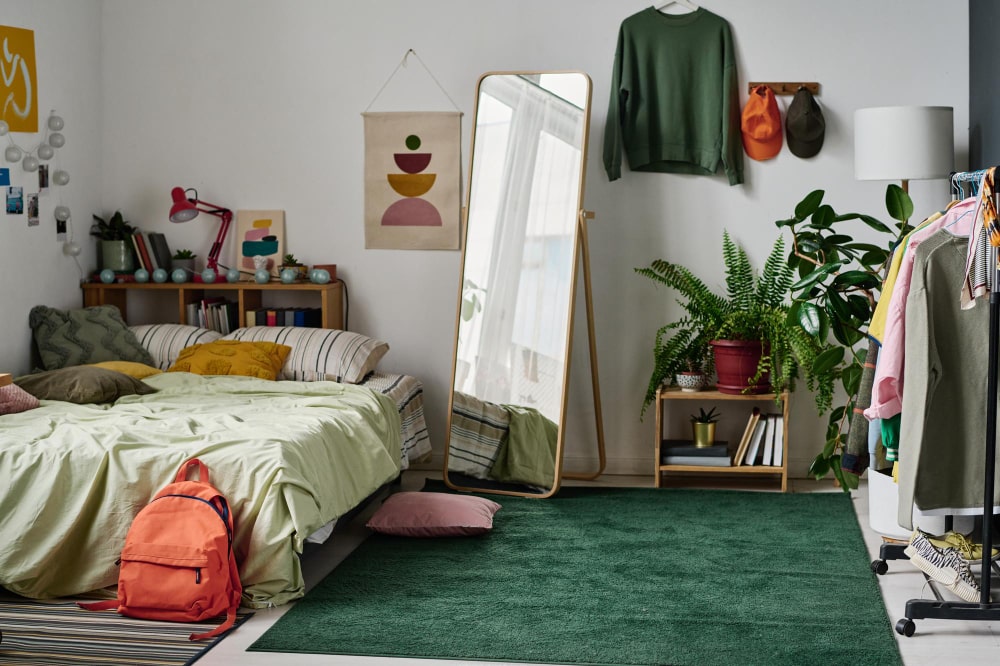 A framed mirror is a simple way to make a stylish statement in your bedroom. Place a large mirror on the wall behind your bed or nightstand to create an open, airy feel and reflect natural light. For a decorative touch, choose an ornate frame that matches your room's style. An antique gold frame pairs well with traditional decor, while a sleek black frame complements modern spaces.
You can also group multiple mirrors together for an eclectic gallery wall. Use mirrors of different sizes, shapes and frames. Arrange them in a random, clustered pattern for a casual bohemian look or in a neat grid for a more polished style. Gallery walls are an easy, affordable way to fill empty wall space above your bed or dresser. They make a big impact but the mismatched pieces mean you can add to your collection over time.
Additional Benefit of Framed Mirror
Bedroom essentials can be multifunctional. Framed mirrors serve a practical purpose but also act as stylish accents. They brighten your space, make it appear more open and reflect the decorative details of your room. For extra function, place a mirror opposite a window to reflect natural light. Or put a mirror behind a lamp or sconce to create a dramatic shadow effect at night.
However you arrange them, framed mirrors are an essential trend that will make your bedroom feel polished, stylish and open. They're an easy DIY project but also an opportunity to invest in a statement piece that anchors your room's decor.
12- Bedside Lamps: Bedroom Essentials for Maximum Warmth in Budget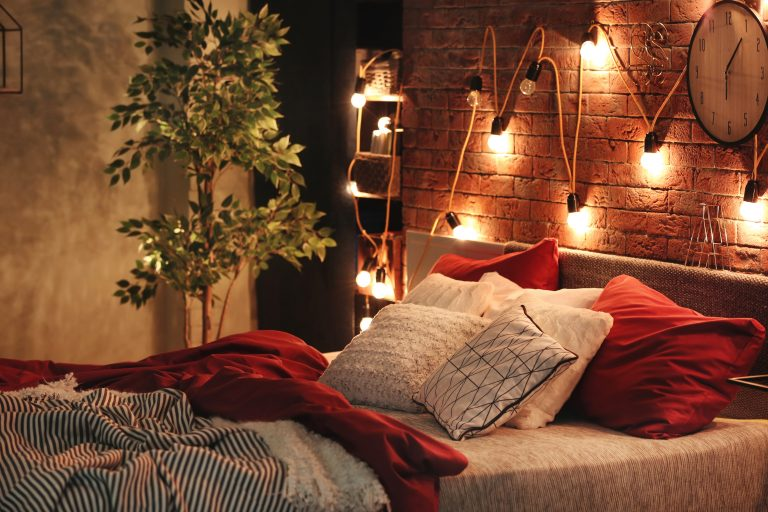 Bedside lamps are essential for creating a cozy ambiance in your bedroom. You want lighting that's bright enough to read by, but dim enough for relaxation. Vintage-inspired styles with exposed Edison bulbs emit a warm, golden glow, while brass finishes add a touch of glamor.
Pocket Friendly Options
Bedside lamps top the list of budget-friendly bedroom essentials. For budget-friendly options, check thrift stores and yard sales for unique secondhand lamps you can revamp with a coat of paint or new shade. Or invest in an affordable modern lamp with a marble base and linen shade. Place a pair of matching lamps on your nightstands for balanced lighting on both sides of the bed.
Dimmable smart bulbs let you control brightness and temperature from an app on your phone. Set the mood for sleep with a soft amber hue, then switch to bright white light for your morning routine. With the right lamp and bulb, you can achieve perfect ambiance in your bedroom without breaking the bank.
Bedroom Essentials FAQ:
Answering All Your Questions on Trendy and Affordable Bedroom Essentials
DIY projects and bedroom essentials are perfect for giving your bedroom a stylish makeover on a budget. Here are some of the most popular DIY trends you'll want to consider:
Q: What are the possible uses of bedside caddy?
A bedside caddy keeps all your essentials in one place. All you need is a basket or bin and some decorative accents like washi tape to customize it. This organizational essential will keep your remotes, chargers, books and more clutter-free.
Q: Does repurposing furniture help in any way?
Repurposing old furniture into new storage solutions is an easy, eco-friendly trend and very popular among artistic people when it comes to bedroom essentials. Turn a dresser into a bathroom vanity or nightstands. Crates, suitcases and trunks also make charming storage. Use them for extra linens, clothes or accessories.
Q: How to use string lights as bedroom essentials?
String lights instantly make a space cozy and romantic. You can find affordable, battery-powered options to drape over your headboard or hang from the ceiling. Use clips or small nails to secure them in place. Dim the main lights and enjoy the ambiance.
Q: How to make old furniture look new?
Painting dated furniture in on-trend colors is an inexpensive way to refresh your space. Chalk paint is affordable, comes in many shades and adheres well to most surfaces with minimal prep. Use stencils or freehand designs to make a statement. Seal the finish with wax or polyurethane for protection.
Q: What can I use as wall decor?
Framed mirrors, DIY wall art, wall decals, thrifted bedding and area rugs are other simple ways to style your sleep space without breaking the bank. With some imagination, elbow grease and bargain hunting, you can achieve an on-trend bedroom makeover using mostly DIY projects and secondhand finds.
Q: Do I need any special skills to make DIY bedroom furniture?
The beauty of DIY bedroom decor is that you don't need to be an expert carpenter or have years of experience. All you need is enthusiasm, patience, and a willingness to learn some simple techniques. Many projects just require basic tools like a drill/driver, paintbrush, glue gun, or sewing kit that you likely already own.
With some creativity and the help of online tutorials, you can easily tackle most of these DIY bedroom essential trends. The results may not look store-bought, but that handcrafted imperfect touch is what gives DIY decor its charm. Your space will be infused with your unique flair and personality.
Q: What if I mess up?
Don't worry if your first attempt isn't perfect. DIY is all about learning through trial and error. Start with small, easy projects to build up your skills and confidence. If something doesn't turn out as planned, you can always try again or modify your approach. The key is not to get discouraged. With regular practice, your DIY skills will improve in no time.
Take Away
So there you have it, 15 stylish yet budget-friendly ways to give your bedroom a quick and affordable makeover for the new year. Whether you want to add some boho chic with thrifted bedding and string lights or industrial edge with DIY floating nightstands and framed mirrors, you now have plenty of inspiration and easy DIY project ideas to choose from. And the best part is, with a little elbow grease and creativity, you can achieve a designer look for a fraction of the cost. Now get out there, find some gems at your local thrift stores or hardware shop, and start transforming your space. Your refreshed and restyled bedroom will thank you for it. Sweet dreams!