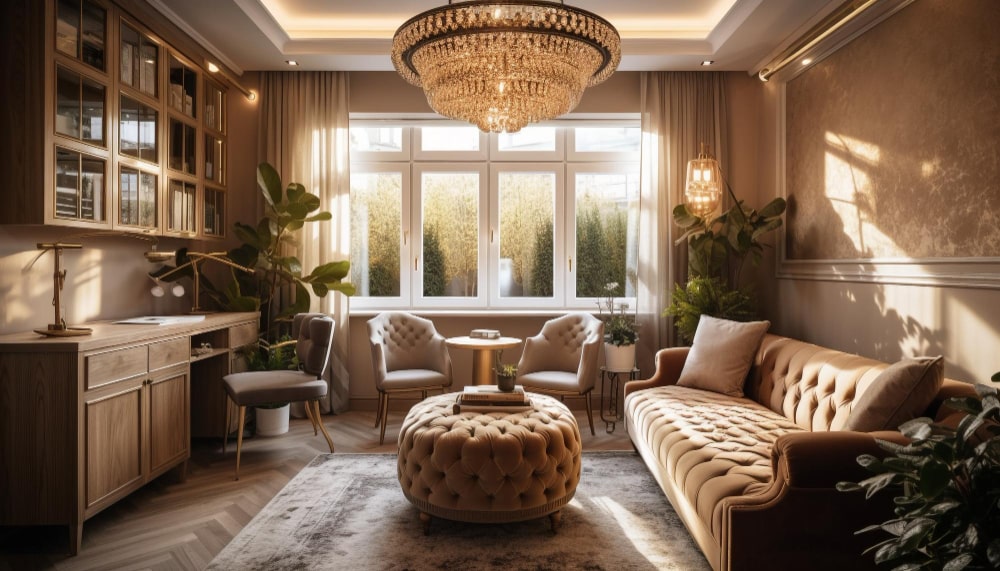 If you are looking for exciting living room decor ideas, you have come to the right place. Specially if you are trying to revamp the neglected living room corners for the first time ever. I mean, we can not just dismiss the potential of these corner. These corners, upon decorating correctly can not only give you a lot of extra space for your activities, but given the shape of these places, can turn into your favourite place in no time if you are looking for privacy and calm.
You've decided it's time to give your living room corner decor a makeover and style it like an interior design pro. Where do you even start? Don't worry, we've got you covered. Transforming a single corner of your space can make a huge impact and completely change the feel of your room. The key is focusing on a few design elements that will turn an empty space into an inviting focal point. We'll show you how to choose furniture that fits your needs, create a cozy reading nook, showcase art and decor, bring in greenery with indoor plants, utilize functional storage, add mirrors to create depth, and incorporate textures and patterns. With these living room decor ideas, your living room corner decor will become the stylish and inviting space you've always wanted.
1- Choose the Right Corner Furniture- Living Room Decor Ideas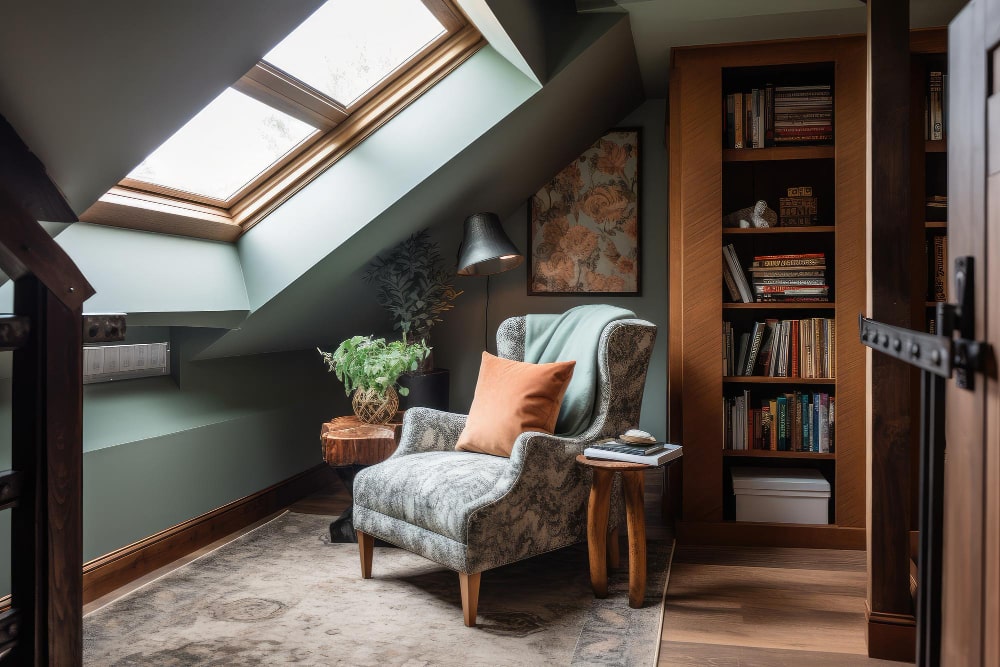 Choosing the right furniture for living room corner is key to styling your living room corner decor. You want pieces that are the perfect size for the space but that are also comfortable and functional.
For seating, consider an loveseat, armchair, or small sofa. A loveseat is ideal for smaller corners, while a sofa can work in larger areas. Look for something with a shallow profile, around 32 to 36 inches deep, so it doesn't jut out into the room. For extra seating, add an armchair or two. Place the seating at an angle in the corner to open up the space.
If you have room, a small round side table between pieces of seating gives you a spot to set drinks, books, and decor. For larger corners, nestle a rectangle end table in the space behind the arm of a sofa or loveseat. Or, for a cozy reading nook, use corner shelves to hold books, plants and lighting.
For surface space, a narrow console table behind a sofa can display decor and also provide storage underneath. Or place a square ottoman with a tray on top in front of a loveseat – it doubles as extra seating, a foot rest, and a table.
Floor and table lamps are ideal for lighting a living room corner decor. Place them strategically so you have adequate task and ambient light. Add art to any bare walls to complete the space. Frame family photos, gallery wall art, or large statement pieces.
With the perfect small-scale furniture, functional and decorative accents, and proper lighting, you can turn that empty living room corner into an inviting spot for relaxing, reading or conversation. Take your time choosing pieces you love and that suit your needs – a well-styled corner can make a big impact in your home.
2- A Cozy Reading Corner- Living Room Decor Ideas
Want a cozy spot in your living room to curl up with a good book? Creating a reading nook in the corner is a perfect solution.
First, choose a corner that gets lots of natural light during the day. That way you won't strain your eyes while reading. Next, add a comfy chair like an armchair, loveseat, or chaise lounge. For extra comfort, include a footrest or ottoman and lots of plush pillows.
Don't forget task lighting, such as a floor lamp or table lamp. Place it behind or next to your chair so you have ample lighting while reading. You'll also want a small side table to hold your books, device, coffee or tea.
Add warmth and texture with a plush rug, throw blanket, or upholstered furniture. Decorative touches like art, plants, candles or string lights will make the space cozy and inviting.
For book storage, you can't go wrong with a bookcase. Choose a narrow one for small spaces or a double-sided bookcase placed perpendicular to the wall. Cubbies, bins and baskets are great for organizing books and keeping the space tidy.
To complete the look, hang art or wall decor above your chair at eye level. A mirror on an adjacent wall will make the nook appear more open and airy.
With the right furniture, lighting, storage, decor and ambiance, you'll have a reading corner you'll never want to leave. Curl up, relax and escape into the story – your own personal paradise awaits!
3- Showcase Your Favorite Art and Decor- Living Room Decor Ideas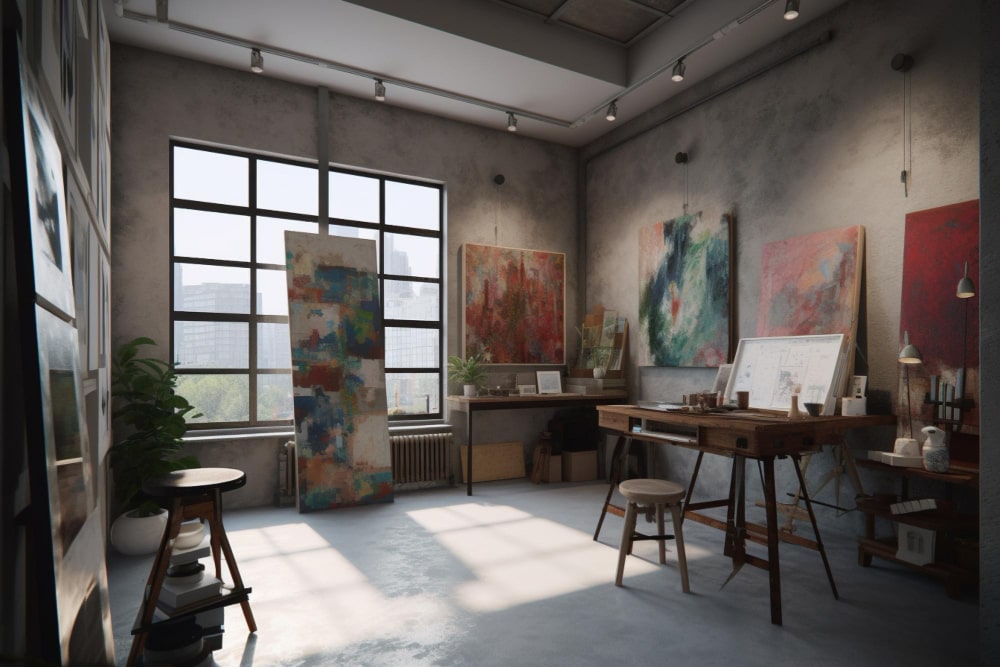 a- Artwork
One of the easiest ways to style your living room corner decor is by displaying your favorite art pieces. Whether you have paintings, photographs, or prints, a corner is an ideal spot to create a gallery wall. Start by picking a theme or color palette to tie the artwork together. Then arrange the pieces on the floor before hanging to achieve a cohesive layout. For extra visual interest, incorporate framed mirrors or wall sculptures into the gallery wall.
b- Decorative Accents
To complete the look, add decorative accents that complement your artwork. Things like:
Sculptures or statuettes on tabletops or shelves
Vases filled with faux greenery
Candles or lanterns for ambient lighting
Baskets, boxes or trays to neatly contain smaller items
A stylish rug, pillows or throws in your accent color or pattern
c- Shelving
Install corner shelving to display decorative objects while keeping them neatly organized and dust-free. Floating corner shelves are an ideal space-saving solution. For a custom look, have shelves cut to fit the exact dimensions of your corner space. Style the shelves with:
Books – both decorative and functional
Plants – succulents, air plants or potted greenery
Crystal or stone sculptures
Collected trinkets from your travels
Framed family photos
d- Accent Table
An accent table placed in the corner serves double duty. It provides a surface for decor while anchoring the space. For small corners, choose a round table. Larger spaces can accommodate a square or rectangular table. Top the table with:
A table lamp or string lights for ambient lighting
A tray to contain smaller decorative items
Coffee table books or magazines
A vase of fresh or faux flowers
Sculptures or candles
Styling your living room corner decor thoughtfully with artwork, accents, shelving and an accent table pulls the space together and gives it purpose. Keep things balanced by not overcrowding the area, and edit or rotate your decorative items regularly to keep it fresh. With the right furnishings and accessories, you'll have a magazine-worthy reading nook or conversation corner in no time.
4- Incorporate Lush Indoor Plants in Your Living Room Corner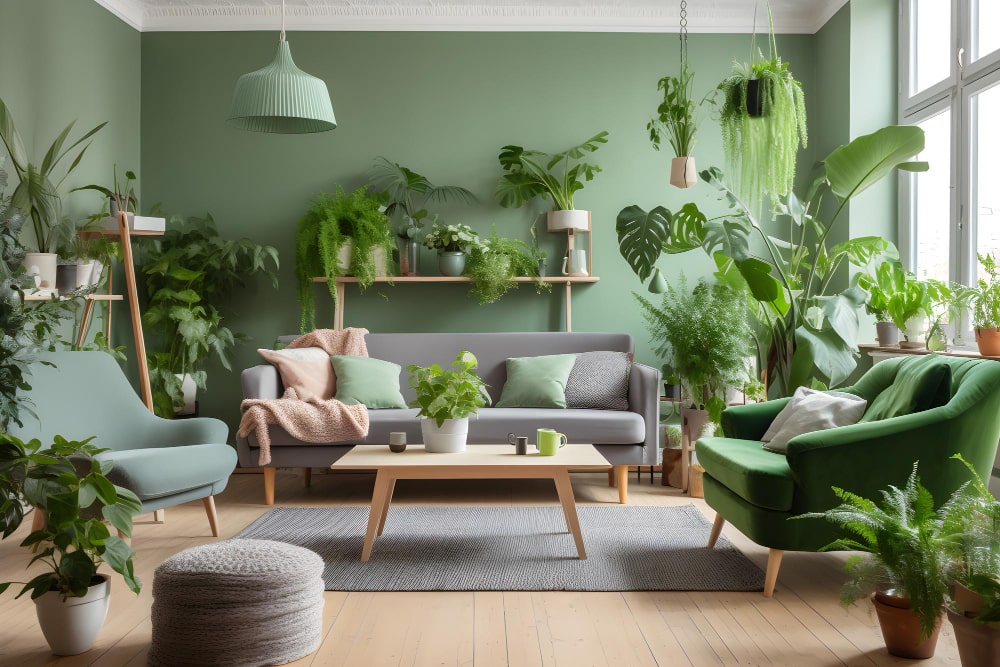 a- Find the Perfect Spot
The ideal location for indoor plants is a bright corner that gets lots of indirect light during the day. Place them near an east- or west-facing window where the sun's rays won't scorch the leaves. North-facing windows can work too, you may just need to supplement with a plant light. Avoid spots that get little to no natural light, as most houseplants won't thrive in dark, shadowy areas.
b- Choose the Right Plant for the Space
Select plants that will do well in the light conditions of your living room corner. Tropical foliage like the spider plant, Chinese evergreen, and peace lily do great in medium to low light. Flowering plants such as African violets and orchids also work nicely. For shadier spots, try shade-loving plants such as pothos, Chinese money plant, and zz plant.
Get the right pot size. Choose a container one size up from the current pot, with drainage holes.
Consider plant height. Place smaller plants on pedestals or plant stands and larger, bushy plants on the floor.
Group plants with similar light and water needs together for easy care.
c- Provide the Proper Care
Your indoor jungle will thrive if you give it the right amount of light, water, and fertilizer.
Water when the top inch or so of soil is dry. Never leave plants sitting in water.
Fertilize during the growing season. Use a balanced, all-purpose fertilizer once a month.
Increase humidity with a humidifier or by misting plants with a spray bottle.
Inspect regularly for common pests like aphids, spider mites, and mealybugs. Treat if needed.
Repot every 2-3 years in the spring before moving plants outside.
d- Accessorize for Added Style
Dress up your plant corner with decorative accents to make it an inviting space.
Add art, mirrors, candles or string lights for ambiance.
Include natural wood or rattan furniture, baskets, planters or stands.
Incorporate textures like woven, knit or faux fur blankets, poufs or pillows.
Display collected items like books, sculptures or vases.
Paint the walls in an earthy, botanical-inspired shade.
A lush, stylish plant corner creates a relaxing oasis in your living room. With the right location, plant selection, care, and accents you'll have a Instagram-worthy indoor jungle in no time!
5- Add Mirrors to Your Living Room Corner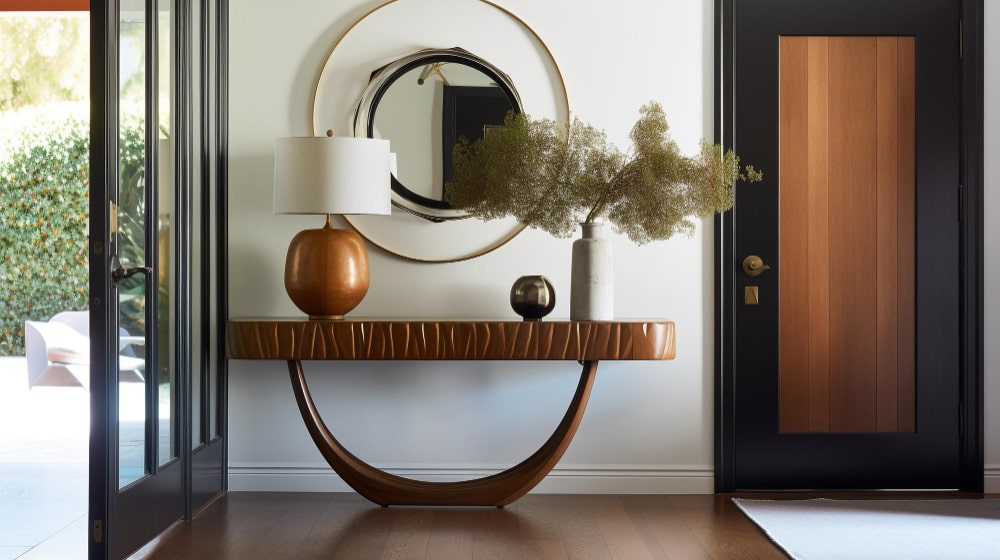 a- Create Depth and Openness
Adding mirrors to your living room corner decor is an easy way to make the space feel more open and airy. Mirrors reflect light and create an illusion of depth, giving your room a sense of spaciousness. Here are some tips for incorporating mirrors into your living room design:
b- Choose the Right Size and Shape
Select mirrors that complement your living room's size and decor style. For small spaces, opt for a large mirror to create an open feel. In larger rooms, group several mirrors together for a gallery wall effect. Consider round, oval or arched mirrors for a touch of softness or rectangular mirrors for a more contemporary look.
c- Place Strategically
Position mirrors in a way that maximizes light reflection and visual space. Place a mirror directly opposite a window to reflect natural light into the room. Or put mirrors on adjacent walls in a corner to create a tunnel effect. Angle mirrors toward a focal point in the room, like a fireplace or piece of art. This helps draw the eye through the space, making it appear more expansive.
d- Mix and Match
Combine different sized mirrors for an eclectic look. Varying the shapes, frames and heights creates a custom gallery wall that reflects light in interesting ways. You might do a combination of wood and metal frames or mix mirrored panels with framed mirrors. Include mirrors with and without frames for contrast. Group 3 to 7 mirrors together for the most cohesive-looking gallery wall.
e- Consider Mirrored Furniture
Mirrored furniture, like consoles, chests and side tables, serve a dual purpose. They provide functional storage and reflective surfaces to help open up your living room corner. Place a mirrored chest under a wall mirror or behind a sofa to reflect light from multiple angles. Or put a mirrored side table in a corner, where it can reflect light from adjacent walls. Mirrored furniture is a bold choice but can make a dramatic impact in small spaces.
By strategically adding mirrors and mirrored accents to your living room corner decor, you can create an open, airy feel and a sense of visual depth. Use mirrors to reflect natural and ambient light, emphasize focal points and make the most of small spaces. Mixing different mirror shapes, sizes and frames allows you to customize your living room's look and enhance its spaciousness. Mirrors are a simple but transformative way to open up and illuminate your living room corner.
6- Incorporate Textures & Pattern In Your Living Room Corner
a- Texture
Adding different textures to your living room corner decor creates visual interest and dimension. Think chunky knit blankets, plush pillows, woven baskets, concrete planters, metal accents, and natural wood.
A cozy chunky knit blanket draped over the arm of a chair or corner of the sofa invites you to curl up and read. Plush velvet or faux fur pillows in rich jewel tones contrast nicely with most sofa fabrics and add softness.
Woven baskets are ideal for storing extra throw blankets, books, and other accessories. They add warmth and texture while keeping items organized and concealed. Concrete planters hold trailing plants or succulents and the coarse, organic texture complements most decor styles.
Metallic accents like a copper side table or gold mirror frame glint in the light and create a luxe feel. Reclaimed or raw wood pieces with visible grain add warmth, visual interest, and a natural vibe.
Chunky knit blanket
Plush velvet or faux fur pillows
Woven baskets
Concrete planters
Metallic accents (copper, gold)
Reclaimed or raw wood furniture
b- Pattern
Don't be afraid to mix complementary patterns in your living room corner decor. Start with a base of solids in your major furniture pieces—sofa, chairs, rug—then layer on patterns with pillows, throws, baskets or smaller accessories.
Geometric, nature-inspired and global patterns in the same color family combine well. Think chevron, botanical, ikat or suzani in shades of navy, forest green and burnt orange. Keep the scale of the patterns in the same range for the most cohesive look—small with small, large with large.
Pillows are an easy way to experiment with pattern in a corner design for living room. Start with 2-3 patterned pillows with your base solid sofa and chairs. As you get comfortable, you can add in patterned throws, rugs, or wall art. Don't be afraid to mix florals, geometrics and global-inspired prints—just keep the colors in the same family and scale balanced.
Geometric (chevron, diamond)
Botanical
Ikat
Suzani
Mix patterns in same color family and scale
Patterned pillows, throws, rugs, wall art
FAQs
So you have the furniture in place and a beautiful new corner design for living room, but still have some lingering questions. Here are the most frequently asked questions about living room decor ideas.
a- What size rug should I use?
Choose a rug that is large enough to define the space, typically 6' x 9' or larger for a living room corner. A rug that is too small will make the area feel unbalanced and disconnected from the rest of the room. For the most cohesive look, select a rug that aligns with your living room's style and color scheme.
b- Should I include task lighting?
Task lighting, like a floor lamp or table lamp, helps illuminate specific areas in a corner design for living room. Place a floor lamp in the corner behind the sofa or a pair of table lamps on side tables. Task lighting allows for a range of brightness for different activities like reading, working or conversation.
c- What types of decor should I incorporate?
Include a mix of decor in your living room decor idea like:
Artwork: Hang artwork, prints or photography on the walls above the furniture. Group pieces together for an art wall or place one large statement piece.
Accent pillows: Throw pillows or lumbar pillows add comfort and style. Choose pillows that pick up colors and textures in the rug, furniture and artwork.
Trays: Decorative trays are ideal for corralling remotes, coasters and other small items. Look for trays in natural wood, metal or lacquer.
Plants: Add life to the space with potted plants or greenery. Plants help purify the air and connect the indoors with nature.
Candles or objets d'art: Include decorative items like candles, bowls, sculptures or vases for visual interest.
d- How can I make the corner feel cozy?
A cozy living room corner ideas invites relaxation and comfort. Some living room decor ideas for creating a cozy corner include:
Add plush furnishings: Choose an oversized sofa, loveseat or armchairs with soft upholstery.
Include plump pillows: Throw pillows, lumbar pillows and blankets in natural fibers make a space feel cozy and inviting.
Dim the lighting: Use table and floor lamps with dimmers instead of overhead lighting. Dimmed ambient lighting creates a relaxing vibe.
Incorporate natural materials: Elements like wood, rattan, cotton and wool add warmth.
Include shelving: Open shelving provides a spot for books, plants and personal items that make a space feel homey.
Take Away
You now have some pro living room decor ideas for styling your corner design for living room corner to perfection. With the right furniture, decor, storage, and greenery, you can transform that empty space into something stylish and functional. Start with a plush chair or loveseat and a side table for a cozy reading nook. Then layer in art, mirrors, plants and baskets to give the corner depth and visual interest. Don't be afraid to mix textures, patterns and styles for an eclectic look. Your living room corner can become the focal point of the space and a place you'll want to curl up in. So get inspired and happy styling! With these design ideas, you'll have your living room corner looking polished and magazine-worthy in no time.