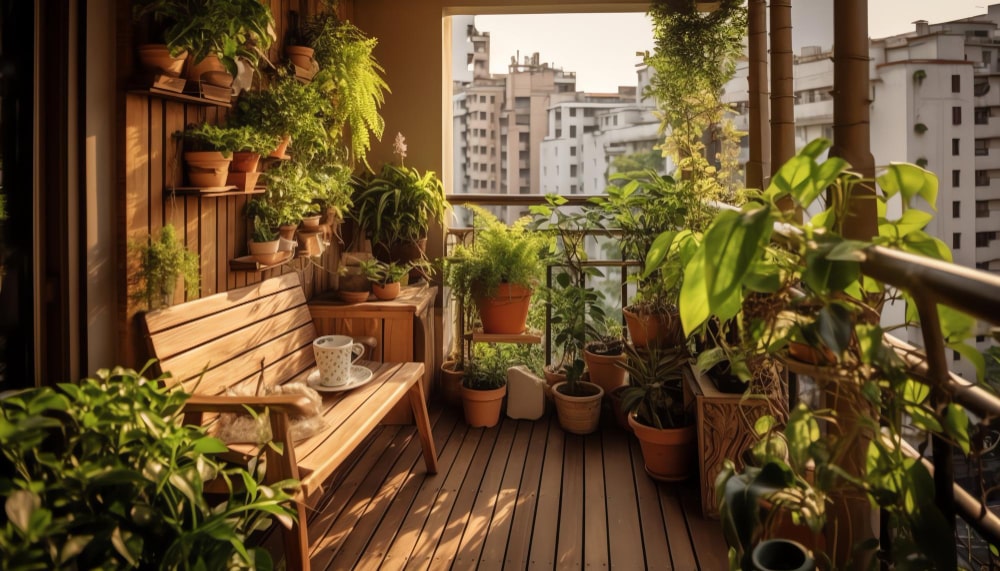 You've got an outdoor space just begging to be transformed into your own private oasis. That little balcony of yours has so much potential if you give it the attention it deserves. With some TLC and the right decorating touches, it can become your favorite place to unwind after a long day. The possibilities are endless when you start exploring ideas to turn your boring balcony into an inviting retreat. Whether you want to create a cozy seating area, spruce it up with greenery, or make it a place to enjoy al fresco meals, there are countless ways to make the most of your small outdoor space. In this article, you'll discover some stunning balcony decoration ideas to inspire your next DIY project. By the time you've implemented a few of these, your balcony will be your new happy place.
1- Vertical Garden: Grow Your Own Herb Garden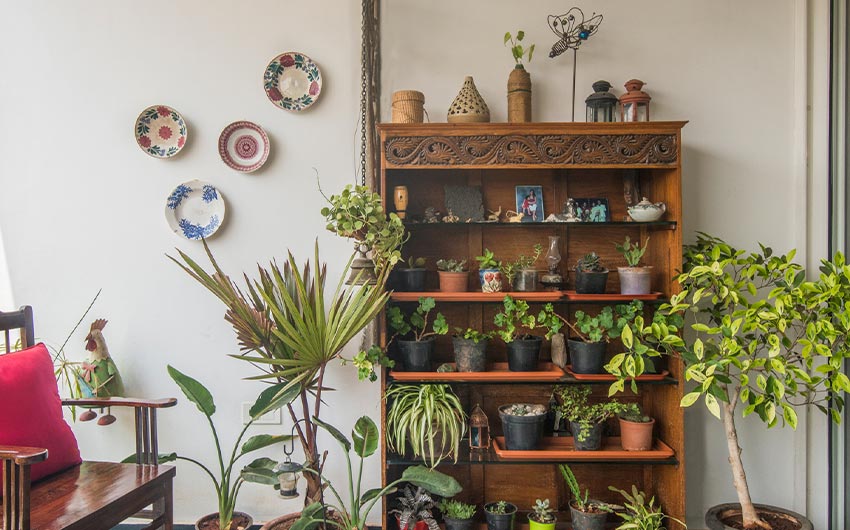 A vertical garden is a great way to make the most of your small balcony space and grow your own herb garden! By installing a vertical garden system, you can cultivate fresh herbs, vegetables and other plants along your balcony walls.
To get started, choose a sheltered area on your balcony that gets plenty of sunlight during the day. Then, select appropriate plants for your vertical garden like thyme, rosemary, chives, basil and mint which do well in small spaces. Look for varieties that are compact, low-maintenance and suitable for container gardening.
Once you have your plants, set up your vertical garden system. Options include wall planters, railing planters or a DIY trellis. Make sure to use a high-quality potting mix and install a drip irrigation system for easy watering.
With the right conditions and care like regular pruning, feeding and pest control, your little herb oasis will thrive. Imagine being able to step outside and pick fresh herbs to add flavor to your meals! A vertical garden is a simple project that can transform your balcony into a lush, productive space.
2- Cozy Seating Area: Create an Inviting Balcony Lounge Space
To make your balcony an inviting lounge space, start with cozy seating. Choose a small sofa, loveseat or a few armchairs and arrange them in a conversational grouping. Add comfortable cushions and throws for extra coziness. Don't forget small side tables for resting drinks or books.
Ottomans are perfect for providing extra seating or a place to kick up your feet. Look for weather-resistant options with padded tops. When arranging your seating, make sure to leave enough room for walkways and access to other areas of your balcony.
Grouping seating around a focal point like a fire table creates an intimate ambiance for conversation and relaxation on cool evenings. For balconies with limited space, folding furniture for balcony or furniture with built-in storage helps maximize your area.
No lounge is complete without mood lighting. String lights, lanterns or outdoor-rated table and floor lamps all provide ambient lighting for your space. Use a dimmer switch so you can adjust the brightness.
With the right furniture, accessories and lighting, your balcony can become your favorite at-home escape. Spending just a little time creating a cozy lounge space will make your balcony the ultimate place to unwind and connect with friends all season long.
3- Hanging Planters: Use Height for Greenery and Style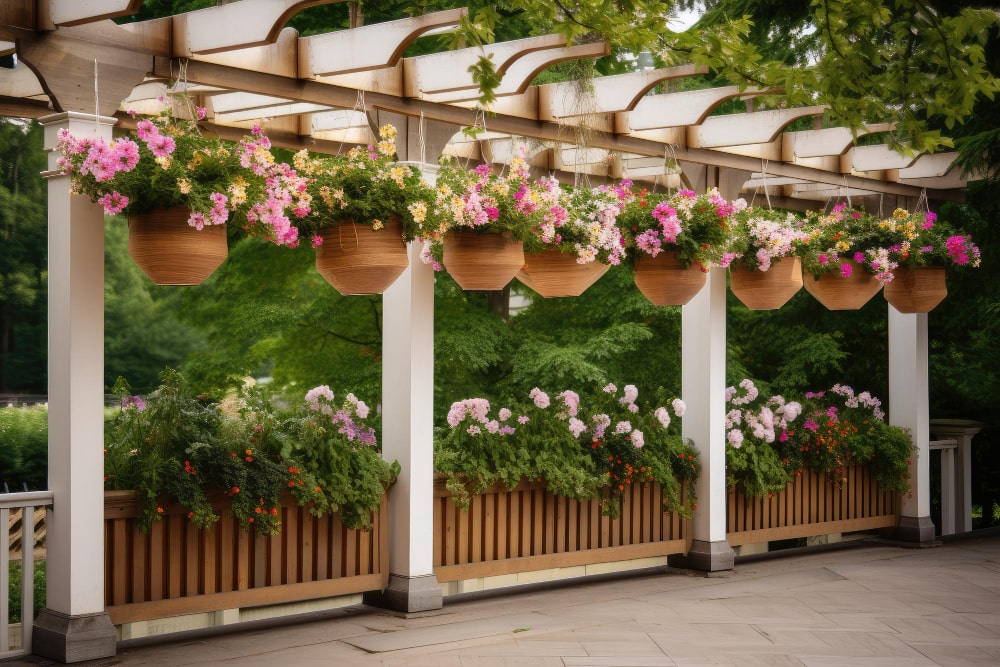 a- Use Height for Greenery and Style
Hanging planters are a great way to add vertical greenery and style to your balcony. You have lots of options to choose from, like macrame plant hangers, copper wire baskets or recycled wood crates. Place a few at different levels for visual interest.
For plant selections, consider trailing types like petunias, nasturtiums or strawberries which will cascade over the edges of the planters. Ferns, succulents and spider plants also work well and don't require frequent watering. Make sure any plants you choose can tolerate some wind and drying conditions since they'll be hanging exposed.
When it comes to maintenance, check hanging planters regularly and water when the top inch or so of soil is dry. During hot or windy weather, you may need to water every few days. Fertilize occasionally with a balanced, all-purpose fertilizer. Prune plants to shape them and remove any dead or dying foliage.
Repot if plants become pot bound, meaning roots are dense and circling the inside of the container. Move up one size and choose a well-draining potting mix. When temperatures start dropping in fall, either bring planters indoors before frost or take cuttings to propagate over winter.
Hanging planters are a simple way to make a big impact on your balcony. By selecting the right plants and properly caring for them, you'll have a lush oasis of greenery to enjoy all season long.
4- Outdoor Lighting: Illuminate Your Balcony for Evening Enjoyment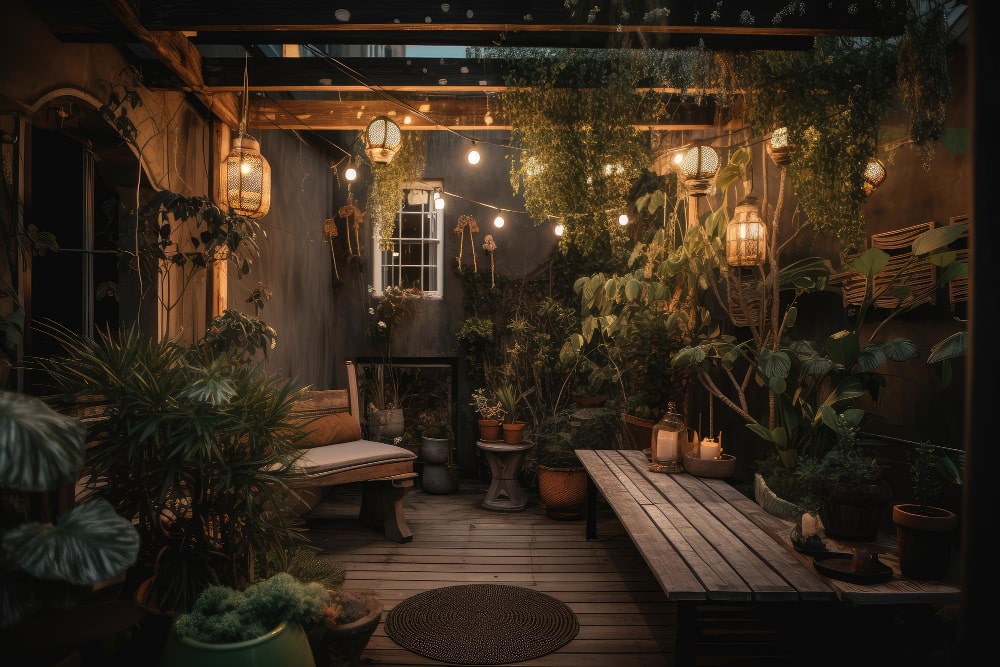 Illuminate Your Balcony for Evening Enjoyment
As night falls, lighting is key to extending the enjoyment of your balcony space. Fairy lights or string lights strung along the railing create an enchanting glow for cozy evenings. Choose warm white bulbs for a welcoming ambiance. You can also install wall sconces or lanterns for task lighting and ambiance.
Place LED candles or real candles on small tables and ledges for a flickering glow. But never leave burning candles unattended! For the ultimate in convenience and safety, battery-powered LED candles provide the same warm glow without the fire hazard.
Select lighting fixtures suitable for outdoor and damp areas. Look for fixtures specifically rated for balconies, patios and porches that are weather resistant and UL approved. Install them securely so they can withstand wind and weather.
Aim to have multiple layers of light for the most dramatic effect. Uplighting, such as wall sconces, illuminate seating areas and architectural details. String lights or lanterns hung at different levels create visual depth and interest. And don't forget ground level lighting like LED spotlights to highlight any plants, sculptures or other accents.
The right lighting transforms a balcony into an inviting space for evening entertaining or a peaceful retreat after dark. With a variety of fixtures at different levels, you'll have your balcony aglow and ready to enjoy into the night. By taking advantage of different types of lighting, you can make your balcony as bright or as dim as you like for any mood or occasion.
5- Decorative Accents: Pots, Lanterns and Outdoor Rugs for Style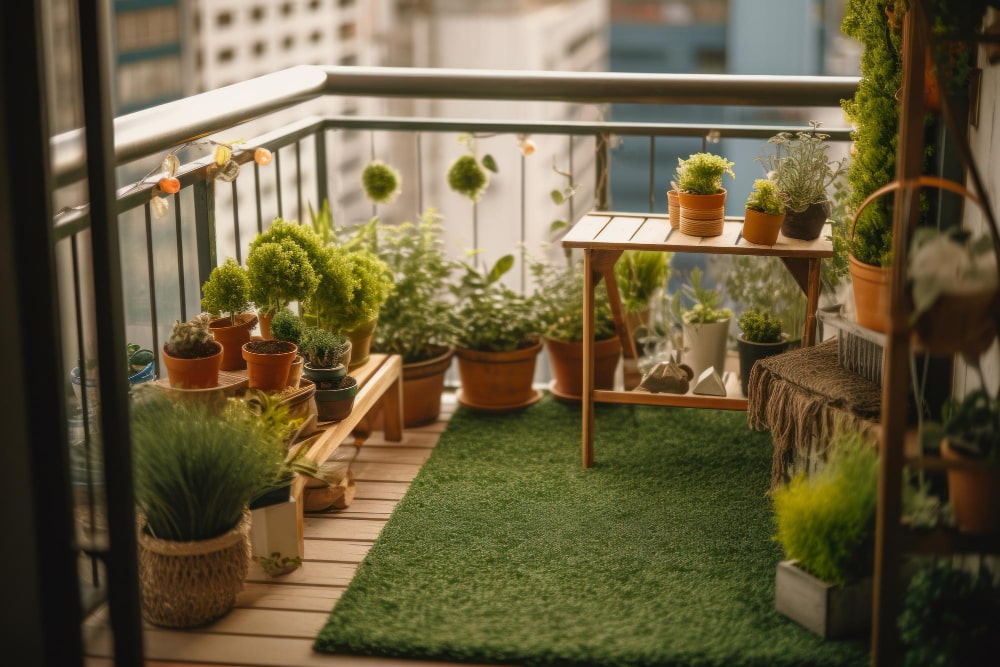 a- Pots, Planters and Lanterns
To add visual interest to your balcony, incorporate decorative accents like planters, pots, lanterns and rugs.
Group a collection of planters or pots in a corner, along the railing or balcony edge. Fill them with colorful flowers, herbs or succulents. For a cohesive look, choose planters in the same style, color or material. Terracotta, concrete or woven planters work well outdoors.
Lanterns or string lights hanging from the ceiling or railing create ambient lighting for your balcony. Place a lantern on a side table or hang them at varying heights for visual depth. Use flameless candles or battery-powered lights for safety.
An outdoor rug, mat or runner adds comfort underfoot and ties the space together. Natural fiber rugs like jute, sisal or sea grass are good for outdoor use. Look for rugs specifically designed for patios or decks. Shake them out regularly and bring them inside during winter or long periods of rain.
Whether your balcony style is modern, bohemian or traditional, decorating with planters, pots, lanterns and rugs is an easy way to make the space inviting and reflect your personal esthetic. Keeping your accents well-maintained and weather-appropriate will allow you to enjoy your beautiful balcony for seasons to come.
b- Decorate with Colorful Accents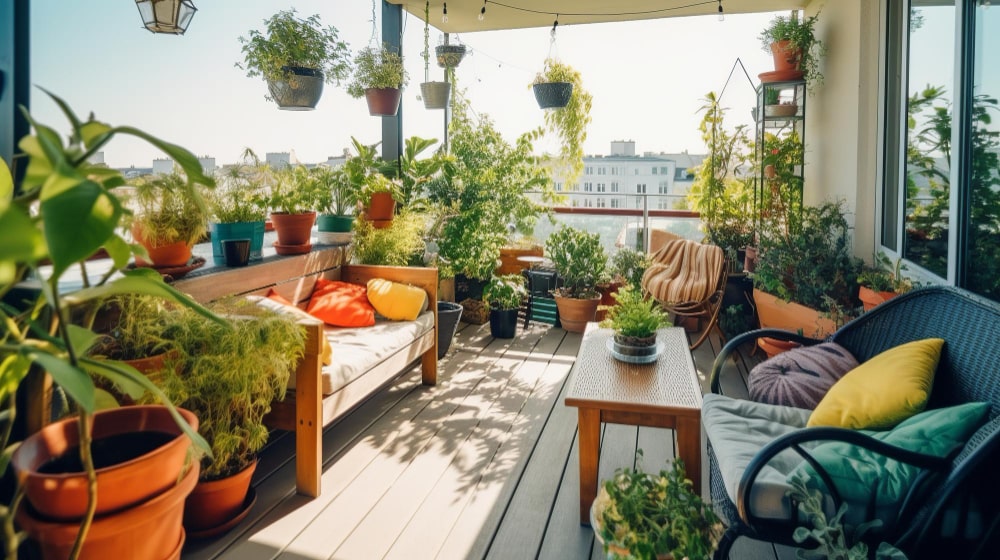 To give your balcony a pop of color and visual interest, incorporate decorative accents like planters, sculptures, or string lights.
Select a few key pieces to use as statement accents, then balance them out with smaller decorative touches. For example, you might add:
A large, colorful planter on one side of the balcony filled with flowers or greenery. Complement it with a few smaller planters of the same style scattered elsewhere.
An interesting sculpture, like a metal sunburst or spiral. Place it in a spot where it will catch the eye, such as a corner. Add other touches like glass crystals or gemstones hung from the ceiling nearby.
String lights, lanterns or sconces to provide ambient lighting for evening use. Mix different shapes, sizes and styles for visual interest.
Keep your accents cohesive by choosing a color theme or style, like boho chic, minimalist or rustic. Then incorporate related touches like:
Outdoor cushions, pillows, rugs in complementing colors and patterns
Wind chimes, dream catchers or wall art
Colored glass vases, bowls or candle holders
A few statement pieces combined with smaller accents in a cohesive style will make your balcony a decorative retreat without feeling cluttered. Add or remove items based on the season to keep things fresh! With the right decorative accents, your balcony can become an extension of your indoor living space.
6- Privacy Screens
a- Choose screens for privacy and style
When selecting privacy screens for your balcony, consider both function and esthetics. Bamboo, wood, or metal screens can block the view from adjacent balconies while still allowing air flow and glimpses of the scenery. For a natural look, vines, foliage, or flowering plants trained on trellises also make attractive and affordable privacy screens.
-Bamboo screens create an earthy, zen feel. Look for sustainably-sourced bamboo and screens with small gaps that obscure the view while permitting some light and air penetration.
Wood screens made of cedar, redwood or teak will endure weather exposure. Stain or seal the wood to protect it from the elements.
Metal screens like aluminum or steel mesh come in a range of patterns. Powder-coat the metal in your choice of colors for customization.
Plants on trellises, like jasmine, bougainvillea or morning glory, provide a lush living wall of privacy. Make sure to select plants suitable for your climate that will climb and spread to cover the trellis within a single growing season.
To maximize your privacy, install the screens around the full perimeter of the balcony. For balconies with railings, attach the screens to the inside of the railing. This helps block visibility not just from adjacent balconies but also from the ground level. Consider combining multiple materials, like bamboo screens along the sides with planters of vining plants in front of them and a metal screen across the railing. Mixing textures and patterns creates an eclectic, curated look for your urban oasis.
With the right privacy screens and some cozy outdoor furnishings, your balcony can become a secluded retreat to enjoy a cup of coffee, read a book, or host intimate gatherings of friends. Transform your outdoor space into an extension of your living area and a place of refuge from the stresses of everyday life.
7- Outdoor Dining Area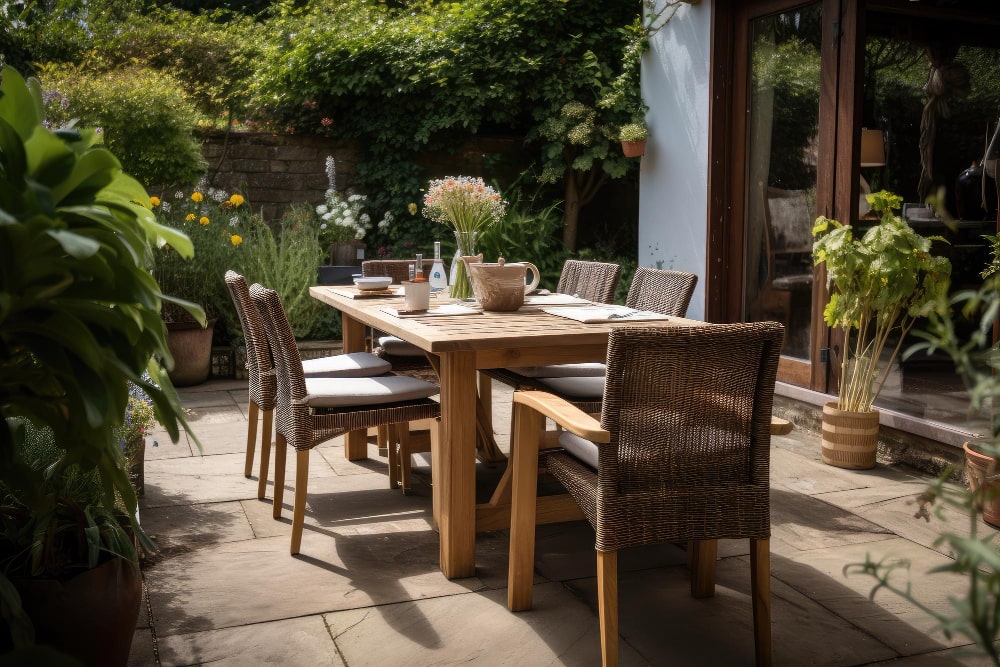 a- Selecting a Suitable Balcony Dining Set
Choose a dining set that comfortably seats 2-4 people for an intimate meal. Look for sets made of weather-resistant materials like aluminum, steel, teak or synthetic wicker that can withstand the elements.
Round or square tables are good space-savers, while rectangular tables may seat more.
Opt for stackable chairs that can be stored when not in use.
Add cushions or seat pads for extra comfort.
A folding set can be a great option if you have limited storage on your balcony. Look for a set with a rust-proof frame and durable slings or mesh for the seats and backs. When shopping, measure your balcony space to ensure any set you choose will fit comfortably with enough room to move around.
b- Adding Shade and Ambiance
Make dining on your balcony even more pleasant by providing shade and atmosphere.
A parasol, retractable awning or sail shade can block sunlight and provide cooling shade.
String lights, lanterns or candles create a warm glow for evening meals.
A small Bluetooth speaker lets you play mood music to enhance the ambiance.
With the right furniture and accessories, your balcony can become an open-air dining oasis for relishing meals and making cherished memories. Turn your outdoor space into a welcoming extension of your home where you'll love to eat, drink and entertain all season long.
8- Turning Your Balcony Space into a Hobby Area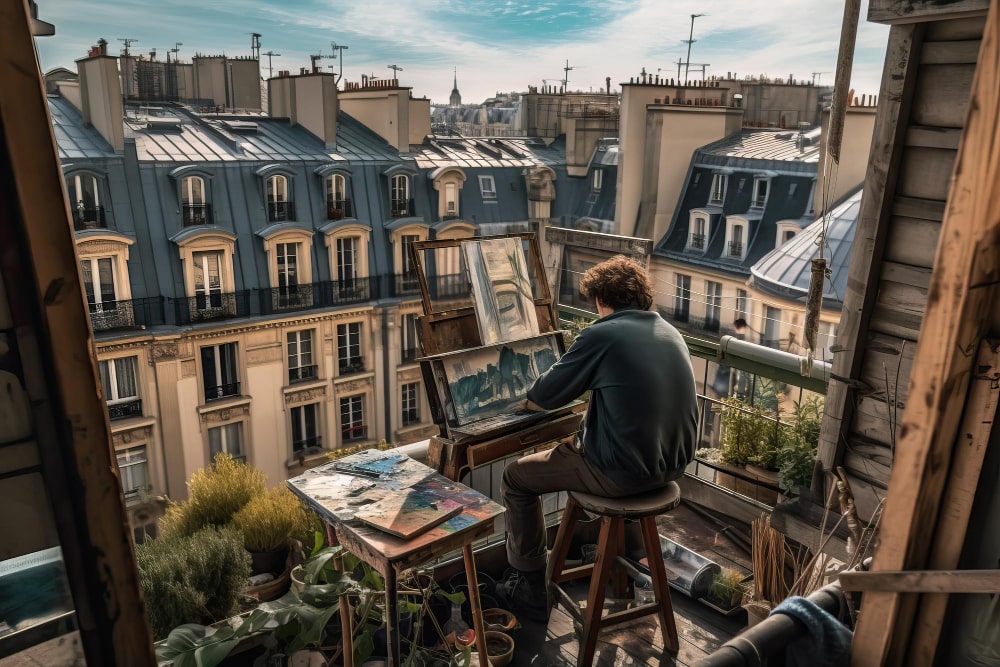 Turning your balcony into a dedicated hobby area is a great way to make the most of your outdoor space. ###Supplies and Storage
Since balconies are often small, utilize vertical space for storage and supplies. Mount shelves or cabinets to keep everything within easy reach but off the floor. Label boxes or baskets to keep different hobby items organized in one spot.
a- Lighting and Ventilation
Ensure proper lighting, especially for tasks that require detail work. String lights, lanterns or wall sconces provide ambient light for evenings. For ventilation, use fans to keep air circulating and prevent overheating in warm weather. Keep tools, materials and surfaces protected from the elements when not in use.
b- Multipurpose Furniture
Choose furniture that serves multiple purposes, like stools that can be extra seating or side tables, nesting tables, folding chairs, etc. An outdoor rug, runners or tiles create a comfortable flooring to work on. You might include planters or greenery to make the space feel cozy.
With some planning, a balcony hobby area can be a perfect versatile and functional space for pursuing your interests and passions. Making the most of your available square footage, providing good storage and lighting, and selecting flexible furniture are keys to creating an inviting spot tailored to your needs. Your urban oasis awaits!
FAQs
Have some lingering questions about transforming your balcony into an inviting outdoor oasis? We've got you covered. Here are answers to some of the most frequently asked questions:
a- What kind of furniture should I choose?
For a small balcony, opt for space-efficient pieces like a bistro set, folding chairs, ottomans or stools that can double as side tables. Weather-resistant wicker, aluminum or teak are great options.
b- What plants will thrive on my balcony?
If your balcony gets lots of light, consider petunias, geraniums, succulents, dwarf citrus trees or herb gardens. For shadier spots, try ferns, hostas, begonias or impatiens. Make sure any plants you choose can withstand your climate.
c- How can I add privacy?
Install retractable shades, screens or trellises along the edges of your balcony. You can also use large planters, latticework panels or railings to create natural dividers.
d- What about outdoor lighting?
String lights, lanterns and wall sconces will illuminate your balcony in the evenings. Opt for weather-resistant fixtures to avoid damage. Use a timer to automatically turn lights on and off.
e- Do I need a permit for any changes?
Check with your homeowners association and local regulations regarding permits for structural changes like railings, flooring or overhead shades. It's best to get proper approval before starting any major renovation projects.
By addressing these common questions upfront, you'll feel more at ease embarking on your balcony makeover. Don't hesitate to ask any other questions you may have—your outdoor oasis awaits! Let us know if you have any other questions.
Take Away
So there you have it, 10 stunning ways to transform your balcony into an inviting outdoor oasis. With a little imagination and the right decorative touches, you can create a space that's perfect for entertaining friends, enjoying a meal al fresco or simply relaxing with a good book. Whether you opt for a lush vertical garden, cozy lounge seating, ambient lighting or an herb garden, make the space your own. Let your creativity flow and don't be afraid to try different looks until you find one that resonates with you. Your perfect balcony sanctuary awaits! Now get out there and start decorating – you'll be enjoying your newly transformed space in no time.