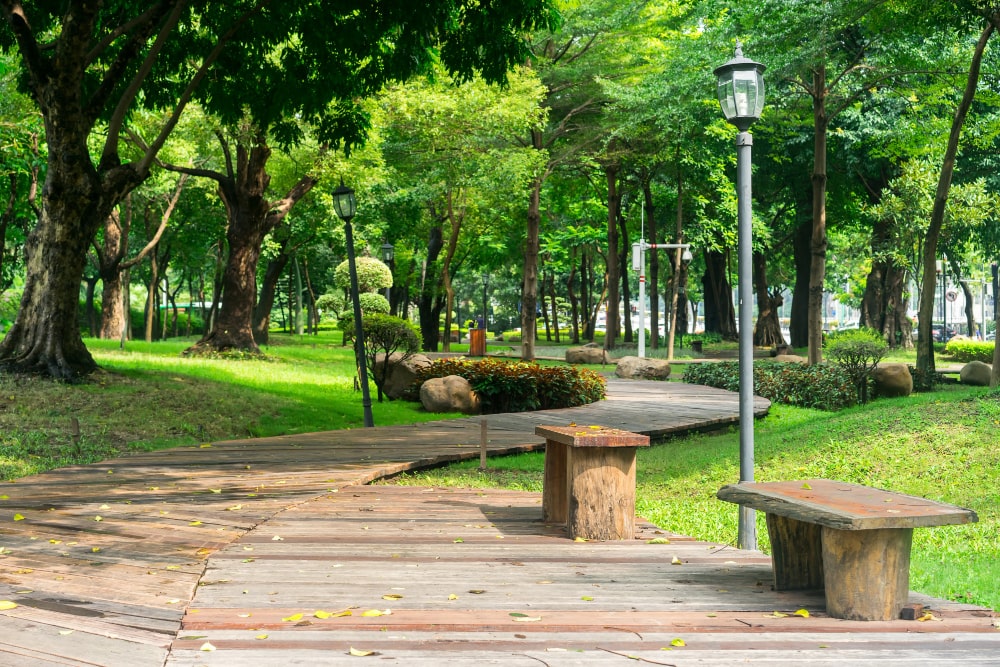 Whether you're moving to Bengaluru permanently, or just passing through for a short period of time—among the many astonishing sights this city has to offer—there are some parks that must not be missed.
These parks in Bengaluru are not just a place to relax and unwind, they are an integral part of the city's culture. The city has many gardens, lakes and botanical gardens that will leave you spellbound.
From awe-inspiring botanical gardens to lush green hills, Bengaluru has something to offer everyone.
Here is a summary of the top five natural parks for you to visit in order to make the most of your visit. Here are our best picks for parks in Bengaluru that you simply must visit: Cubbon Park, Lalbagh Botanical Garden, Bannerghatta Biological Park, Nandi Hills, and Bangalore Palace Grounds. Prepare for a thrilling outdoor excursion!
Cubbon Park: Discover the Beauty of Nature
Visit Cubbon Park for a tranquil day in nature if you want to get away from the city's noise and activity. This park is a natural paradise with its wide, leafy fields, winding trails, and numerous trees. More than 6,000 different plant and tree types can be found there, and it has a 300-acre footprint.
There are also numerous statues dotting the landscape, including a statue of Queen Victoria in front of the Vidhana Soudha. Adventure seekers can enjoy great jogging tracks and bike trails while those looking to relax can visit the tranquil lily pond. To top it all off, the park houses several libraries that provide a peaceful reprieve from all the excitement. Whether you're looking to take a leisurely stroll or take part in some outdoor activities, Cubbon Park is undoubtedly one of the best natural parks to check out when visiting Bengaluru.
Lalbagh Botanical Garden: Unearth Rare Plant Species
One of the most popular parks in Bengaluru is Lalbagh Botanical Garden. This 240-acre garden is a paradise for plant and flower lovers. It has a rich variety of over 1,854 species of plants and even rare species like the double-flowered Rose and the Foxtail Orchid! You can wander around this verdant wonderland and admire the lush greenery, or take a longer tour and explore its many hidden gems. If you want to immerse yourself further, Lalbagh also offers a few guided tours, which provide insights into its history and many attractions like glass house, lake, Mughal Garden, and much more.
Bannerghatta Biological Park: A Haven for Wildlife Lovers
Bannerghatta Biological Park is your go-to place if you're a wildlife enthusiast. It's located in the hilly areas of the South India and is spread over 25,000 acres, making it one of the largest in the region. You can spot various species of animals like tigers, lions, leopards, elephants, bears and many more at the park.
It also has a crocodile farm, an interactive zoo and a butterflies park – perfect places to spend an unforgettable day! Add to that, you'll also find an area dedicated to Indian rock paintings and ruins from ancient times. And if that doesn't convince you yet, there are plenty of other activities such as trekking through the jungles or taking part in adventure sports like zorbing and rappelling.
It's definitely worth exploring – Bannerghatta Biological Park is for sure one of the best parks to visit in Bengaluru!
Nandi Hills: Enjoy the Picturesque Hill Station
Are you looking for a place to get away from the hustle and commotion of the city? Nandi Hills is the perfect spot for you! This charming hill community, located just outside of Bengaluru, is renowned for its breathtaking views and peaceful atmosphere.
The Nandi Hills provide a breathtaking view of the surrounding hills and agricultural regions. Nearby parks and paths covered in lush greenery, as well as numerous temples and religious sites, are ideal for taking a leisurely walk. Numerous other sports, such as hiking, mountain biking, rock climbing, and others, are also accessible in the area. You can unwind and savour some delectable regional cuisine here at one of the many eateries before exploring more of the neighbourhood.
The best thing about Nandi Hills is how convenient it is to get there by vehicle or public transportation. Therefore, you can still travel to this beautiful hill station for a day excursion even if you are staying in Bengaluru's downtown.
Bangalore Palace Grounds: Relax in the Popular Park
It is comprehensible why families and picnickers frequent the Bangalore Palace Grounds. The vast landscape of this park makes it the ideal location for relaxation.
On the property are golf courses, dining options, and even an amusement area. It's even feasible to take a picture with the massive Victoria Memorial replica! If you're feeling adventurous, you can also explore the mini-zoo.
On the property, various plant and animal types can be found. Everybody will find something to enjoy here, from large trees that offer copious cover to exotic birds that fill the air with song.
Whether you're looking for some peace and quiet or some fun in the sun, Bangalore Palace Grounds is the perfect spot.
Bonus Mention: Hesaraghatta Lake- A Relaxing Escape
Hesaraghatta Lake is a bonus park that's worthwhile mentioning, particularly if you're looking for a tranquil getaway from the city. This location is quiet and peaceful and is only 25 km from the city core. You won't have to worry about a long journey because it is so near to the city and is stocked with numerous fish and bird species.
The setting is ideal for a nature stroll because the lake is surrounded by lush green vegetation like tamarind and banyan trees. There are plenty of walking paths as well as acres of lake-side gardens, so feel free to explore – whether you're after some much-needed relaxing time or a little adventure!
All in all, Bengaluru is undoubtedly filled with many natural parks that are must-visit. Going on a nature trail or simply strolling within these parks is sure to give you a much-needed break from the hustle-bustle of the city. So, don't forget to check out these 5 best parks in Bengaluru, next time you're in town!