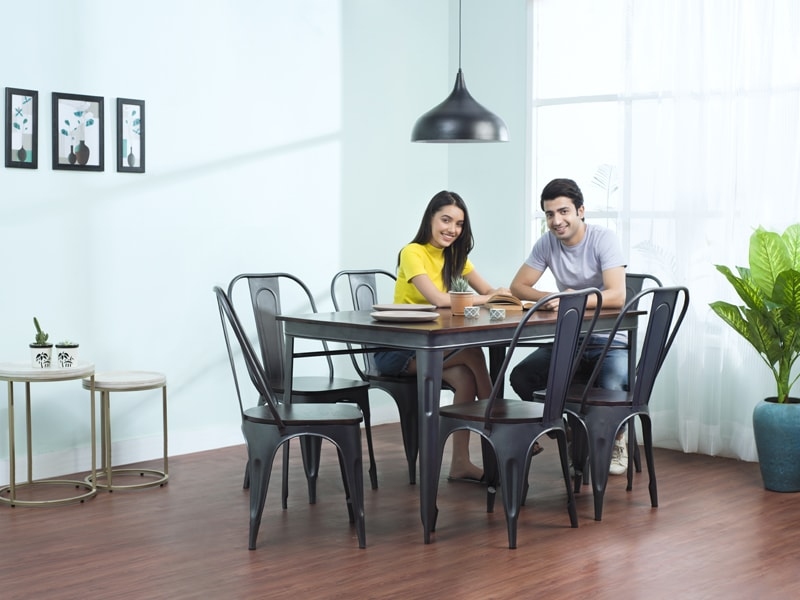 Browsing dining room ideas that will work regardless of the size of your space? A well-decorated dining room layout is a terrific enhancement to your house, whether you're pulling out the fancy plates to host friends or prefer casual yet warm family meals.
A modern or contemporary dining room may lack the elegance of the historical ones. We really mean any spot where you can put up your dining table and dine in peace. But it doesn't mean it shouldn't feel unique.
Even if you don't have the capacity or space for a separate 'room,' why not include a modest dining area in an open-plan area, like a kitchen/living area?
The dining table is the main point of the room and will help decide the entire plan, whether you have just enough room for a breakfast bar table or enough for an exquisite, statement piece. A mix of chairs and benches will make the area seem more comfortable for those wishing to create a casual environment, or for a more sophisticated edge, go for a set with upholstered seats for a fashionable, elegant touch.
From dining room furniture to add-ons and other designs, we've gathered all of our top dining room ideas to encourage you to select a design and make the most of your dining space.
Choose an extendable dining table
If you are a socialite who enjoys throwing parties, an extensible dining table ought to be your top priority to accommodate anything from everyday eating to holiday meals and everything in between. An extendable rectangular or square dining table for six to eight people is great for hosting spectacular meals or everyday family dinners in the dining room.
A dark brown hardwood table with soft brown or pale white, or creamy nude foundation seats is our recommendation. Set up a stunning dining table with bright-colored table mats and a centerpiece to accent the décor. The centerpiece may be anything from a flower arrangement to candle stands.
To make your dining area chic and trendy without spending a fortune or facing any hassle, buy dining room furniture online from reliable brands like Zior.
Add mirrors to your dining room
Bring in huge mirrors to bounce light & open up a compact room while improving the design. Mirror ideas provide a simple yet stylish dining room transformation with mirrored sheen and sparkle.
Another dining room tip is to have huge mirrors so that you can see one other while dining. You may add bursts of color to these gorgeous navy dining room chairs, as well as see candles glittering and large-scale flowers via the mirrors.
Mix and match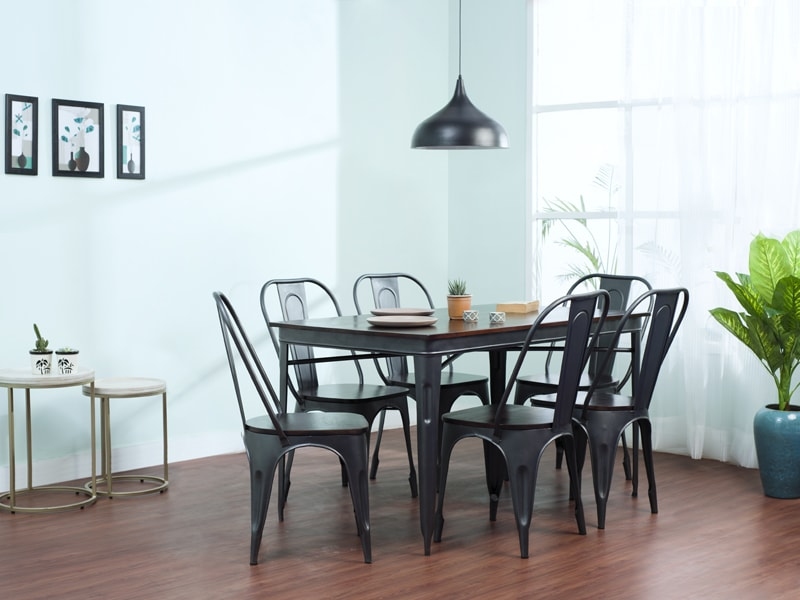 We bring you the ideal modern dining room strategy to rewire your concept of symmetry. Of course, the idea is to include quirky aspects into your space to give it a modern age air without making the dining room appear out of place (all puns intended). Because it is a communal area, this room is also relatively simple to put together. To pull off this dining area, you'll need some hand-picked single and chic chairs, some simple artwork, and a consistent color palette. To take it to the next level, choose a pastel hue.
Wood & metal textures give warmth & comfort while being modern and elegant. Consider combining multiple textures to generate an eye-catching dining area. You might, for example, use wood for the dining table and metal chairs.
Add elegant light fixtures
Each area in your house performs a particular function, and the lighting should reflect that. Choosing the correct dining room lighting ideas will alter how your space appears and feels, from mood lighting in an ambient living room setting to task lighting over a dining table.
For an intimate dining room, consider putting one huge chandelier or pendant light over your dining table, many single-bulb fixtures throughout the dining area, or even string lights.
Dimmable lighting is critical for creating ambiance. It's also a good idea to have a ceiling light that can spotlight the table without glaring in everyone's eyes. You might also try a small pendant with a focused/spot downlight that is diffused and inside a softer, more ornamental form – great for a cluster over a circular table or in a line above a long table.
Choose dining room decor that reflects you
What puts you the most at ease in terms of dining room design? Consider how you want your guests to experience when they walk in & create an environment that is ideal for you. Furthermore, it is essential to invest in high-quality elements that can last for years. This will not only save you money in the long term, but it will also keep your dining room looking wonderful for years to come.
Listed below are some of the advantages of purchasing elevated dining room furniture:
Made of long-lasting qualities that can be used for years.
Designed in classic designs that will never be out of style.
It's well-made and solid, so it won't waver over time.
You can get all this at Zior – elegance, reliance, and affordability.
Go with sophisticated color accents
In a neutral or grey dining area, use bold color contrasts to create a dramatic style with depth and appeal. This dining space was created for a family that wanted to use color but in a refined way. We did this by painting the walls a pale blue and selecting a deeper blue cloth dining chair. Despite the abundance of blue, the area remains neutral and airy thanks to the white built-ins and trim, as well as the natural stained wood floors.
We picked a dining table with a glass top to offset the weight of the cloth chairs. To contrast the more transitional features of the furniture and woodwork, a modern, organic light fixture was chosen.
The grey color palette allows little space for error, and the dining area seems clean and tidy. What we like best about this dining room is how simple it is to put together and how photogenic it is. The industrial lighting and dining set are the only substantial investments here (apart from the paint).
To sum it up
Finding the right combination of form, function, and personal tastes is essential when designing a dining area. The dining set you pick will have a significant influence on the entire decor of your dining room, so it's critical to find one that meets both your current needs and what you will need in five years.
Furthermore, there is no right or wrong when it comes to modern décor. It all comes down to establishing a theme and deciding what your eyes are drawn to. We made certain to choose those that need little financial input yet provide excellent results.
We understand how difficult it can be to find the ideal piece of dining room furniture. Most products are either too big or too little, and they never seem to fit well.
Visit Zior website and be astounded by our services, which will make you feel at ease and solve all of your problems. We have one of the broadest and most trendy dining room collections on the market, so we're confident that we'll be able to locate something that will fit into your dining room while still reflecting your personality and unique style.