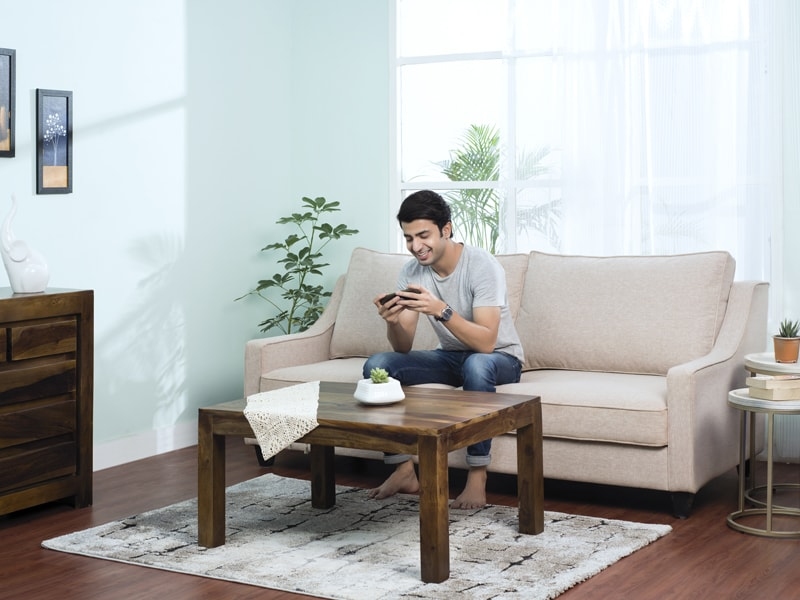 This world is constantly and dynamically changing every day. And the generation labelled as "millennials," which was born between 1981 and 1996, is currently ruling the world.
Millennials are pragmatic, they value the "now" i.e., they believe in lining in the present, and they are not particularly interested in owning large or expensive things that can weigh or slow them down in any way. When renting it out is a more effective option, why not do it instead of buying? Everything has a "rent-it-out" approach, whether it be renting a house, a car, or even taking all their furniture on rent.
This change in mindset led to many changes in demand. On the one hand, the traditional and offline industry was negatively hit, but on the other, the market for online furniture rentals in India shot up dramatically, creating a chance for businesses and entrepreneurs in this field.
The recent growth in renting furniture and appliances in India has been spurred by the development. According to Research Nester, the country's rental market for furniture and appliances alone is anticipated to be worth more than $1.89 billion (USD) by 2025. For millennials, opting to rent furniture is about taking the less-travelled path just as much as it is about cutting costs.
They make the wise decision to rent rather than buy. Why? — Just take a look at these major advantages!
Less Investment and More Mobility
While purchasing furniture for your house appears to be a good idea if you want to settle down, in living in a fast-paced world when you are continuously on the road for competing employment and have a busy schedule, purchasing furniture does not appear to be feasible.
When you move to a new city and you know you are going to have to move again after a year or two, buying all the furniture makes lesser sense than renting it. Who'd want to move everything again and again, that too by spending thousands on movers.
Moving all of the furnishings to one new location and then to another only adds to the worry of overall change. This is why renting home furniture is a fantastic alternative if you move frequently and have a limited budget.
Some good furniture rental service providers, such as Cityfurnish, even offer free delivery as well as pick up services, so you wind up saving more than you anticipated. Furthermore, the documentation procedure is simple, and there is no large down payment required for basic furniture items including couches, double beds, tables, and so on.
Renting Furniture is a Very Cost-Effective Option
One of the most distinguishing qualities of millennials is that they are virtually usually economical. In reality, their funds are actually limited. It's because the overwhelming majority of these individuals are either students studying away from home or professionals moving from city to city for work. For example, consider students.
Why would they want to buy furniture when they are already on a tight budget and struggling to keep up with their schooling as well as finances? It is a substantial financial investment. Moreover, they are only there for a limited period. This implies that they just need short-term solution till their academics are over. Taking furniture on rent might help them save a lot of money.
They may take everything they desire on a monthly subscription. And if they stay together, that's an added bonus because then they will be able to split even the minimal monthly price. Renting benefits working-class individuals since they don't have to transfer their goods, pay additional fees, or sell the furniture at a loss. Getting things on rent is undoubtedly less expensive than purchasing all of the items for your new flat.
Renting Makes Relocating to a New Location Much Easier
As previously said, millennials are much more committed to their professions, and as a result, they relocate more frequently. When you've bought everything, you either have to drag it all with you everywhere you go (which is exceedingly difficult and expensive), or you have to sell it all (which again, is not that simple because then you have to find the buyer for those things and wait for everything to get sold).
Shifting to a new house and settling into a new location or city is much easier when you rent furniture. There is no need to look for sellers to sell everything, or to pack and move everything to the new location. Rentals allow for simple returns while saving you money on pickup fees.
Renting Furniture Allows You to Upgrade Whenever You Want
Purchasing furniture is a long-term investment. Nobody would be prepared to invest so much money in changing the furnishings every 6 months or such. Unless you are incredibly wealthy, of course. If you purchase the furniture, you will be trapped with it for many years. Who knows, 10 years, or maybe even 15 years? And what if you're moving out but do not want the same furnishings or appliances in your new house?
What if you wish to buy some new and trendy models of furniture or home appliances but are limited by your budget? This is an option you get when you choose to rent the furniture. This is also the primary reason why millennials choose to rent rather than buy.
Do you dread keeping the same item of furniture for over six months? Upgrade it! Isn't that a fantastic option? Because there is no large investment or loss involved, renting allows you to upgrade to newer or nicer versions. New location, fresh furnishings, new atmosphere. Isn't it fantastic?
Renting is Eco-Friendly in Several Ways
While we are dealing with the environmental issue, consider this: furniture rentals may benefit the environment. You may be wondering how. So, here's how.
Metric tons of furniture are disposed of in landfills each year, but not all of them are ecologically beneficial. Plastic & foam are two examples of materials that do not decompose quickly, resulting in landfill obstruction and a chemical imbalance in the soil.
Aside from that, furniture is frequently abandoned before it has served its purpose, resulting in not only excessive waste but also excessive manufacturing of brand new furniture. This further leads to resource exhaustion.
Furniture rentals allow furniture to be used and reused, which reduces furniture waste. This includes making better use of furnishings. Furthermore, most rental firms use cutting-edge technologies and manufacture recyclable furniture. As a result, there are fewer clogged landfills.
And Lastly!
Recognizing the influence of digitalization and the changing lifestyles of today's demographic, furniture rental providers will strive to innovate on a constant basis. Rising demand will provide momentum for the introduction of new offerings, as well as additional incentives like free installation and delivery within a specified time frame.
Haven't tried taking the furniture on rent yet? Choose a trusted service provider like Cityfurnish to get a great furniture renting experience. To satisfy your tastes, Cityfurnish has handpicked a large assortment of furniture pieces that you may rent in minutes. Along with a simple rental procedure, you will also receive free delivery, installation, maintenance, and collection.