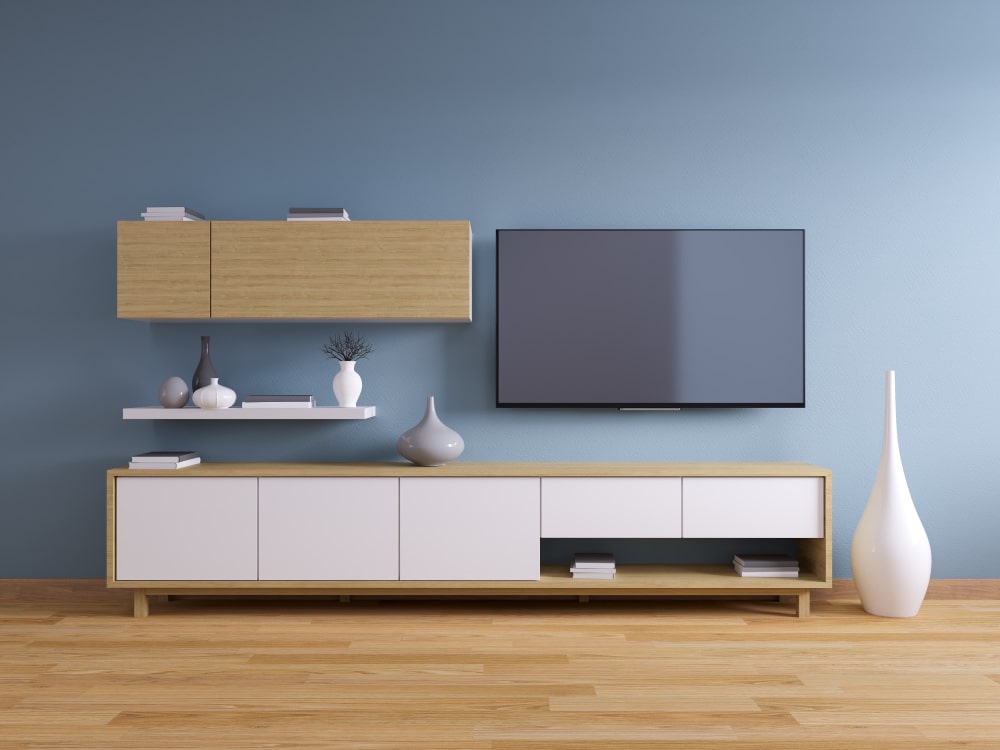 So you finally got that new flat screen smart Tv you've been dreaming about. Now it's time to figure out where to put your Tv for maximum comfort and convenience. Do you mount it on the wall like a piece of art or tuck it away in a cabinet? There are so many stylish options these days for incorporating a TV into your decor. You want maximum viewing pleasure without sacrificing the look and feel of your space. Whether your style is modern minimalist or cozy rustic, you can create a customized setup perfect for you. Read on for ideas to blend your TV into the decor so you have the best of both worlds – technology and ambiance. Kick back, grab a snack, and get inspired by creative ways to showcase your new TV. The binge-watching possibilities are endless!
1- Frame It Up: Using Your TV as Statement Wall Art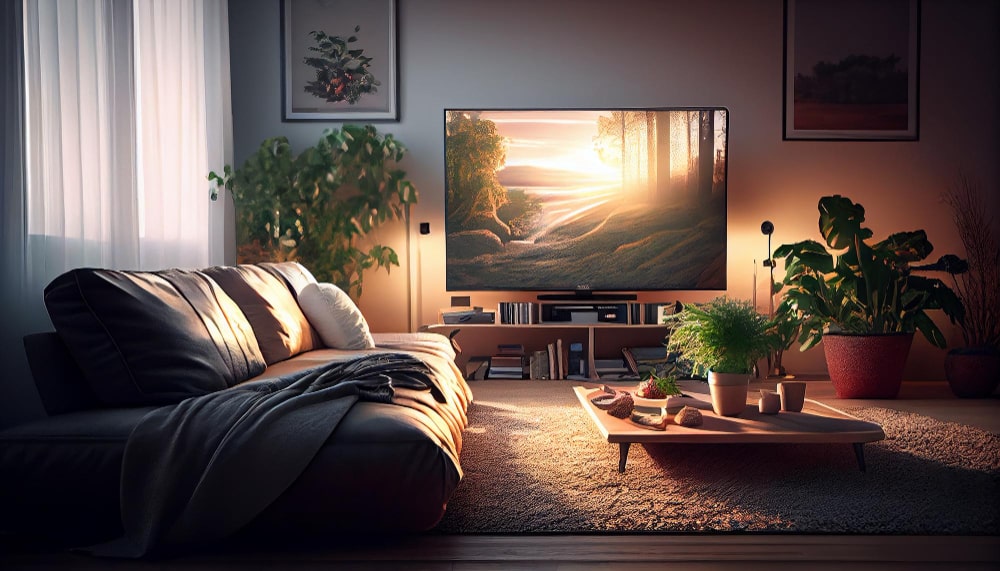 Framing your TV and mounting it on the wall transforms it into a design element, making a stylish statement in your living room.
a- Size Matters
Choose a frame size proportional to your TV for the best visual impact. An oversized frame will dwarf a small TV, while a frame that's too small won't enhance the overall look. For the most seamless appearance, select a frame with a bezel, or border, that closely matches your TV's screen size.
b- Material and Finish
The frame material and finish you pick depends on the style you want to achieve. Wood frames in natural, gray or black stains provide an organic, rustic feel, while metal frames in gold, rose gold or matte black lend an industrial touch. Lacquered wood or high-gloss frames in bold colors make for an ultra-glamorous TV statement.
c- Placement
Think about where you spend the most time watching TV and the layout of your furniture. Mounting above a fireplace or mantel is a classic spot, but make sure it's at a comfortable viewing height. Hanging a framed TV on a large, blank wall behind your sofa creates a stylish focal point in the room. For a custom built-in look without the renovation, frame and mount your TV in a shelving unit or cabinet.
With the right frame and placement, your television becomes a work of art. Framing and mounting your TV is an easy, affordable way to elevate your space and make a bold design statement. Your living room will never look at the TV the same way again!
2- Blend It In: Integrating Your TV Into Bookshelves and Shelving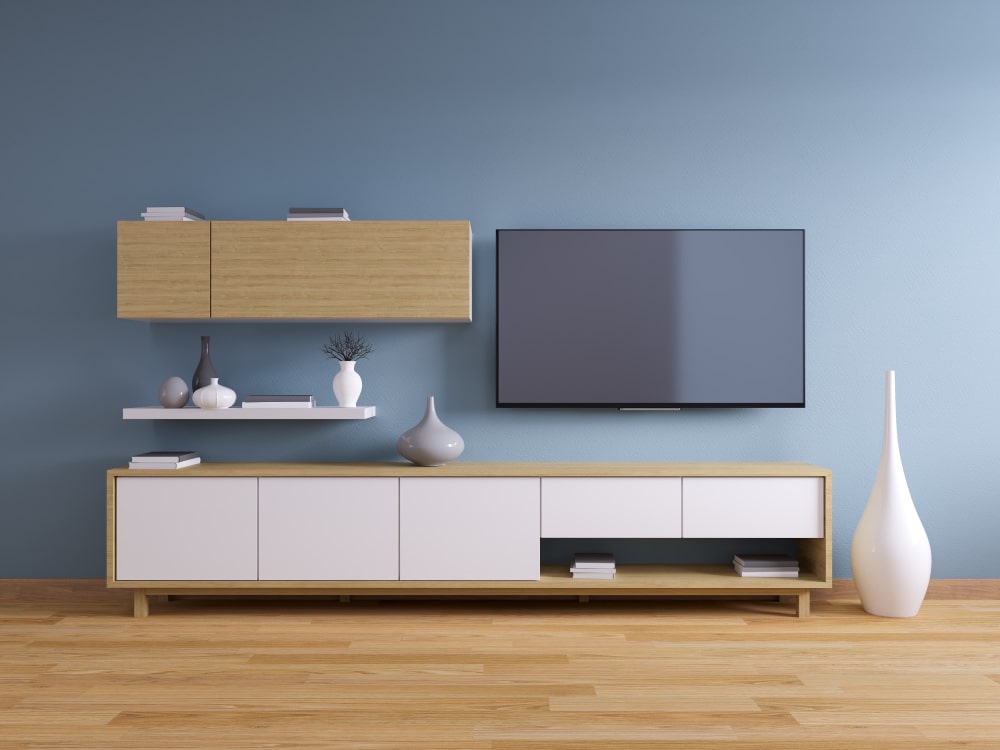 Integrating your TV into bookshelves or shelving is a stylish way to blend technology with decor.
a- Use matching wood tones
Choose a TV console, bookshelves or wall unit in the same warm wood tone as your other furnishings for a cohesive look. Walnut, teak and oak pair well with most interior styles. Matching the wood also helps the TV appear like just another part of the decor rather than an afterthought.
b- Leave space for components
Don't cram your TV and components into a space that's too small. Leave at least 6 to 8 inches on each side of the TV and ample room below for things like cable boxes, game systems, streaming devices and a center channel speaker. Having everything neatly organized and within easy reach enhances your viewing experience.
c- Hide cables for a clean finish
Run cables through the wall or use cord covers to hide them from view. Label each cable to make hooking everything back up simple if you move components around. For the ultimate clean look, choose a TV console or wall unit with built-in cable management and ventilation for your devices.
d- Add task lighting
Include adjustable task lighting, reading lights or recessed lighting on either side of the TV for glare-free viewing and to illuminate nearby bookshelves. Dimmer switches give you full control over the amount of light.
e- Leave space for decor
Flank the TV console or wall unit with bookshelves, but don't fill them up completely. Leave room for decorative objects like art, plants, candles or collectibles so the area doesn't appear cluttered. Your TV can share the spotlight! With the right approach, technology and decor can co-exist in perfect harmony.
3- Hide It Away: Concealing Your TV in Mirrors and Cabinets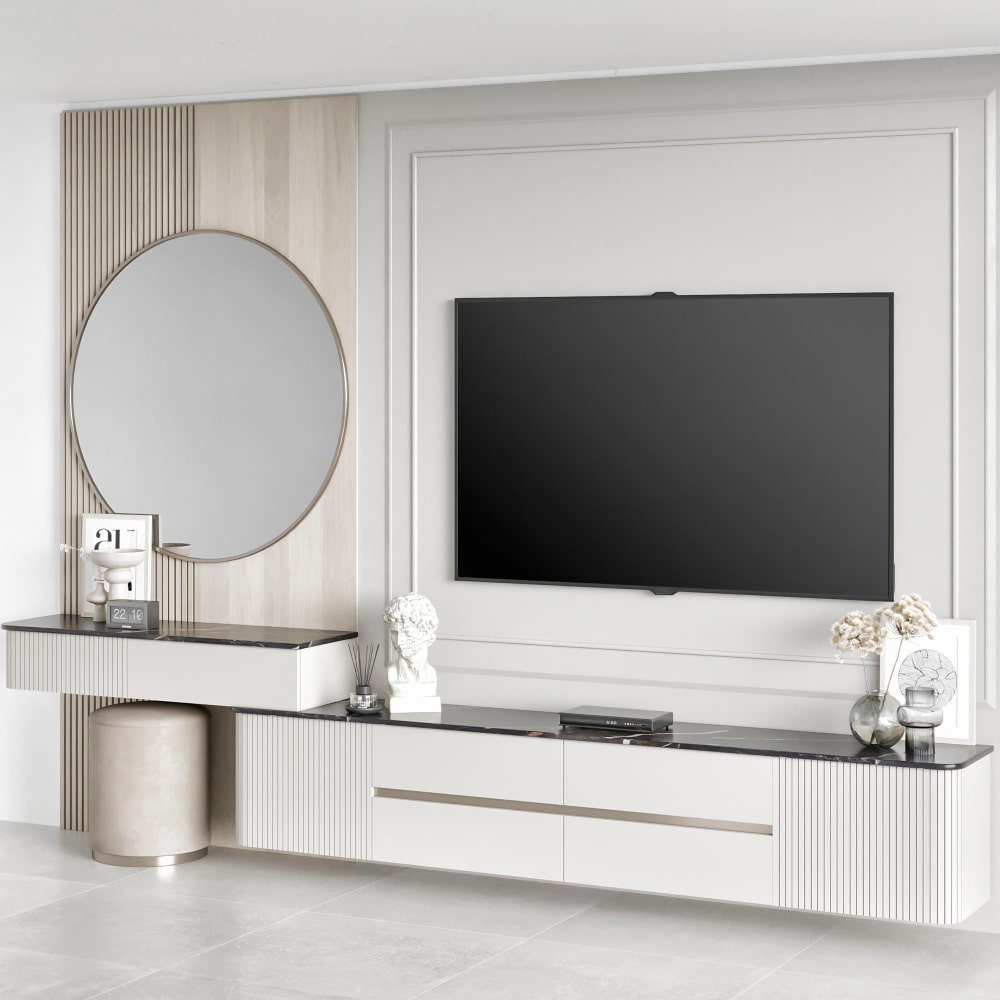 Hide your TV away in a stylish Tv cabinet or behind a mirror for a clutter-free look. Out of sight, out of mind—until it's time to watch your favorite show, that is!
a- Cabinets
Entertainment centers and cabinets are ideal for concealing your TV. Look for a cabinet size that matches your TV and any components like a cable box or Blu-ray player. Cabinets with doors allow you to hide everything away when not in use. For easy access, choose a cabinet with retractable doors that glide or slide open and closed.
b- Mirrors
A mirrored TV cabinet or console is a clever way to disguise your TV. The mirrored front reflects the room around it for a seamless look. When you're ready to watch TV, the cabinet doors open to reveal the screen. You can find mirrored cabinets in a range of styles from rustic to ultra-modern to suit any decor.
For tight spaces, a TV mirror is ideal. These mirrors swivel, slide or pivot to expose the TV screen hidden behind. When the TV is off, the mirror reflects the room for an open, spacious feel. TV mirrors can also make a small room seem more open since the mirror creates an illusion of depth.
c- Installation
If you're not confident with woodworking or construction, look for cabinets and mirrors designed specifically for housing TV components. These typically come fully assembled and ready to attach to your wall. You'll just need to mount your TV inside and hook up the cables.
For a custom built-in look, consider working with a cabinetmaker or carpenter to create an entertainment center tailored to your space. They can craft a cabinet to your exact dimensions and specifications. Built-ins provide maximum storage for all your media gear with a polished, high-end appearance.
With some creative thinking, you can disguise your TV and maintain an uncluttered, stylish space. Concealing your TV behind closed doors or a mirrored front helps it blend seamlessly into any room when not in use. Yet everything remains within easy reach for a comfortable viewing experience.
4- Set the Mood: Using Lighting and Backdrops for Ambiance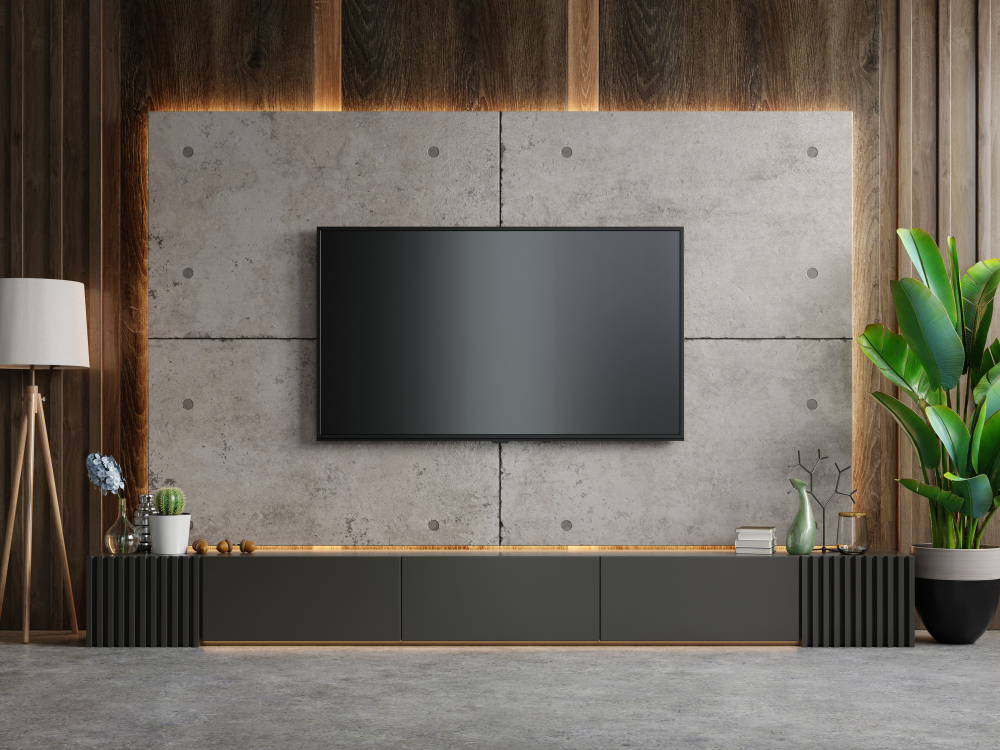 Setting the mood in your room is key to making your TV viewing experience as cozy and enjoyable as possible. Using strategic lighting and backdrops, you can transform your space into a personalized oasis for watching your favorite shows or movies.
a- Ambient Lighting
Soft, ambient lighting is ideal for setting a relaxed vibe in your TV viewing area. Consider installing dimmable overhead recessed or track lighting so you can control the level of brightness. Floor and table lamps with adjustable arms also allow you to aim the light where you need it. Warm white bulbs around 2700K create a cozy glow.
b- Task Lighting
Have dedicated task lighting, like articulating wall sconces or pendant lights, to spotlight areas where ambient light may be lacking. Aim the light at seating areas, side tables, or shelving where you may need extra illumination when moving around the space. Dimmable LED bulbs are an energy-efficient choice.
c- Accent Lighting
Add strips of LED tape lights or puck lights along the edges of cabinets, behind TVs, or under seating for a stylish accent glow. Choose a color temperature like 3000K for a warm, sunset-inspired look. Use a dimmer switch or smart plug to adjust the brightness.
d- Backdrops
A backdrop behind your TV, like an art print, textured wallpaper, stone or brick veneer, can make a stylish statement in your room. For a cozy feel, consider wood planks, woven grasscloth, or fabric. A neutral-colored backdrop helps your TV take center stage, while a darker, saturated shade creates contrast.
By combining ambient, task, and accent lighting with an eye-catching backdrop, you'll have the perfect moody setting for your next TV watching spree. Curl up on the couch, dim the lights, and enjoy! The right lighting and backdrop can transform your regular TV viewing into an immersive experience.
5- Create Your Own TV Viewing Nook: Personalized Spaces for Optimal Comfort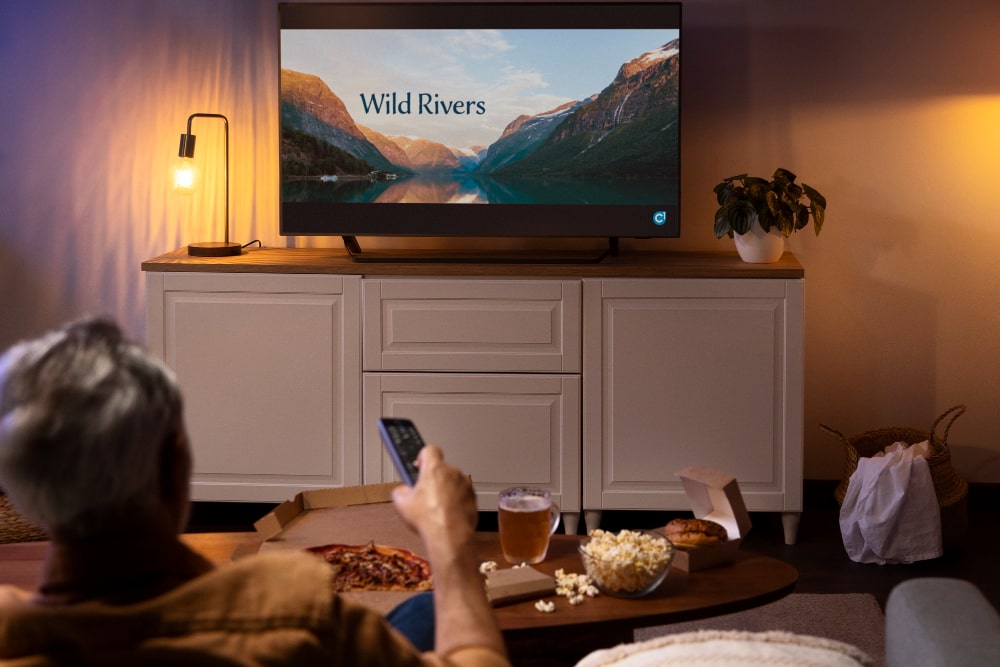 Creating a cozy viewing nook tailored to your needs will make watching TV even more enjoyable. You can craft a space that's ideal for how you like to watch shows and movies.
a- Choose a Location
Select an area that suits your usual TV viewing habits. If you often watch while doing chores like folding laundry or exercising, pick a spot that provides visibility from multiple vantage points. For dedicated binge-watching or movie nights, focus on comfort and ambiance. A smaller room away from noise and distraction is perfect.
b- Add Comfortable Seating
Include seating that supports how you watch TV. For solo viewing or casual TV time, a plush armchair, rocking recliner or bean bag works well. If you watch with family or friends, add a sofa, loveseat or sectional and consider oversized options so there's room for everyone. Don't forget extra seating like ottomans or floor pillows.
c- Create Atmosphere
Enhance your nook with mood lighting, decor and extras tailored to your tastes. Dimmer lighting, lamps, string lights or candles help set the mood. Add art, photos, bookshelves, blankets, pillows and a rug to complete the look. For a high-tech space, include chargers, a mini-fridge, gaming console or streaming device.
d- Manage Cables
Tidy up cords and cables for an attractive, uncluttered nook. Use cord covers, raceways or sleeves to hide messy wires. Mount the TV to the wall or use a stand to keep cables off the floor. Place charging stations, gaming equipment and other electronics in an unobtrusive cabinet or drawer when not in use.
With some planning, you can craft a cozy viewing nook perfect for your needs. Choose a spot, pick comfortable seating, set the atmosphere and hide cables for a personalized space to enjoy your favorite shows. Your tailored TV-viewing haven will make any program more pleasurable.
Conclusion
So there you have it, a dozen creative ways to incorporate that big beautiful TV into your living space in a stylish and seamless manner. Whether you want to highlight it as a focal point or hide it away when not in use, the options are many. Get inspired and have fun with it – after all, your living room is where you relax and unwind. Frame that flatscreen, tuck it into custom shelving, or disguise it behind artwork. Add mood lighting, declutter cords, and create the perfect cozy nook for movie nights and binge-watching sessions. Make the most of your entertainment center and transform an everyday necessity into an expression of your unique style. Your place, your TV, your rules – now go design a space as comfortable and stylish as you are!