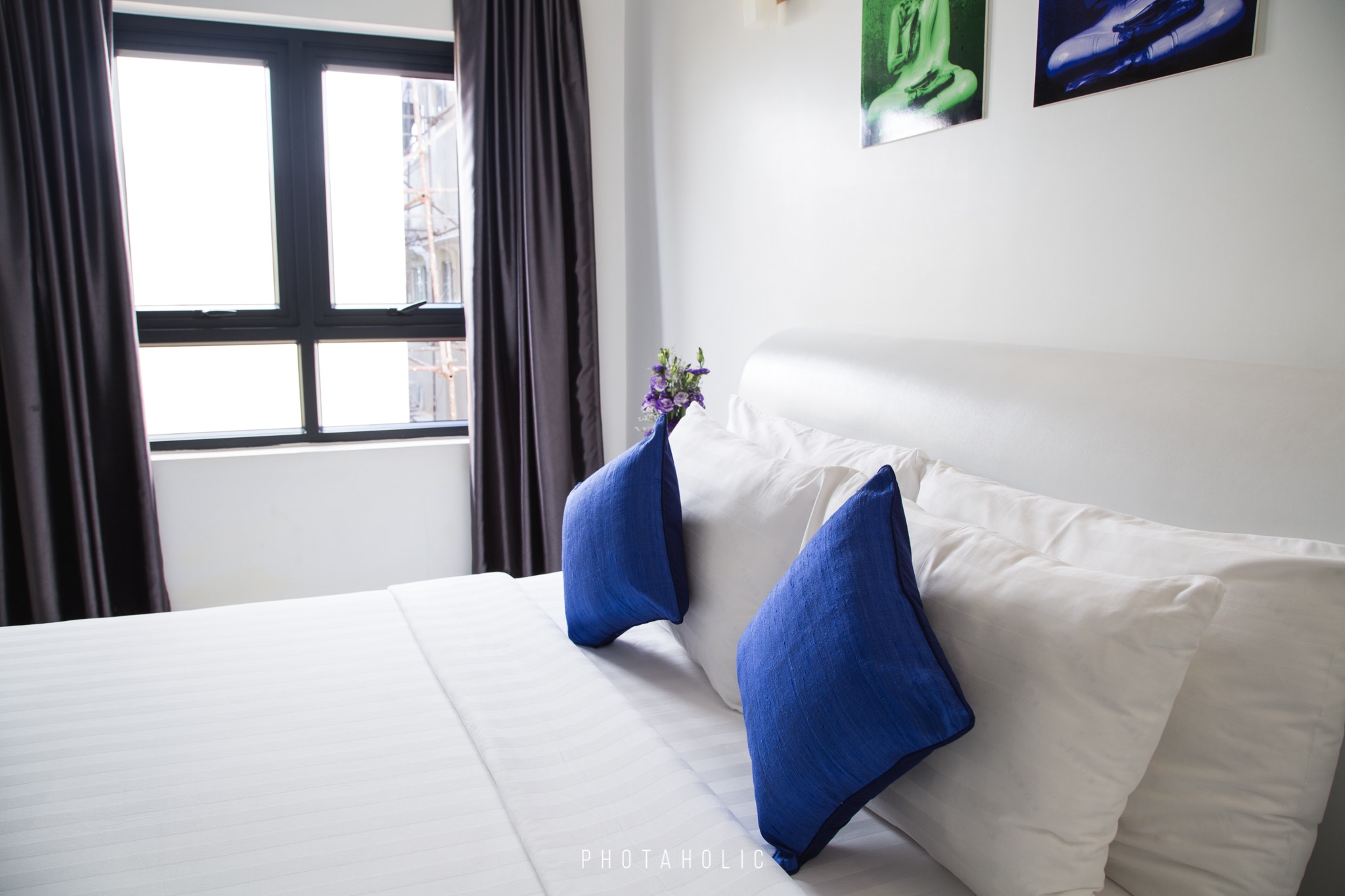 We spend one-third of our lives sleeping!
So it comes to reason that our bedrooms should be magnificent havens where we can unwind from the worries of the day. A calming bedroom area is extremely important for those people who have hectic lives with busy daily schedules, and that sense of peacefulness in a bedroom comes from more than simply the room's design.
While the general design of the room is critical for creating a peaceful ambiance, with colour schemes, lighting, and furniture all key things to consider when planning your resting area, there are a few basic principles to settle on first.
The mattress is, of course, the most crucial beginning point for comfortable bedrooms.
A good night's sleep is essential for both mental as well as physical health, so choosing the right bed and the mattress for you is the first step in any bedroom remodel. Especially if the mattress takes up the majority of your bedroom, as with a king size double bed.
Once you've decided on your mattress, you may go on to the bed frame and ultimately the bedding, which will create the foundation of your peaceful bedroom. With these factors out of the way, you can start having fun with interior design and creating your own individual refuge apart from the outside world.
Here are some tips that can help you create a relaxing bedroom!
Get a Luxurious Bed!
A nice, comfy bed is the epitome of tranquilly. This is one area of the bedroom where you should not skimp, so start with a high-quality mattress that provides adequate support. Your mattress may be the difference between a good night's sleep and an uncomfortable eight hours of tossing and turning, so choose the best one you can afford and turn and maintain it according to the manufacturer's instructions to avoid sagging and wear.
If new furniture isn't in the budget, you can always take the bedroom furniture on rent. Following that are soft sheets, a warming blanket, and a nice thick comforter. Finish with additional decorative pillows to create a bed that invites you into relaxation.
Color the Bedroom Calm
The most soothing bedrooms are arranged in cool hues that evoke a serene day by quiet waters. Throw in pure leisure, but not at all monotonous. Try the white furniture, patterned bedding, and decorative details on the headboard, which can offer lots of interest without screaming for attention. Shades of green and blue, followed by grey, can be the greatest selections for a serene room's palette. You don't want strong tones; instead, go for mid-tone or pastel colours that offer lots of colour without straining your eyes. Dark accents like navy blue, or hunter green, or steel grey can also be used, but for the most serene atmosphere, decorate largely in soft hues and white.
Go a Little Green
Growing a plant or two in the bedroom does not need the greenest of eyes. Living plants provide a sense of life, calmness, and healthiness that other bedroom decorations cannot equal. Choose one large plant for any one of the corners of the room or get several smaller plants that you can group on your bedroom dresser or nightstand. Though stick with simple choices like pothos, or peace lily, water them weekly, and leave the curtains open for daytime light, and you'll have flourishing bedroom greenery to help relax your mood.
Light Your Bedroom with Soft Lights
Excessive bedroom lighting is not soothing; it is suggestive of an operating room. While adequate illumination is required for reading in bed, dressing, and bedtime activities, save the brightest bulbs and the most powerful overhead ceiling lights for other parts of your home. Stick to 3-way bulbs or those lights that have dimmers in the bedroom so you can easily adjust the intensity or brightness of the lights according to your preferences. Turn the lights down low enough so that it can take the edge off but keep them bright enough, so your eyes don't have to strain.
Clean the Bedroom Clutter
A cluttered bedroom makes it impossible to unwind or relax. If nothing else, declutter your bedroom to make it more relaxing. Spend a day or two getting rid of anything you don't need or enjoy, relocating anything that belongs somewhere else in the house. Try removing or reducing any kinds or unnecessary collections and paintings and add just a few important items to the room. That doesn't mean your bedroom has to be harsh and devoid of individuality; add interest with modest splashes of colour and pattern. Try hanging a few pictures that you like or any other beloved things that make you happy when you see them.
If you don't have enough space to keep your things, you can always add more storage furniture in your bedroom. Try taking the bedroom furniture on rent and organize all your things by keeping them in the right place.
Try Avoid Bringing the Electronics into Your Bedroom
It may be enticing to bring your laptop to your bed, or play a few games on your smartphone before you go to sleep, or even sleep with the tv on, but all of these electronic gadgets generate enough light to fool your brain into thinking it's time to wake up, not rest. Furthermore, electronic entertainment is frequently engaging enough to keep you awake.Make it a bedroom policy to turn off electronic gadgets at least an hour before sleep, or try to keep them out of your bedroom entirely. However, there can be some exceptions like a non-backlit e-reader, such as the Kindle.
Soothe Your Mind
When you calm your senses, your body as well as mind automatically relax. Bring sensory pleasures into your bedroom to make a spa-like, relaxing atmosphere. A few candles by your bed—make sure to blow them out before you fall asleep. Or throw in a bouquet of flower arrangements in a nice vase, a willow diffuser filled the air the delicate fragrance of aroma, rose, or lavender, or jasmine – whatever you like. You can also try adding a sound device to block out street noise or home ruckus. This is all it takes to transform your bedroom into a relaxing retreat you'll look forward more to accessing all day.
However, this tip is applicable if you are renovating your entire house too. Finding the difference between building a house and making a home can be sometimes tricky as we get influenced by trends. But you can make it possible by following your heart and your perfect home will be ready in no time.
Some Extra Tips to Help You Relax
If you don't have any curtains or blinds in your bedroom, you may have a hard time falling asleep during the night. So, try blocking out the light during the night, at least, so there's no unnecessary light keeping you awake.
Don't make your bedroom your workspace. If you work from home, try keeping your workspace and your bedroom separate. You can setup a workstation anywhere else in the house.
Wrap yourself in something smooth during night. The right material, that's soft and comfortable will create a sense of warmth and make you fall asleep more comfortably.
The right kind of bedroom furniture and other bedroom furnishings, along with the right lighting can create an atmosphere in the bedroom which can make you feel at peace – wonderfully relaxed. You can explore all kinds of bedroom furnishings on Cityfurnish website and make your bedroom a beautiful haven.