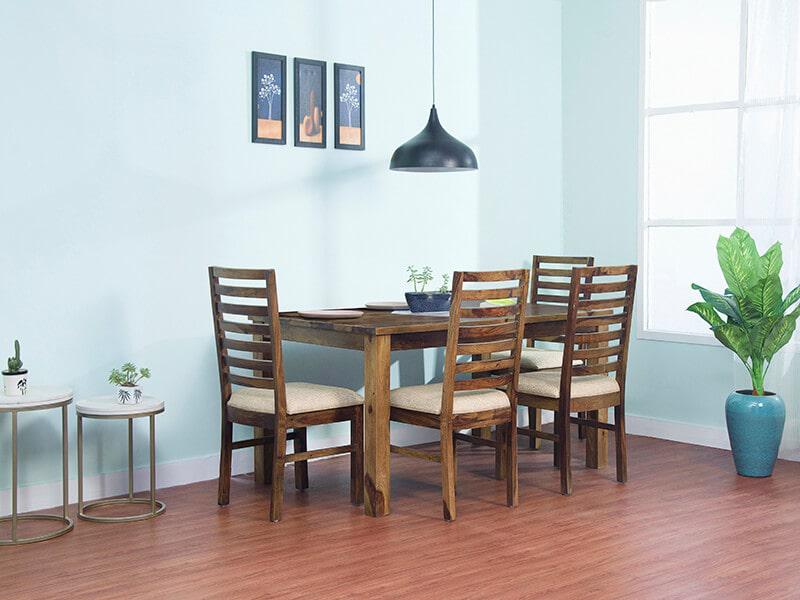 As working from home has now become the new normal, the dining room has taken on a new role in our houses. It serves as our home office, home schooling area, arts & crafts area, and dining area for so many of us.
A dining table can be a big investment for so many people, so make sure you get one that complements your taste and satisfies all of your daily demands. So, whether you're planning holiday parties for a small group of people, figuring out how to make your dining room your office work space, or simply conjuring up some dining room design ideas to refresh this workhorse area, we're here to point you in the right direction.
You're probably thinking about where to begin when it comes to dining table styles. A dining table may be a significant investment. However, there's always an affordable alternative – taking the dining table on rent. Whichever option you choose, make sure you choose the dining table that suits your taste and satisfies all of your hosting requirements. To guide you, we've broken down the many dining table styles below so you can discover the one which best works for you.
Know Your Dining Table Size
You may have noticed that the dining table proportions include three digits. The number of chairs that may fit at a dining table is determined by their width. It is widely accepted to have 22 to 24 inches of spacing between chairs. That implies that the table can accommodate 4 to 6 people. Consider this statistic while deciding on the optimum size of the dining table for your purposes.
The seat of a standard dining chair should be appropriately high. A space of 10 inches between the chair and the top of the dining table is regarded as acceptable. Therefore 30 inches can be considered as the appropriate height for that dining table.
It is advised that you leave 42-48 inches between the dining table & the room's walls. This allows folks to walk freely around the table & easily get in or out of the seats.
Choose The Right Shape of Dining Table
Rectangle & square dining tables are the most common type of dining tables, while circular tables are also extremely popular. The appropriate size for you is determined by the number of chairs you intend to place and the layout of your dining room area. A rectangle table may be the ideal option for a formal dining table with around 6 to 10 chairs. Any of these will suffice for 4 to 6 chairs. Consider a round table that seats 2 to 4 people for small rooms.
The following are some no-nos when it comes to selecting the style of your dining table:
There should be no round table in a rectangle eating space.
There should be no rectangle table in a square eating space.
Aesthetically, circular dining tables for square-shaped dining areas and rectangular type dining tables for rectangular dining rooms are preferred. If you have a rectangle space, an oval table, though less frequent, is also a wonderful option.
If you have a rectangle space, an oval table, though less frequent, is also a wonderful option.
The size and style of your dining table should also be picked with a long usage purpose in place. If you intend on growing your family soon or having visitors over regularly, get the biggest table your space allows. Getting a table for two will be a waste of money if it is inadequate for your needs later on, in a year or two.
Choose the Right Dining Table Materials
It might be challenging to decide on the material for your dining table. To choose the correct one, you must weigh price, simplicity of care, and your own personal style, and a dining table that falls short of any of these criteria may result in a decision you may regret later. Here are some dining table materials that you can choose from –
Wood
Solid wood is a timeless table material since it is long-lasting and simple to repair. Pine, ebony, mango, & teak are typical low-cost alternatives. A solid wood dining table is the most common, but it is also the most costly.
Veneer/Wood-Look
Wood veneer is frequently a less expensive option than genuine wood. A very thin veneer of real wood (or a substance designed to appear like wood) is attached to a plywood or other wood core.
Stone and Stone Look
These tabletops are available in marble, quartz blend, or cast stone (such as cement). Stone is long-lasting, although it is porous and rapidly absorbs stains.
Glass
Glass dining tabletops come in clear, frosted, and colored varieties. They are quite affordable and may provide a sense of openness as well as space.
Metal
Stainless steel table, brass table, zinc table, and lacquered or painted variants of these metals are more commonly used for dining table bases than tops.
Plastic / Laminates
These are man-made dining table materials, whether molded into a form or pasted onto the plywoods or some other core, are a low-cost solution.
Check for a Sturdy and Reliable Build
A decent dining table will be solid and well-constructed, with a finish that will survive extensive usage while showing little visible wear. Although the material is an important aspect of its construction, a table is only as good as its craftsmanship.
Look beneath the store's floor sample: Wood attached directly to wood is quite durable; nevertheless, too many couplings & hooks can damage the structure. In general, less is more.
Examine the connection places where the legs meet the table tops and at the corners – if the parts are starting to split, there are gaps at the corners, or it wobbles when you move it, it is not properly made. Also, be wary of extremely low-cost tables: They could only be kept together with glue and nails.
If you don't already have dining chairs for your dining table, the most crucial thing is that the new chairs fit at your table. People used to get tables and chairs in sets, but that is less common these days. You should feel free to experiment – mix and match your dining sets however you like.
Getting extra chairs and utilizing them in any other room in the house when you don't need them at the table helps conserve space in a compact area.
Affordable Dining Table on Rent
If you are living at a place temporarily due to work or studies and do not want to invest in buying a dining table, you can always choose to rent dining table.
Cityfurnish offers a variety of dining tables – all sizes and shapes – from which you can choose the perfect set that suits your place as well as style.