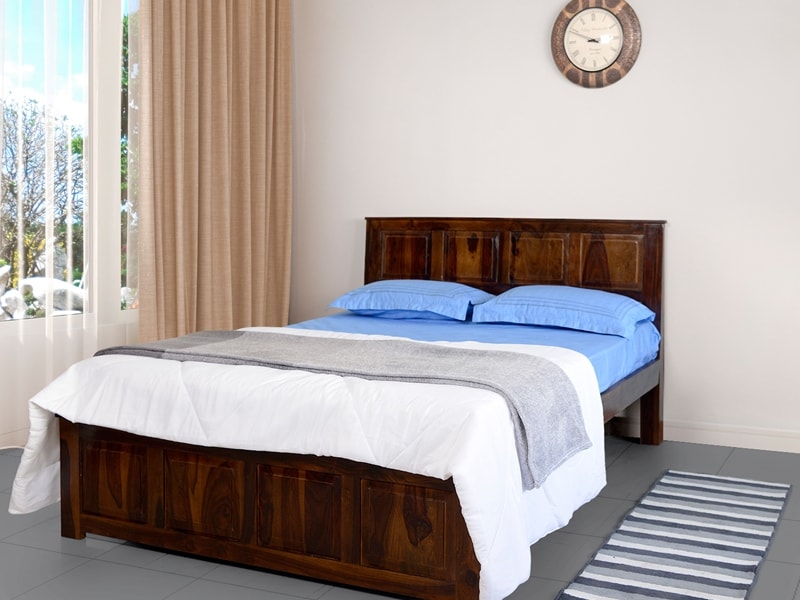 Who doesn't want a beautiful bedroom? You must be eyeing an exotic bedroom design on the best interior designers' websites but cannot buy it because the cost exceeds your budget. If your bedroom's furniture and fixtures have aged, and you want to give it a revamp, but the budget is not letting you go for it, you are in the right place. Today, we share a few in-budget steps that will help you get a beautiful bedroom.
You can also have a peaceful, beautiful, cozy and room of your dreams without burning a hole in your pocket. You can now decorate your bedroom without spending a fortune. Let us see how you can do it yourself, with the help of a few pieces of bedroom furniture and accessories in your favorite style.
Make The Required Edits in Your Bedroom Settings
Look all over the bedroom, in a way, as if you are looking at it for the first time. What are your thoughts? Is it good enough, or are you not happy with it? Often, people make their bedrooms a storage unit where they hide shabby pieces of furniture or some accessories from their guests' eyes. That being said, the public spaces of your room are cleaner than your bedroom because your guests wander around only these areas.
The makeover is the first step to revamp your bedroom and give it the desired look. Look at your bedroom with an impartial and critical eye. What items do you love in your bedroom and don't want to get rid of? What items are no longer needed and are better off sold or donated? What doesn't belong to your bedroom, and so on? It would help if you kept in mind to make your bedroom a soothing retreat that recharges and relaxes you at the end of the day. You can make such edits in your bedroom for free.
Plan It Out In Advance According to Your Bedroom Furniture
Giving a makeover to your home is like a road trip. You may not get to your destination if you don't use a roadmap. Answer a few basic questions by yourself. Does the current furniture suit your needs and tastes? Is the size of your bed okay? Does the current style of your bedroom work? The answer you have to such questions will guide you towards transforming your bedroom into a dream bedroom.
After clearing the basics, it's time for a detailed look. It would help if you now considered whether the furniture is placed properly, and the accessories used to decorate the room are placed in such a way to make the most of it. The positioning of the bed is the first and most important thing. Place your bed in front of the longest wall. The rest of the items should be positioned in a place that complements the look.
Change The Paint of Your Bedroom
Colors have a significant impact on the moods of people. One of the easiest ways of providing a completely new look to your bedroom is by changing the wall color. It would help if you did not underestimate the power of paint to be able to transform your room completely. The color that you choose should complement your personality well. For instance, if you are a nature or garden lover, you can choose to paint the walls with soft green or yellow colors.
In the end, your bedroom should be able to provide you with a relaxing retreat—no hard and fast rules behind the wrong and right selection of colors. Try to avoid picking energizing and very bright colors that include bold red, orange, etc. However, if you want to add colors to your room, only walls are not the only option. You can liven up your bedroom by choosing more colorful elements. You can add colors to the ceiling, beat-up, and trim the furniture and the floors.
If you are a renter, you can buy some funky, colorful bedroom furniture on rent on a budget to revamp your bedroom. Also, using colorful wallpapers is one of the best ways of painting the wall with your favorite color and then stripping them easily without damaging the wall and wallpaper when it's time to move.
Change The Bedroom Furniture Styles
The bed is the star of the room, and now that you have the game plan of your bedroom and it is painted, it's time for focusing on the bed. Updating the bedding is one of the easiest and fastest ways of giving a beautiful look to your bedroom. You will find some of the best bedding assemblies and beds on rent that are sure to provide an incredible look to your bedroom in an economical way. Please keep it simple when you have to choose a bed for your home. For instance, a king size double bed on rent would be economical.
White bedding will instantly give a modern, updated and revised look. It will also make your room look elegant and clean. To give a sense of coziness to your space, you can add layers of shams, pillows, even quilts, and an extra blanket. This will also add a touch of color and pattern.
Plan for Getting Bedroom Furniture on Rent
The bedroom is one of the best places where you can add a personality with several accessories. You can showcase some of your favorite memories with the help of photographs. You can either invest in some new frames or color the older ones to give them a new look. Even if you have a small room, it can accommodate a comfy single seater sofa. The best part? You can also rent it on a budget.
Also, consider adding a few objects that have meaning and purpose. For instance, you can showcase some flowers in a new vase, one or two souvenirs according to your interests, etc. It is not always necessary that pretty and elegant furniture items will cost a fortune.
The Bottom Line
Elevate the design of your bedroom with bedroom furniture on rent available. A few touches will give your bedroom a revamp, and you will also not have to invest much in it.