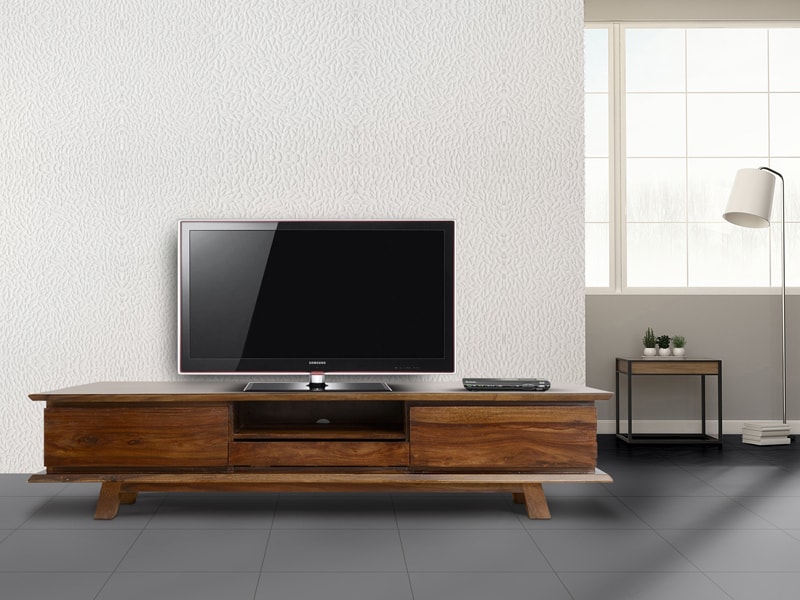 This Smart TV buying guide will walk you through everything that you need to know while selecting a new Smart TV. Whether you're looking for basic TV advice or need to know which features are most important, this guide will help you through and save you from TV shopping hassle. Today, you can see a ridiculously wide array of TVs in the market – High-definition (HD), 4K Ultra HD and 8K TVs, and whatnot.
From big screens to the high-end displays, different factors distinguish between the best TVs available. The technologies and features available in the new Smart TVs are amazing, but it can be hard to keep up with constantly upgrading features, let alone determine which one is essential. Whether you're buying or getting a Smart TV on rent, we're here with our Smart TV guide to help you decide.
Screen Size of the Smart TV
Be it a basic standard Smart TV or high-performance TV, the biggest factor will probably be the TV's screen size. Consider how many people typically watch TV at once at your place and where you want to put your new TV set. Then pick the screen size that'll fit into your space as well as your budget. The best choice considering the price, performance and a typical living room, is between screen size of 55 and 65 inches.
Screen size also depends on the screen to body ratio and how close you sit to the TV. If individual pixels are visible on the screen, you're too close.
Screen Resolution of Smart TV: 8K, 4K or HD?
Resolution states the number of pixels that make up the visuals or pictures on a display. The more the TV's pixels, the sharper the picture and the finer the details. Therefore, higher resolution is always better. TV manufacturers are rapidly shifting from 1920 X 1080 resolution to Ultra HD sets also known as 4K, which have 4 times the pixels. These are increasingly becoming the most common or standard choice, and it is in fact a better choice if you want to future-proof your Smart TV investment. There are higher resolution 8K TVs also, but we do not recommend that.
Other Screen Related Things That You Need To Consider:
Screen Refresh Rate: The refresh rate is measured in Hertz (Hz). It means the number of times a picture is refreshed per second on the screen. The higher this refresh rate, the better the picture quality. For gamers, 60Hz is okay as they will get a lot from a 60Hz refresh rate Smart TV, but most Smart TV buyers should not buy a TV with less than 120 Hz refresh rate.
HDR: It's a new feature in 4K TVs. If you want to get the most colors in your Smart TV, check for HDR. If you want the premium quality, buy an HDR TV set that is compatible with the Dolby Vision, as that format seems to be extremely popular and gaining momentum.
Go For More Smart TV HDMI and Connections!
Pay attention to the number of HDMI ports a TV set has. Manufacturers trying to cut costs often offer fewer HDMI plugs on the TV's back. These ports are essential and can get used up quickly: for a sound bar, or a Roku or Chrome cast and a game console, etc. If you decide to get a 4K Ultra HD, make sure the TV's connectivity ports support HDMI 2.0 to accommodate any future Ultra HD sources. Look for at least 4 HDMI ports. And always go for the newer HDMI 2.1 format if you have the option.
Check the Contrast Ratio of the Smart TV
The contrast ratio of a Television describes the range of brightness levels that a TV can display. Better the contrast ratios, the better the display's picture quality – with more subtle shadows, hues, and ultimately better visual detail. However, the way TV manufacturers measure such ratios differs from the way a user does and it varies widely. Play a dark scene and experiment somewhat with the TV's brightness, contrast, sharpness and other picture settings and see the quality of the visuals before making a final judgment. Look for deep black levels & the minimal haloing around the highly contrasted objects.
Extended Warranties of the Smart TV
One of the major revenue generators for these big-box home appliances stores are the extended warranties. Why? Because they are rarely needed by buyers, especially for a flat-panel LCD TV set. Most of the components in an HDTV are extremely good. So, if you do get this option, it's likely to be expired immediately or at least within the first 30 days of your TV ownership — that's the duration usually covered by a regular return policy. Beyond that, most TV manufacturers would provide a one-year warranty. Your credit card company may offer you some additional automatic coverage on the purchase but you have to check with the retailer. So, we recommend you to save your money.
Compare the Prices: Don't Overpay!
While there will always be the latest features and top best capabilities at full prices, a lot of buyers hold off because the current prices of TVs are too expensive. The reality is that TVs have never been this intuitive, better, and affordable. There are plenty of awesome TVs in the market – complete with all the great features, be it 4K resolution, or HDR support or other smart features that are highly recommended and all for much less. Moreover, there is almost always some great sale going on many online platforms. You can save thousands of rupees with some concessions while buying a TV.
However, sometimes when you really love a TV set, it may not have any offer or deal going on but the price puts you off. Would you compromise and select another TV? Well, you don't need to do that. Why sink your heart when you can get a premium, expensive Smart TV on rent at affordable rates. This is the best bargain that you can get. Renting! And that too at no extra costs or hassle.
Get a top-rated Smart TV on rent for way less via Cityfurnish. Browse through our website and choose from a wide range of branded smart TVs.