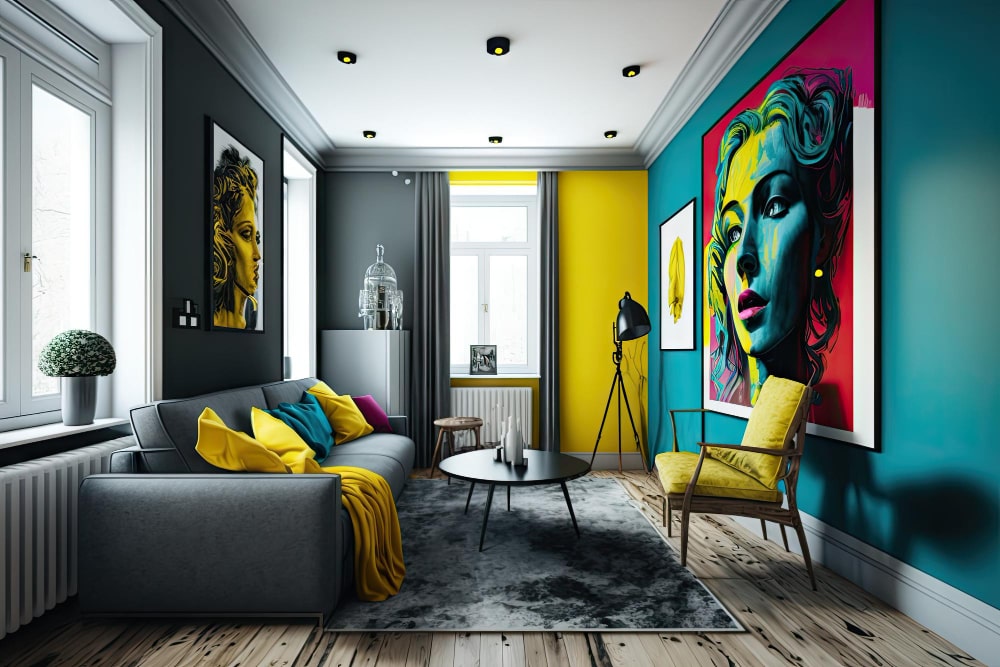 You've got the basic interior designing done for your home, but now you want to take it up a notch. After all, a house becomes a home when you add those special touches that make each space welcoming and livable. Whether it's creating a spa-like oasis in your bathroom, making hallways and corridors stylish transition zones, turning your balcony into an outdoor paradise, designing a fun yet functional kid's room, or giving your pooja space a divine touch, it's the little details in your home interior design that make a big difference.
1- Transform Your Bathroom Into a Personal Spa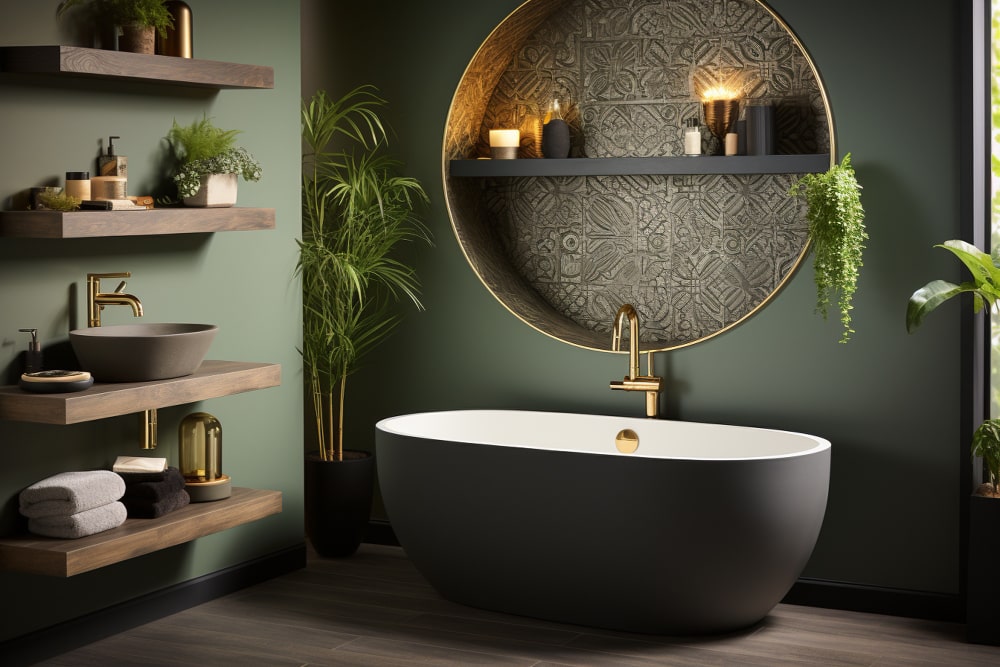 With some key additions, you can turn your basic bathroom into a luxurious spa-like retreat.
Install a bathtub. A deep soaking tub is ideal for long, leisurely bubble baths. Look for a tub that holds at least 50-60 gallons of water so you can submerge yourself completely.
Add plush towels and a bath mat. Thick, soft towels and a non-slip bath mat make the experience more enjoyable and help you relax.
Use aromatherapy. Essential oil diffusers or scented candles can fill your bathroom with calming fragrances like lavender, jasmine or sandalwood.
Provide natural lighting. Maximize natural light with large windows. Dimmer switches also allow you to control the amount of light for a spa ambiance.
Play relaxing music. Create a playlist of slow instrumentals, nature sounds or ambient electronica.
Include pampering products. Stock your bathroom with luxurious lotions, bath salts, bubble bath, facial masks and body scrubs. A variety of pampering products means you can customize your experience every time.
A few strategic additions can turn an ordinary bathroom into a restful retreat. Take time each day to unwind and de-stress in your new personal spa. You will feel completely re-energised in no time.
2- Make Hallways and Corridors Inviting Transition Zones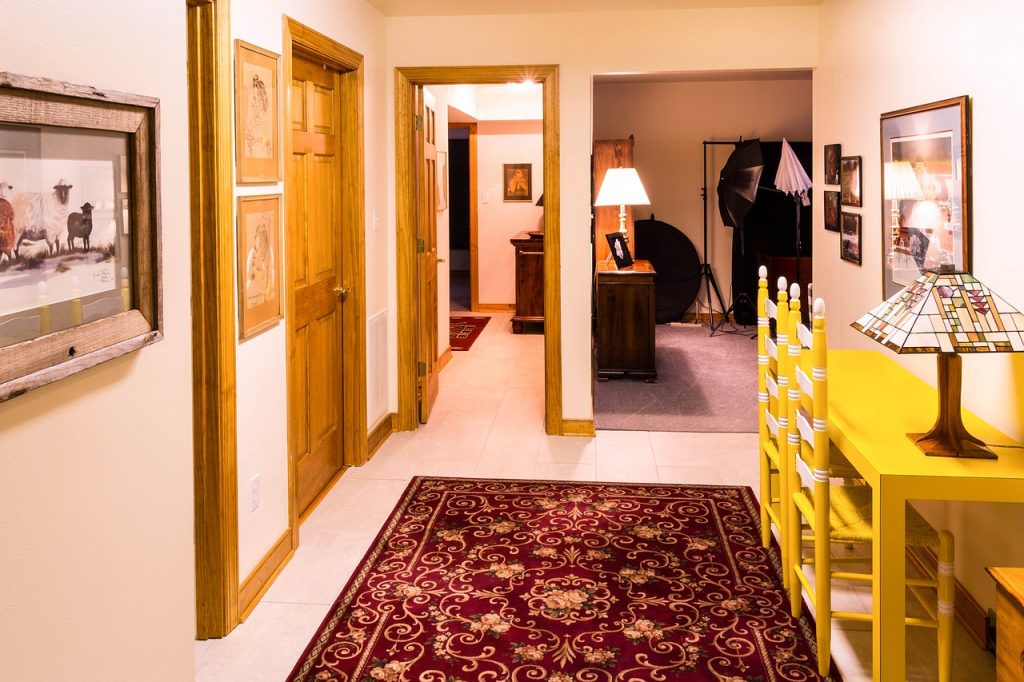 Turn those dull hallways and corridors into inviting transition zones.
Dark, narrow hallways can make any space feel cramped and closed in. Open them up by painting the walls a light, bright color. White or off-white are always a good choice as they make the space feel more expansive. You can also add accent walls in complementary hues for visual interest.
Consider adding lighting, such as pendant lights, wall sconces or recessed lights. Increase the wattage of any overhead fixtures for maximum brightness. Additional lighting will make the space feel more welcoming and help prevent that "tunnel effect."
Add decorative accents to bring warmth and personality. Place a rug, runner or decorative tiles down the length of the hallway. Hang art, photos, mirrors or wall sculptures along the walls. A console table, bench or cabinet along one wall provides a spot for a vase of flowers, books or baskets.
For extra storage, use a cabinet with doors or an armoire. Baskets, bins and boxes on the floor, shelves or in a cabinet help corral smaller items. Make sure any furniture or accents you add still allow for easy navigation and traffic flow.
With some strategic lighting, a fresh coat of paint, decorative accents and useful storage furniture, you can transform dark, cramped hallways into inviting transition zones that enhance your home's overall interior design and make the space more enjoyable to traverse. Your hallway makeover may just inspire you to linger a little longer!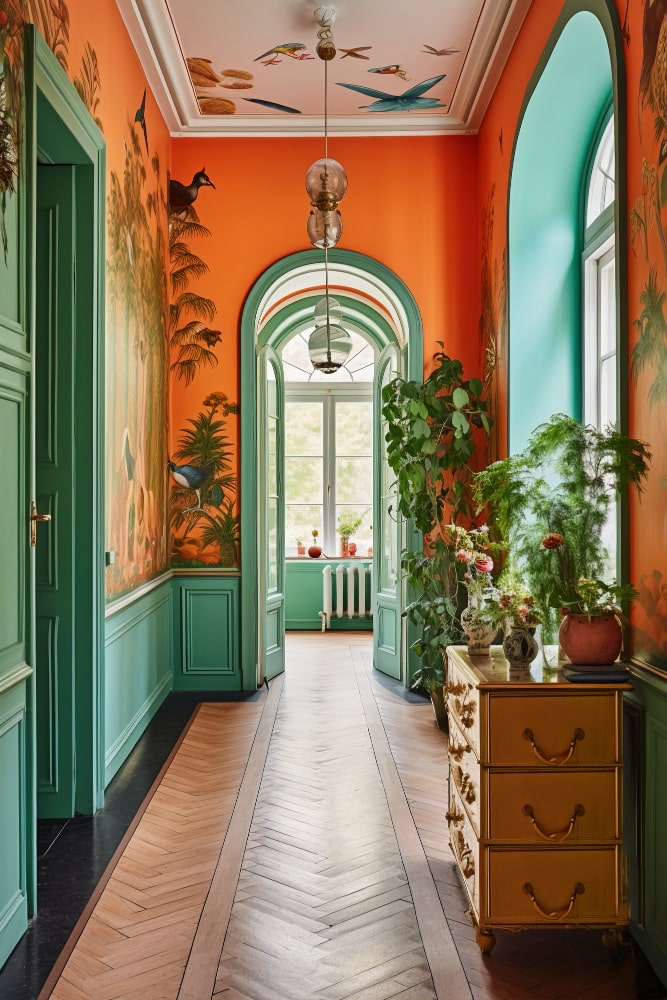 3- Turn Your Balcony or Patio Into an Outdoor Oasis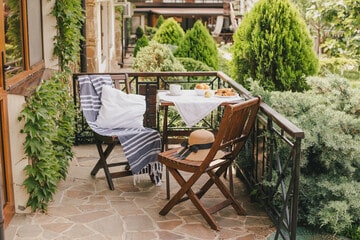 click to rent balcony furniture.
With a few key additions in your interior design, you'll have a beautiful and affordable outdoor space perfect for relaxing or entertaining.
a- Seating
Having comfortable seating is essential for enjoying your outdoor space. Choose weather-resistant options like wicker chairs, aluminum chairs, or teak benches. For small balconies, folding chairs and bistro sets are space-efficient choices. If you want to keep things simple, a hammock or porch swing also invites leisurely lounging.
b- Plants
Greenery helps transform an outdoor area into a lush retreat. Potted plants, flowers, trees or vertical gardens – the options are endless. Consider your space and sun exposure to choose plants that will thrive. Low-maintenance succulents, ferns, palms and citrus trees are always a great place to start.
c- Lighting
Extend the use of your space into the evening by adding outdoor lighting. String lights, lanterns, spotlights or candles – any of these will do the trick. Place them along walls, railings or in trees to create an inviting glow. Solar-powered or battery-operated options eliminate the need for electrical wiring.
d- Storage
Make sure to include weather-resistant storage for things like cushions, gardening tools or recreational gear. A bench with built-in storage, deck boxes, shelves or a small garden shed keep necessities at hand while keeping your space tidy.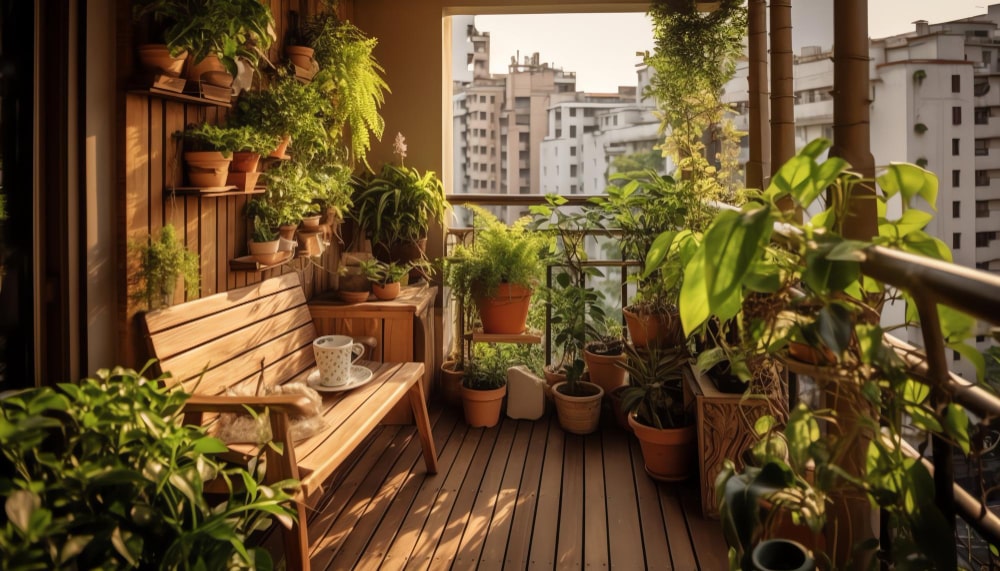 A comfy and welcoming balcony or patio may quickly become your favorite room in the home. Spending more time outside surrounded by nature's simple pleasures does wonders for your wellbeing. Transform your space and reap the benefits!
4- Create a Fun Yet Functional Kids' Room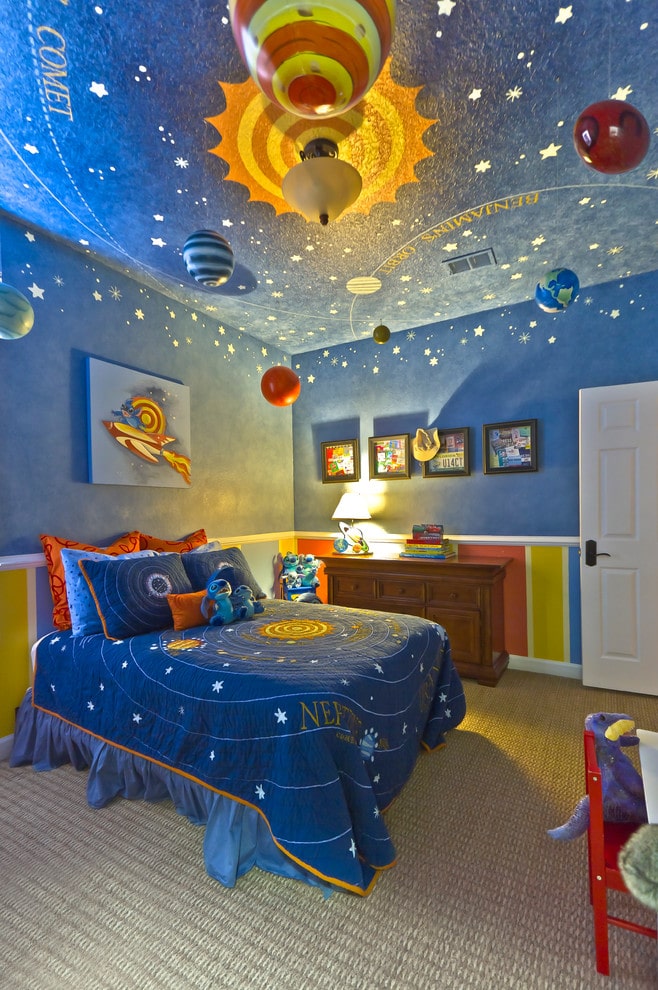 Creating a fun yet functional space for your kids is key. Their room is where they sleep, play, learn, and grow. Designing it with their needs and interests in mind will make it a space they love.
a- It is their Choice
Choose kid's room interior design according to the theme they enjoy, whether it's animals, nature, sports, movies or gaming. Incorporate details like:
Wall decals or murals featuring their favorite characters or animals
Bedding, pillows, rugs and accessories in a complementary color scheme
A gallery wall with framed art, photos, posters or action figures
Storage furniture like a bookcase, chest of drawers or under-bed bins in a fun shape like a car, house or animal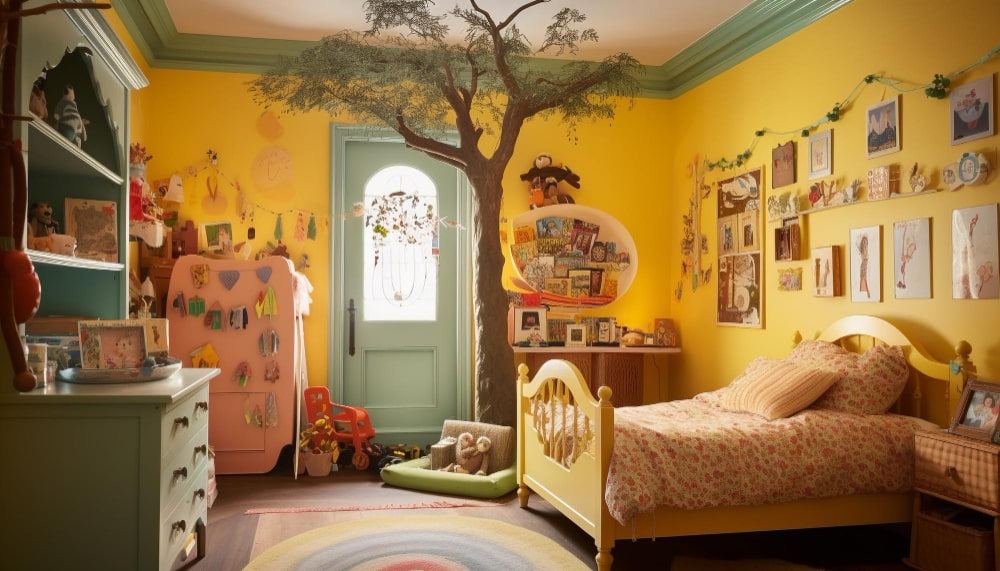 b- Enhancing the Functionality
Make sure their room is conducive to sleep and study by including key furniture like:
A comfortable bed for sleeping, with a firm mattress for support and soft bedding
A desk or table for doing homework, crafts and hobbies
Task lighting, floor cushions or a small couch for reading
A closet, dresser and hamper for keeping clothes and toys organized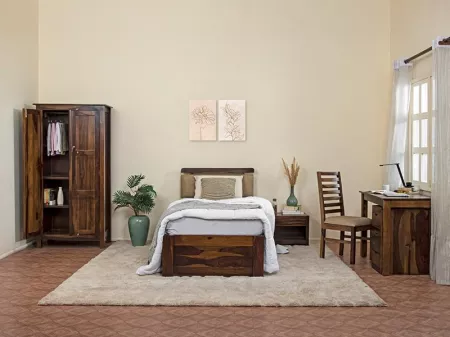 click to rent furniture combo.
c- Adding Accents
Add interactive elements to stimulate their development like:
Puzzles, educational toys, building blocks or board books for younger kids
Arts and crafts supplies like washable paint, stickers, stencils, play dough, etc. for school-aged kids
Electronics like a kid-friendly tablet, music player, night light or alarm clock for bigger kids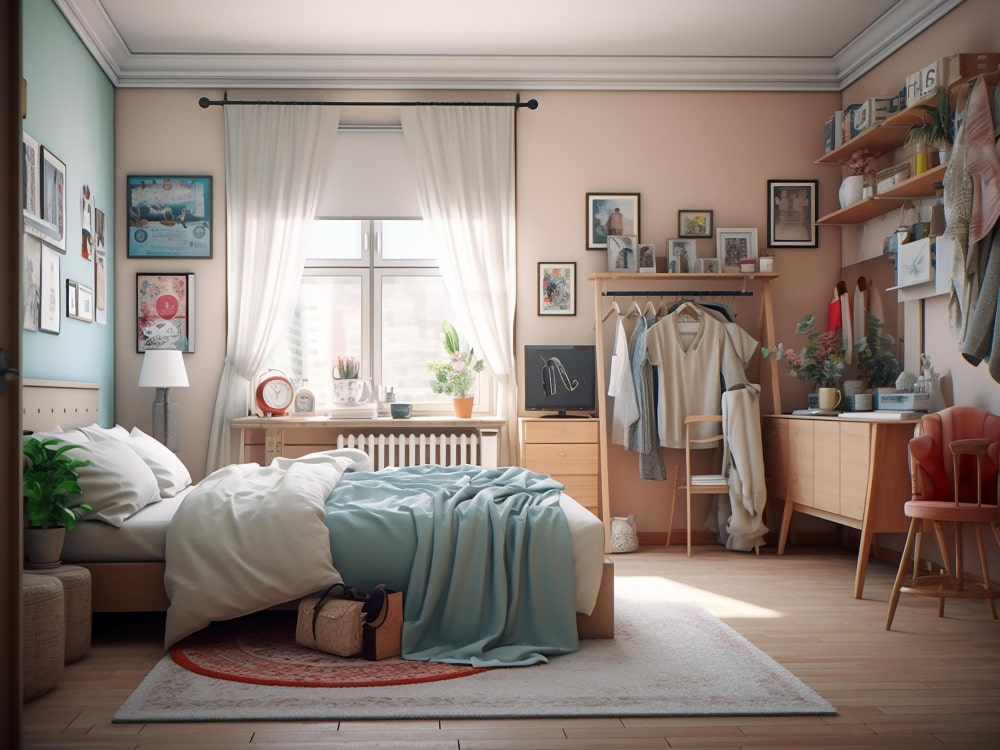 Make the room inviting by giving your child opportunities to personalize the space. Include a message board for friends, awards or photos in your interior design. Give them freedom to arrange furniture and decor in a way that suits them. Make changes with them as their interests change.
Talk to your kids about how they envision using the space and what would make it ideal for them. A kid's room is a place they'll remember forever, so make it special!
5- Design a Pooja Room as a Permanent Divine Presence
Designing a pooja room in your home brings a permanent divine presence. A pooja room, or prayer room, provides a sacred space for you and your family to pray, meditate and connect spiritually.
a- Location
Choose a quiet, tranquil space away from high-traffic areas of your home. East or north-facing rooms are ideal according to Vastu Shastra. Ensure proper ventilation and natural light.
b- Focus on Simplicity
Keep the design minimal and avoid clutter. Have a focal point like a mandir or altar. Use calming colors like off-white, light blue or pale yellow. Include photos of deities or spiritual leaders you follow.
c- Include Essentials
A lamp or diva, incense holder, prayer mats or asanas, and a bell or ghanta are must-haves. You'll also want images or murtis of your ishtadevata or chosen deities. Have prayer books, crystals or a vase of fresh flowers if you like.
d- Make it Comfortable
Consider including a small rug, cushions for sitting and kneeling, and a footstool. Make sure there's enough space for prostrations if that is part of your practice.
The interior design of a pooja room designed with care and intention will become a sanctuary where you can nourish your spiritual connection each and every day through prayer or silent contemplation. Keeping it uncluttered, serene and filled with objects of devotion and meaning can help cultivate inner stillness and bring you closer to the divine. Make your pooja room a permanent, sacred part of your home and daily life.
Take Away
So there you have it, some simple yet impactful ways to elevate your basic interior design and make your home a stylish and functional haven. Whether it's a spa-inspired bathroom, an inviting patio, or a pooja room that lets your spiritual side shine through, focusing on key areas will make a world of difference. Don't forget the small details in the transition zones like hallways either. And for those with kids, a fun space for them to call their own is essential. Using these tips will help you upgrade your whole decor in no time and the efficiency of the entire set-up will also increase multifold.