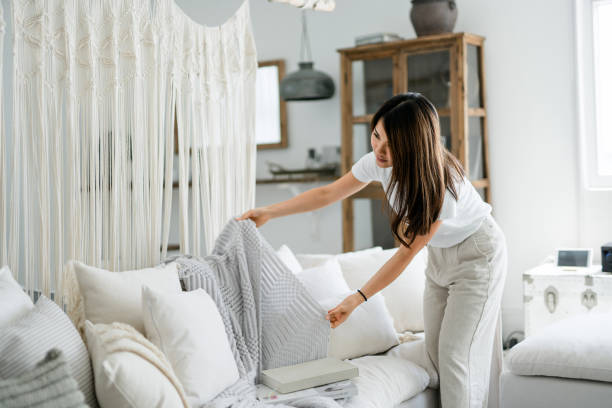 Ever wondered how spaces go from dull and lifeless to vibrant and aesthetically pleasing? Meet the Home Decor Stylist – the artist behind these curated looks. Home Decor Stylists are experts in understanding the balance of aesthetics and functionality, carefully selecting furniture rentals , upgrading home decor, color palettes, fabrics, and lighting to create a specific ambience.
They are wizards of illusion who can make a small room appear spacious or transform an otherwise dull area into an attractive, welcoming space. They work closely with clients, architects, and interior designers, translating the client's personality and preferences into their living or working space.
Home Decor Stylists are indeed the unsung heroes of the design world, infusing life into every nook and corner. Their role goes beyond the superficial. They focus on creating a harmonious flow in the space that resonates with the occupants, thus enhancing their overall well-being and lifestyle.
A Typical Day in Interior Designer's Work
The day of an interior designer starts with meeting clients and discussing their vision for the space. This could involve visiting the site and taking measurements, understanding the client's lifestyle and needs, and discussing budget constraints. Next comes the research phase, where interior designers gather inspiration create mood boards, and source materials.
Once the design plan is finalized, it's time to get to work! Interior designers work with contractors and architects to execute the design plan, ensuring that the construction meets their vision. From selecting paint colors and furniture to coordinating deliveries and installations, interior designers are involved in every aspect of turning a space into a functional yet beautiful living or working area.
Working with an Interior Designer
Collaborating with an interior designer can be a rewarding experience for homeowners and business owners alike. They bring a fresh perspective to the space, introduce new ideas and trends, and help create a cohesive look tailored specifically for the client. Their expertise in color theory, spatial planning, and furniture selection can elevate the design of any space.
Moreover, working with an interior designer can save time and money. With their industry connections and knowledge of materials, they can source products at competitive prices and prevent costly mistakes. They also manage the timeline and budget, ensuring that the project stays on track.
Read also : Top 16 Cost-Effective Ways to Transform Your Home Interior
Challenges Faced by Home Decor Stylists
While home decor styling may seem like a dream job, it has its fair share of challenges. Some common challenges Home Decor Stylists face include:
Budget Constraints: Clients may have a limited budget, making it challenging to find high-quality and unique pieces that fit within their budget.
Time Constraints: With multiple projects running simultaneously, managing time efficiently can be challenging for home decor stylists. This often leads to working long hours and weekends to meet project deadlines.
Client Expectations: Every client has a different vision for their space, and it's the stylist's job to bring that vision to life. Balancing the client's expectations with practical design solutions can be challenging.
Limited Storage Space: Home decor stylists often require a lot of materials and furniture pieces for their projects. However, they may face challenges in finding adequate storage space for these items.
Dealing with Unexpected Issues: Despite thorough planning and research, unexpected issues can arise during implementation. Whether it's a delayed delivery or a damaged item, home decor stylists must be prepared to handle these situations effectively.
Essential Skills for a Home Decor Stylist
Being a Home Decor Stylist requires unique skills, including creative flair, attention to detail, and excellent communication skills. Here are some of the essential skills required for this profession:
Design Aesthetics: A keen sense of design aesthetics is crucial for a Home Decor Stylist who is responsible for creating visually appealing and functional spaces.
Attention to Detail: From choosing the right color palette to selecting furniture pieces that complement each other, being detail-oriented is essential in home decor styling. Even the most minute details can profoundly influence the overall design.
Time Management: Time management is crucial for a Home Decor Stylist with multiple projects and tight deadlines. Staying organized and working efficiently ensures the project is completed on time.
Communication: A Home Decor Stylist works closely with clients, contractors, and vendors. Therefore, excellent communication skills are necessary to understand the client's needs, convey design ideas, and collaborate effectively with others involved in the project.
Flexibility and Adaptability: No two clients or projects are the same, making flexibility and adaptability essential interpersonal skills for a Home Decor Stylist. The ability to adjust to changing circumstances and work with different design styles is crucial in this profession.
The Job of an Interior Designer
Being an interior designer is a challenging yet fulfilling job. It requires creativity, attention to detail, problem-solving skills, and excellent communication abilities. It is crucial to understand and translate the client's vision and translating it into a functional and attractive design. Interior designers work on various projects, from residential to commercial spaces, and they constantly keep up with the latest trends and innovations in the industry.
Understanding the Distinction
Many people often confuse the roles of interior designers and home decor stylists. While they both involve designing and decorating spaces, they have key differences. An interior designer works closely with contractors and architects to design the layout of an indoor space, including walls, plumbing, and electrical systems. They are trained in architecture, construction, and building codes. On the other hand, home decor stylists focus on the aesthetic side of interior work and design process – selecting furniture, decor, and accessories to create a specific look.
Conclusion:
In sum, a career as a Home Decor Stylist is a fascinating blend of creativity, practicality, and human interaction. Despite the challenges, the profession offers immense satisfaction and the opportunity to create spaces that reflect personal stories and aesthetics. It requires not just a keen eye for design but also strong communication, organization, and problem-solving skills. It's a journey of transforming houses into homes, one space at a time.