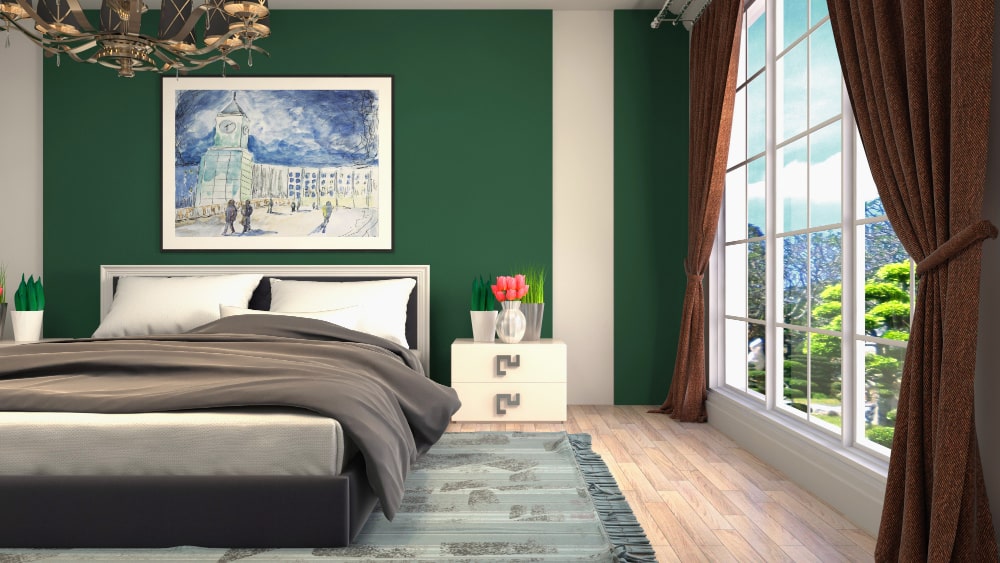 Most of us shy away from painting our bedrooms too bright. After all, it's a place for rest and relaxation. It must be reassuring and welcoming. But there's nothing wrong with adding some style and personal touches to your space. For this reason, choose the ideal wall paint pattern for your bedroom is crucial.
You might be thinking, "Where do I even start?" Which hues and tones should I pick? Which patterns will suit my space the best?
If you've been searching for tricks on how to design your bedroom walls in the most creative way possible, you're in luck! In this article, we'll talk about the latest trends in wall paint design for bedrooms as well as how to make the right decision when it comes to creating the ideal atmosphere in your special space. We'll also provide some DIY tips on achieving trending wall paint designs with ease. So get ready – it's time to upgrade your space!
1- Latest Trends in Wall Paint Design for Bedroom
To spruce up any bedroom, wall paint designs are an essential part of creating a unique and personal space. Whether you're into modern abstract art or prefer the classic look, there's something for everyone when it comes to wall paint design for bedrooms.
The latest trends in wall paint design for bedrooms are all about experimentation with colors and shades. Neutral tones are popular because they provide a light and airy atmosphere, while pastel shades add a soft touch to any bedroom. As far as bold colors go, these can be used to add contrast to your bedroom walls.
Patterns and textures are also trending – from geometric patterns to floral designs, there are plenty of options to choose from. Wood paneling, brick walls, feature walls, statement walls and wallpaper accent walls are also popular ways to create an eye-catching design in your bedroom. Two-tone walls – both vertical or horizontal – is another popular way to incorporate color into your wall paint design. For a truly unique look, you can even add a mural wall!
2- Colors and Shades: Neutral Tones, Bold Colors, Pastel Shades
The colors and shades you pick are essential while choosing the right wall paint design for your bedroom. If you are a lover of classic look, neutral tones, such as white and beige are a timeless classic should be your first pick.
But if are inclined towards being bold, colors like reds, blues and greens can make a powerful statement for your bedroom. They will also give the space a livelier cozie and more colourful look.
The use of pastel colours can result in a refined yet understated appearance. These paler tones will create an airy environment in the bedroom that is ideal for unwinding after a long day.
3- Patterns and Textures: Geometric Patterns, Floral Patterns, Textured Finishes, Accent Walls
Patterns and textures are the best options for giving your bedroom some flair. Some of the popular options that can give your bedroom dimension and personality include geometric patterns, floral patterns, and textured finishes.
a- Geometric Patterns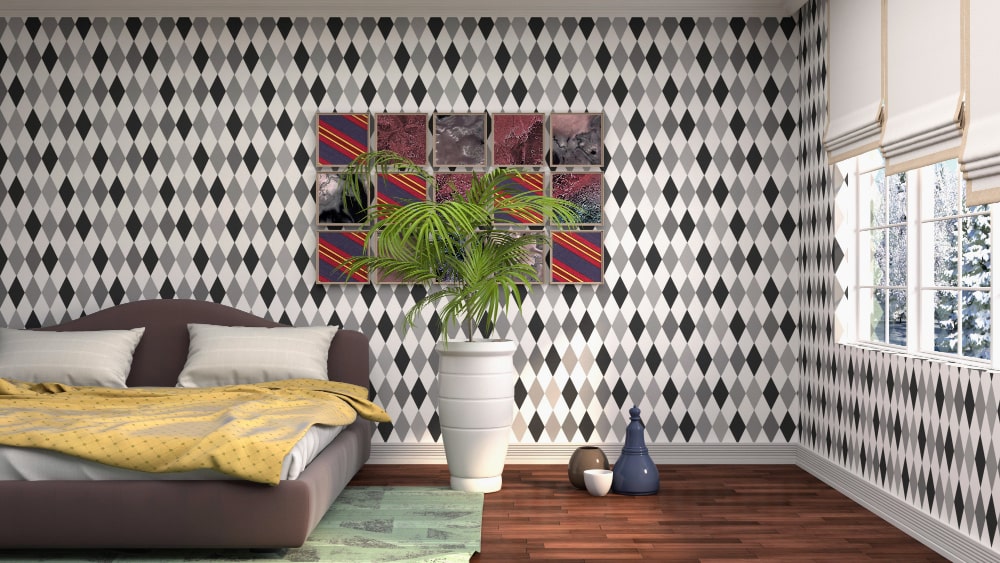 Creating geometric shapes with wall paint can lift the atmosphere of any room. Whether it's an intricate diamond pattern, or a bold chevron, Geometric patterns create an effect of style and elegance. You can also use geometric shapes as a stencil to paint one wall with a single design.
b- Floral Patterns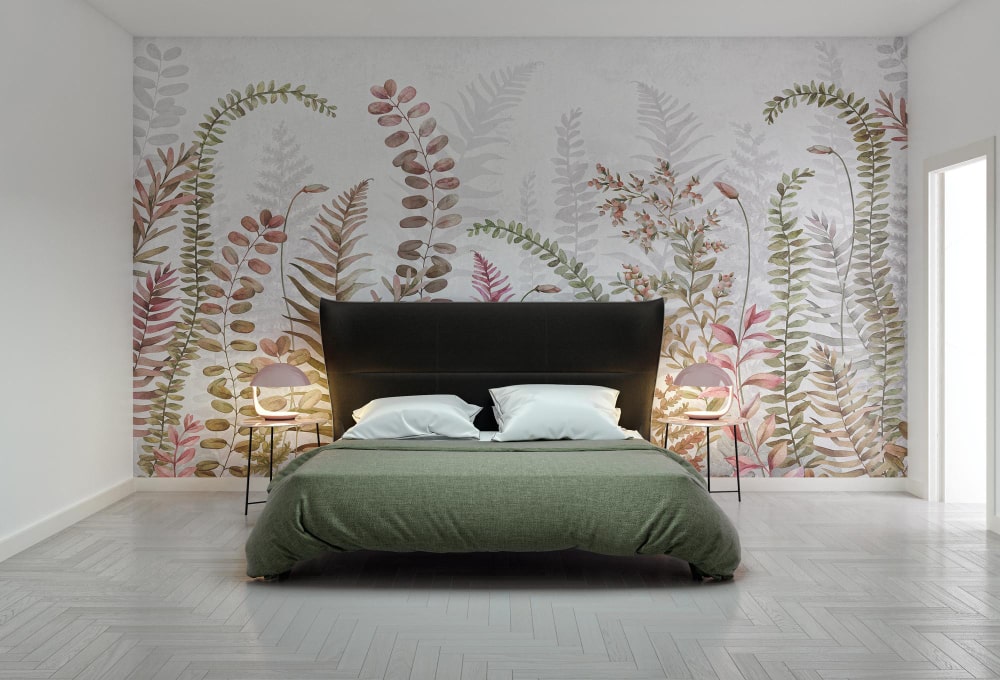 Floral patterns are beautiful, also create a refreshing atmosphere in any room. They are often painted in neutral shades or pastel colors, so they don't overpower the other elements in the room. You can choose from various designs like dandelions, daisies and roses – just make sure that you do not get too carried away with the patterns so that your walls look busy!
c- Textured Finishes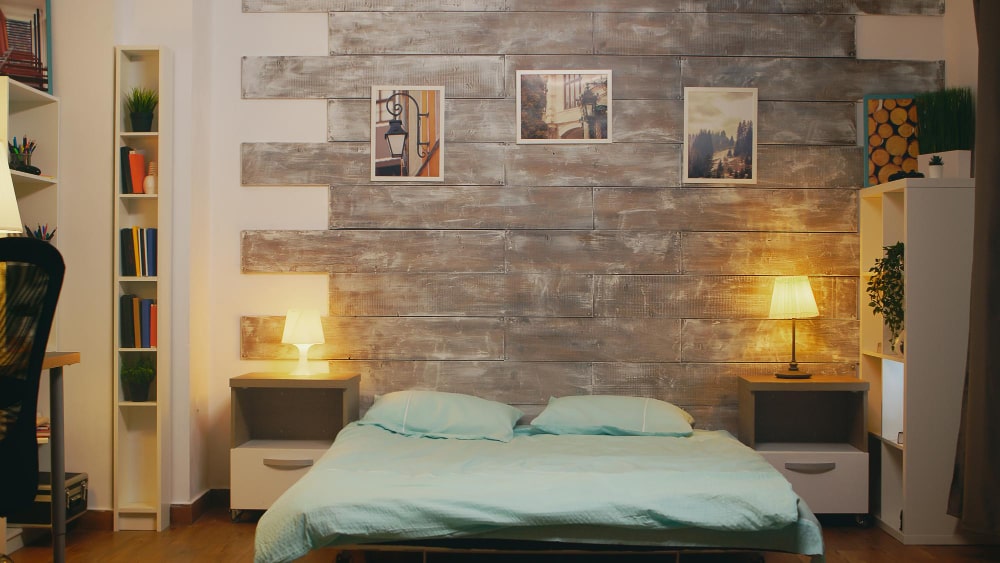 Textured finishes add texture and depth to the walls by creating raised ridges or grooves at intervals throughout the walls. The most common materials for creating these effects are clay paint, joint compound, sponges and even string! Textured walls create more interest no matter what color and finish you choose for them.
d- Accent Walls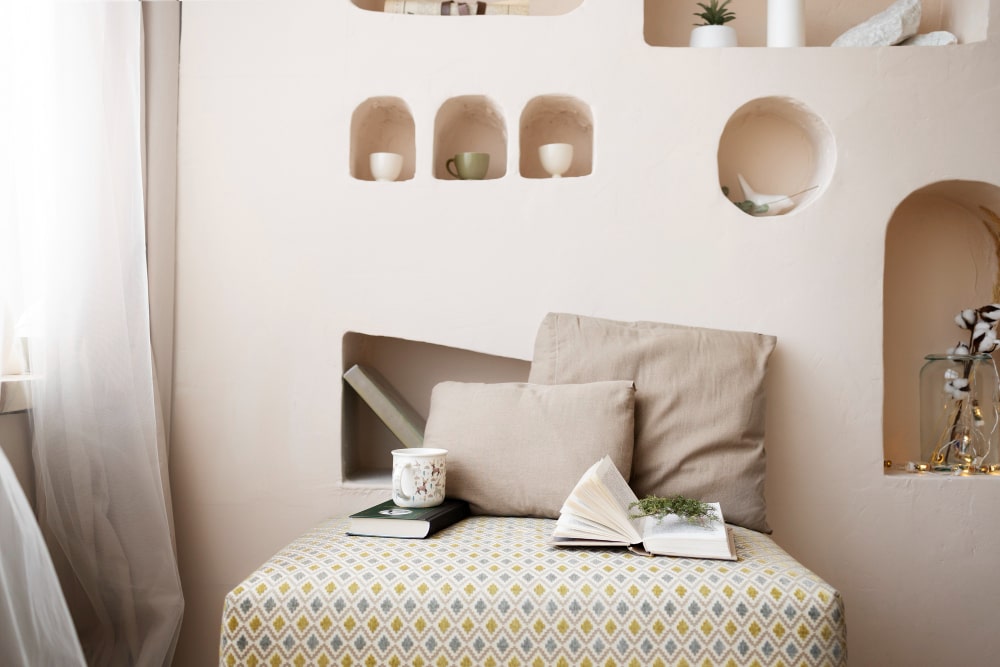 Accent walls are a great way to introduce bold colors into your bedroom without overwhelming it. By painting one wall differently than the others (either in terms of color or pattern), you can bring out particular elements as focal points in your bedroom. A statement wall is another option — this involves painting an interesting pattern
4- Feature Walls: Wallpaper Accent Wall, Wood Paneling, Brick Wall, Mural Wall
Feature walls are all the rage in wall paint design for the bedroom. They draw attention, add interest, and can elevate the look of any space. Whether you want wallpaper, wood paneling, brick, or something more creative like a mural, feature walls help create a unique and eye-catching focal point for your bedroom.
a- Wallpaper Accent Wall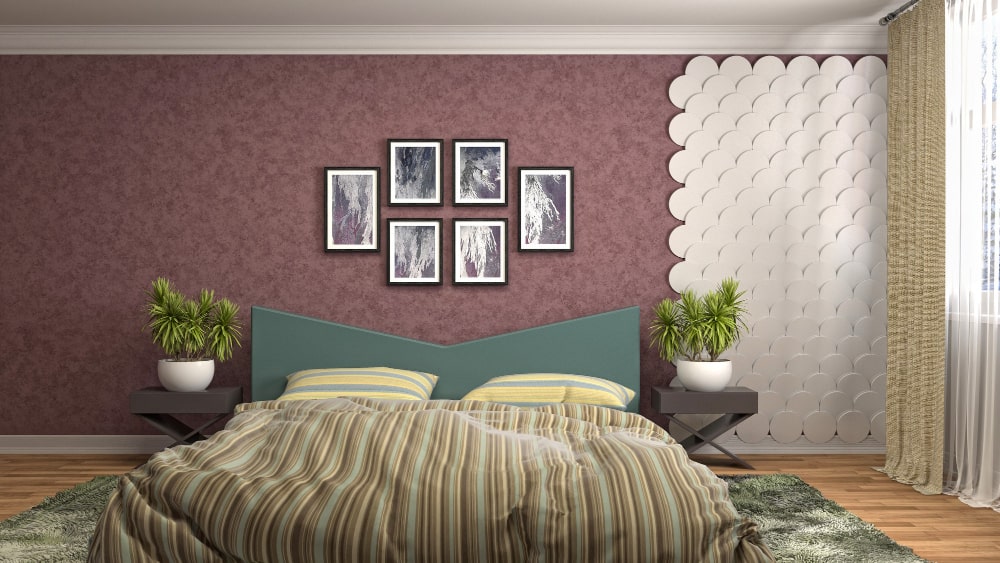 Wallpaper accent walls are a great way to add texture, pattern and color to any space. You can choose something bold and vibrant or pick a more subtle wallpaper with tonal patterning that adds just enough visual interest.
b- Wood Paneling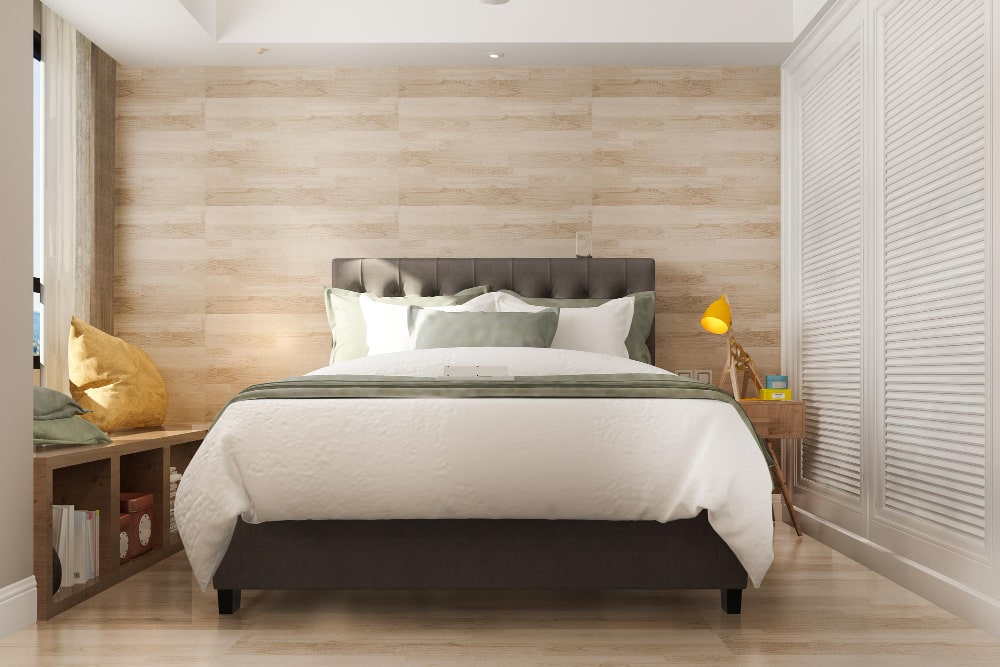 Wood paneling is an ideal way to bring warmth into your bedroom as well as help create a rustic vibe. There are several different types of wood paneling available such as reclaimed wood boards for a cozy feel or tongue-and-groove planks for a more traditional look.
c- Brick Wall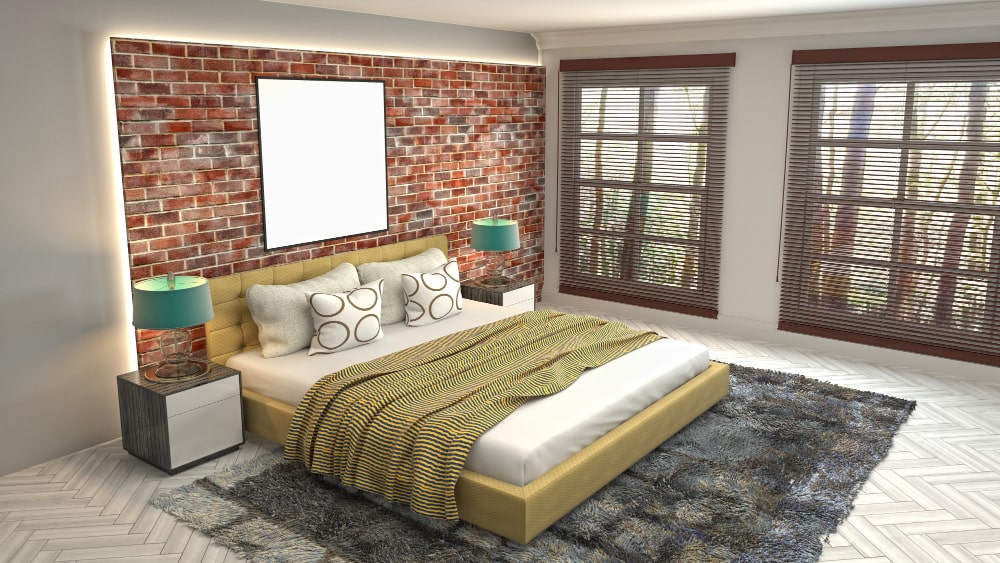 Brick walls give off a cozy and inviting atmosphere in any space especially in the bedroom. You can opt for faux brick panels or thin brick veneer tiles if you want the look without having to tear down existing drywall or build from scratch using full-size bricks.
d- Mural Wall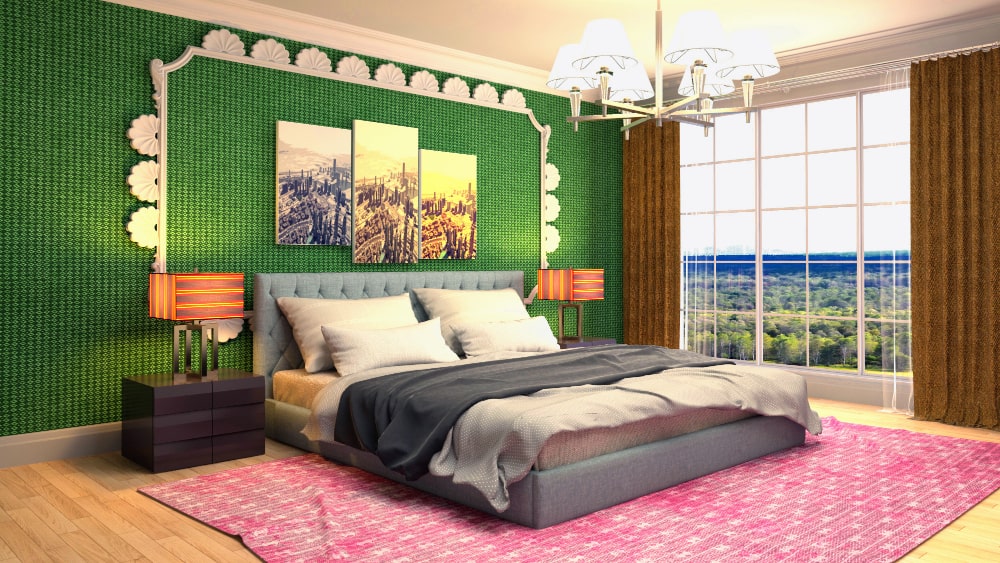 If you're looking for something truly unique, why not consider creating your own mural wall? It's an easy way to customize your space and make it feel exceptionally special—all while adding an artistic touch to your bedroom's design scheme.
5- Two-Tone Walls: Vertical Two-Tone Walls, Horizontal Two-Tone Walls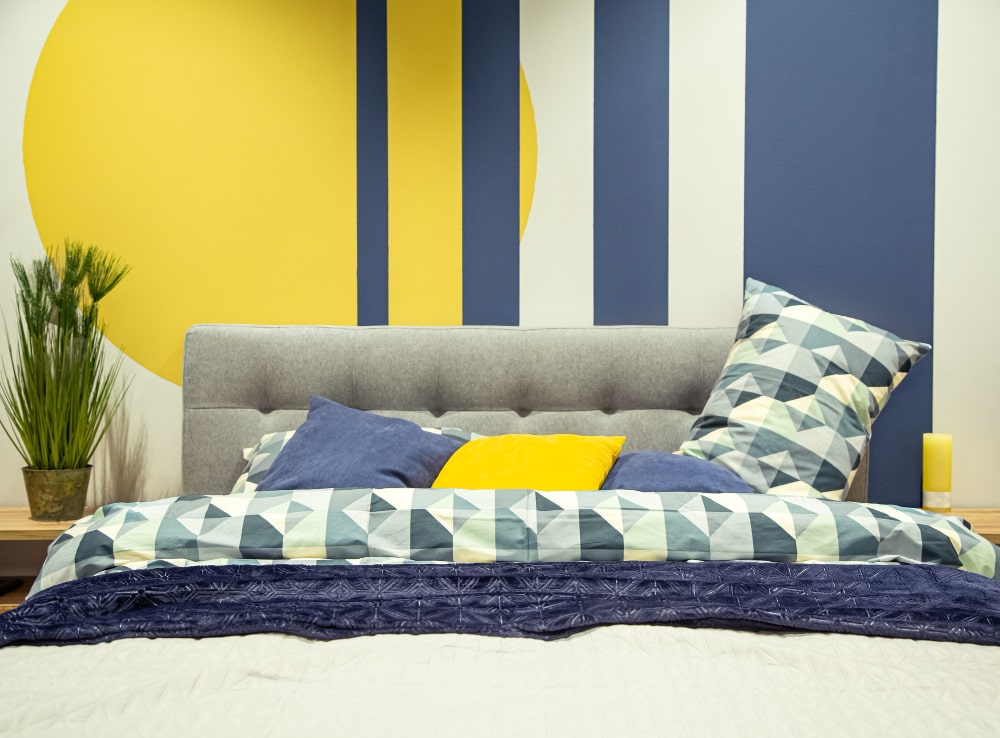 Two-tone walls are a great way to give your bedroom a chic and classy appearance. Vertical two-tone walls can add height and the sense of a larger space while horizontal two-tone walls add drama and depth to a space.
Painting the top half of the wall in one colour, such as blue, and the bottom half in a contrasting colour, such as yellow, results in vertical two-tone walls. Choose colours with similar saturation levels to ensure the equilibrium of your two-tone wall. Additionally, it's important to take note of both colors' undertones so that you can make sure they don't clash with each other and create an unintended effect.
Horizontal two-tone walls may require more prep work than vertical ones. You need to decide the placement of your transition point—usually halfway up the wall—so that you can paint one color above the dividing line and another below it. To achieve an attractive effect with horizontal two-tone walls, use colors that create contrast against each other—such as white and navy blue—but still compliment each other in terms of saturation levels.
6- How to Choose the Right Wall Paint Design for Your Bedroom
Now that you know a bit about the trendiest wall paint designs out there, it's time to pick the right one for your bedroom. There are a few things you should consider:
a- The Existing Color Scheme
Start by noting the existing colors and patterns in your bedroom, such as the color of furniture or any patterned items like throw pillows. This will help you to choose a design that complements them, rather than clashes with them.
b- Your Budget
When choosing a wall paint design, it's important to keep your budget in mind. Some options like textured finishes or feature walls may require more money or labor than other options like bold colors or two-tone walls. So make sure you take that into account when making your decision.
c- Your Style
The decor of your bedroom should reflect your personal style—it is, after all, an extension of who you are! So choose a wall paint design that fits your esthetic and makes you happy when you look at it. If you love bold colors and geometric shapes, go for bright statement walls! If cozy pastels are more your thing, try a subtle two-tone effect instead. The possibilities are endless!
Parting Words
There are various alternatives for freshening up your bedroom with the correct wall paint scheme, from accent walls to two-tone walls. It's up to you to decide which option is ideal for your bedroom, whether you like vibrant colours, subdued pastel tints, or textured textures.
With a few DIY tips, you can achieve beautiful trending wall paint designs in no time. Investing in a wall paint design for your bedroom is a smart way to make your space look more stylish and inviting. So, don't hesitate, and get creative with your wall paint design today!