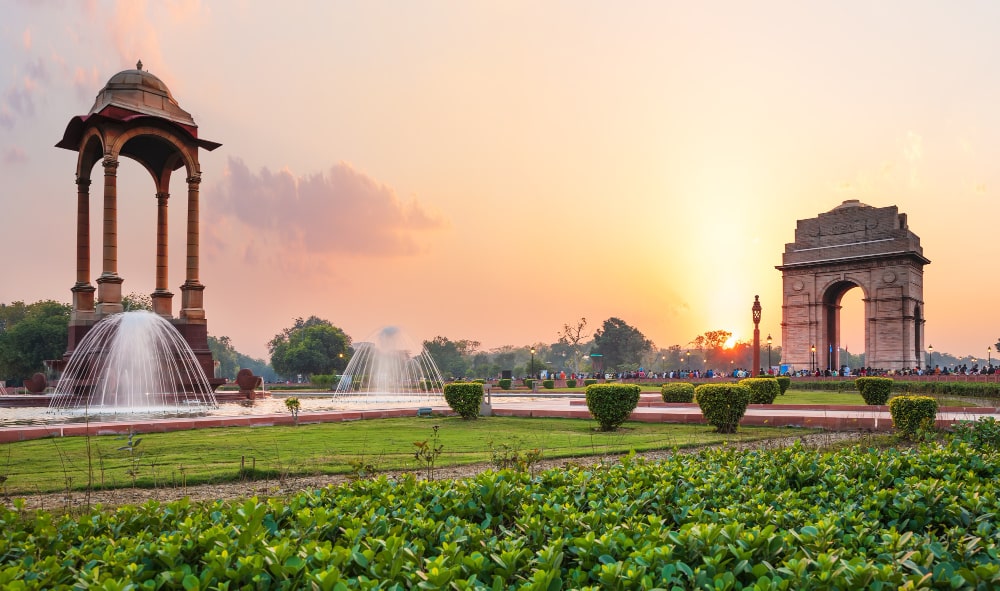 Are you looking for the best educational institutions in South Delhi? Searching for schools that will set your child up for success? Then look no further! We've compiled a list of the top 10 schools in South Delhi that are sure to provide a quality educational experience.
Parents who want to give their children the best education possible have a wide range of impressive choices, from Delhi Public School in R.K. Puram to Apeejay School in Sheik Sarai. Every school on our list has a curriculum and faculty that are remarkable, making it a desirable option for both parents and students.
Continue reading to learn about our top 10 recommendations for South Delhi colleges and decide which one is best for your family.
Introduction to South Delhi Schools
Are you looking for the best schools in South Delhi? Look no further! South Delhi is home to some of the country's leading schools. From Delhi Public School, R.K. Puram to Amity International School, Saket; these are the top 10 schools in South Delhi that parents should consider when choosing a school for their child or children.
These ten schools provide a variety of options, ranging from the globally-recognized curriculum of the DPS R.K. Puram to the progressive learning methods employed at Springdales School, Pusa Road. For those who are interested in international education, The Heritage School and Apeejay School offer International Baccalaureate programs as part of their curriculum.
In addition to these high-ranking schools, there are also numerous other schools in South Delhi that offer quality education such as K.R. Mangalam World School and Modern School Vasant Vihar among others. Whether you're looking for a brand name school like Vasant Valley or a new one like Sanskriti School, there is something for everyone in South Delhi!
1- Delhi Public School, R.K Puram
Sitting at the top of the list of best schools in South Delhi is Delhi Public School, R.K. Puram. This school has been recognized for its commitment to excellence in academics, arts and sports. With dedicated faculty members and an all-round education, this CBSE affiliated school offers an exceptional environment for learning.
The school provides a variety of co-curricular activities from theater and dance to music and debating which allows students to develop their creativity and personality. They also have access to state-of-the-art facilities such as a spacious library with hundreds of books, modern computer laboratories, and classrooms equipped with interactive whiteboards.
Basketball courts, tennis courts, volleyball courts, and football grounds are just a few of the top sports facilities offered to students by DPS. The sports teams are well-trained and frequently compete in competitions across the nation. In addition to this, the school organizes several inter school activities that are meant to encourage healthy competition among students and give them an opportunity to showcase their talent.
2- Vasant Valley School, Vasant Kunj
Vasant Valley School, Vasant Kunj is a top school in South Delhi that offers a rich educational experience. Located close to the hub of Vasant Kunj and surrounded by lush greenery, this school provides an ideal environment for learning.
The school has an impressive curriculum covering science, mathematics, language and social sciences as well as co-curricular subjects like theater, art music and sports. Students learn through interactive methods like experiential learning, field trips and teamwork.
The student-teacher ratio here is 10:1 and the teachers have been carefully selected to ensure that students receive individual attention and develop academically as well as socially. There is also a strong emphasis on values such as discipline, hard work and commitment for achieving success.
Vasant Valley School encourages its students to be open-minded individuals who can think critically and make wise decisions not just in life but also in their career choices. Quality education is supported by the latest technology such as audiovisual resources, up-to-date labs and libraries with digital access to expand the students' knowledge base.
All in all, this makes Vasant Valley School, Vasant Kunj a great choice for anyone looking for quality education in South Delhi.
3- The Mother's International School, Sri Aurobindo Marg
When you think of The Mother's International School, you think of educational excellence. This school is in a class of its own when it comes to providing students with an environment of advancement and growth.
Set in the heart of south Delhi, it is a top choice for those looking to get their children the best education possible. One thing that sets The Mother's International School apart from other schools is its emphasis on cultural experiences, as well as its focus on developing innovators and leaders.
a- Curriculum
The Mother's International School offers extracurricular pursuits like robotics, music, theatre, and art in addition to following the Central Board of Secondary Education (CBSE) and Cambridge Assessment International Education (CAIE) curricula.
This school has also put in place a distinctive program called "The Spark" that inspires students to think creatively and innovatively and pushes them to think outside the box. This curriculum aims to promote independent learning and problem-solving in pupils.
b- Facilities & Amenities
The Mother's International School provides state-of-the-art facilities like Wi-Fi enabled classrooms, well-stocked libraries, modern laboratories for physics, chemistry, biology and computer science labs with updated software systems in each lab. Additionally, there is a basketball court and various sports facilities including basketball courts and swimming pools that help students take part in physical activities apart from academics.
Additionally, security measures have been taken for student safety like CCTV cameras on all floors and biometric attendance systems across classrooms. All together this makes The Mother's International School one of the top schools in south Delhi that provides quality education along with modern amenities.
4- Springdales School, Pusa Road
Next up is Springdales School, Pusa Road, a private co-educational school located in the heart of South Delhi. Founded in 1955, this school has always been one of the most prestigious schools in the city and its reputation speaks for itself—today it's one of the best schools in South Delhi.
So what makes it so special? Here are just a few reasons why:
a- Quality Education
Springdales School offers an all-round education that combines traditional grammar-based teaching with modern day learning. From world languages to yoga, from robotics to literary clubs and more, students have access to a range of activities that help them develop not just academically but also holistically.
b- Extra-Curricular Activities
As well as its academic excellence, Springdales School pays particular attention to extra-curricular activities. The school facilitates sports such as badminton, chess, basketball and hockey; it also offers art and craft activities such as painting and clay modeling; there are cultural programs such as dance dramas; and students have the chance to take part in interschool competitions.
c- Experienced Faculty
The faculty at Springdales School consists of experienced teachers who have been handpicked from around India. From computer scientists to English literature professors, from mathematicians to music teachers—there are experts from all walks of life who are dedicated towards developing the skills of their young students.
5- The Heritage School, Vasant Kunj
The Heritage School in Vasant Kunj is a great option to consider if you're looking for the best schools in the South Delhi region. Founded in 1991, this school is renowned for its strong focus on holistic education by inculcating traditional values with modern outlooks.
The Heritage School provides an outstanding learning experience for its students, with an emphasis on academic excellence, personal growth and democracy. Here are some of the reasons why this school is so successful:
a- High-quality Education
This school offers world-class educational facilities and a team of experienced teachers to ensure that students receive comprehensive knowledge and guidance. The school imparts knowledge through various curricular and co-curricular activities that offer intellectual, physical and social development.
b- Excellent Infrastructure
The Heritage School's campus features spacious classrooms, equipped with modern teaching aids, a well-stocked library, a large sports complex with indoor courts, an auditorium for cultural activities and several labs for science experiments. There's even an outdoor amphitheater for open-air events!
At the Heritage School, students are given ample opportunity to hone their skills and unleash their potential — it truly offers one of the best educational experiences in South Delhi.
6- Sanskriti School, Chanakyapuri
If you're looking for a prestigious school in South Delhi, then look no further than Sanskriti School, Chanakyapuri. Offering the best in both academics and extra-curricular activities, it's no wonder why Sanskriti School is one of the top 10 schools in South Delhi.
a- Academic Excellence
This school has been known to produce consistently high results year after year with their excellent academic program.Sanskriti genuinely works to provide their students with the best education, from language proficiency to having extracurricular classes like music and sports. This school is ideal for students from all backgrounds because it offers a broad range of courses in the humanities, sciences, and technology.
b- Extracurricular Activities
The school also encourages students to participate in extracurricular activities such as music, sports and theater. With a dedicated team of professionals and instructors, students at Sanskriti can take their skills outside of the classroom and hone them in an environment that fosters creativity and growth.
c- Facilities
Sanskriti also offers world-class facilities including libraries, science labs and computer labs that give their students access to the latest technology and resources. The spacious grounds provide ample opportunity for outdoor activities while the indoor facilities provide a safe learning environment where students can work without any distractions.
7- Modern School, Vasant Vihar
Number 7 on the list of top 10 schools in South Delhi is Modern School, Vasant Vihar. Originally founded in 1920, Modern School has a rich history and is considered one of the best schools in the city. It's known for providing quality education to students from Nursery to Grade 12.
a- Academic excellence
Modern School offers a variety of academic programs and encourages students to pursue their interests and passions. It provides its students with world-class infrastructure and personalized teaching, leading to an environment of learning, understanding and appreciating knowledge.
b- Extracurricular activities
Apart from academics, Modern School also focuses on providing a number of extracurricular activities in order to develop their skills beyond the classroom. Here, students can take part in activities such as sports, music, art, dance and theater club amongst other things.
At Modern School, the faculty are committed to nurturing each student's personal development with the help of interactive teaching methods that enable students to learn more effectively by engaging them both academically and emotionally in their studies.
8- Amity International School, Saket
This brings us to number eight on the list of the best schools in South Delhi, Amity International School, Saket. With its strong academic focus, this school places great emphasis on sports and extra-curricular activities. It offers courses up to class XII and is affiliated with the CBSE board.
Amity International School, Saket provides a safe and supportive learning environment for its students, promoting creative activities and organizing a host of events for them to enjoy. It boasts some impressive facilities, like smart classrooms with interactive boards, swimming pools, playgrounds and courts for various sports like basketball, football, volleyball and badminton.
The school also has a well-equipped library that houses both print and digital media, along with an auditorium for cultural performances. Amity also offers career guidance as part of its curriculum so that students get an overview of their professional options from an early age.
In short, Amity International School provides an all-rounded education with an emphasis on sports and extra-curricular activities within a secure environment – making it worth considering if you're looking into South Delhi's top educational institutions!
9- K.R Mangalam World School, Greater Kailash
At number nine on our list of the top 10 schools in South Delhi is K.R. Mangalam World School, Greater Kailash. This school has earned a reputation for its academic excellence, its excellent faculty, and its modern facilities and amenities.
What makes this school stand out? For starters:
Its impressive infrastructure: Spanning over 36 acres of land, K.R. Mangalam World School is well-equipped with spacious classrooms, state-of-the-art labs and workshops, audio-visual rooms, an auditorium and huge sports complexes — making it a great place to learn and grow!
Excellent faculty: The faculty at this school are experienced professionals who provide personalized attention to students and ensure that they stay ahead academically.
Emphasis on holistic education: The school seeks to provide a holistic education to students through the introduction of special activities like music, theater and art classes, along with various sports activities meant to help develop skills like team spirit and leadership qualities in young minds.
International Standards: By adopting international standards for teaching curriculums and assessment processes, KR Mangalam World School provides students with a well rounded global outlook which enables them to hone their skillsets that are vital in today's world.
So there you have it—K R Mangalam World School is indeed one of the most sought after schools in South Delhi owing to its impressive features!
10- Apeejay School, Sheik Sarai
At number 10 on the list we have Apeejay School, Sheik Sarai. This school is renowned for having the best infrastructure and educational facilities in South Delhi. Apeejay provides a comprehensive learning environment with highly-qualified and experienced faculty who ensure that students get the best educational experience.
Their core philosophy of providing students with an all-round education that equips them to face the challenges of life, also stands out from other schools. From sporting facilities to performing arts and extra-curriculars, Apeejay ensures that their students can develop their talents and skills outside of the classroom too.
a- Facilities
Apeejay has several state-of-the-art laboratories for efficient experiments and research, library services for both fiction and non-fiction books, as well as sophisticated computer labs with the latest software technologies. Moreover, the school also offers extracurricular activities like sports, music, art & craft etc., so that students can explore and excel in any field or skill they choose to pursue.
b- Learning Approach
The school follows an integrated learning curriculum that is designed to impart learning at its best with an emphasis on holistic development of children's personalities. Every child's learning pace is monitored closely at Apeejay since it believes that every child has a different learning style, helping teachers identify problems quickly which can then be addressed promptly and effectively.
Parting Words
Whether you're looking for the best schools in South Delhi or the preeminent schools in India, the ten schools mentioned above stand out in terms of excellence, quality of education, and student outcomes. Investing in one of these schools for your child's education today will ensure that he or she gets the best possible education in the future.
The schools mentioned here are amongst the best schools in India and offer a range of facilities and opportunities to ensure that your child can reach his or her full potential in an academically stimulating environment. From sports to music to art, these schools will give your child the tools to dream and achieve.