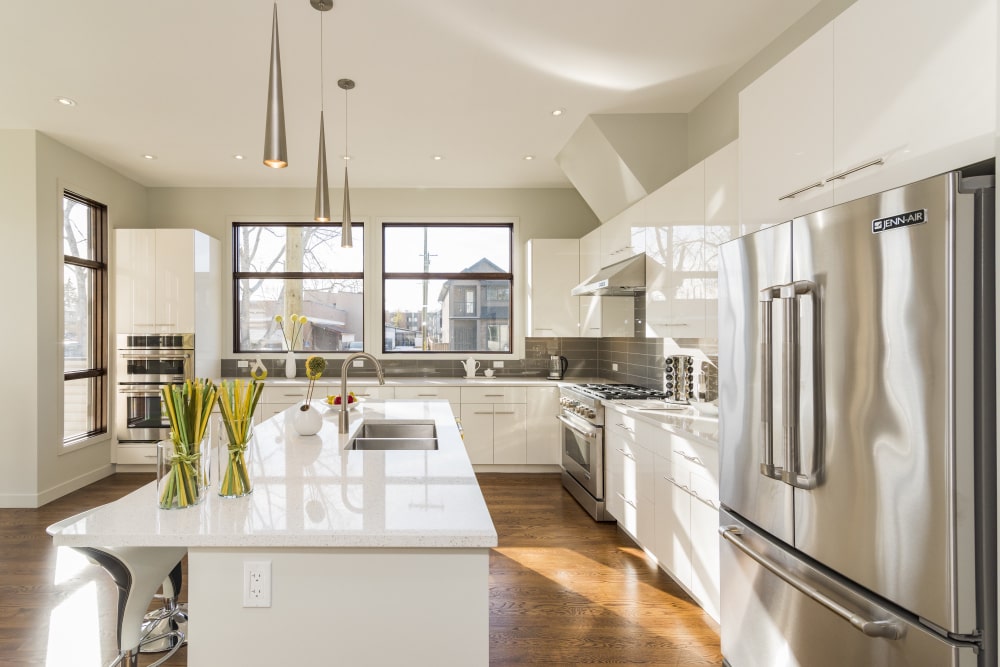 Recently, have you felt the desire to remodel your kitchen? Afterwards, you ought to research movable kitchen designs. You can design a space that is both useful and aesthetically pleasing with modular kitchens because they are available in a wide variety of shapes, sizes, and designs.
There are many choices to choose from, including straight and L-shaped designs as well as parallel and island patterns. We'll talk about our top five modular kitchen designs in this piece. You're bound to discover the perfect design for your home with information on the best layout for small living areas, big families, home chefs, and more. So why are you still waiting? Let's get going!
What Is a Modular Kitchen?
Are you trying to find a kitchen that is both fashionable and useful? The solution might then be modular kitchen ideas. A modular kitchen consists of prefabricated modules, like cabinets and drawers, that can be altered to meet your requirements.
To fit any area, modular kitchens are available in a wide range of sizes and shapes. The straight modular kitchen, L-shaped modular kitchen, U-shaped modular kitchen, parallel modular kitchen, and island modular kitchen are the top five styles.
Small kitchens are ideal for the straight modular design because it makes the most of the available room. The L-shaped design is great for medium-sized kitchens while the U-shaped design provides ample countertop space and storage. The parallel modular kitchen features two parallel counters with enough room for cooking appliances and accessories while the island modular design features an island in the center of the kitchen, giving you additional worktop space.
1- Straight Modular Kitchen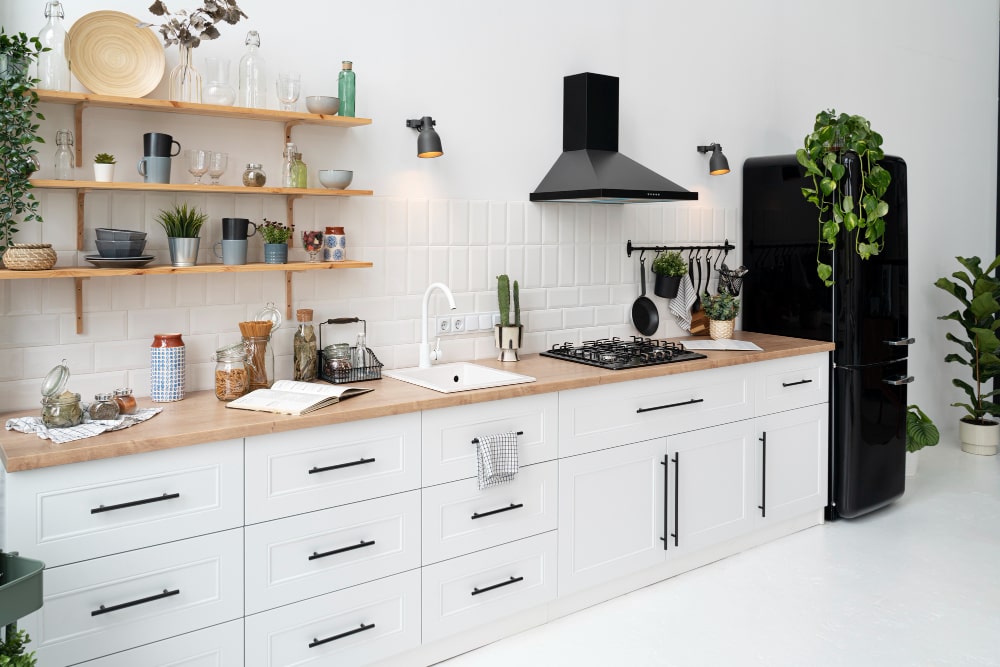 The Straight Modular Kitchen is the best option if you have a tiny kitchen. This layout makes the best use of the available area and is ideal for small spaces. It all comes down to having everything close at hand. Additionally, you can adapt this style to your requirements because it is so versatile.
Two counters that are placed parallel to one another make up the Straight Modular Kitchen. It's perfect if you don't need a lot of space and have a limited price. All the cabinets and countertops can be adjusted according to your preferences and needs, including storage options like racks, drawers and pullouts.
You'll also find a variety of material options like metal cabinets and wooden countertops to really make this design your own. What's more, it's easy to install and maintain—all you need is a few tools like screwdrivers and wrenches to get it done!
2- L-Shaped Modular Kitchen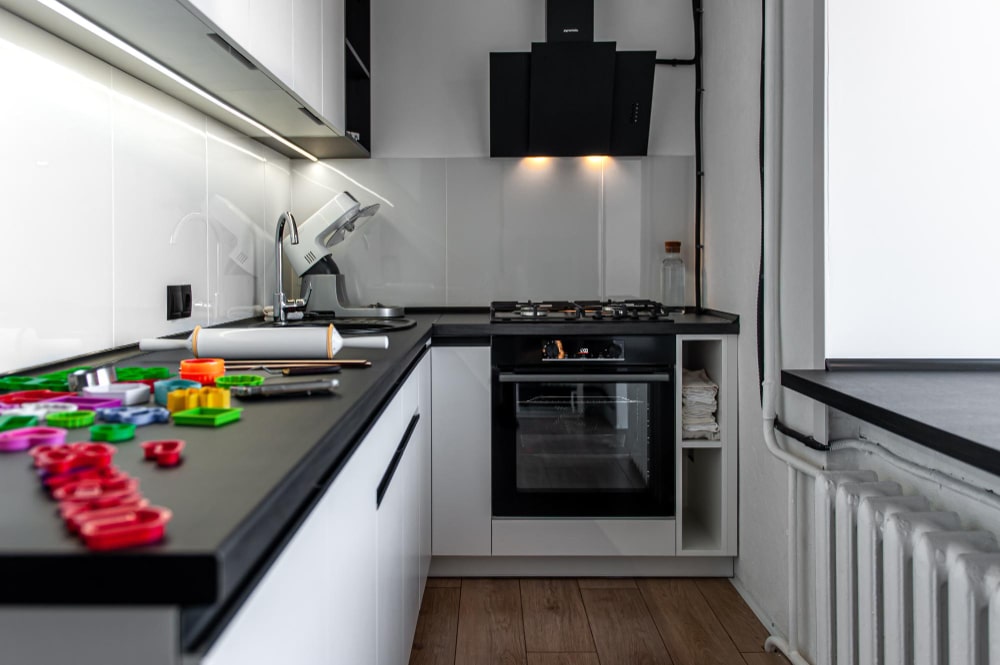 If you have medium-sized space for kitchen, the L-Shaped design is the best option for you. This kitchen layout is incredibly flexible and can be altered in countless ways to best meet your requirements. For party lovers or those who love to entertain guests, this layout is ideal because it has two counters that are positioned at a 90-degree angle.
If you are looking for a kitchen design which can provide you with maximum working area in small space without sacrificing elegance, functionality, or comfort, L-Shaped modular kitchen design would work best for you. You can select various types of cabinets, drawers, and shelves, depending on your needs. This design works particularly well if many people need to work and access various items in the same kitchen at the same time.
If your space allows, the L-Shaped Modular Kitchen also offers an intriguing chance to include an island in the design. You would have more workspace and storage with an island, which would be helpful when preparing meals or baking treats for a gathering. An island would also provide additional seating, creating an ideal spot for breakfast or gathering with friends and family members.
3- U-Shaped Modular Kitchen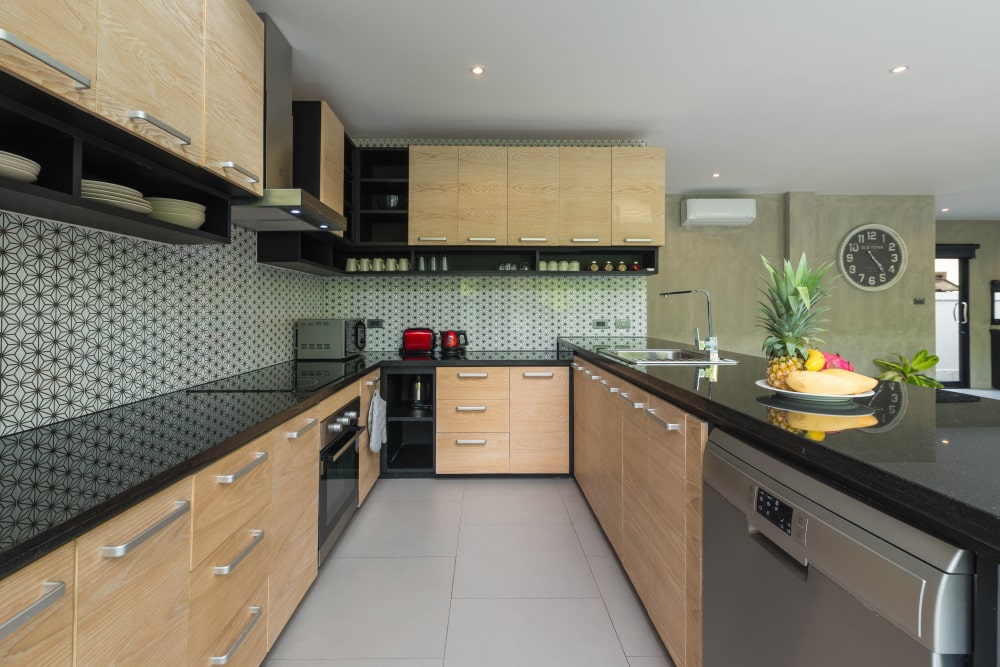 The U-shaped modular kitchen is the perfect choice if you love to cook and entertain guests. But why should you choose this design?
Space
The U-shaped modular kitchen design efficiently utilises all the available space in your kitchen. It gives you plenty of counter space while allowing you to organise your kitchen utensils, appliances, and other items in an organised manner. You can even install storage cabinets and pantries around the perimeter of the U shape to store dry goods and other items.
Ventilation
This design also allows for an optimal flow of air throughout your cooking area, which helps reduce chances of having unpleasant smells lingering in your home. The two sides of the U shape create a natural exhaust system, so you don't have to worry about smoke or steam from your dishes disturbing your guests.
Customisable
The U-shaped modular kitchen design is highly customisable – from adding a breakfast bar to setting up shelves for wine bottles, you can personalise this set up according to your needs and preferences. You can also choose different materials for flooring, countertops, cabinets etc., making it easy for you to match the colour palette of your kitchen with the rest of your home.
4- Parallel Modular Kitchen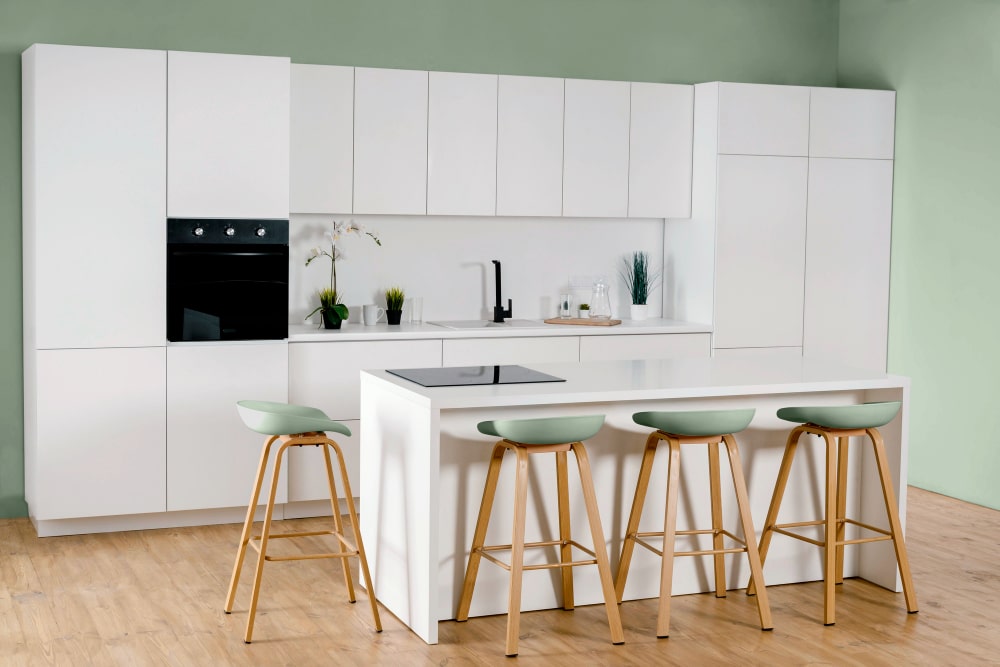 The parallel modular kitchen is the next type of modular kitchen that you should be aware of. Due to the two parallel counters in this design, as the name suggests, there is a ton of counter area. If you want a wide variety of cooking options and lots of storage room, this design is ideal.
The advantages of the parallel modular kitchen are obvious: you have a designated workspace in the middle, plenty of counter space, and enough cabinets to store your cookware and utensils. You can be more organised with this set-up when it comes to cooking and hosting visitors. Additionally, the long counters provide more serving area and sufficient space for multiple people to collaborate in the kitchen.
A parallel modular kitchen is ideal for maximising available space and efficiency for those who frequently host big gatherings or spend a lot of time in their kitchen.
5- Island Modular Kitchen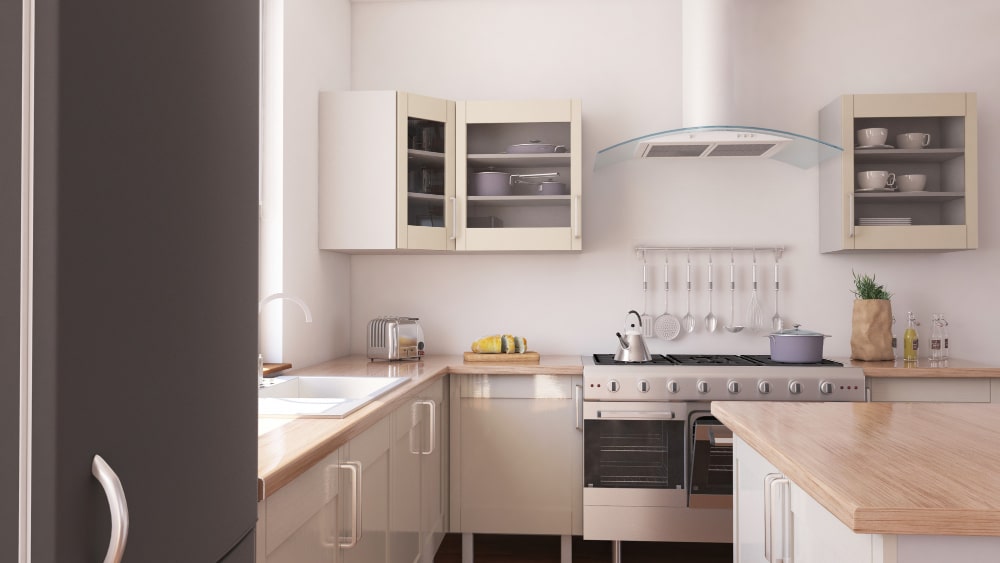 If you enjoy cooking, entertaining, and spending time in the kitchen, an island modular kitchen is a wonderful option. This layout places a counter in the middle of the kitchen, making it feel roomy and welcoming.
The island can be utilised as extra storage, a breakfast bar, or even a prep space. The island can be tailored to your preferences and requirements, allowing you to make it as small or opulent as you like. The options are practically endless: you can choose from open shelves and cabinets with drawers, various top materials like marble or granite, or even integrate appliances into the island's countertop.
The Island Modular Kitchen requires no individual repairs or replacements for each component because all of its parts are contained within a single cabinet, making it simple to keep. Additionally, it has great aesthetic appeal! Therefore, if you're searching for a contemporary design that is both functional and fashionable, an Island Modular Kitchen might be the ideal choice.
In conclusion, modular kitchens are the perfect way to make the most of your kitchen space, no matter what size or shape you have to work with. With the five main types coined here, you can easily create the kitchen of your dreams. From the classic straight design to the more creative L, U and island-shaped designs, you can find the perfect fit for your home. With the right design and installation, your kitchen will not just be efficient but also aesthetically pleasing. Start exploring the possibilities and create your own unique modular kitchen today!