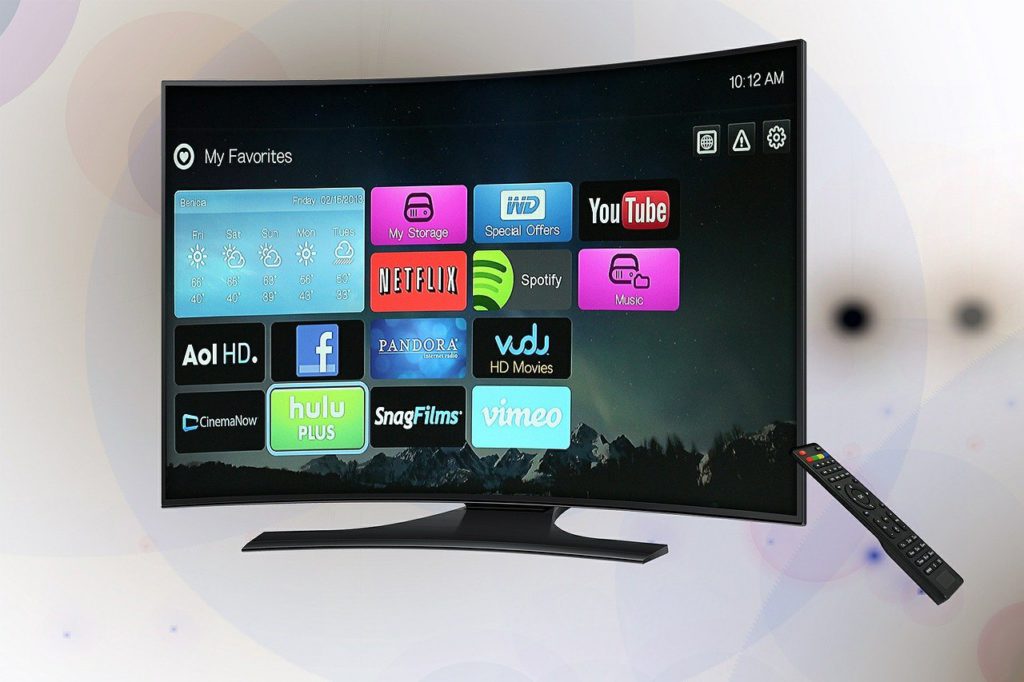 Televisions have transformed into a very active source of entertainment from a passive one. Earlier, where people spent only one-two hours watching TV, are now more invested in it. Times have completely changed. Today, televisions are a full-blown experience which keeps people occupied for hours. Moreover, TVs have revolutionized from being a bulky CRT box which sat in some corner of the house, to a slim and beautiful looking smart TVs, which people now have in separate rooms.
Smart TVs has brought the golden age of televisions which brings a combination of a lot of benefits. They are designed to bring you the best source of entertainment. You can easily connect the smart TVs to your home internet either via Ethernet or a wireless connection. They let you download apps just like you do on your phones, which is a major plus because you can have streaming services like Netflix or Prime etc. Along with that, the best smart TVs can do is, provide you with access to other resources like TV network i.e. connection of pay-tv network connection with internet and streaming features!
Whether you're a serious TV or Movie viewer or enjoy TV to relax after a busy schedule, a Smart TV is a must-have electronic appliance in your house. They've convenient, easy to use, reliable, decluttering and have smartphone-like features. What else can one ask for? But when you finally decide to get a smart TV for your place, you need to keep a lot of things in mind along with all the features or benefits that they provide.
Which are the best smart TVs? Which one would be perfect for us? – The questions that can put on in dilemma. But don't worry, we bring you the list of the 7 Best Smart TVs in 2020 for you to compare yourself and know which Smart TV can fulfill your requirements.
In this article, we would be providing you with all the information you need to know before getting yourself a Smart TV. We will assist you in picking the right smart device!
7 Best Smart TVs 2020
Let's take a look at the list of 7 best smart TVs in 2020 from which will help you look at what each TV has to offer and which on would be a perfect choice for your home.
Sony Bravia KD-55X8000G 55 Inch 4K UHD Smart Android TV
A 55 inch 4K UHD Smart android TV, featuring proprietary technologies like X-reality pro, Clear audio plus to enhance the end-user's viewing experience. This variant of Sony Bravia is indeed a delight to look. The design is exceptionally good, with minimal bezels display. It comes with the elegant duel steel plate legs.
This TV has an astounding 8 million pixels to deliver the best possible visuals with enriched details, giving the end-user a truly incredible viewing experience.
Specifications
Screen Size – 55-inch
Resolution – 3840 x 2160
Refresh Rate – 50Hz
Ports – HDMI – 4, USB – 3
Speaker – 2 x 10W
Samsung UA55RU7100 55 Inch UHD 4K Smart TV
This top-notch 55-inch UHD 4K Samsung Smart TV provides one of the best visuals with the accurate colour reproduction. The screen comes with minimal bezels on all four sides and the rear side has a matte finish plastic covering. It comes with a separate connection box with all the ports, which smartly hides the cables. This almost makes it seem like a wireless TV.
The display has a resolution of 3840 x 2160 pixels which gives a rich viewing experience, with vibrant display. It has two speakers rated at 10W each. Furthermore, it comes with a Samsung smart hub – a feature-rich UI based on Tizen OS. The apps are installed from the Samsung app store.
Specifications
Screen Size – 55-inch
Resolution – 3840 x 2160
Refresh Rate – 60Hz
Ports – HDMI – 3, USB – 2
Speaker – 2 x 10W
OnePlus 55Q1, 55 Inch QLED Smart TV
The OnePlus 55Q1, a 55 inch QLED Smart TV comes with the best built quality. The rear side is covered with a carbon fibre texture, giving it a premium look. It has 3840 x 2160 pixels which gives colours and contrast ratio. This TV comes with all the Google services pre-installed but strangely, there is No Netflix update on OnePlus for now.
This OnePlus TV does not shy away when it comes to sound. It comes with an eight-speaker setup that has four full-range speakers, two woofers and two tweeters. Which means 50W RMS sound output.
Specifications
Screen Size – 55 Inch
Resolution – 3840 x 2160
Refresh Rate – 60Hz
Ports – HDMI – 4, USB – 3
Speaker – 50W
LG 55SM8100PTA 55 Inch 4K UHD Smart TV
This 55 inch 4K UHD TV is a premium Smart TV which provides the end-users with an impressive media experience with life-like images and visuals. This TV set comes with minimal bezels around the display and the build quality gives a luxurious feel.
LG comes with a slick and lightweight OS – WebOS, which runs fluidly and performs well even on low speeded devices. This comes with a voice-activated controls option, which allows you to play anything you want without pounding your fingers over the remote.
Specifications
Screen Size – 55 Inch
Resolution – 3840 x 2160
Refresh Rate – 50Hz
Ports – HDMI – 4, USB – 3
Speaker – 2 x 10W
Mi TV 4X, 65 Inch 4K HDR Smart TV
A flagship LED Smart TV from Xiaomi is trumping ahead of the big competitors such as Sony and Samsung in terms of hardware prowess. This MI 4X, 65 inch, Smart TV comes with an excellent built quality with nearly zero bezels on the front. There is a brushed aluminium finish at the back which adds to its beautiful aesthetics.
The set comes with a resolution of 3840 x 2160 pixels, a dynamic contrast ratio of 60000:1, which provides vibrant images and video quality. Furthermore, it has duel speakers – 20W RMS power output.
Specifications
Screen Size – 65 Inch
Resolution – 3840 x 2160
Refresh Rate – 60Hz
Ports – HDMI – 3, USB – 3
Speaker – 2 x 10W
Vu Premium 65PM, 65 Inch 4K UHD Smart TV
Vu is a California based TV manufacturer and the brand has gained popularity in India with its feature-rich, budget-friendly televisions. The Vu Premium series is a flagship line-up and this TV Set comes with a 65-inch large 4K UHD screen, which runs on stock Android TV OS. It has ultra-thin bezels which gives the TV a premium and stunning look, offering a great viewing experience.
The display comes with a resolution of 3840 x 2160 pixels. The color accuracy and contrast ratio of Vu Premium 65PM, with brightness level upto 400nits, takes the viewing experience to the whole new level.
Specifications
Screen Size – 65 Inch
Resolution – 3840 x 2160
Refresh Rate – 60Hz
Ports – HDMI – 3, USB – 2
Speaker – 2 x 15W
Kodak 43CA2022, 43 Inch 4K LED Smart TV
Kodak is taking a step ahead with Kodak 43CA2022, by including smart connectivity features. This TV set has a slim profile and narrow bezels at the sides of its display. The ports are at the back and rear is built of plastic. The display comes with a resolution of 3840 x 2160 pixels. Kodak 43CA2022 provides you a 178-degree viewing angle. The brightness are 300 nits and the contrast levels are great.
It's a stock android TV OS, powered by ARM Cortex quad-core processor and has 1GB of RAM along with 8GB of internal storage. Furthermore, it has 30W sound output from 2 speakers.
Specifications
Screen Size – 43 Inch
Resolution – 3840 x 2160
Refresh Rate – 60Hz
Ports – HDMI – 3, USB – 2
Speaker – 2 x 15W
All the listed Smart TVs come with exceptionally good features and give an enriched viewing experience with life-like colours and great contrast ratios. They are highly reliable and from well-established, standard brands which people trust. But we cannot look past the fact that all these TVs are highly expensive, especially for common or middle-class people.
Prices of televisions have risen sharply in the last two decades. The more they upgrade, the more features they add, the higher the cost. Many consumers find is hard to keep up with the changing television trends. And given the price tags on good TVs, buying a TV does not seem like a good bargain. Especially if you are on the move constantly, that is, change places or cities often due to whatever reason – Work, Studies, Transfers, Exploration etc.
So, what can you do if you cannot buy a high-priced TV but still want one in your house to make the most of media entertainment? The answer is Renting. That's right, Rent it!
With a rental TV, you don't have to pay any upfront cost and paying a small monthly rent is much easier and affordable than paying thousands of rupees when you are on a tight budget. Other reason is, buying is not a feasible option if you have to change cities. There's a headache of searching, buying and finding buyers to sell the TV afterwards. If not, you have to pay a hefty cost to movers anyway.
With Rentals, you do not have to think about the high price-tags of the Television you really want. You can easily order any TV you want, online on rent and get it delivered and installed at your home, anytime you want. The rent has to be paid only for the time you're living at the current place and afterwards, you can return it and are good to go!
Not only that, you also have the freedom or flexibility to change your TV set and upgrade to a new model as per your desires. Isn't that fantastic? Why get stuck with a single TV for years when you can change them whenever a new variant comes along by getting any Smart TV on Rent?
You can have all of that, take advantages of all the benefits of renting a TV with Cityfurnish! Skim through our website and look at the wide range of appliances , Smart TV on Rent and select the TV you desire at no extra cost. Which means, you do not have to pay for delivery, installation and even maintenance because we will take care of all of it. If the TV you want is not displayed on the listed items, don't sweat. Just contact our team and we will fulfill all your requirements in no time!