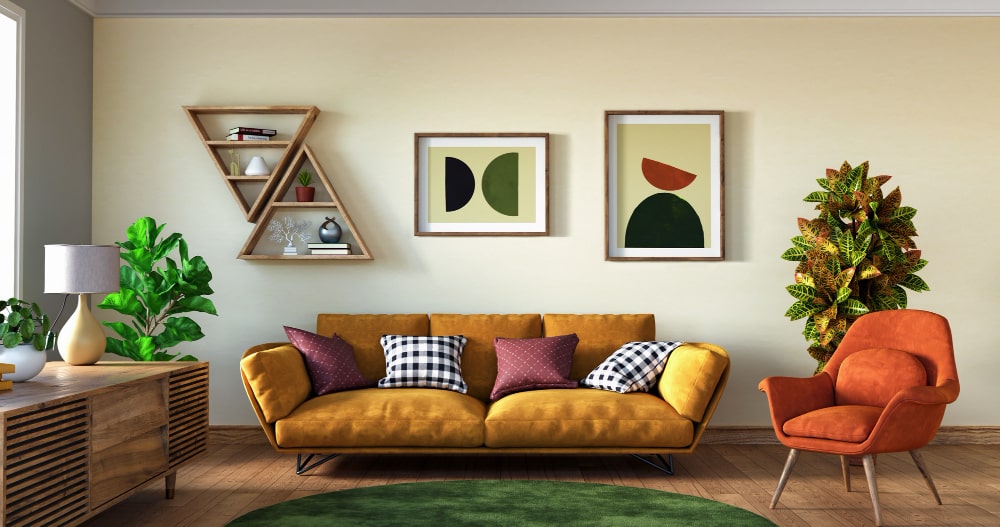 You want your place to look like it belongs on the pages of Architectural Digest, but your budget says otherwise. Don't worry, you can have an home interior design that looks high-end without the matching price tag. The secret is making smart choices that maximize your dollars. With some planning and budget-friendly alternatives, you can create spaces that are stylish, functional, and affordable. In this article, you'll discover ways to cut costs on everything from furniture to flooring so you can achieve the home interior of your dreams on a budget you can actually afford. Get ready to learn insider tips and tricks for reducing the cost of home interior design. By the time you're done reading, you'll be well on your way to designing on a dime.
1- Planning and Budgeting: Framework for the best results
Proper planning and budgeting form the foundation of any successful home interior design project. Start by assessing your needs, preferences, and available resources. Set a realistic budget that aligns with your financial capabilities and expectations. By defining your budget beforehand, you can avoid overspending and make informed decisions throughout the design process.
Once you've determined how much money you can spend on the project, it's time to create a design plan. This will help you stay focused on your goals and decide which elements are most important to achieve those goals. It can also help you avoid making costly mistakes later in the process.
2- Prioritising Design Elements: Focusing on what's more important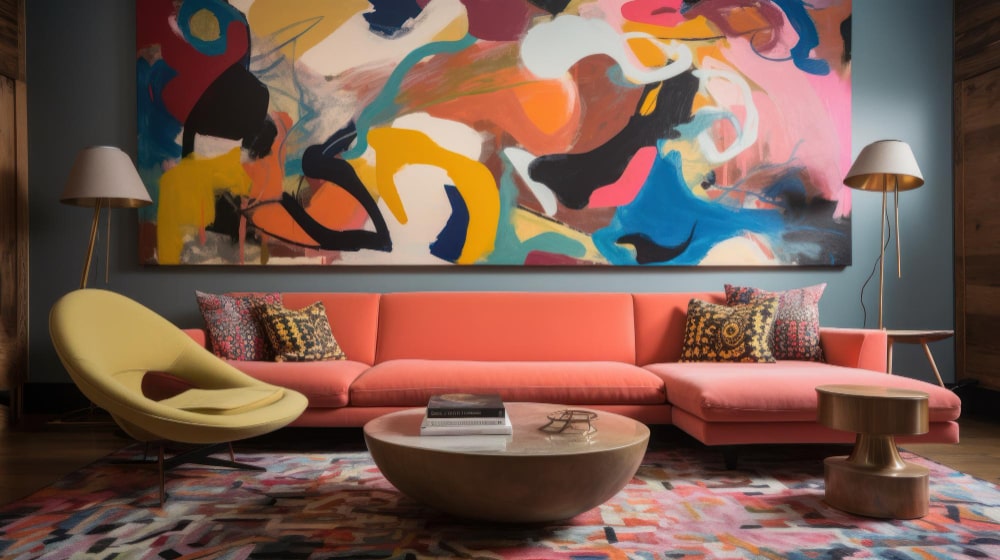 Certain design elements have a more significant impact on the overall aesthetics of a space. Identify these key elements and allocate a larger portion of your budget to them. For example, investing in high-quality flooring or statement furniture pieces can instantly elevate the appearance of a room. By prioritising these focal points, you can create a visually appealing space while saving on other less impactful areas.
Avoid the temptation to over-decorate. While it can be tempting to fill every corner of your house with furniture and accessories, this will only make your home feel cluttered. Keep in mind that less is more when it comes to decorating a room – a few carefully placed pieces are often more effective than an entire collection of items. Don't be afraid to mix styles. While it's important to maintain a cohesive look, you don't have to stick with one particular style throughout your house. For example, if you want to add a modern touch to an older home, consider adding sleek metal hardware on doors and drawers. This will instantly freshen up the space without having to completely revamp the existing decor.
3- DIY vs. Hiring Professionals: Save Money With Sweat Equity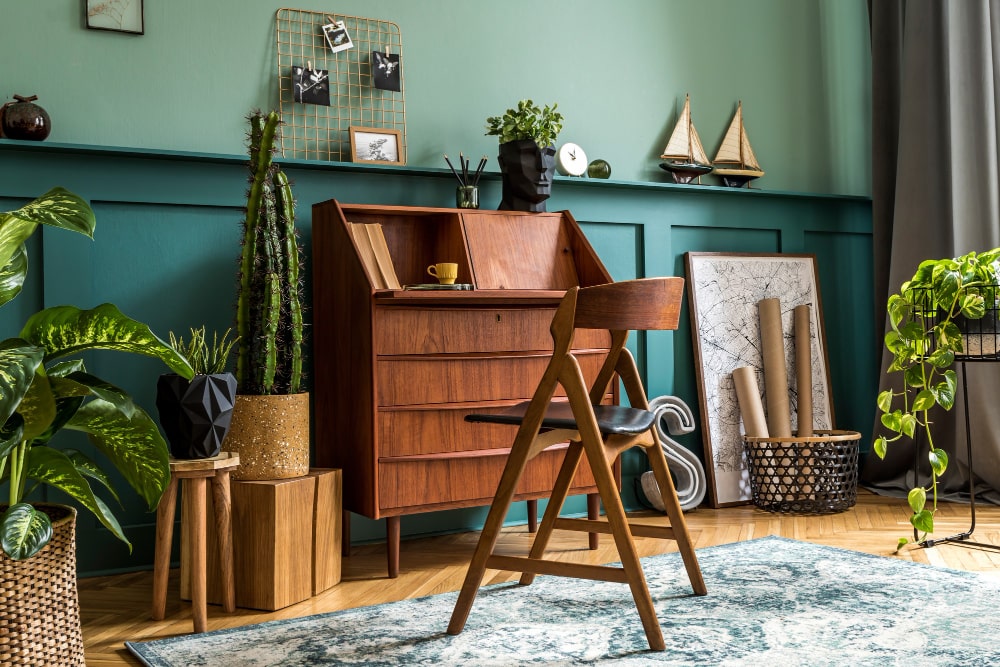 Want to save some serious cash on your home interior design? Consider doing some of the work yourself. DIYing aspects of your project can cut costs by 50-90% compared to hiring pros for everything.
You don't have to go it alone, though. Focus on the parts you enjoy and are good at, like picking out paint colors or decor, and hire contractors for the tricky structural stuff. Ask friends to help with demolition, cleaning, or moving furniture in exchange for pizza and beer.
When you do hire pros, be upfront about your budget and priorities. Get multiple bids for each job and compare. Negotiate the best deal by offering to handle parts yourself. For example, you provide the materials if they provide labor at a lower rate.
With some sweat equity and strategic hiring of contractors, you can achieve a professionally-designed space without the professional price tag. Your wallet will thank you, and you'll feel more connected to a home that you helped create with your own two hands.
4- Repurposing and Upcycling: Transform What You Already Own
Want to save on home interior design without sacrificing style? Look no further than what you already own. Repurposing and upcycling furniture and decor is an easy way to transform your space on a budget.
Rather than buying a new coffee table, refinish an old trunk or crate and use that instead. Got an armoire that doesn't match your style anymore? Remove the doors and hardware for an open shelving unit. Outdated chairs? Re-cover the seats or paint the frames for a whole new look.
Check the attic or basement for forgotten pieces that just need a little TLC. That retro dresser could be mid-century chic with new knobs and a coat of paint. And don't overlook flea markets and thrift stores for high-quality furniture you can revamp.
With some creativity, you can repurpose and upcycle your way to an home interior you love without breaking the bank. Why shell out for something new when you can make over what you already have into custom pieces that suit your home?
5- Finding Affordable Alternatives: Lower-Cost Materials and Finishes
a-Look for lower-cost materials.
Rather than splurging on expensive stone countertops or hardwood floors, consider more budget-friendly alternatives like laminate, ceramic tile, or vinyl. These materials can provide a similar high-end look for a fraction of the cost.
-Laminate countertops offer an affordable stone-like appearance for kitchens and bathrooms.
-Ceramic tile is a great lower-cost option for flooring, countertops, and backsplashes.
-Vinyl or linoleum flooring comes in wood and stone patterns for an upscale look on a budget.
b-Choose value-oriented fixtures and finishes.
Opt for standard plumbing fixtures, cabinetry, and hardware over high-end designer pieces. Stainless steel or chrome fixtures are sleek, modern, and budget-friendly. Stock cabinetry can be painted or re-faced for an updated custom look at lower cost. And basic knobs or pulls get the job done for a lot less than fancy designer hardware.
c-Repurpose or upcycle when possible.
Don't overlook the potential in items you already have. Repurposing or upcycling furniture, accessories, and materials from your space or other areas of your home is an easy way to save money. A dated dresser could serve as a bathroom vanity. An old door makes an great desk or tabletop. Leftover tile, stone, or wood can add accent details. Get creative with what you have before buying new!
6- Comparison Shopping: Get the Best Deals on Big-Ticket Items
a-Shop Around at Different Stores
Don't buy the first item you see, even if you fall in love with it. Compare prices at different stores, both online and in-person. You may find the exact same piece of furniture or decor for 20-50% less just by checking a few other retailers.
Check big box stores like Home Town and Ikea which often have the best deals on furniture and home decor.
See if local furniture outlets or discount retailers have what you need at a lower cost.
Buy floor models or open-box items. Stores will often discount these heavily just to move them out.
Don't forget about buying used. Check sites like Cityfurnish, Facebook Marketplace or thrift stores. You can save a ton of money and give a used piece of furniture a new life with a DIY makeover.
Negotiating the best price on big-ticket items like couches, tables, lighting fixtures and appliances can help reduce your overall design budget significantly. Do some research to determine a fair price range before you start shopping. Then, don't be afraid to ask for a lower price, especially if there are any imperfections or you're buying multiple items. Many stores will work with you to get the sale. With some patience and persistence, you'll get the best deals on key pieces for your home.
7- Efficient Space Planning: Make the Most of What You've Got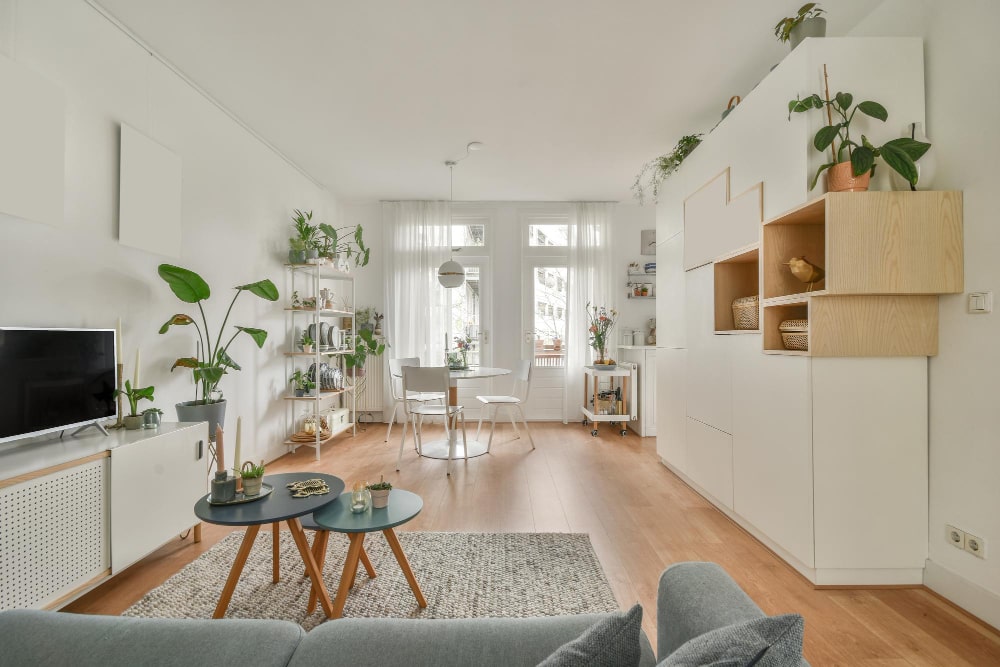 To make the most of your space and budget, focus on efficient space planning. Think multifunctional and minimal.
a-Combine living areas
If your space is tight, consider an open-concept layout that combines your living room, dining area and kitchen. This makes the space feel more spacious and allows for flexible furniture arrangements.
b-Choose furniture wisely
Opt for smaller-scale, multifunctional furniture like nesting tables, ottomans with storage, bunk beds or Murphy beds that fold up into walls. This frees up floor space during the day.
c-Maximize storage
Add shelving, cabinets, drawers and hidden storage under stairs or platforms to keep clutter out of sight. Use matching boxes or baskets on shelves for an organized look.
d-Keep pathways clear
Arrange furniture in a way that allows for easy traffic flow and access to windows and doors. A cramped, cluttered space will only feel smaller.
e-Light and bright
Maximize natural light by keeping windows unobstructed. Use lighter, brighter paint colors to make a space appear more open and airy. Additional task lighting also helps a small space feel well-lit.
f-Less is more
A minimalist style with less clutter and simpler furnishings will make a small space feel more spacious. Only keep decor and furnishings that you absolutely need and love.
With some creative space planning, you can make a small space highly functional and stylish on a budget. Focus on multifunctional, space-saving solutions and a minimalist style for an open, airy feel.
8- Multifunctional Furniture- Using space and furniture to its best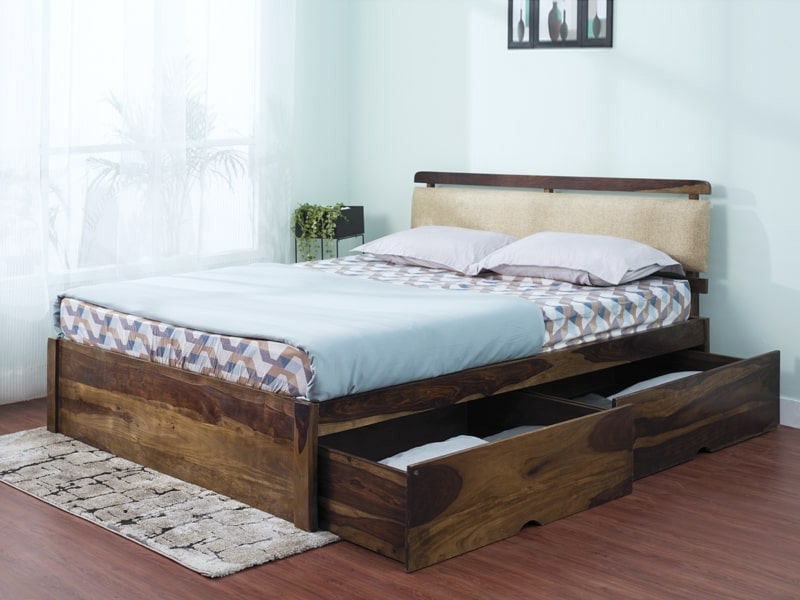 Multifunctional furniture can save space and money.
Using furniture that serves more than one purpose is a clever way to maximize your space without breaking the bank. For example, a sofa bed or futon can double as a couch and bed for guests. A dining table with removable leaves can expand for larger gatherings and contract for everyday use. Nesting tables slide under each other when not in use but can be pulled out as needed for extra table space.
Bed with storage is an obvious option but there's more. Ottomans with hidden storage give you an extra seat and stash your belongings. Murphy beds fold up into the wall, transforming a bedroom into a home office or workout space when closed. Look for furniture with built-in features like drawers, cabinets, lighting, and charging stations. The more functions a single piece of furniture can perform, the more useful it will be in a small home.
With some creative thinking, you can find or repurpose furniture to serve multiple needs. This approach allows you to avoid the higher costs of purchasing separate pieces for each function. Your space and your wallet will thank you.
9- Efficient space planning- fitting everything properly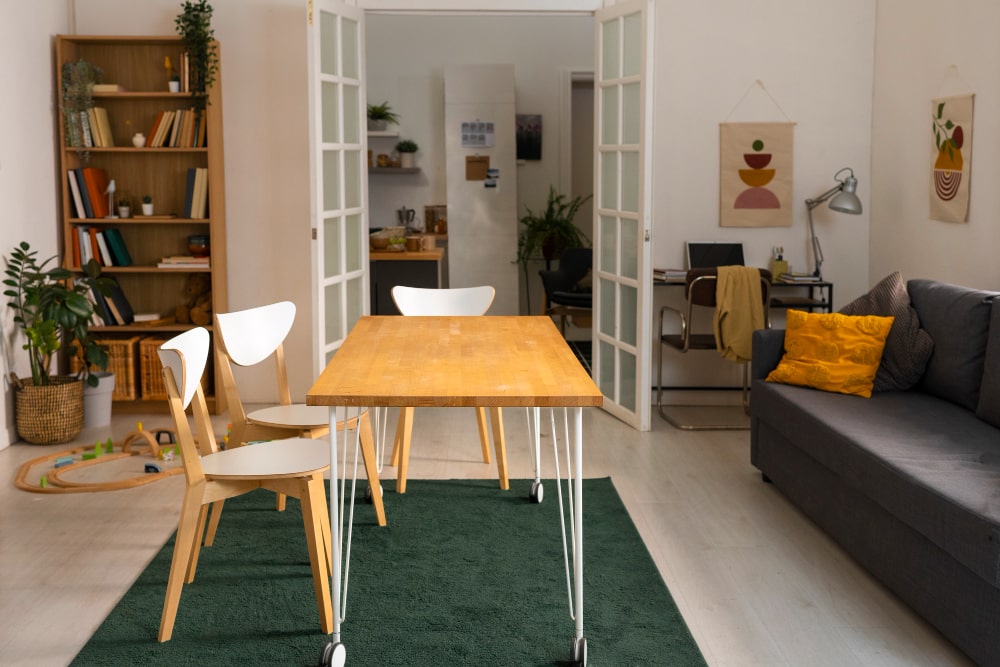 Efficient space planning is key to reducing costs. Think about how to utilize every inch of space properly.
a-Multifunctional furniture
Invest in furniture that serves more than one purpose, like a sofa bed, nesting tables, or a desk that folds into a wall. This allows you to avoid cluttering up your space with single-use pieces.
b-Repurposing
Get creative by repurposing items you already own. Turn a dresser into a bathroom vanity or use crates as shelving. Upcycle when possible – paint or stain older pieces to give them new life.
c-Compact layout
Arrange your layout to maximize open floor space. Place furniture along walls and avoid blocking walkways. For small rooms, use space-efficient shapes like round tables. In kitchens, install appliances that slide in and out.
d-Hidden storage
Use hidden storage for a tidy space. Install pull-out drawers under beds, couches and stairs. Add cabinets with pocket doors. Use lidded baskets, trunks and ottomans for concealed storage in any room.
e-Multifunctional rooms
Consider how to make the most of each room. Add a desk to a bedroom or playroom. Use your dining room as a home office or playroom when not in use. The more functions a room can serve, the less space you need overall.
With some creative thinking, you can design an home interior that checks all the boxes for style, function and budget. Efficient space planning helps make the most of what you have so you can achieve an affordable dream home.
10- Lighting and colour selection- making your space appear big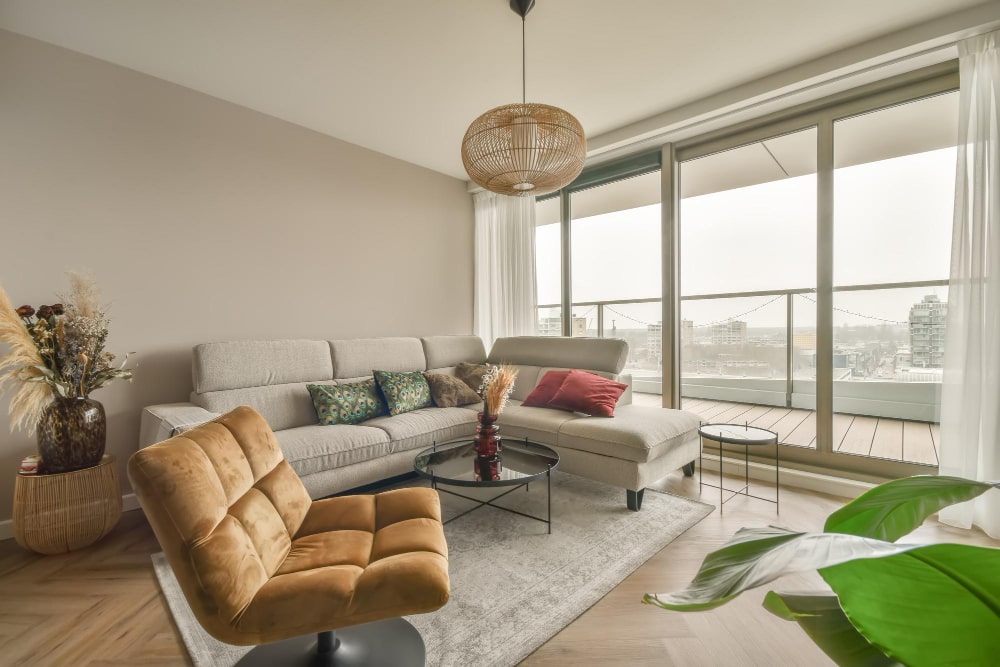 a-Use light, bright colors
Paint your walls in light, bright colors like off-white, beige or light gray. These shades reflect more light and make a space appear more open and airy. Avoid dark colors which can make a room feel cramped.
Consider pale blue or green for a calming vibe.
Add accent walls in bolder hues like citrus yellow or sky blue for visual interest without closing in the space.
b-Maximize natural light
Increase the natural light in your space by opening blinds and curtains during the day. Consider installing larger windows or skylights if possible. More natural light makes a room feel more spacious.
Use sheer curtains to filter light while still allowing it to pass through.
Place mirrors across from windows to reflect natural light deeper into the room.
c-Choose minimal, streamlined fixtures
Opt for minimal, streamlined lighting fixtures that don't clutter up your space. Simple pendant lights, recessed lighting or track lighting work well.
Avoid heavy, ornate chandeliers that can make a ceiling appear lower.
Use dimmers to control the level of light for different needs like task lighting or ambiance. The ability to brighten or dim the lights also makes a space more flexible and open-feeling.
d-Keep the floor clear
A cluttered floor makes any room feel more cramped. Do your best to keep floors clear by storing items in closets, cabinets and drawers. A clean, open floor plan helps a space feel more spacious.
11- Smart storage solution- furniture with storage is a blessing
Furniture with storage is a space-saving blessing.
When space is limited, multifunctional furniture with built-in storage can make a huge difference. Things like ottomans with lift-up lids, benches with hidden compartments underneath, and tables with drawers are all great options.
Look for pieces that serve more than one purpose, such as a coffee table with drawers for storing remotes and coasters or a bed with under-bed storage boxes on wheels. For small spaces, consider a wall bed or Murphy bed that folds up when not in use to free up floor space.
Repurposing furniture you already own is an easy, budget-friendly solution. Add wheels to make a dresser double as an island or console table. Remove cabinet doors to create open shelving. Or paint an old bookshelf and use it as a room divider.
Every inch of space matters in a small home. Make the most of what you have by choosing multi-purpose, space-efficient furniture and being clever about repurposing what you already own. Your wallet and your square footage will thank you.
12- Wall integrated furniture- saving space by planning vertically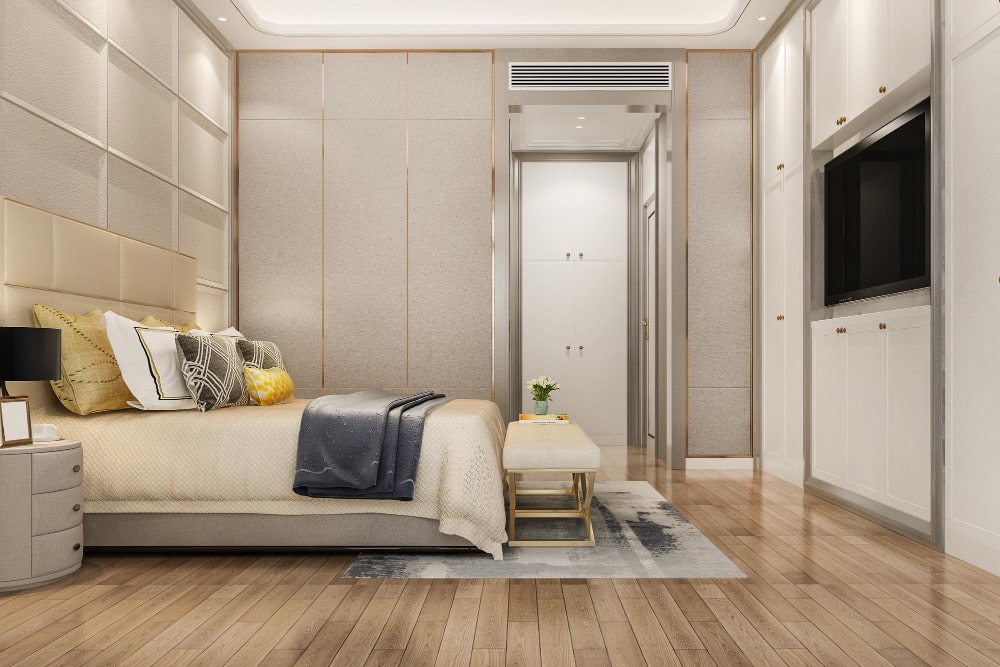 Wall integrated furniture- saving space by planning vertically
When space is limited, make the most of your walls. Wall integrated furniture, like fold-down tables, hidden cabinets and shelving, can maximize your square footage without feeling cramped.
Install fold-down tables or desks that tuck away when not in use. These are great for small dining areas, entryways or studios.
Use wall cabinets for extra kitchen storage or a built-in pantry. You can find stylish cabinets that look like furniture.
Floating shelves are simple but space-efficient. Stagger a few at different heights for a decorative look and to store everything from books to baskets.
A Murphy bed or wall bed folds up into the wall when you're not sleeping. This can transform a single room into a bedroom and living space.
By going vertical with your furniture and storage, you'll gain valuable floor space. Your room will feel open and uncluttered, perfect for multifunctional spaces. With some clever planning, wall integrated furniture provides hidden organization and a place for everything in even the smallest of rooms.
13- Long term Maintenance and durability – choosing the easy and sturdy options
Choosing durable and low-maintenance materials
When designing your space, opt for materials that will stand the test of time and require little upkeep.
Hardwood floors over carpet. Hardwoods last longer and are easier to clean. Choose a durable wood like oak or hickory and finish with a protective sealant.
Tile over linoleum. Ceramic or stone tiles are water-resistant, durable and easy to wipe down. Grout sealer will prevent stains.
High-quality furniture. Look for solid wood frames and durable fabrics like canvas, denim or microfiber. These materials handle heavy use and cleaning better than particle board or delicate fabrics.
Stainless steel appliances. Stainless steel resists scratches, stains and rust. It wipes clean easily and maintains a sleek, modern look for years.
Washable window treatments. Choose blinds, shades or curtains that can be machine washed. These are more practical than dry clean only and will freshen up the look of the room.
Choosing low-maintenance, long-lasting materials and furnishings up front will save you time, money and hassle in the long run. Your space will continue to function well and look its best with minimal effort on your part. Focusing on durability leads to a sustainable, eco-friendly design that withstands trends and daily use.
14- Luxurious touch in budget- wall textures and some art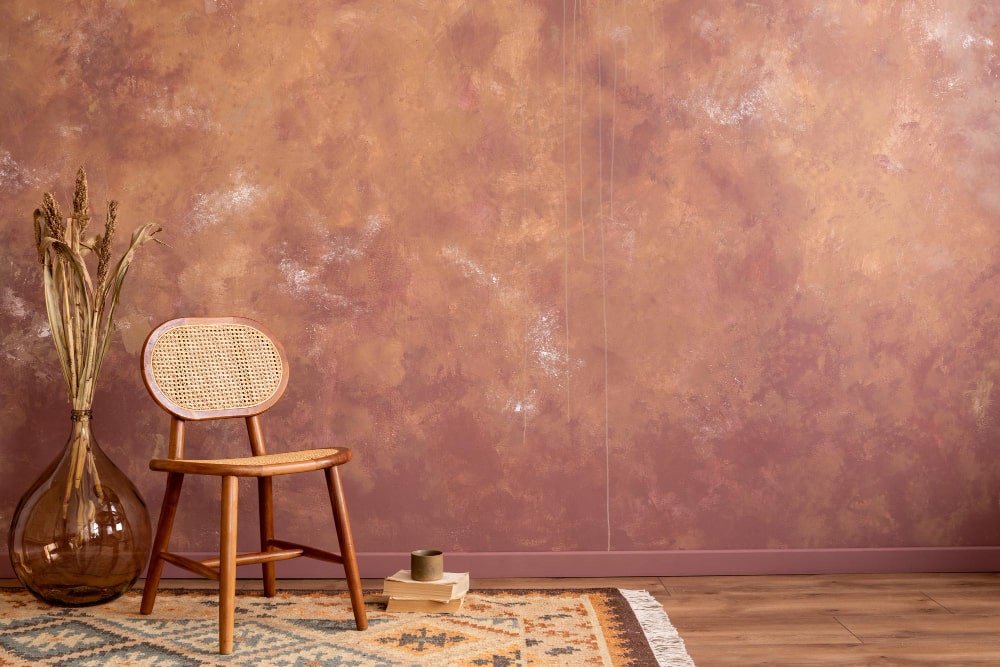 Add texture with wall treatments
Want to give your space a luxurious feel without spending a fortune? Focus on the walls. Adding texture and dimension with wall treatments is an affordable way to make a big impact.
Paint a focal wall in a rich, dramatic color like navy, eggplant or crimson. Keep the other walls neutral to make it pop.
Apply wallpaper to one wall. Choose a pattern with texture, like grasscloth, cork, or fabric. The natural materials give a high-end look for less.
Install wood or stone veneer panels. The organic, layered materials provide warmth and depth.
Stencil a pattern onto painted walls. Moroccan-inspired or geometric patterns work well.
Apply a textured plaster or stucco finish. The uneven, handcrafted surface lends rustic charm.
Artwork placed on these textured walls will become a focal point, drawing attention and completing the luxurious space. You'll feel like royalty in your own palace, all without breaking the bank.
15- Minimizing Structural Changes: Doing what's done easily
Making extensive structural changes to your space can quickly escalate the cost of home interior designing. Avoid unnecessary modifications that require professional help, such as knocking down walls or relocating plumbing. Instead, focus on cosmetic updates that can be easily achieved, such as painting, adding decorative moldings, or changing cabinet hardware. By minimizing structural changes, you can stay within budget while still achieving a fresh and updated look.
16- Maintaining a Balanced Design: Finding peace in balance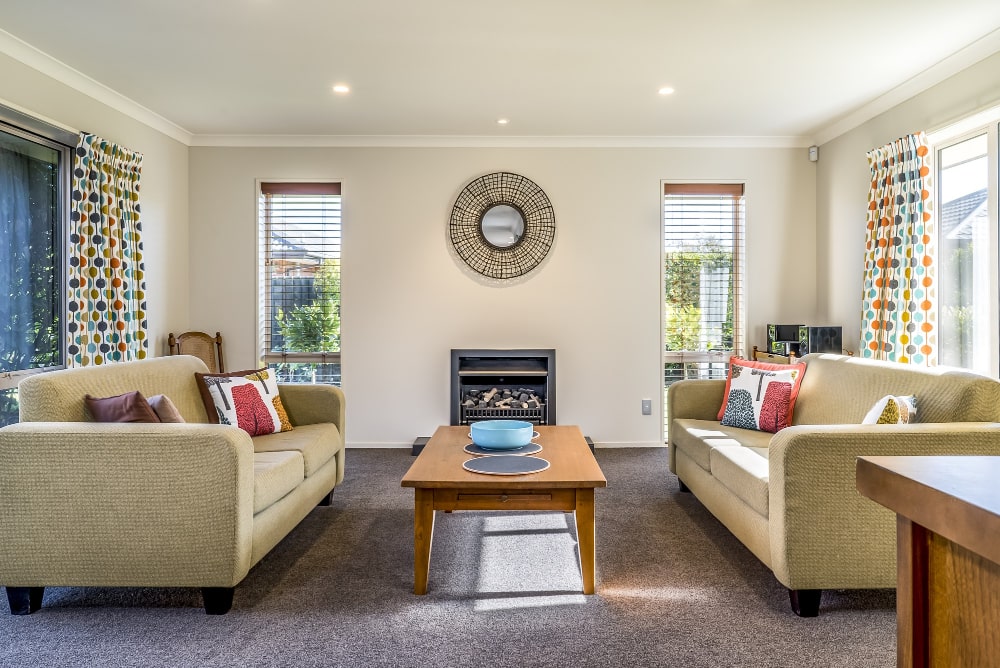 Maintaining a balanced design is crucial to prevent overspending on unnecessary decorative items. Embrace simplicity and avoid over-accessorizing. Opt for a cohesive color palette and complementary textures to create a harmonious and visually appealing space. By exercising restraint and avoiding excessive ornamentation, you can create a sophisticated and well-curated design without going over budget.
Parting Words
So there you have it, 15 tips to cut costs and still end up with a home interior design you love. By focusing on what really matters to you, shopping smart, and getting creative with what you already have, you can achieve an enviable space without breaking the bank. Make your home uniquely you, maximize every inch, and enjoy the process – your wallet will thank you, and you'll feel proud knowing you created an interior oasis on a budget. Now get out there and start transforming your space! The potential savings are huge, and the rewards of a stylish, functional home are priceless.