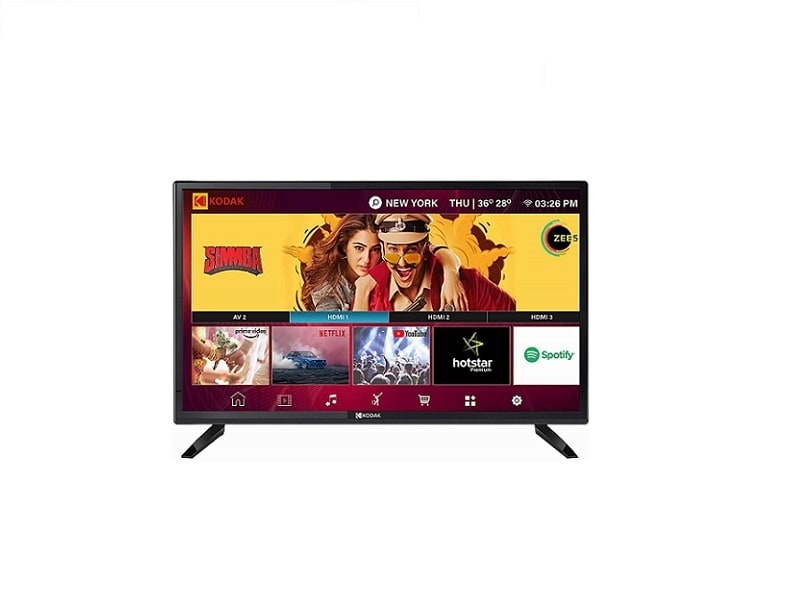 When choosing a television, it is critical to consider its size. Why? Because the screen size affects how your scene looks and how it affects your eyes. If you need a Smart TV for a smaller or medium-sized room, the finest and most perfectly sized – i.e., 32-inch smart tv – is your best bet.
This is a list of the best 32-inch Smart TVs, along with their pros and cons. The 32-inch smart TV is compact and excellent for close watching distances. If it is your first Smart TV or a TV for the guest room, the features are plenty. When most people think of Smart TVs, they think of fantastic sound quality, FHD displays, and easy networking. A Smart TV is a TV set that is tethered to the internet and allows you to simply stream services.
Having the top 32 inch Smart TV in India for your home or workplace is a must. It provides you with unlimited streaming, voice recognition, and other capabilities to enhance your entertainment experience.
If you're having trouble deciding which Smart TV to get and which one to altogether avoid, don't worry. We will help you. All you have to do is sit back and go through this list of the top 5 32 inch LED Smart TV in India.
Best 32-Inch Smart TV 2023
With the introduction of Android OS for the available televisions, users can certainly expect to see an increase in the number of smart TVs across the market, of all brands. Additionally, the streaming sites like Netflix or Amazon Prime and the improved convenience provided by smart TVs make them the next popular electronic device on anyone's list. Well, after the pandemic ravaged the world, individuals were able to find pleasure for themselves using online streaming services.
32-inches is the optimum size for any small-sized to medium-sized room since it is easy on the eyes while yet providing complete visual coverage. Plus, 32-inch TVs are usually not that much expensive as compared to the other ones and they also provide you with the greatest functionality for the price range in which they are offered. And even if they are expensive, you always have the option to take the smart tv on rent.
Top 5 Best 32 Inch Smart TVs in India
Here is a list of the top 32 inch smart TVs in India 2023 to help you make the smart choice.
1- OnePlus 32-inches Y Series HD Ready LED Smart Android TV
With an Android TV along with the brand's OnePlus Connect feature, you may access almost any app on this TV from the app store. Additionally, the content calendar plus OxygenPlay smooth up the UI. To improve things even further, the TV used noise reduction, dynamic contrast, as well as anti-aliasing technologies.
One of the finest features of this TV is its fast 60 Hz refresh rate on the TV'S LED panel, which has a DCI-P3 93 percent color gamut. You also get to have the option of connecting your game panels or Blu-ray devices via the two HDMI connections and 2 USB ports for external devices connectivity.
Pros
The excellent refresh rate of 60 Hz.
It includes a smart Google Assistant as well as OnePlus Connect.
Ideal bezel-less style with a screen-to-body ratio of 91.4 percent.
Simple 10-day replacements and a 2-year overall warranty.
Cons
Doesn't support 1080p resolution.
2- Sony Bravia 32-Inches HD Ready Smart LED TV 32W6103
This Sony TV comes with the advanced smart TV capabilities, including HDR Gaming experience, Screen Mirroring, and nearly all popular streaming platform apps. If you're not able to find a certain app on this Smart TV, you can easily download it from the app store.
With Bravia's X-Reality Pros, along with the inclusion of Motionflow XR 100 display as well as the speakers of 20 Watts Open Baffle 20 Watts Baffle, you can enjoy playing any game you choose. The TV MusicBox, in conjunction with the Clear Audio Plus technology, significantly improves the game experience.
Pros
Excellent display and audio system.
The ideal number of connection points.
Provides HDR gaming features as well as screen mirroring.
Sony Bravia's reputation is behind it.
Cons
It's expensive.
Despite the cons of being expensive, you can still have this TV if you want. That too, without busing a hole in your pockets or going over budget. Simply take the smart tv on rent with Cityfurnish.
3- MI 32-inches 4A Pro HD Ready Smart Android LED TV L32M5-AL
Aside from OnePlus, MI is yet another brand that's also sweeping the gadget market with high-performing and quality devices at low costs. The MI L32M5-AL smart TV is an excellent choice for the users who are looking to invest in a high-quality, high-performing smart MI TV that has exceptional audio system and visual quality at an affordable price.
This TV has not one, nor two, but 3 HDMI ports as well as two USB ports. As a result, the TV's connectivity will never be a problem!
We particularly like the Google Assistant and also the availability of all streaming apps, along with accessibility to the Google Play Store. This is one of the best things available on the market!
Pros
The TV's Dolby + DTS-HD audio system provides excellent sound quality.
It is powered by the most recent Android 9.0 technology.
Excellent connection options.
60 Hz smooth refresh rate.
Cons
Warranty is only available to you if you pay additional charges.
4- Onida 32-Inches HD Ready Smart LED Fire TV 32HIF1
Onida is a well-known brand that's been in the market much too long to go unnoticed. The reason for Onida TV's lifespan and popularity are clearly the quality of their product, and the Onida Fire TV 32HIF1 is proof of that.
The built-in Fire TV's dual band Wi-Fi technology makes this TV's internet streaming much easier and elegant for you to have a great user experience. Plus, because this TV has some of the most popular OTT platforms, you can fully utilize the user experience.
Pros
With a 720p display and a great refresh rate of 6-Hz.
Compatible with almost every accessible streaming service.
Excellent sound system.
The Onida trust backs it up.
Cons
Warranty is only available to you if you pay additional charges, which makes it more expensive.
However, you can still want to have this Smart TV in your room without worrying about the overweighing cost. Yes, you don't even have to worry about going out of your set budget, if you have any. Simply take the smart tv on rent with Cityfurnish.
5- Kodak 32-Inches HD Ready LED TV 32HDX900S
If you want a TV with superb graphics and an imazing display, Kodak is the appropriate brand for you. Why? Because Kodak engineers understand how important display quality can be!
With an impressively sleek design and classy aesthetic, this Kodak Smart TV is an excellent choice for anybody who wants to set a Smart TV on their countertop without worrying about how it appears – because it will always look flawless. This is also one of the few Smart TVs available in a 32-inch display size with an impressive 1080p resolution! With a solid audio system, the viewing experience could not get any better.
Pros
Excellent 1080p resolution.
Good connection choices.
Sleek design that appears elegant and refined.
One year full warranty.
Cons
This TV does not offer you Internet connectivity options
While selecting a TV, you must consider many factors before deciding on one. It could be the price, brand, connectivity, style, design, size, and a lot more. But one thing is for sure, with Cityfurnish, you will never have to think twice about the pricing or the budget. Because when you have a TV on your mind that you need to get, and you are backing away just because of the cost, we have got you covered.
Get your desired Smart TV on rent at affordable rates with other services like free delivery, installation, maintenance, and delivery.