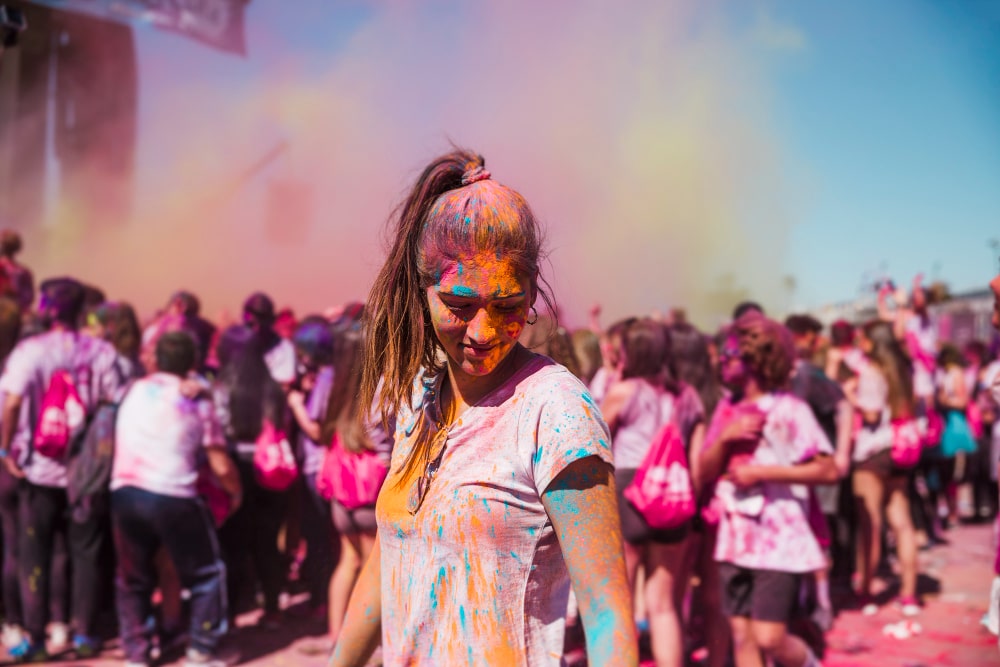 Holi is one of the most vibrant and lively festivals in India! Every year people come together to celebrate the colours of life with delightful happiness. But if you're looking to take your Holi celebration to another level, why not travel somewhere new and experience an entirely different type of merrymaking?
We've got good news for you: India is home to plenty of unique destinations that offer just that! In this article, we are sharing our top 5 picks for the most interesting and unique places to play Holi in India in 2023. Whether you're looking for a more traditional celebration or something quirky and modern, we've got you covered. So read on and get ready for an unforgettable Holi adventure!
What Is Holi and Why Is It Special?
Holi is one of the oldest and most beloved festivals celebrated in India. It marks the arrival of spring and is usually celebrated by people of all ages. The festival is especially known for its vibrant colours and playful atmosphere, as people take part in rituals, sing and dance to traditional music, and enjoy delicacies.
Holi has a special place in many people's hearts as it brings communities together with its vibrant atmosphere. Its spiritual base of celebrating the victory of good over evil, along with its rituals based around purifying yourself through prayer and meditation, sets it apart from other festivals in India. Moreover, it's a great opportunity for people to come together, reconnect with old friends and relatives, and make new ones!
Top 9 Unique and Most Interesting Destinations in India to Play Holi
Holi, the festival of colours, is coming up in 2023 and its high time you start deciding on where to experience it. To make things easier for you, here's a list of five unique and exciting places to play Holi in India:
1- Mathura & Vrindavan:
Known as the birthplace of Lord Krishna, Holi in Mathura & Vrindavan is celebrated with great fervour. The celebrations here include temple visits, singing devotional songs, jagrans (all night prayer vigils) and playing with colour.
If you are looking for the most unique and interesting places in India to observe the colourful spectacle known as Holi, look no further than Mathura & Vrindavan! This region is known as the birthplace of Lord Krishna and is celebrated with great fervour during Holi.
The celebrations start a fortnight before the actual festival of Holi, with people engaging in various fun activities including throwing colour-filled balloons at each other! People dress up according to the occasion and dance to traditional music and songs. The festivities culminate with a grand parade, where people carry colourful idols of Lord Krishna to the main venue and perform traditional prayers.
It is truly a unique experience to be part of this intense celebration, witness the sheer enthusiasm of the locals and join in on the festivities. Don't miss out on this spectacular event – head over to Mathura & Vrindavan for a once-in-a-lifetime experience!
2- Barsana and Nandgaon Lathmar Holi:
One of the most interesting and unique Holi festivals in India takes place in Barsana and Nandgaon. This special occasion adds an additional twist to the already exhilarating festival of colours, as it involves a stick-fighting tradition known as Lathmar Holi. It is based on a playful battle between the women – who use laths (long sticks) – and the men – who use shields. This entertaining tradition showcases all of the fun that comes with the festival!
The women of Barsana have traditionally been known to be much more enthusiastic about Holi than their male counterparts, taking turns smacking each other with laths and trying to snag 'prizes' from men who come from Nandgaon to play. While it might sound like more of a fierce battle than a game, it's actually incredibly playful. All participants wear masks or colourful veils over their faces in order to identify themselves, and many stick tassels of fabric on their weapons for an extra touch of decoration!
3- Udaipur:
Holi in Udaipur is a one-of-a-kind experience―it takes place in the famous historic City Palace complex! In addition to playing with colours, this destination also offers boat rides during holi as well as typical Rajasthani cuisine.
Udaipur is an absolute must-visit if you want to experience Holi in India. Thanks to its unique location in the majestic City Palace Complex, Holi celebrations here are particularly exciting and vibrant. As you enjoy a traditional and fun-filled holiday with friends and family, take a moment to appreciate the magnificent palaces, forts, lakes and mountains around you – it's truly something special!
Moreover, Holi here features many interesting activities:
Colourful decorations – Decorations adorn the City Palace Complex with powder colours, balloons and hand fans for a truly festive atmosphere.
Cultural performances – Enjoy music and dance performances to keep your spirits high during the celebrations.
Delicious regional cuisines – Sample local cuisines such as Gujia, Mathri and other delicious snacks as part of the festivities.
Colour fight 'Laal Dhagun' – Join in on the traditional 'colour fight' at Udaipur's own Laal Dhagun to add plenty of fun to your celebrations.
Traditional games – Play traditional Hindu games like Phoole Do Pandav such as Poker, Pithu Ghar or Kabaddi to add more excitement to your festivities!
So come over to Udaipur and celebrate Holi with fervour in the City Palace Complex – it's an unforgettable experience!
4-Jaipur:
Holi in Jaipur is a unique experience that you don't want to miss! Known as the 'Pink City', it turns into a rainbow of colour when the festivities begin. Among many other things, Jaipur is famous for its historical and grand architecture, traditional furniture and wooden decor pieces, amazing food and colourful Jaipuri razai. You can celebrate Holi to its fullest, eat all the Rajasthani delicacies, and do a lot of shopping. It doesn't matter if you are travelling as a nomad, bachelor or family, this city has something to offer for everybody.
You'll be welcomed with love and smiles as soon as you arrive! Jaipur's Holi celebration is all about traditional customs and rituals. You'll be able to witness people singing folk songs, playing with gulal (coloured powder) and splashing buckets of water all around. There are also various parades and competitions throughout the day, making it all the more exciting! What's more, people here take time out in between their celebrations to savour delicious Holi dishes like gujia, malpua and dahi-bada.
The streets are filled with joyous energy throughout the festival, so make sure you join in on the fun – after all, what better way to celebrate than with a big colourful splash?
5- Shantiniketan:
Shantiniketan, the birthplace of poet Rabindranath Tagore, this vibrant festival is celebrated with a week-long event that includes songs, dances and other cultural activities.
If you want to experience something truly unique during Holi, Shantiniketan in West Bengal should be your go-to destination. Not only is it a great educational trip for its ancient learning systems, but it's also a cultural trip for its celebration of the festival.
In Shantiniketan, Holi is celebrated with much fervour for two days—the first day is dedicated to Amoni or Dol Purnima, and the second is Dhulandi or the actual Holi celebration. On the first day of celebrations, children put up performances to honour goddess Radha—the colour of love! On the second day, people gather in large groups and engage in what they call ' tilak-hola ', where they smear powder colours on each other with great zeal.
But that's not all – Holi at Shantiniketan also brings music and dance performances—from traditional folk songs of Phaguwa to Bhawaiya lokgeet—that everyone can enjoy while playing with with colours. The best part? You get to enjoy this while sitting on benches made from bamboo! So if you're looking to experience something truly unique this Holi, make sure you make your way to Shantiniketan.
6- Hampi:
Hampi, located in the central part of Karnataka, is the perfect place to experience a unique Holi celebration! Known as the City of Ruins, Hampi offers grand architecture and stunning landscapes which create a truly unforgettable ambience during Holi. Locals here love to indulge in their own version of Holi—venishala holi—in which they use dry colours, water pistols and balloons instead of water.
What makes this even more special is that the local markets are flooded with organic colours made from turmeric, wood and flowers. Not only are these natural dyes safe for you and the environment, but they add to the festive spirit even more!
Adding to this, people in Hampi also celebrate 'Gopuja' in the local temples prior to Holi – and it's worth mentioning that this ritual takes place before any other traditional Holi celebrations.
If you're looking for something different from your usual Holi experience, then Hampi definitely has you covered!
7- Agra:
Agra, the city of monuments and love, is a great destination to experience one of the most festive Hindu celebrations – Holi! This vibrant city is home to the world-famous Taj Mahal and has been a popular go-to for those who want to celebrate the spring festival with pomp and grandeur.
What makes Agra's Holi celebration so special?
Taj Mahal: The stunning Taj Mahal provides a magnificent backdrop for the festival of colours. People from all over visit this majestic monument to join in on splashing colours and throwing water balloons with one another.
Cultural Significance: Holi in Agra is deeply rooted in culture, with many celebrating it as per local customs. People sing bhajans (religious songs) and perform traditional dances such as Gagra – a folk dance that involves singing, music, and intense enthusiasm!
Sweets: Whether it's puran poli or gujiya – sweets are an integral part of Holi celebrations in Agra. People offer sweets to each other as tokens of appreciation, adding more colours to this vibrant occasion!
8- Purulia:
You may not know this, but Purulia in West Bengal is one of the most unique destinations to play Holi! The city is renowned for its traditional form of Holi called 'Chauko'. In this special celebration, participants form two concentric circles and exchange natural colours which have been harvested locally. The two teams take turns throwing colourful 'ghooghas' (balls) at each other in an exciting display of fun and festivity.
So what makes this celebration so unique?
Traditional Attire – People dress up in traditional outfits like dhoti-kurta for the occasion, which gives the celebration a vibrant cultural touch.
Folk Music & Dance – Holi celebrations in Purulia are incomplete without folk songs and dance performances that reverberate throughout the city!
Nature's Colours – Instead of synthetic colours, people opt for naturally-harvested hues and dyes to play Holi in Purulia. Not only do these colours look beautiful, but they are also eco-friendly and don't irritate the skin like chemical ingredients do.
Lasting Impact – The memories created during this festival remain etched in your mind forever; after all, it doesn't get much better than celebrating an age-old tradition with locals!
So if you're looking to experience something truly unique during your Holi celebrations, visit Purulia and you won't be disappointed!
9- Mumbai:
When it comes to celebrating Holi, Mumbai is certainly not to be missed! Every year, the city's streets are taken over by festival revelers ready to get their hands on anything and everything colourful. Get ready for some playful water fights and plenty of singing and dancing!
And because Mumbai is one of the most populated cities in India, you can expect a lot of people joining in the festivities. From young children to adults, everyone is out in the streets with their pichkaris (water guns) spraying water on one another in joyous celebration.
Not sure where to start? Here's a list of some of the top spots for celebrating Holi in Mumbai:
Shivaji Park – A large open-air grounds with plenty of space for a game of cricket or a huge dance party!
Juhu Beach – Here you can find colourful rangolis made with flower petals and hundreds of people reveling in the vibrant atmosphere. Plus it offers a beautiful view of Juhu Beach!
Marine Drive – Marine Drive is known as 'the Queen's Necklace' due to its gorgeous lighting display at night. It also doubles as a perfect place for Holi celebrations!
Girgaum Chowpatty – The most visited beach in Mumbai that hosts an array of activities during Holi including music performances and art installations. You won't want to miss out!
So if you're looking for a unique way to celebrate Holi then Mumbai definitely has something special waiting just around the corner!
Tips for Out-of-Towners: How to Fully Enjoy the Festival of Colours
Are you looking for a unique and memorable experience this Holi? You may not know this, but some of the most interesting places to experience the festival of colour are in India! From Mathura and Vrindavan, where Holi celebrations last for a whopping 40 days, to Udaipur's historic City Palace complex, these places offer visitors a truly unforgettable experience.
If you're an out-of-towner looking to take part in the festivities, here are some tips for getting the most out of your visit:
Do your research. Mathura and Vrindavan are considered the birthplace of Lord Krishna, so you will often find sticks and colours being used to reenact his mythical-lila. Make sure to read up on local customs before you go!
Dress appropriately. While colourful clothing is preferred at Holi celebrations, cotton fabrics are recommended as they dry quickly and resist staining more efficiently than synthetics materials. Also remember to accessorise with sunglasses and a hat – shade is essential!
Have an open mind. In Mathura and Vrindavan, the revelry lasts 40 days! As such, it's important to have an open mind and be prepared for an ever-changing festival atmosphere—just what makes it so unique!
Be sure to bring treats. Like any holiday celebration, it's nice to arrive with something special for your host or party-goers (e.g., traditional sweets like gujiya or barfi). It's also a nice gesture that's sure to get you in everyone's good graces!
Essential Things You Must Pack While Going to Play Holi
When you're planning to go celebrate Holi, there are a few essentials that you need to bring along. Here are the top 5:
Colours: Of course! Packing the right colours is essential in order to make sure that you can take part in all the fun. But don't forget, not all colours are created equal; some are gentler on your skin and hair than others, so make sure to research what type will work best for you.
Water Guns: If you want to get into a real water fight – bring a water gun! It'll be sure to take your holi celebration up a notch and add an extra level of excitement and fun.
Sunscreen: Holi usually falls around the same time as summer in India, so it's vital that you bring sunscreen with high SPF rating and preferably one labeled as water-resistant for extra protection.
Change of Clothes: You'll be playing with colours in holi so it's important that you have multiple change of clothes that can handle being drenched in Holi colours without staining them permanently!
Water Bottle: There is no way that the colour wouldn't go into your mouth and eyes. Always keep a fresh water bottle with you and keep gurgling and washing your eyes whenever you feel they are itchy or dry. This will help to protect your eyes and throat from get infected. Keep the bottle tightly closed. We don't want our water get colourful. 
A Towel: This is an absolute must – having a nice big towel with you will help ensure that you can keep yourself dry before going off to participate any after-Holi parties!
With these five essential items on your packing list, you'll be ready for some of the most thrilling holi celebrations in India this 2023!
How to Make the Most of the Fun While Playing Holi in These Places?
If you really want to make the most out of your fun experience while playing Holi in any of these amazing places then there's something you should keep in mind. No matter where your Holi travels take you, it is important to follow safe and responsible behaviour. Keep the following tips in mind while enjoying the colours and festivities:
Respect tradition: Get ready to be part of the unique customs and cultures associated with each place. Also, pay respect to local rituals and customs related to Holi.
Follow safety instructions: It is important to follow safety instructions such as instructions given by temples or festival organisers. Do not get too playful with colours or flames as they can be dangerous and cause serious injuries.
Be mindful of others: Be mindful that not everyone celebrates Holi in similar fashion. Respect others' choices and wear clothes that are not offensive or inappropriate.
Dress up properly: Select comfortable clothing which is water-resistant or waterproof for yourself or for any children accompanying you. Avoid wearing contact lenses as colours may get stuck easily on them. Wear sun protection like sunscreen lotion, hats, goggles etc., as Holi revelers may use artificial colours which contain high amounts of chemicals which can damage your skin if exposed for long periods of time.
Stay hydrated: As you'll be spending some time outdoors playing with colours on a hot day, it is important to stay hydrated by drinking plenty of water throughout the day.
Following these tips will ensure that your experience remains safe, enjoyable, and unforgettable!
What Precautions to Take While Celebrating This Festival?
If you're planning on celebrating Holi in India, there are some precautions you should take. Holi is a festive occasion and it's important to ensure that everyone has an enjoyable and safe experience. Here are the top 5 things to keep in mind:
Protect your skin: Make sure you use a good moisturiser and sunscreen beforehand to protect your skin from any adverse reactions due to the colours used in the festival celebrations.
Avoid black colour: It is considered bad luck for anyone to put black colour on anyone else so avoid it at all costs. Use natural colours such as red, pink, yellow, and green instead.
Wear clothes that can be easily discarded – The colours used in Holi can be very hard to remove from clothing so it's best to wear something that won't ruin if you get it dirty during the festivities!
Don't drink too much: As tempting as it may be, don't get carried away with drinking while celebrating Holi! You should always ensure that you stay in control and know your limits.
Respect others – Holi is a celebration of unity and love so make sure you show respect to everyone celebrating with you and avoid any kind of discrimination or teasing.
Alternatives to Celebrate Holi if You Can't Travel This Year–
Can't make the journey to India for the Holi Festival? No worries! There are plenty of options to celebrate this colourful holiday in new and interesting ways.
1. Host a Zoom Holi Party
Gather friends and family via a virtual meeting app like Zoom and get ready to have some fun! Set up music, play games like Holi Karaoke, or even try cooking traditional Holi dishes that everyone can enjoy.
2. Get Creative with Colour
Put a twist on the festival by breaking away from traditional dry or wet colours. Try using paint or markers to design your own unique designs on clothes, paper, or most any materials you can find at home.
3. Decorate Your Home with Bright Colours
If getting messy isn't your thing, bring the vibrancy of Holi indoors instead! Encourage all the participants in your home to design their own artwork and decorate your home with it. You can also use flowers and wild grasses if you'd prefer something more natural-looking.
4. Visit Local Indian Restaurants
Many local Indian restaurants offer special menus for Holi celebrations where you and your family can savour delicious Indian delicacies in a cultural environment to help get you into a festive mood!
5. Watch a Bollywood Movie Marathon
Take some time out from celebrating and catch up on some classic Bollywood movies that feature themes related to Holi throughout its storyline such as Dilwale Dulhania Le Jayenge (1995), Kabhi Khushi Kabhie Gham (2001), Yeh Jawaani Hai Deewani (2013) etc., or
In conclusion, Holi is undoubtedly one of the most popular celebrations in India. There are various unique and interesting destinations where the most thrilling Holi can be experienced. From Vrindavan, Mathura, Udaipur, Delhi to Jaipur -all these places offer a unique & interesting Holi experience. So, go ahead and experience the vibrant and unique Holi celebration at any of these places and make the most of your upcoming Holi!