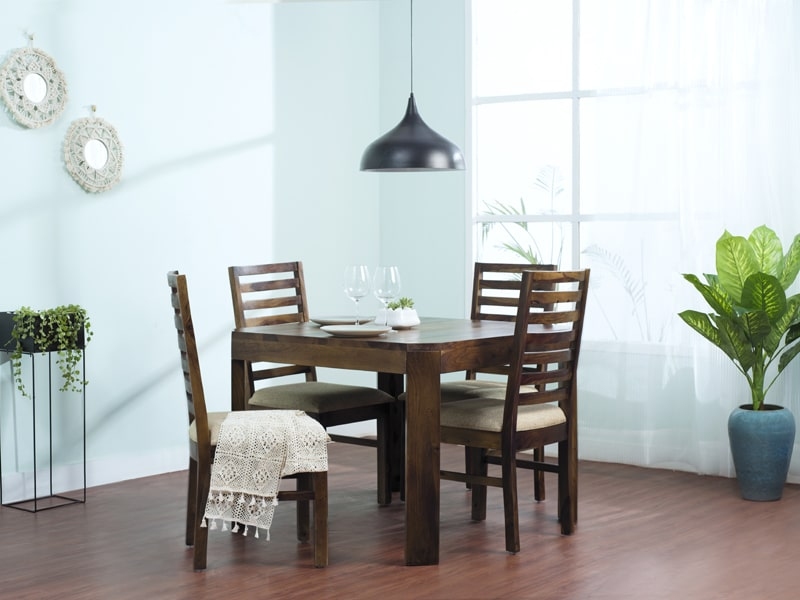 A dining room means something different to every family, for some, it is a small nook off of the kitchen when they eat their meals and for some, it's a big spacious space which is reserved for hosting parties or holidays. Whatever the purpose may be, you can't deny that a dining room is, in fact, the heart of the home.
It's where you enjoy quality time with your loved ones, share a meal with them – so it is natural that you would want it to be clutter free and full of style. However, upgrading the bedroom or the living room is often the priority which makes it easy for dining rooms to fall flat when it comes to styling.
Regardless, there is a lot you can do with the space and take your room's aesthetics to another level, be it selecting sleek dining room furniture or trendy yet classy decor pieces. Whether you need to give your dining room a complete makeover or add just a few basic upgrades like painting the walls, adding new furniture pieces or fixing the floor etc., the possibilities are endless. There are many inexpensive design ideas that you can experiment with or decide on, even over the weekend, and elevate the overall appearance of your dining room.
Don't worry, we will help you turn your dining space into a stylishly classy looking room, which would not only impress the people you invite over but also give you a pleasing, feel-good vibe whenever you spend time there.
Embrace the Hues, Paint the Dining Room Walls!
Enough with the neutral wall colour, be bold and daring, and embrace the hues. Consider painting your walls in different colours like mint green. Green goes great with white, beige and teal, you can go with the contrasting theme. For an unexpected appearance, you can experiment with pastel hues. Try painting your walls with pale blue and add a fresh touch to your dining room area. Blend these calming blues with warm neutrals to give your dining space a coastal vibe.
Make a Statement with Dining Table Centrepieces
Centrepieces on the dining table can make a difference in the room appearance, be it flowers, designer pieces or candles. Try including a combination of rich red candlesticks for a sophisticated look. You can pair the candlesticks with lush greenery to add depth. Taking of floral centrepieces, they would gel extremely well in a vibrant room with, for instance, melon walls and green coloured patterned curtains. These paired together would bring your dining room to life.
Add Personality with a Gallery Wall
Add personality to your dining room area with a gallery or art wall, featuring impressive, botanical-inspired, creative prints. You can make it all-white frames for an extremely elegant and cohesive look. Or add the artwork which you can relate to, which speaks to you. This way you will be adding something unique and lending a personal touch to your dining room look. You can also go with quirky painting or illustrations to elevate the room's decor. Another quirky thing to do is to add a mini blackboard and just scribble drawings on it every now and then.
Add Some Natural Touch to Your Dining Room
Nothing works better than adding some natural elements in a room. Incorporate some plants and flowers in the corners of your dining room to lend a positive and fresh vibe to the room's ambience. We talked about floral centrepieces to the dining table, but along with those, you can place plants over your cabinets, or the corners beside the window (if you have one) and brighten up the whole room beautifully.
The Right Kind of Dining Room Furniture
The success of any dining room mostly depends on the dining furniture. It is a very crucial part, which means it needs to be comfortable, stylish, durable – with a dining table that fits the room and the chairs which complement the table. The furniture should gel with the overall design of the room. Rugged wooden chairs or a side bench would look good in rustic design, while metal furniture would be perfect for a modern themed room. The table can be wooden or glass topped. You can either choose to purchase of getting the dining room furniture on rent, that's up to you but make sure you compare the quality, design and price of multiple vendors and then make a decision.
Incorporate Contemporary Design Items
While chandeliers have always been a popular choice to decorate the dining areas, there are a lot more contemporary design ideas that can be included in the room like cascading bulbs, lanterns or pendant lights. And a variety of styles for you to choose from. Boost the visual interest with an oversized globe pendant in cue with the room's design or add a woven accent pendant. You can also play with textures and add a rattan pendant and a woven rug according to the room's colour palette.
Create an Illusion in Your Dining Room
Mirrors mirrors on the wall! Yes! Apart from the elevating decor items, you can add mirrors to the room. Why? Because mirrors add depth to a room. They create an illusion which makes the room seem larger than it is. So, if your dining room is on the smaller side or is narrow, add a tall mirror or multiple large mirror panels on the wall to add depth and play with the length of your dining area. Plus, mirrors not only look good and classic on the walls, they also reflect light and make the room look more bright.
The Easiest Styling Piece – Rug!
The easiest way to style your room is to add a rug. Most of the room today has an open layout and rugs are the best way to demonstrate the dining area from the adjoining kitchen or living room. If you are feeling a bit daring and want to try something unique, you can paint your floor. A painted floor will have a major impact on your room's decor. Try something like a bright aqua colour and add antique, rustic wooden furniture.
The Unexpected Touches in the Dining Room
Your dining table furniture is the focal point of the dining room. You can add on little elements around your table and chairs to elevate the room. For instance, paint one of the walls with vibrant colour, add punchy and soft pillows on your chairs, place a cabinet in the room to show off your china collection or put the wine bottles, add family photos on the wall, pick out some vibrant curtains, incorporate statement lighting. There are plenty of things that you can do with your dining room to make it look fabulous.
There are countless possibilities to what a person can add to their dining room space and style it. It all depends on an individual's taste and preference, what they want to add and what not. However, we have made a list of some tips for you to follow. We hope it helps you in making your dining room look aesthetic. Do remember Cityfurnish when thinking about getting dining room furniture!