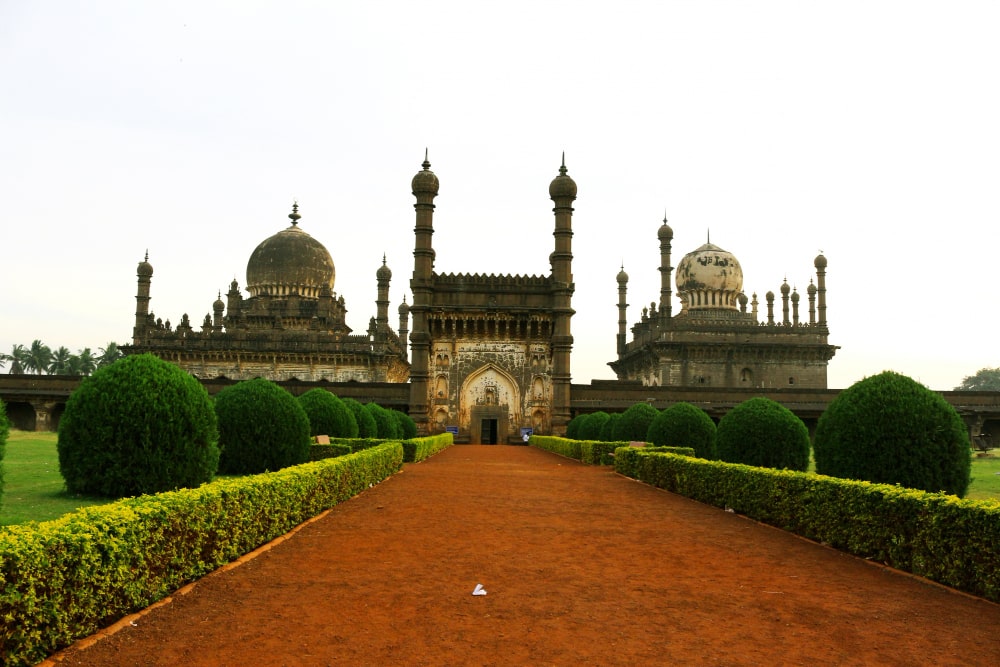 When you think of Hyderabad, what comes to mind? If all you can think of is the world-famous, delectable biryani, you'd be missing out on the true richness and beauty of this pearl of a city.
From its thousand-year history to its modern infrastructure and vibrant culture, Hyderabad is a stunning destination that offers something for everyone. The city's many attractions are just the tip of the iceberg when it comes to what makes this place so special. Let's explore some of the many highlights that have made Hyderabad famous around the world.
We'll be diving into everything from its delicious cuisine and unique arts & crafts to its breathtaking tourist attractions, IT and business hub, booming film industry, renowned educational institutions, diverse cultures and festivals, dynamic sports scene, Telugu language and traditions, bustling local markets and their specialties, extensive public transportation system and comfortable accommodation options. Let's start exploring!
1- Historical Importance of Hyderabad
Hyderabad is full of interesting historical stories and facts. The city has been around for four centuries and is home to many monuments with unique architecture and fascinating tales. From the old fort of Golconda to the stunning Charminar, every monument has a story to tell that makes Hyderabad one of the most vibrant cities in India.
The city is a melting pot of diverse cultures that have added to India's rich heritage. It has been a major center for Islamic art, architecture, culture and education over the centuries. Notable sites like Salarjung Museum, Chowmallah Palace and Ramoji Film City are just some of the places worth exploring in Hyderabad. Furthermore, Hyderabad was once known as a pearl and diamond trading center which is still evident in its culture today with its variety of jewelry stores.
2- Tourist Attractions in Hyderabad
As one of the oldest cities in India, Hyderabad is rich with tourist attractions perfect for sightseers. Whether you're looking for monuments and museums, exploring the local markets, or wandering around the city's many gardens, here are a few of the must-see attractions that will give you a unique glimpse into this vibrant city.
a- Charminar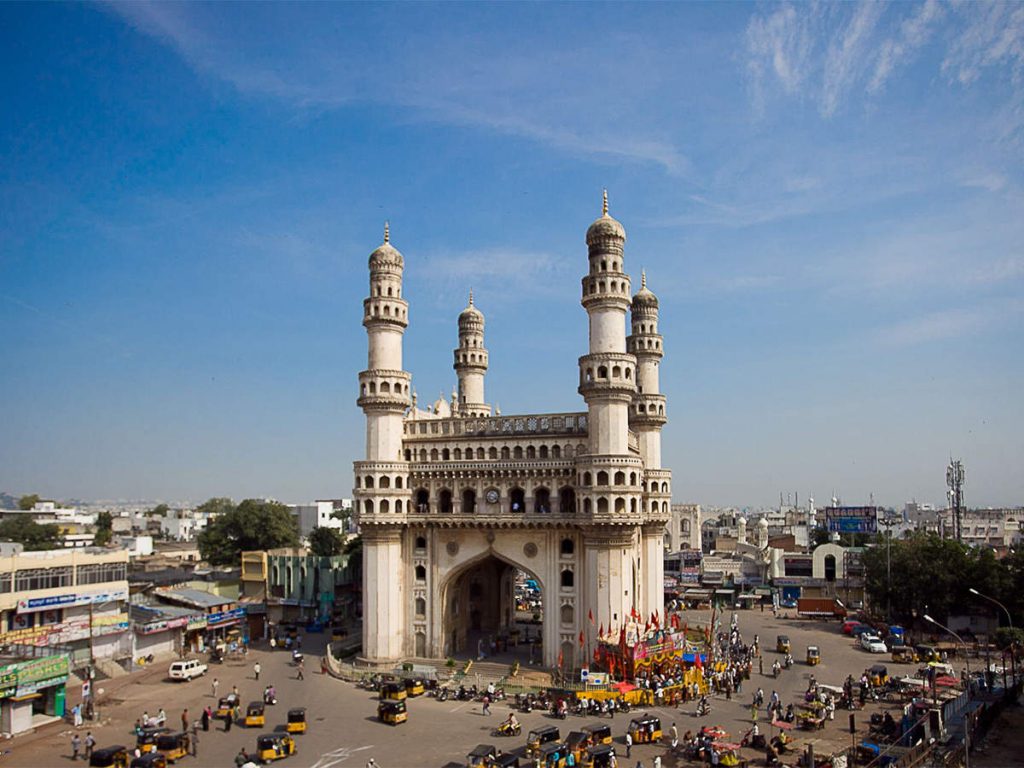 This iconic structure was built in 1591 and is visible just about anywhere in Hyderabad. Charminar stands tall and proud at the center of the old city and is an architectural wonder to behold—you can even enjoy a spectacular view of downtown Hyderabad from its top level.
b- Golconda Fort

The ruins of this once-mighty fort reflect a rich history and culture. It's reputed to have been home to some of India's most famous diamonds, including the Kohinoor and Hope Diamonds, so it's well worth exploring! Plus, visitors will enjoy stunning views from atop its many towers.
c- Hussain Sagar Lake
Spread across 15 square kilometers in central Hyderabad, this large lake offers plenty of recreational activities—from jet skiing and speed boating to kayaking and swimming—as well as beautiful views lined with palm trees.
These are just a few gems that make Hyderabad an exciting destination for travelers from all over. With its diverse culture, rich history, and stunning architecture, there's something for everyone here!
3- Cuisine in Hyderabad
Ah, the food! We know you're probably already salivating just thinking about it. Hyderabad is known for its delicious and hearty cuisine, the most famous of which include Biryani, Haleem, Irani Chai and more.
a- Biryani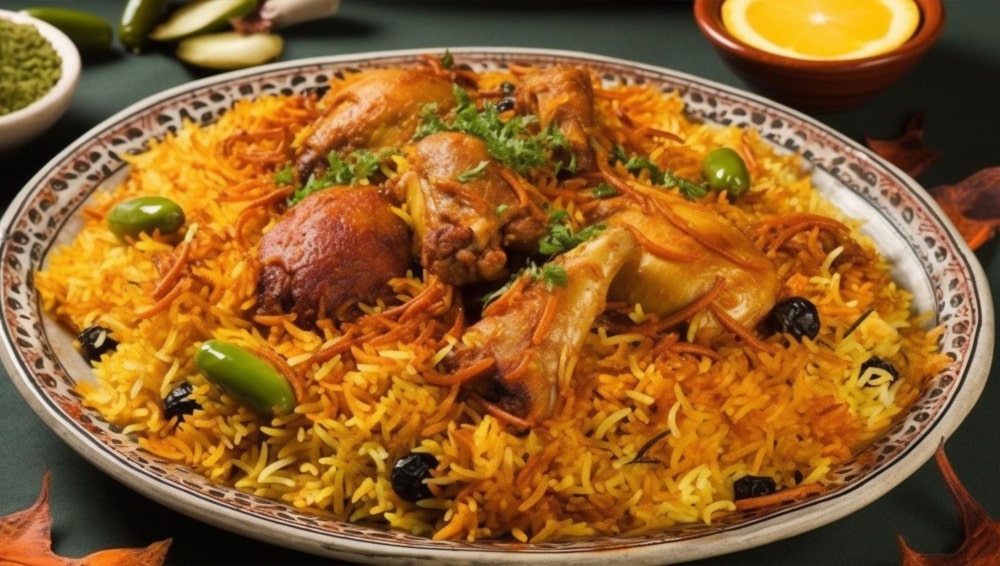 Hyderabad is crazy about biryani—it's part of its deep-rooted culture and history. Each region of Hyderabad has a different type of biryani: the Nawabi biryani from the Old City area or the iconic Kachche Ghost ki Biryani popular among locals in Ramanthapur.
b- Haleem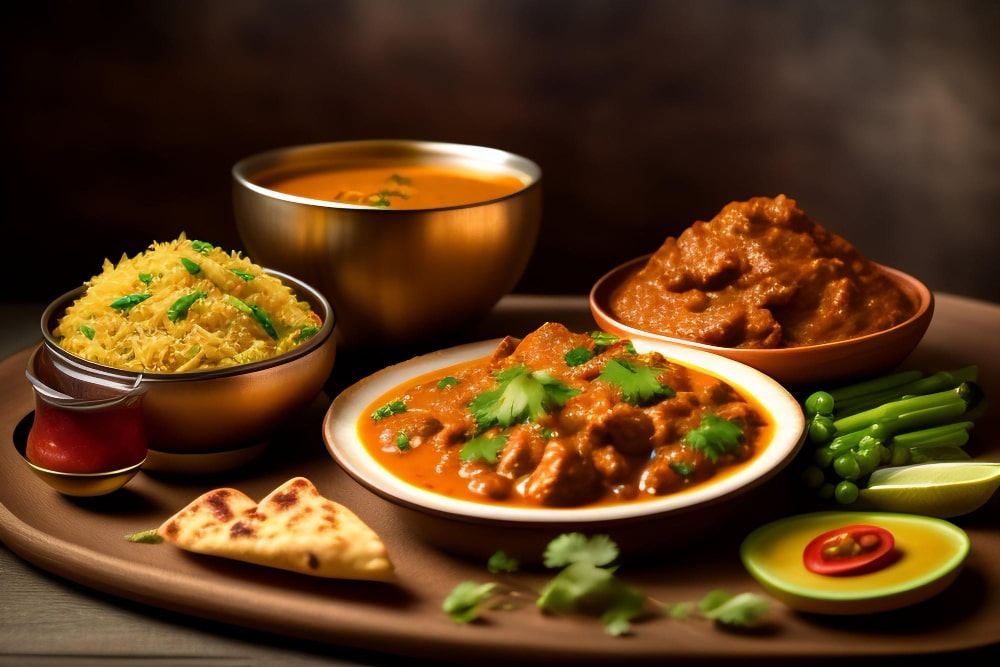 Haleem is a traditional soup dish in Hyderabadi cuisine that combines both vegetables and wheat as a base to make a thick puree-like mixture. It usually contains lentils (dal), minced meat (goat) and rich spices like pepper, cinnamon, cardamom and others. The dish has a distinct flavor because it's cooked on low heat for several hours until the ingredients melt into one another, creating an exceptionally creamy finish. Click here for story of Haleem, a royal dish.
c- Irani Chai
Irani chai has been around for decades in Hyderabad and was formerly known as "Milk Tea" or "Doodh Pati Chai". It is prepared with milk instead of water brewed with either black tea or green tea leaves and is served with generous servings of sweet condiments like sugar or jaggery to make this drink even more comforting!
4- Arts and Crafts of Hyderabad
Let's not forget the incredible arts and crafts of Hyderabad. The city is known for amazing things like lacquerware, bidriware, and pearls—all of which have become integral parts of Hyderabad's rich culture over time.
a- Lacquerware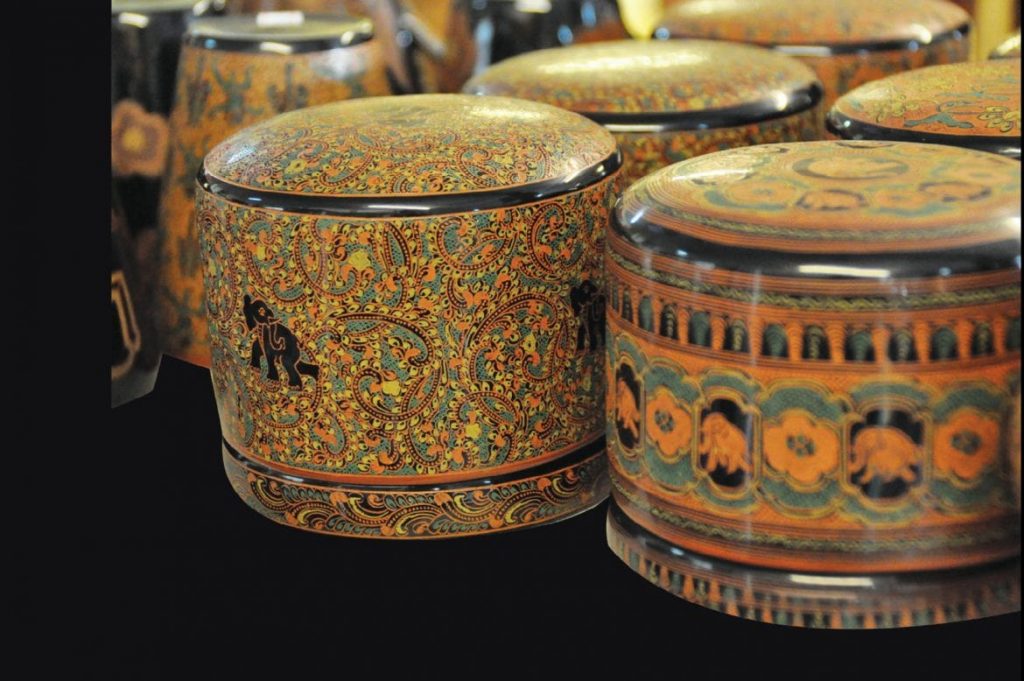 Lacquerware is made from a resin taken from certain trees, and then hand painted with great attention to detail to create beautiful patterns. The artisans create pieces like trays, boxes, mugs, vases and plates—each one being a unique work of art. The eye-catching pieces are popular souvenirs for travelers who visit the city.
b- Bidriware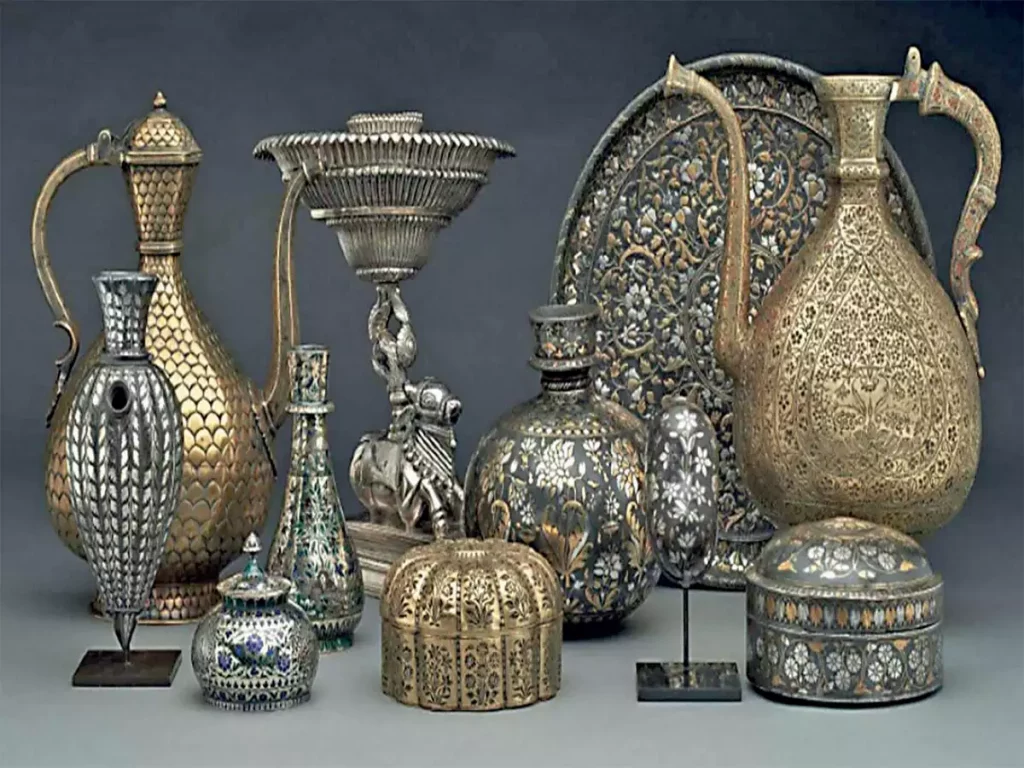 Bidriware is another type of craftsmanship found in Hyderabad that has been around for centuries. It's a style of metalwork created using an alloy of zinc and copper, which is then inlaid with silver or gold threads to make intricate patterns. Jewelry, bowls and plates are the most common products made by local artisans in this style— all of them beautiful examples of skilled craftsmanship found nowhere else in the world!
c- Pearls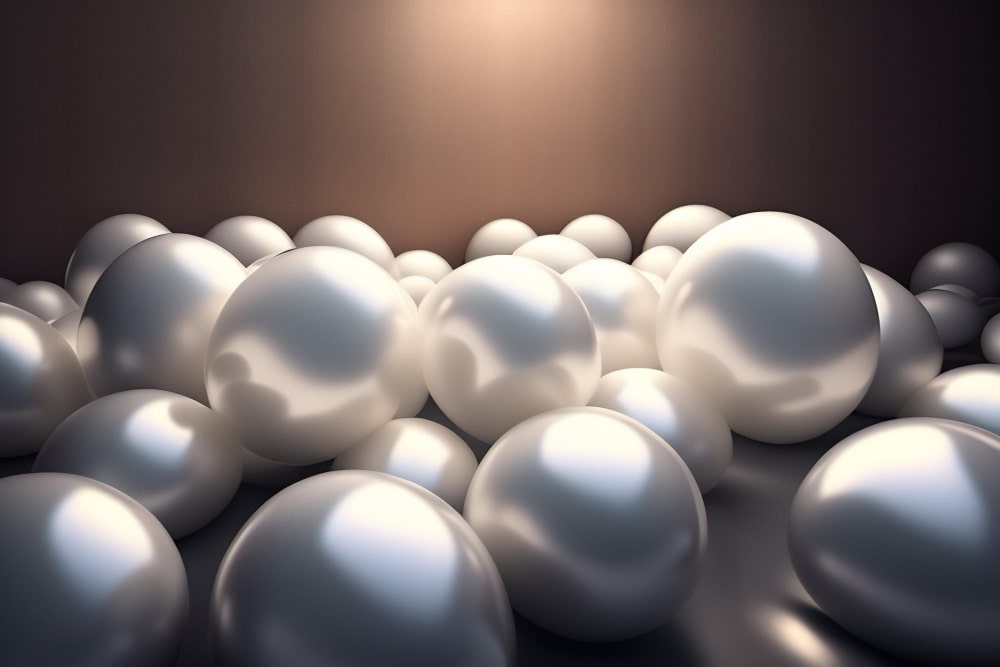 Finally, Hyderabad is also known as "The Pearl City". Since ancient times, pearls have been harvested from oysters found off the coast near Musi river – with much skill required to achieve lustrous results. These pearls can be seen crafted into traditional jewelry that's sure to catch your eye in any local market!
5- IT and Business Hub of Hyderabad
You undoubtedly already know that Hyderabad is well-known for its delectable biryani and diverse culture, but did you also know that it has recently emerged as a major centre for commerce and IT? Hyderabad has emerged as one of the most significant cities in India for technology and business because to the establishment of major multinational corporations there like Google and Microsoft.
a- Technology Hub
With numerous major businesses making significant investments in the city's IT sector, Hyderabad is swiftly developing into a worldwide tech hub. Hyderabad has seen a boom in tech firms, many of which were founded by successful Indian businesspeople. This has significantly impacted the city's economy by encouraging additional enterprises to locate there.
b- Business Hub
Several of India's leading companies have chosen to establish offices in Hyderabad because the city is likewise growing in popularity among business experts. Hyderabad has been the base of operations for organisations like Amazon, Uber, and Microsoft for conducting business in the area. Numerous sizable conference centres and business events held in the city annually draw tens of thousands of attendees.
These factors are making Hyderabad one of the most vibrant cities in India for businesses from all around the world. Entrepreneurs can find plenty of opportunities here to set up their own ventures or join existing ones as part of their career development path as well as benefit from a rich culture that encourages innovation and growth.
6- Film Industry in Hyderabad
Did you know that Hyderabad is also home to one of the biggest and most popular film industries in India?It's called Tollywood, and it's a centre for filmmakers with a dazzling selection of films just waiting to be seen!
Hyderabad's film business was founded about a century ago with the creation of silent movies, and it is still one of the top-grossing movie industries in India. It is understandable why people go from all over the world to Hyderabad to participate in filming a movie given the wonderful movies and performances Hyderabadi filmmakers have been able to produce with the technology and resources available today.
a- Movie sets
Hollywood aficionados will like learning about the breathtaking sets that are offered here. From ancient temples and palaces to modern office buildings and shopping malls, there's something for everyone who loves a good movie set. Plus, you can even find smaller sets scattered around major cities like Hyderabad that will make great backdrops for any type of scene.
b- Entertainment
The entertainment is top-notch—so if you're looking for something new to watch or experience, this is definitely the place to do it! There are amazing theater performances with talented actors from all over South India. And if you're looking for some traditional kathak dances or live music concerts—you can find them here too!
The film industry in Hyderabad definitely adds another layer of richness and culture to the city—so don't miss out on seeing what the locals are up to behind-the-scenes!
7- Education in Hyderabad
History of education in Hyderabad is lengthy and illustrious. University of Hyderabad and the International Institute of Information Technology, are located in the city, and these are some of India's most esteemed academic institutions. These colleges have helped build an educated society for decades. These universities are renowned for their demanding curriculum, modern approach and a wide range of subjects.
Hyderabad is also home to a large number of public and private schools that helps students to flourish in every way. With numerous prestigious campuses established in the city by renowned national and international universities, students now have access to cutting-edge facilities and a more thorough educational experience. Because of this, Hyderabad is a great choice for prospective students looking for high-quality global education.
From elementary schools to universities, you can find it all here in Hyderabad—and most importantly, get an education from one of India's most prestigious cities!
8- Festivals and Traditions in Hyderabad
When it comes to festivals and traditions, Hyderabad never fails to provide a sight for sore eyes. With the city being rich in culture, there are many festivals and traditions to explore.
a- Regular Festivals
Being a culturally diverse city, Hyderabad celebrates a variety of festivals like Eid, Rakshabandhan and Christmas, among many others. People of different religions living together in harmony is what makes the city unique.
b- Special Festivals
One of the most popular festivals celebrated in the city is Bonalu, which marks the start of monsoon season in Hyderabad. During Bonalu, floats are filled with offerings that are placed at temples. There's also Diwali which is an integral part of Hyderabadi culture and celebrated with enthusiasm as it marks the start of winter season.
c- Daily Traditions
Not only festivals, but everyday traditions are part of life in Hyderabad too—like offering prayers at temples or mosques. There's also a tradition called "defying death" where people from all walks of life come together to join an annual procession—it includes walking barefoot on burning coal while carrying pots filled with live fish or even shoes over their heads—as they believe it will protect them against bad luck!
9- Sports Events and Culture in Hyderabad
When it comes to sports, Hyderabad is a real powerhouse. You'll find not only cricket but also a range of other popular sports such as field hockey, football, and kabaddi. There are several world-class sports teams and plenty of opportunities to witness thrilling events by the pros.
Even if you don't follow sports, you'll love watching cricket games at the Rajiv Gandhi International Cricket Stadium during Indian Premier League matches held every year between March and May. The stadium has over 60,000 people capacity and is one of Asia's best cricket venues.
Culture is what makes Hyderabad truly unique and captivating to explore. Not only do you get to see traditional art forms like lacquerware, bidriware, golden pearls and silks in local markets—you can also experience their distinct culture through the cuisine that combines Persian flavors with regional spices and vegetables. Don't forget about the iconic Irani Chai that's always served with crisp Osmania biscuits—ask any local for their favorite spot!
But the city doesn't just celebrate traditional festivals; it also pays tribute to its diverse cultures with modern events like Bonalu (a Hindu festival held in July) or Deccan Festival (a 5-day event which takes place every year in August).
10- Language, Handicrafts, and Transportation of Hyderabad
When it comes to language, culture, transportation and handicrafts, Hyderabad is truly unique. With its own dialect of Telugu, a variety of rich cultural traditions, and an eclectic mix of handicrafts and local markets, this vibrant city is sure to capture your heart.
a- Language
Hyderabad's primary language is Telugu, with Urdu also being commonly spoken by locals. In recent years English has also become widely used in the city. Hyderabad's own dialect called Hyderabadi Telugu combines elements of Urdu and Hindi languages with current day slang.
b- Handicrafts
The local markets and bazaars are filled with unique craftwork like lacquerware and Bidriware—intricately decorated metal items—designed specifically for the city. One cannot go shopping in Hyderabad without taking home strings of pearls or pieces of exquisite Zari Zardozi embroidery as souvenirs! Plus a number of iconic hand-crafted items have been named as Geographical Indications (GIs) by the government to promote the sale of authentic goods made in the region.
c- Transportation
Public transport is easily available including Metropolitan busses, MMTS trains, autos, taxis and even water busses called NMMT boats on the Musi River. The inner city roads are well connected to the outer regions with efficient highways that link various parts of Hyderabad making it conveniently accessible from any part of India.
So what are you waiting for? Come explore all that amazing city that is Hyderabad!
11- Accommodations for Tourists in Hyderabad
India is known for its hospitality and Hyderabad is no exception. When it comes to looking for the best places to stay while in the city, you'll have many options to choose from. With so much to do and see in Hyderabad, it's easy to find the perfect hotel or resort that meets your needs. From stylish hotels in the heart of the city's business district to quaint bed-and-breakfasts in the suburbs or traditional guesthouses, there are plenty of choices when it comes to accommodation.
a- Hotels
For international travelers, there are a number of luxurious five-star hotels located within minutes of the city center. These offer numerous amenities such as swimming pools, fitness centers, spa treatments and private dining options. Whether your stay is for business or pleasure, you will find a hotel that fits your needs and budget. Many of these hotels also provide shuttle services and provide access to some of the best shopping in India as well as major attractions like Charminar, Golconda Fort and Hussain Sagar Lake.
b- Bed & Breakfasts
For those looking for a more homely experience during their stay, there are B&Bs located throughout Hyderabad catering specifically for international guests. These guesthouses are typically family owned and offer traditional Indian hospitality coupled with high quality furniture and furnishing, modern amenities and appliances such as Wi-Fi access, air conditioning and televisions in each room. Prices are generally lower compared to hotels while providing most (if not all) of the comforts of home so these can be great choices if you're traveling on a budget or don't need all the bells and whistles of regular hotels.
No matter what kind of visitor you are, you're sure to find an accommodation
Parting Words
Hyderabad is a land of many surprises and a city of endless possibilities. Despite its rich history and culture, it has stayed up-to-date with modernity and offers plenty of modern amenities and attractions. Whether you're looking for a different type of cuisine, searching for new experiences, or simply wanting to explore something unique, the city of Hyderabad has something for everyone. From its delicious culinary delights to its bustling culture and entertaining nightlife, there's plenty to explore in this city. So, come and experience the richness and diversity of Hyderabad for yourself and explore its many wonders.