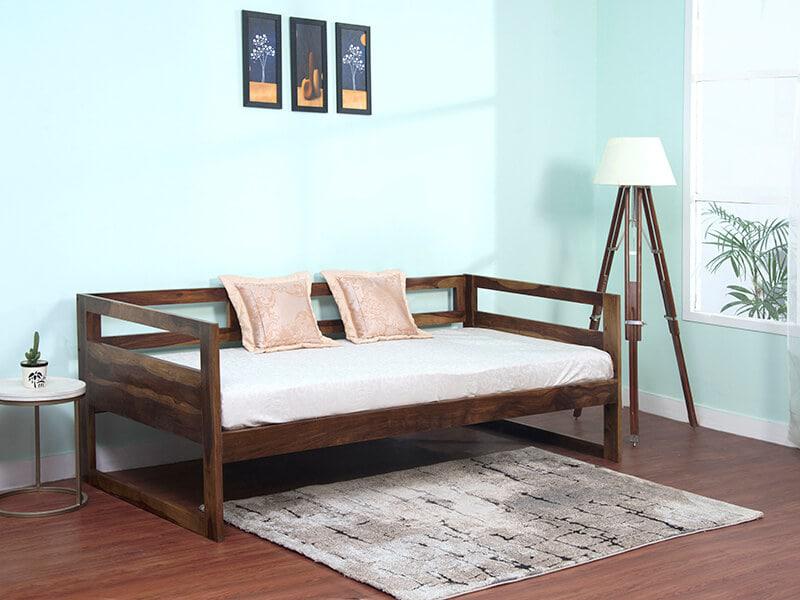 Have you ever wished for furniture that serves multiple purposes? A piece of furniture that can transform from one form to another? Well, look no further – we've got the solution for you. Introducing Sofa Cum Bed – the multifunctional, stylish, space saving furniture you've been dreaming off.
A traditional bedroom with wood bed is a great idea but what if you have a crunch os space or money? That is where sofa cum bed enters the picture.
Sofa Cum Bed comes in different styles, sizes and designs to fit every nook and corner of your home. It could be a pull-out Sofa Cum Bed or a folding one; maybe you're looking for a luxurious L-shaped one or a cozy sectional; or go all out with a leather Sofa Cum Bed that adds a touch of opulence to any room. Plus, there are even bunk bed and trundle bed combinations if you're looking for some extra sleeping space. And if space saving is your top priority, try out the Murphy Bed option.
No matter what design you choose, a Sofa Cum Bed has several advantages over other types of couches and beds. In this article, we'll discuss some of the many types of Sofa Cum Beds available and the benefits they offer.
What Is a Sofa Cum Bed?
A sofa cum bed is an item of hybrid furniture that blends the convenience of a bed with the comfort of a sofabed. Given that it can be used for both seating and sleeping, it's a fantastic option for people who want to effectively utilise their available room. Sofa cum beds come in a range of designs and dimensions, from modern two-seaters to opulent couches with additional storage. There are many choices, from pull-out beds to sectional sleepers!The beauty of a sofa cum bed is that it seamlessly blends into your living space while still offering all the convenience of accommodating overnight visitors. Whether you're looking for something fashionable or wanting extra storage space, there's sure to be a sofa cum bed out there that meets your needs. Plus, many models also come with built-in drawers and shelves, so you can make use of every inch of space you have!
Different Types of Sofa Cum Beds
One of the most popular pieces of furniture for modern homes is the sofa cum bed. This multifunctional piece offers both comfortable seating and space-saving sleep solutions. With a wide range of designs and styles, you can easily find one to perfectly fit your needs. From traditional recliners and pull-out options to modern L-shaped sections, there's a sofa cum bed for every space!
Take a look at the different types of sofa cum beds and find one that's just right for you:
Convertible Sofa Cum Bed: Perfect for small apartments, these sofas easily convert from a couch to a full-sized bed with just the flip of a switch or two. Many also have storage compartments underneath to help you store bedding, pillows, throws and more.
Pull-Out Sofa Cum Bed: These sofas feature smooth sliding mechanisms that allow them to easily pull out into a full-sized mattress in seconds. They are perfect for impromptu guests or regular sleepovers!
Folding Sofa Cum Bed: With an easy folding mechanism and plenty of cushioning, folding sofas are the most versatile options on the market. Many come with attachable ottomans that can double as either seating or extra sleeping space.
Stylish Sofa Cum Bed: From leather upholstery designs to trendy tufted cloth options, stylish sofa cum beds are perfect for adding style and sophistication to any room in your home. Plus, they make instant guest rooms when you need them!
1- Convertible Sofa Cum Beds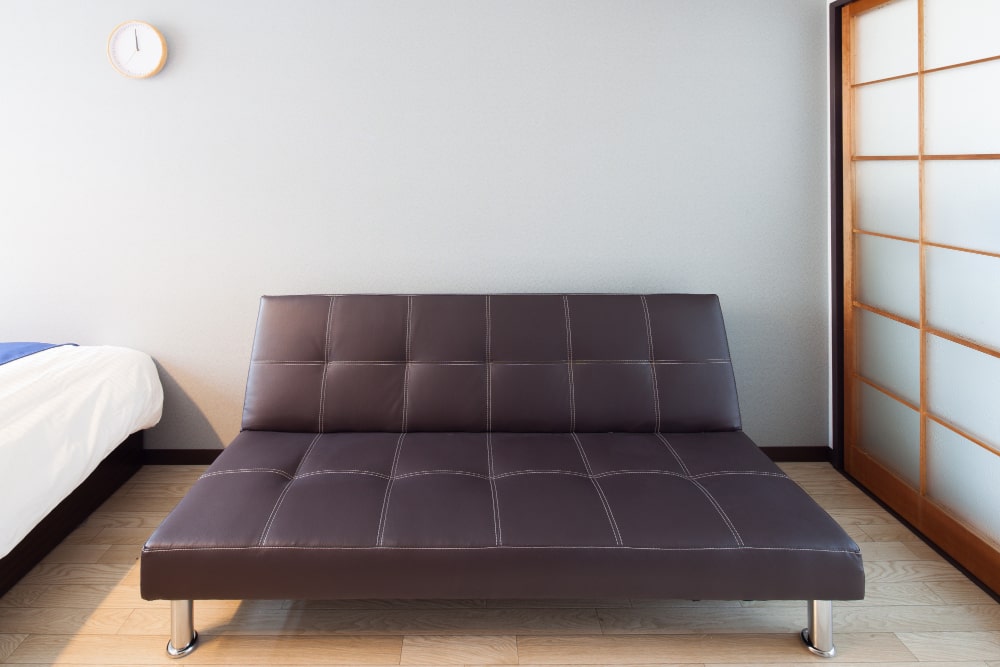 One of the most popular types of sofa cum beds is the convertible one. It has both sofa and bed mode and it's very easy to switch between them.
The best thing about this type is that it looks like a sophisticated piece of furniture when in sofa mode, but when the time for sleeping arrives, it opens up to be a comfortable bed.
Versatility: The other nice thing about convertible sofas-cum-beds is that they come in different sizes, styles and fabrics, so they fit any home. They can also be used as sleeper sofas in condos or guest rooms, or as multipurpose pieces in living rooms—providing seating during the day and extra sleeping space at night.
Stylish design: When compared to traditional sleeper sofas, convertible sofa cum beds are more attractive and modern-looking because of their "folded-down" design. You don't need to worry about hiding a bulky mattress when it's not in use.
Comfort: The convertible sofa-cum-beds usually have thick mattresses that offer great body support during sleep — perfect for those who tend to toss and turn all night long! Plus, you can easily find specialised ones that are designed for people who have back pain since they are made with extra cushioning for comfort.
2- Pull-Out Sofa Cum Beds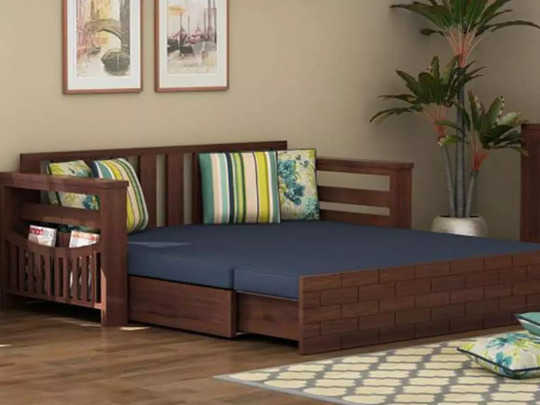 Pull-out sofa cum beds are ideal for small spaces and can easily be transformed from a couches to a bed whenever the need arises. They come in different sizes and designs, so you can choose one that fits your home. Even better, they're very affordable!
The great thing about pull-out sofa cum beds is that you get an extra sleeping space without having to buy a regular bed. Plus, they can fit in tight places since they don't take up much room when not in use. And because most of them have storage space underneath, you can keep extra pillows and blankets close at hand.
Whether you want a traditional pull-out sofa cum bed or a contemporary design with a modern look, you'll find something perfect for your home. Plus, many of these convertible couches feature thick foam mattresses and easy-to-use mechanisms for opening and closing them with minimal effort.
3- Folding Sofa Cum Beds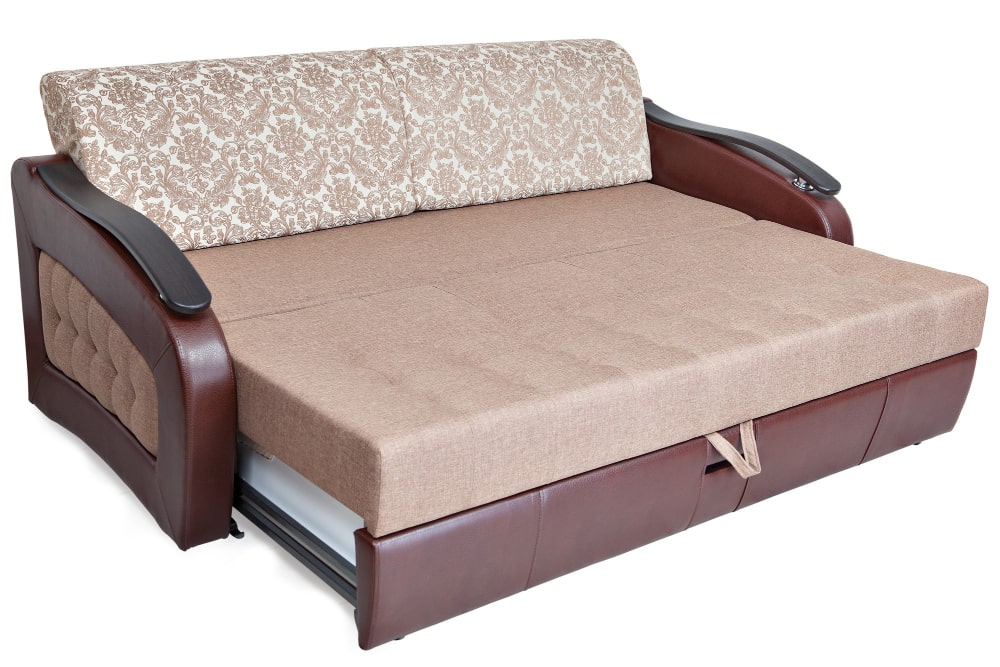 Folding sofa beds are excellent for small areas. Although it occupies little room, this style of couch bed still gives you the necessary seating and sleeping space.
Versatility: The flexibility that folding sofa beds provide is their finest feature. It quickly converts from a sofa to a bed with just a few quick movements. As a result, your visitors will be able to rest comfortably when necessary, and you can use the area for additional sitting during the day.
Compact design: Because of how small these beds are, they don't take up much space in your house and are simple to tuck away when not in use. They also come in a variety of materials and designs that go with any décor, so your home will still look fantastic even if it is always on display.
Strength & Durability: Folding sofa cum beds are designed to be strong and durable; they often come with steel frames that support the weight of those sleeping on them without any problems. Plus, since they do not require any tools to assemble or disassemble, they are easy to move around when needed.
4- Bunk Bed Sofa Cum Bed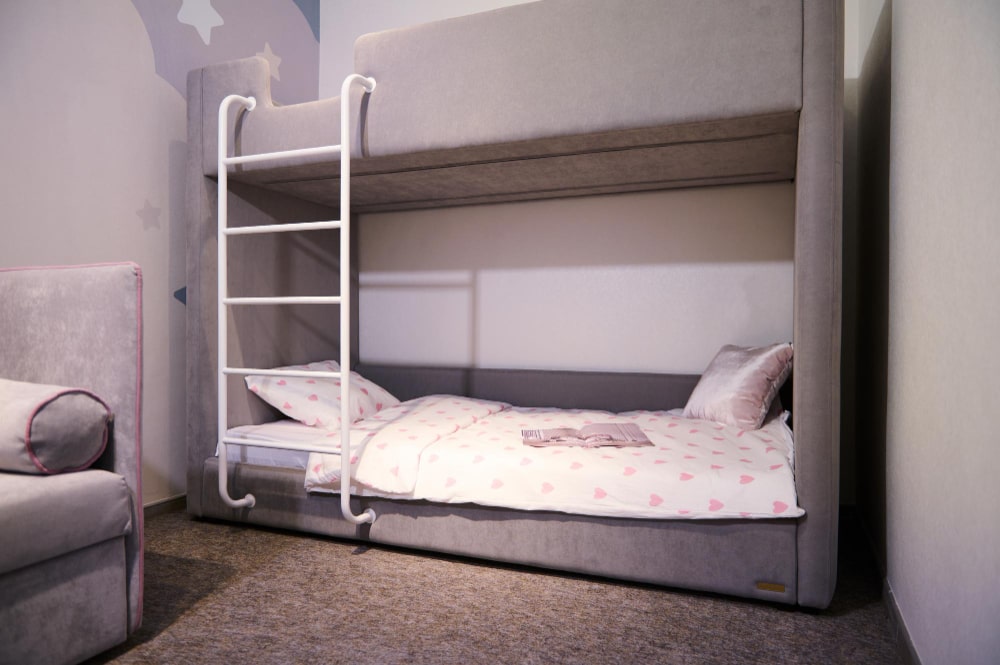 The Bunk Bed Sofa Cum Bed is a different style of sofa bed that you might want to think about. This piece of furniture is a perennial favourite among children and provides hours of entertainment for all ages.
Features: Bunk Bed Sofa Cum Bed usually comes with two beds stacked on top of each other, a ladder for accessing the upper bunk and two couch seats for added seating. It also provides storage space at the bottom or within the side or back panels to keep your living area clutter free.
Advantages: One of the main advantages of having a Bunk Bed Sofa Cum Bed is that it provides more sleeping space without taking up extra room. This kind of bed also makes it easy to entertain guests, and you can easily accommodate them with enough sleeping area available. Apart from that, this type of bed is great for kids to play around on due to its unique design and colours.
All in all, it's hard to deny that Bunk Bed Sofa Cum Beds are really versatile pieces of furniture which offer more than just sleeping space – they can be used as a seating area or even as a space saving option in your home without occupying too much area.
5- Reclining sofa cum bed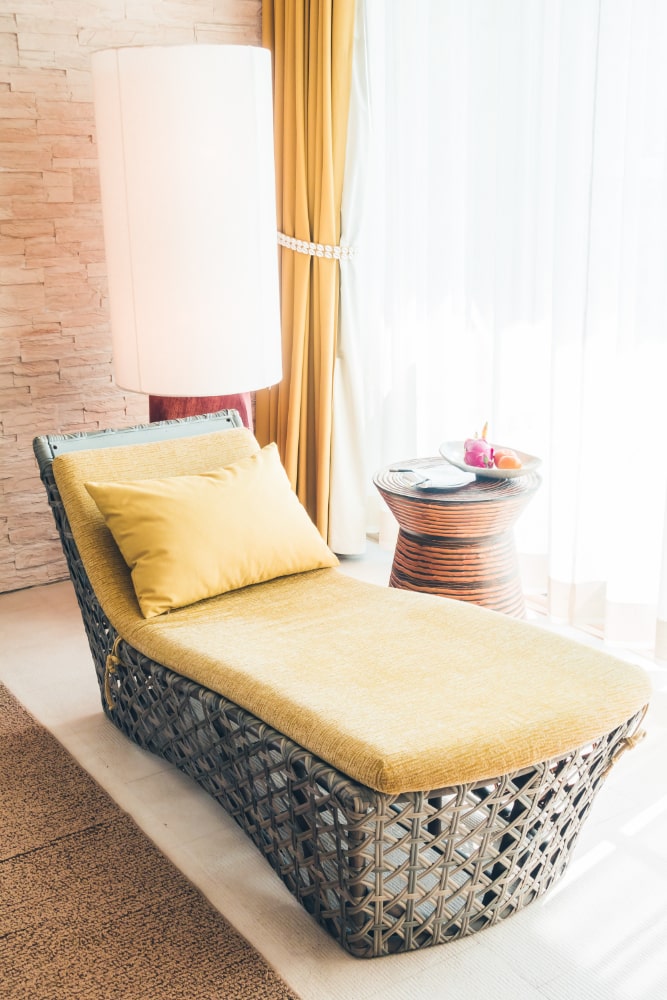 If you want to unwind and lounge in the utmost luxury, reclining sofa cum beds are a great choice. These sofas have movable backrests that can be set in a variety of configurations for a more comfortable experience.
For those who enjoy relaxing after a long day, reclining couch beds are ideal. The adjustable backrest allows you to discover the posture that is most comfortable for your body whether you're reading, watching a movie, or simply dozing. For optimum comfort, some reclining sofas even have built-in armrests and footrests.
Additionally, because they can be transformed into full-length beds that can accommodate one to two people, reclining sofas are just as useful as normal sofas and are perfect for when the guests come over. This means that they provide both style and function and make great additions to any living space.
Benefits of a Sofa Cum Bed
It's obvious that a sofa cum bed has more than a few benefits, but let's go into detail here why they're great and why you should consider getting one.
Space saving: The most obvious benefit of a sofa cum bed is that it can save you some serious space in your home. With sofas with built-in beds, you get the best of both worlds; an extra bed for visitors or family members when necessary, but without having to sacrifice floor space when you don't need it.
Multifunctional and Stylish: Sofa cum beds are also versatile and stylish. They come in all sorts of shapes and sizes, and as a bonus look just as good as regular sofas or beds. You can choose which style works best in your living room, bedroom or guest room — no matter how tight the space — yet still get the extra seating surface if needed.
Durable: When it comes to durability and dependability, sofa cum beds offer the same benefits as regular sofas: they are strong enough to handle everyday wear and tear, plus they hold up great over time due to their sturdily built frames.
All in all, the perfect sofa cum bed for you will depend on your needs and preferences. Whether you're looking for a multifunctional piece of furniture or something that can save you space, there's a sofa cum bed for everyone. Consider your budget, needs, and design preferences before you set out to make your purchase. Whichever style of sofa cum bed you choose, you'll be able to enjoy the ultimate convenience and comfort of a transforming furniture.