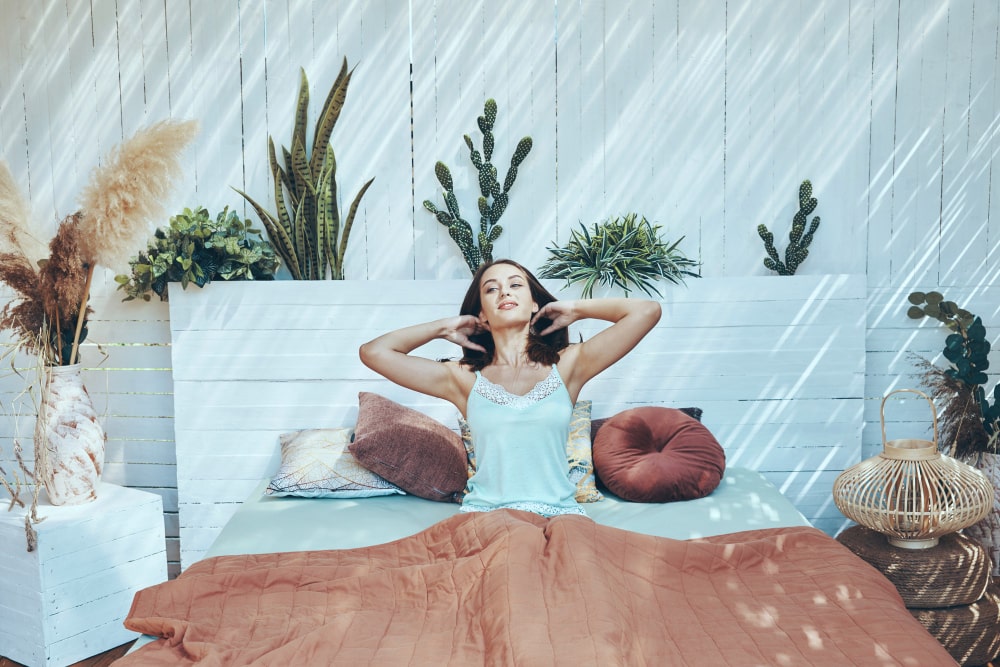 Spring is the perfect season for refreshing your home decor. The warm weather, sunny days, and blooming flowers provide the perfect inspiration for livening up your space. From decluttering and cleaning to adding fresh greenery and flowers, there are so many ways you can make your home a breezier and prettier place this spring.
If you want to start the season off with an updated look for your home decor, get ready to remodel, refresh, and revamp a few rooms. Whether you turn to paint, fabrics, furniture, or décor accents—or decide to do all of these things—you can give each space its own little spring makeover.
Do you need some ideas? We've got plenty! In this article we'll share fifteen tips and tricks on how to make your home breezier and prettier this spring. Let's get started!
1- Declutter and Clean Your Home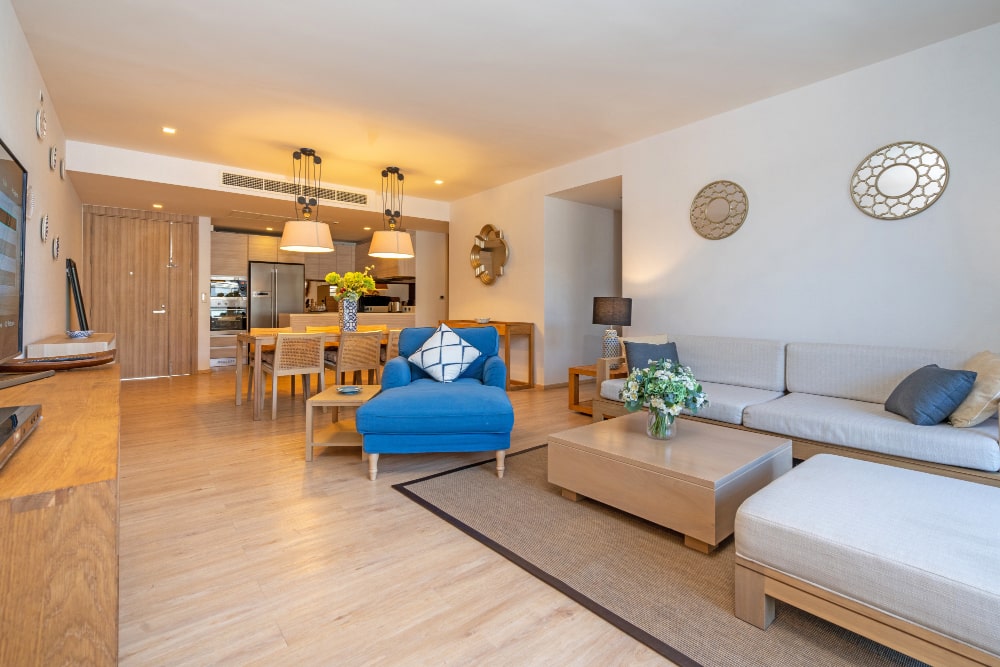 Now that the weather is finally warming up and the days are getting longer, it's time to spruce up your home decor for spring. And getting your home ready for a new season means decluttering and cleaning from top to bottom.
Start by tackling each room one-by-one and removing knick knacks, outdated decorations, or items that aren't used. Don't forget about storage spaces like closets and cupboards too! Once you've gotten rid of things you don't need or want, give the house a thorough cleaning by dusting all surfaces, vacuuming carpets and rugs, and washing windows—inside and out. To really get that refreshing feeling of a clean house, remember to open the windows to let in some fresh air—it helps with getting rid of any stale smells or odours as well.
Decluttering and cleaning your home gives you the perfect opportunity to transform each space with some beautiful spring décor. So go ahead—start planning for the new season!
2- Add Fresh Flowers and Greenery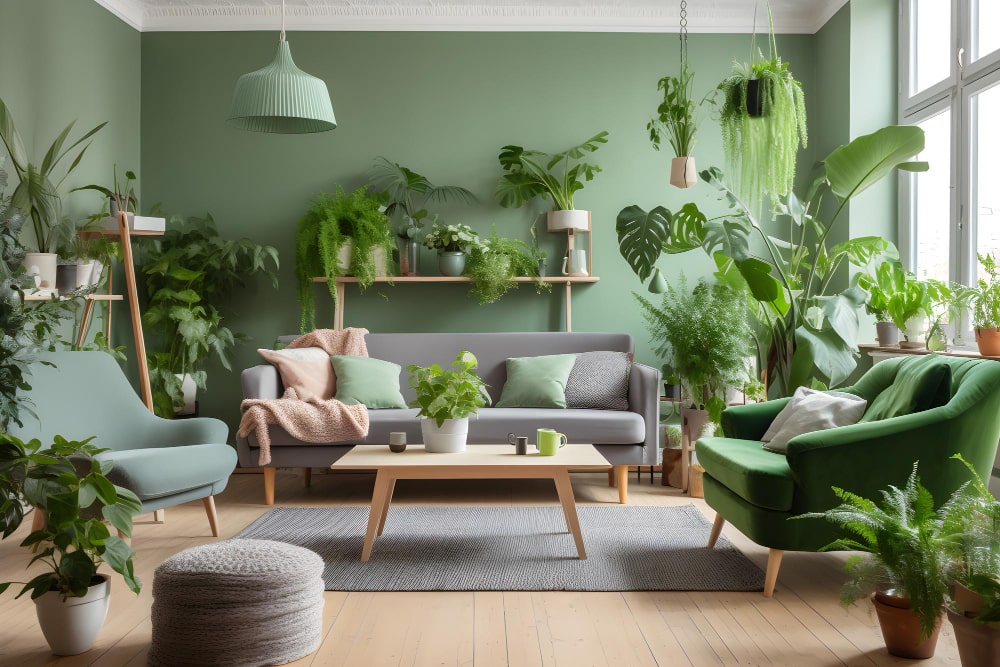 One of the quickest and easiest ways to add a breath of fresh spring air to your home decor is by working in some fresh flowers and greenery. From lush, bright bouquets from your local florist to stems of delicate blooms from the farmer's market, having flowers and plants in your home can instantly bring about a sense of warmth, vitality, and life. Display them in empty vases left around the house or better yet, take it one step further by making an indoor garden out of succulents and air plants. If your hands-on green thumb isn't up for taking on an indoor garden project, you can always invest in some fake potted greenery that looks so lifelike that you might even need to remind yourself it's not real!
3- Use Lighter Colours and Fabrics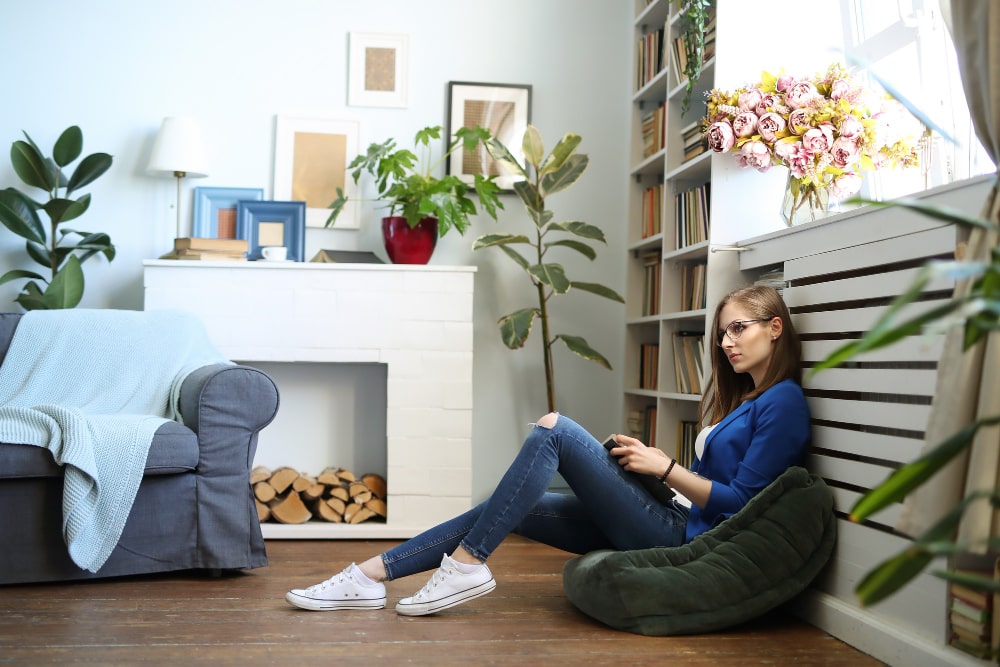 If you're making your home breezier and prettier this Spring, you can use lighter colours and fabrics to create a fresh and clean look. Lighter colours, including pastels, whites and beiges, will help make your home decor feel airy and inviting. Additionally, you can substitute lighter hues and breathable materials like cotton, linen, and canvas for heavier textiles that are usually associated with colder months. Your home will feel more laid-back thanks to these fabrics, which still offer the required comfort.
Try replacing some of your furnishings with natural wood pieces or wood accents that contrast lighter colours for the ideal balance if you want a more rustic appearance. This can be a wonderful way to embrace the aesthetics of Spring while maintaining a slight farmhouse feel. Using lighter colours and fabrics is an easy yet impactful way to help make your home breezier and prettier this spring. So go ahead and give it a try—you won't regret it!
4- Bring the Outdoors In
One of the easiest and most beautiful ways to make your home breezier and prettier this spring is to bring the outdoors inside. You can easily do this by incorporating elements like flowers, plants, trees, and other organic materials with things found right in nature.
a- Plants
Adding a few potted plants around the house will help to keep the air exteriors fresh and bring in an element of nature. The good thing about plants is that they come in various shapes and sizes, so you can find something for any room of your house.
b- Trees
If you're looking for a bigger way to bring nature inside your home, why not opt for an artificial tree? These are available in a range of styles to suit any room and offer a low-maintenance way to enjoy nature indoors. Plus, they look fantastic too!
c- Natural Elements
Lastly, don't forget about the 'little' things—adding items like rocks, branches and twigs in vases or bowls gives your home decor an extra touch of nature without completely dominating the space. Plus, using natural elements brings texture into your interior design too!
5- Let the Light In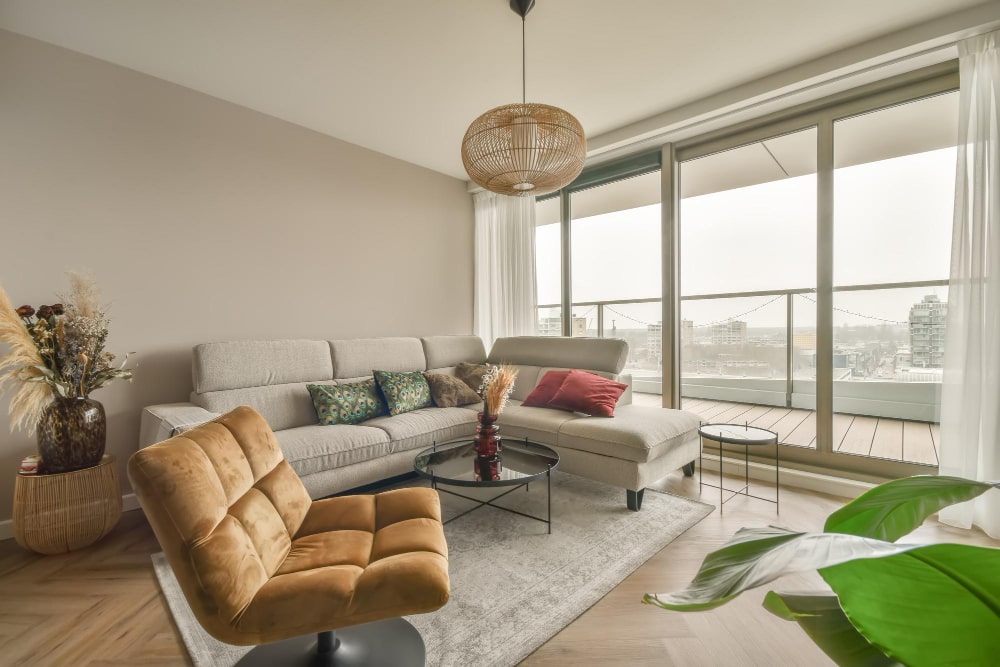 Light is an important element that can help you spruce up your home decor for the season. It not only adds a sense of warmth and coziness, but it can also make a space look much brighter and airier. Here are some of the best ways to let the light in this spring season:
Hang sheer curtains or window coverings that will filter light while still allowing plenty of natural sunlight to enter your home.
Place mirrors opposite windows to reflect and amplify the light around your home.
Install skylights in darker areas like bathrooms, hallways, and basements to let some extra sunshine in.
Open up dark corners with simple lamps, wall sconces, or chandeliers for additional lighting solutions.
The combination of natural and artificial lighting can create a beautiful ambiance throughout your home decor, instantly updating any living space with a cheerful glow. Brighten up your interior design this spring season by letting more natural light into your home!
6- Swap Out Your Bedding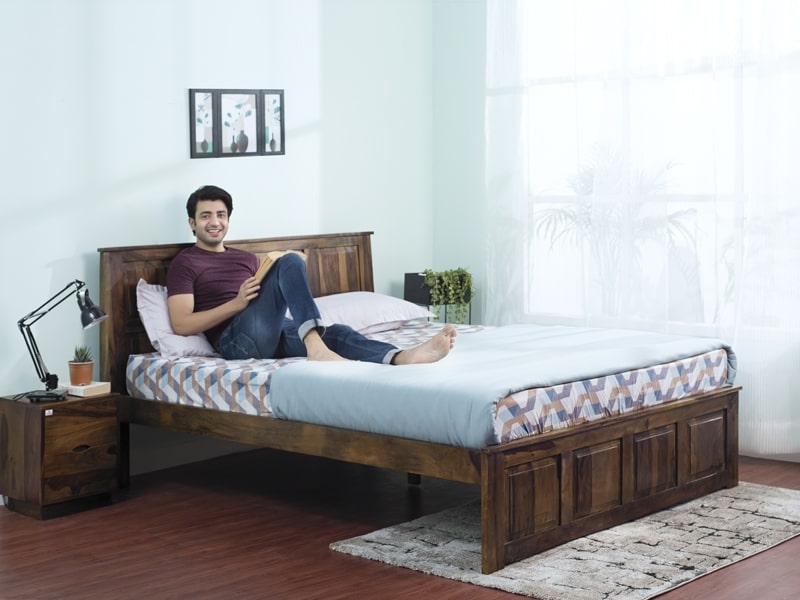 Adding fresh bedding is a great way to make your bedroom feel breezier during the springtime. So why not switch out those heavy winter blankets for something light and airy? Choose lightweight fabrics and colours that complement the rest of your home decor.
Some good bedding options for the spring season include linen, cotton, or even velvet which can be nice in cooler temperatures. You could also mix it up with different textures and patterns to create an exciting statement piece in your bedroom. Just remember that whatever bedding you choose, if it's too busy or too loud, it will take away from the overall aesthetic of your space.
7- Create a Spring Tables-cape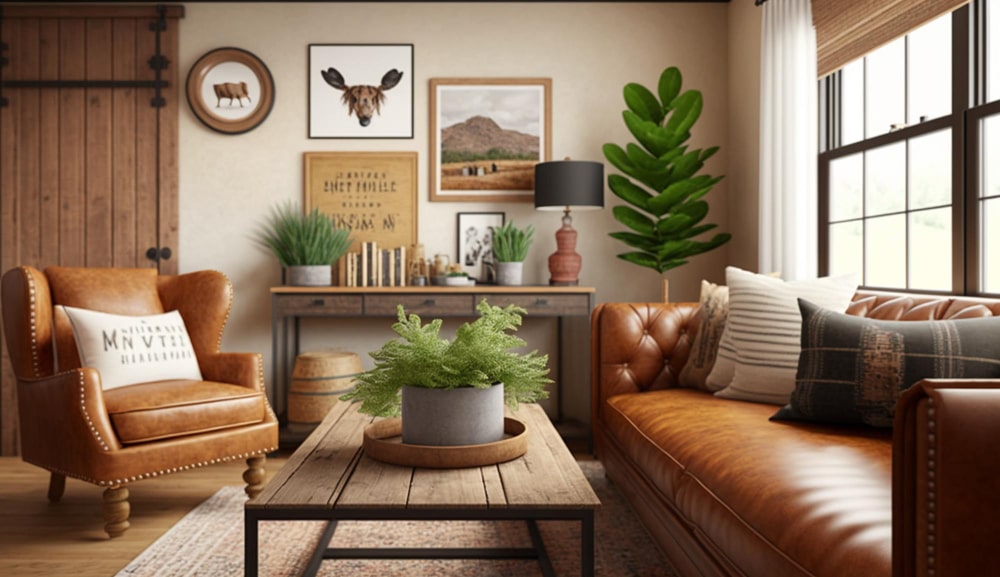 Creating a spring tables-cape will add a festive and happy touch to your home decor. Whether you're throwing a party or just enjoying meals with your family, adding a splash of seasonally inspired colour and decor is just the thing to lighten the mood. Here's how to create an Instagram-worthy tables-cape:
a- Tablecloth or Runner
Begin by selecting a tablecloth or runner; choose something that suits the occasion and invites further decor. You can make a statement with bold hues and geometric prints, or opt for something more subtle in florals and pastels.
b- Centrepiece
Now for the centrepiece! Designer tip: For larger tables, select two centrepieces instead of one — it'll create more visual interest. Choose from candles, glassware, vases with flowers or succulents, fruits…the list goes on! Just be sure to layer objects of different heights and textures to add depth.
c- Place Settings
Select plates, breakfast bowls and cups that either match or correspond with your centrepiece. The trick is to find pieces in shades that blend well together; for example, you could mix shades of green for a natural vibe or earthy tones for rustic appeal. Don't forget the table napkins—and if you're feeling extra creative, make your own napkin rings with natural materials from around your home such as twine, greenery and seasonal flowers.
Whatever look you go for—elegant, whimsical or urban chic—a well-crafted spring tables-cape will instantly bring life into any room!
8- Add Some Outdoor Seating
After a long and dreary winter, nothing says 'spring' more than sprucing up your outdoor space by adding some seating for you and your guests to enjoy. This year, why not make it extra special with comfortable, stylish outdoor furniture that'll last for many seasons?
The best part is, no matter the size of your outdoor area or budget, there's something perfect out there for you. From sofas to chaise lounges and chairs, there are plenty of options to choose from in a variety of materials and colours. Wicker and teak, for example, give a classic look that is perfect for any porch or patio. Or go bold with bright coloured resin pieces that will really stand out. And for added comfort on chilly spring nights, cozy up with some nice blankets or cushions to really bring colour and character to your space.
When it comes to creating an inviting outdoor area for entertaining friends and family this season, nothing beats comfortable seating that looks good too!
Spring is the perfect time to give your home a bit of a refresh. So why not take this opportunity to make it both breezier and prettier?
We've got plenty of tips and ideas to help you do just that. From decluttering and cleaning to adding fresh flowers and greenery, using lighter colours and fabrics, bringing the outdoors in, letting the light in, swapping out your bedding, creating a spring tables-cape, updating your front door, adding some outdoor seating, decorating your porch or patio, hanging some artwork, incorporating some DIY decor, organising your closet, refreshing your home fragrance—right down to all those little details.
In short: You name it; we've got it covered. By the end of this article, you'll have a beautiful home that is ready for spring!
9- Decorate Your Porch or Patio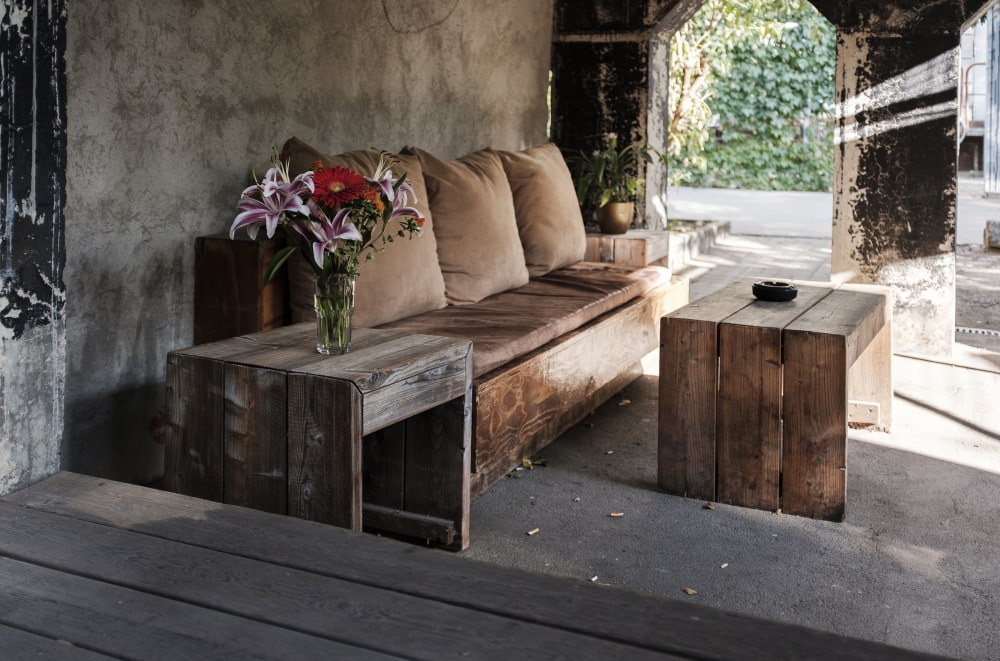 Are you ready to take your porches and patios from dull to delightful? Decorating your outdoor living spaces is a great way to bring life and energy to your home this spring.
a- Fun Fabrics
Think of your outdoor decor like you would for any other room in the house: light, bright and cozy fabrics go a long way. That doesn't mean you need to go out and buy expensive outdoor furniture, though. You can update existing furniture by adding bold throw pillows or outdoor rugs or mats. Have fun mixing patterns and colours to create a cheerful atmosphere.
b- Unexpected Colour
Adding some unexpected pops of colour or patterns with can be very eye-catching. Things like colourful planters, patterned curtains, or framed artwork really help bring spring vibes into your space. Try mirroring colours you used indoors for continuity between outside and inside living areas, as well as picking up colours in nature (like floral blooms) for a more organic look.
Don't forget that outdoor lighting can also set the mood and make the area inviting after dark—it's just one more way to put the finishing touches on your patio decorations this season!
c- Hang Some Artwork
Don't forget to hang some artwork! Not only does artwork add colour and artistry to a space, but it can make it look more inviting and cheerful. If you cannot afford expensive framed artwork, don't worry—painting your own or searching for free art online can be great alternatives. You can even get creative by hanging your own photos, or by framing a few of your favourite postcards or prints from local galleries.
Tip: Don't just limit yourself to the walls! Consider propping up some artwork on the mantel or on shelves. Or better yet, create a focal point in a room by making an interesting arrangement of colourful artwork hung in the same area.
10- Incorporate Some DIY Decor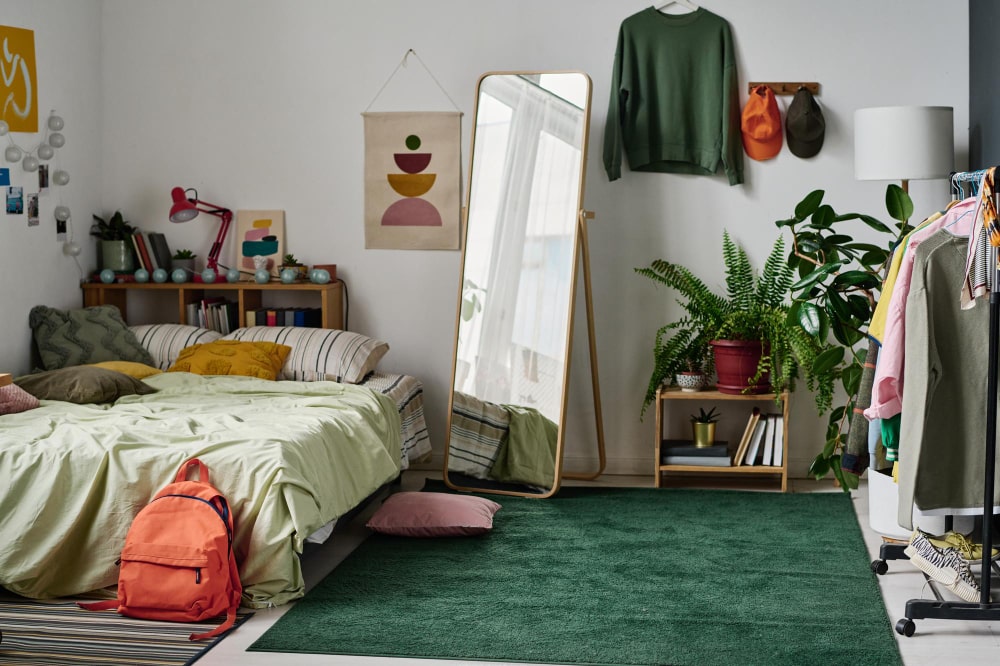 You don't have to break the bank to give your home a fresh look this spring. Incorporating some DIY decor is a great way to add personal touches, and it's a lot of fun too!
a- Ideas for DIY Decor
Here are some ideas for easy DIY decorations that you can make on your own:
Create wall hangings with macrame or string art
Paint existing pieces of furniture using chalk paint
Make decorative wreaths using found items around your house
Turn thrifted items into unique pieces of art
Hang floating shelves as an accent wall
Paint an accent wall in a vibrant colour
Make one-of-a-kind light fixtures using twine and mason jars
Make cushion covers out of fabric scraps
The possibilities with DIY decor are endless! And, who knows — with enough creativity and skill, you might even be able to create something that you can use in other areas of your house or even sell!
11- Organise Your Closet
Tackling your closet may seem like a daunting task, but it is an important step to bringing the breezy, spring vibes inside your home. Now is the perfect time to organise your space and give it an overhaul. The good news? This doesn't require you to invest in any major pieces of furniture or decor.
a- Start Small
Start by decluttering your clothing and accessories, especially items you no longer use or wear. If there are donations that need to be made, take this time to do it. You can also use this opportunity to reorganise and make sure everything is hanging in its rightful place—you'd be surprised how much better this can make you feel!
b- Get Creative
Once everything has been decluttered and organised, think about ways you can spruce up your space. Hang some cute hooks for easy access to smaller items like bags, scarves or hats. Install drawer dividers so that it's easier for you to locate specific pieces of clothing or accessories when needed. A new storage bin may also help keep things neat and tidy while still looking stylish!
c- Add Some Decor
Adding a few decorative pieces is a great way to personalise your closet even further. Perhaps add some new hangers or mix in woven baskets that hold small accessories and trinkets – the possibilities are endless! Ultimately, the goal should be for you to create a space that feels calming and beautiful regardless of what's happening outside.
12- Refresh Your Home Fragrance
Refreshing your home's fragrance is one of the more subdued methods to give it a fresh look and feel. Any room will smell better when you add a pleasant fragrance, whether you use potpourri, scented candles, or aromatherapy oil diffusers. A room can feel airy by using a light, springtime fragrance.
Try some of the fantastic home fragrances available, like:
Lime Basil & Mandarin for a citrus-inspired fresh aroma.
Jasmine and Cedar-wood for an earthy tone
Lavender and Rosemary for a clean and calming aroma
French Vanilla for a bakeshop smell that will put you in the mood for baking up some goodies
These are just some ideas—the possibilities are endless! Choose something that speaks to you and fits the mood of your home. With the right scent, you can make your home inviting and cozy all year long.
13- Don't Forget the Details
The devil is in the details, and making your home breezier and prettier this spring is no exception. You don't have to spend a lot of time (or money!) getting the details right, but making sure they are taken care of can go a long way.
Some details you might not want to forget include:
Making sure all of your decor pieces are clean and tidy
Replacing rough bath mats with something softer
Changing out kitchen towels for brighter ones
Adding vases with fresh flowers or greenery
Buying new pillows or throws for living areas
Arranging framed photos nicely on shelves
Replacing heavy drapes with lighter curtains
Adding scented candles or diffusers for a pleasant aroma
Adding feathery throw pillows for a luxurious touch
Displaying some fresh citrus in a bowl on the kitchen counter
So don't forget the details! They may seem small, but they make all the difference when it comes to making your space look refreshed and beautiful this spring season!
With spring comes a wonderful opportunity to refresh and update your home. The best way to make your home decor breezier and prettier for the season is to start with decluttering and cleaning and then add fresh flowers and greenery. Lighten up the colours and fabrics to bring the outdoors in and don't forget to swap out your bedding and add some outdoor seating.
To finish off the look, hang some artwork and incorporate some DIY decor, organise your closet, refresh your home fragrance and add the finishing touches. Most importantly, don't forget to let the light in and open up the windows to enjoy the fresh spring air!