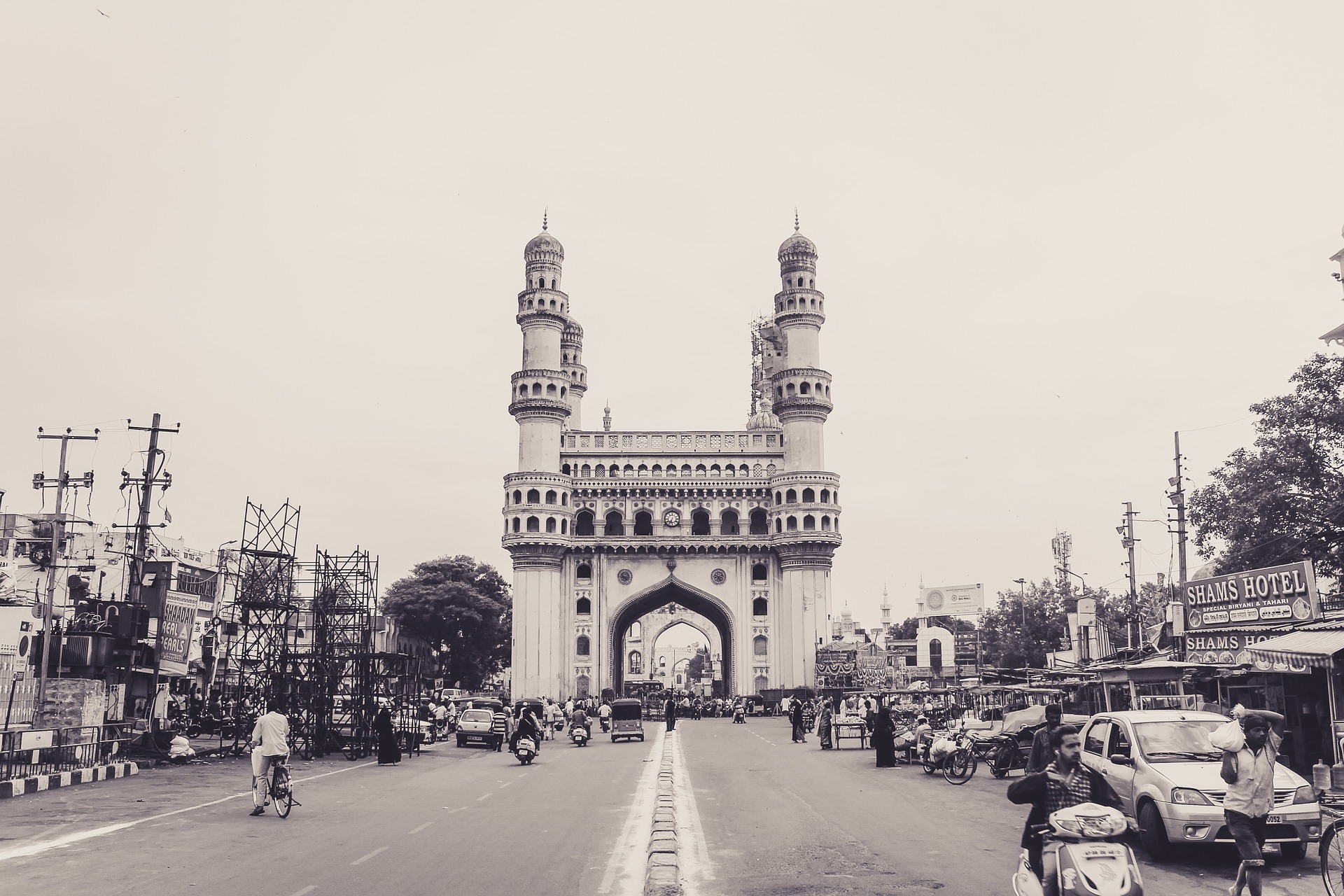 These days, Hyderabad may seem like a city mostly frequented by tech employees and businessmen. The city was, however, at the center of the Indian medieval history, and the only place where diamonds were mined in India. Today in Hyderabad, old bazaars and mosques coexist with new malls and office buildings in perfect harmony. It's these contrasts and glimpses of a grand past with promises of a successful future that make Hyderabad a city worth living. Here is a list of places you can choose from if you want to explore this, but wondering where to start from.
a- A Little History
Nestled in the heart of the Deccan plateau, Hyderabad offers a perfect blend of rich culture, history, and modernity. Once ruled by the Nizams, Hyderabad boasts architectural marvels like the iconic Charminar and Golconda Fort that transport you back in time. By day, immerse yourself in the city's vibrant culture at landmarks like the Mecca Masjid, Salar Jung Museum, and the Qutb Shahi Tombs. As night falls, catch a show at the Ramoji Film City, one of the world's largest film production facilities. When you're ready for an adrenaline rush, visit Snow World or Lumbini Park. From palaces to pearls, tombs to theme parks, Hyderabad has something for everyone. Experience the best of old and new in this city of contrasts. Your perfect getaway awaits in the City of Nizams.
1- Lotus Pond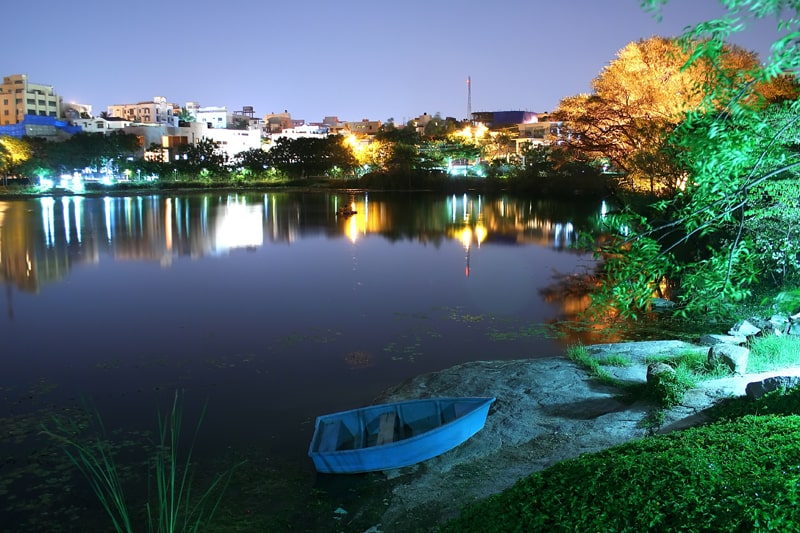 This place is ideal for couples looking for a fabulous day out with a variety of birds and lotus flowers around. Also, because of its calm surroundings, this is one of the best places to visit in Hyderabad. There is a pond in the center of the park. The walkway is well kept, where you can take a stroll. This place, particularly because of its nice weather, is one of the best hangout places. Surrounded by concrete houses, this spot nevertheless retains its greenery and beauty. If you're looking for a rejuvenating experience where you can relax and appreciate the scenic beauty, this place is your go-to place.
2- Hussain Sagar Lake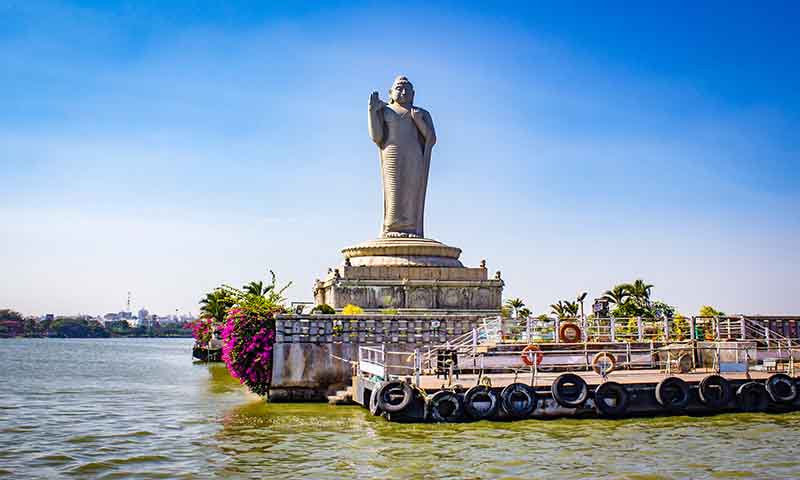 As the sun sets over Hyderabad, make your way to the Hussain Sagar Lake. This massive lake, built during the 16th century, offers spectacular views of the cityscape.
Find a spot on one of the many grassy knolls surrounding the lake and take a load off. Relax as you watch birds glide across the shimmering water and boats drift by. The Buddha Statue of Hyderabad, a massive stone statue situated in the middle of the lake, is illuminated at night and a striking sight to behold.
For some light entertainment, visit Lumbini Park, an amusement park located on the eastern shore of the lake. Take a spin on the giant Ferris wheel or hop on one of the many carnival rides. Or if you prefer, simply find a bench and do some people watching – there's always something interesting going on!
a- Evening Activities
As the evening winds down, grab a bite from one of the food stalls and snack on local favorites like samosas, pani puri or bhel puri while enjoying the peaceful ambiance of the lake. An evening by the Hussain Sagar Lake is the perfect way to unwind and soak in the city's charm.
Located 2 km from the city center of Hyderabad, this heart-shaped lake stretches over an area of 5.7 square kilometres. In the mornings or evenings, you can either go running around the lake or just have a nice time there, enjoying water sports and laser shows. In the middle of the lake, there is a Buddha statue which is also one of the main attractions. When out there, you may also enjoy boating in the lake. Lumbini Park, which is an amusement park next to the statue, is a well-known tourist attraction and it offers numerous entertainment activities. In the surrounding areas, there are some other parks where you can have picnics, or just spend some quality time. The view is breathtakingly stunning at sunrise and sunset and should not be missed.
3- Ramoji Film City in Hyderabad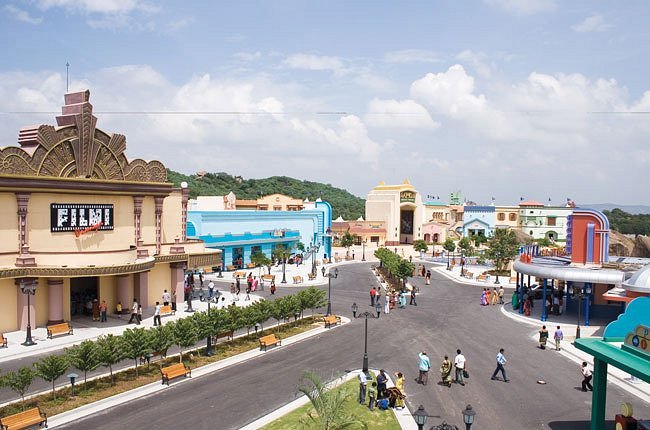 This is a great place to be for all film lovers. Founded in 1991 by Ramoji Rao, head of the Ramoji group, this film city, just outside Hyderabad is a spectacular getaway. It is spread over 2,500 acres and has been recognized by the Guinness Book of World Records as the world's largest film studio complex. Ramoji Film City can handle 20 movie units in one go and has a range of shooting locations including London Street, Hollywood signage, Japanese gardens, an airport, hospital, landscapes and houses, and labs.
a- Things to Do in Ramoji Film City
As it is one of Hyderabad's most popular places, it can be reached via a number of packaged tours and buses that leave from Hyderabad city daily for this place. Ramoji Film City is a fun and vibrant location where you can participate in a range of events, from film city tours to adventure sports and toy train rides to a range of gardens. Moreover, you can also walk through a variety of other sets and environments, such as royal courts and other places that have drawn inspiration from various architectures around the world. If you plan to visit this destination, be sure to keep a whole day aside for this fun-filled spot!
4- Birla Mandir, Hyderabad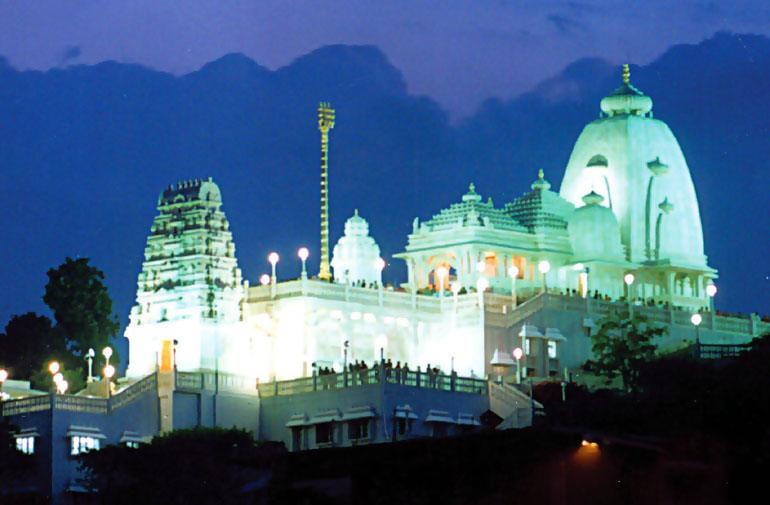 The Birla Mandir in Hyderabad is a great place for all those, who wish to escape the city life and immerse themselves in prayer and meditation. The Mandir is dedicated to Tirumala's Lord Venkateswara and is modeled after the Tirupati Balaji idol. It was established in the year 1976 by Swami Ranganathananda of Ramakrishna Ashram and was developed by the Birla Foundation. Since then, this place has been a haven for all those looking for a few hours of peace in the glorious countryside.
The temple itself stands on top of a 280-foot-tall hill called the Naubat Pahad, overlooking Hyderabad and Secunderabad as well as the Hussain Sagar Lake and is one of the city's best viewpoints. The Birla Mandir's main idol is eleven feet tall and made entirely of white marble, making it a truly magnificent sight to behold. The idol is also surrounded by a carved canopy of the lotus made of granite stone that contrasts well with the marble of the idol.
5- Jalavihar Water Park in Hyderabad

Want to beat the heat during summers in Hyderabad? Well, if this is the case, Jalavihar, the famous water park, located on Necklace road, in the heart of the city, is the coolest place to be. It is a family entertainment park with many fun activities for adults and kids alike. This park is an exciting place to be with friends and relatives and provides its guests with a countless number of trips. A variety of water games and rides offered are offered here, for both adults and children. Games like family slide, mini aqua vans, tilt bowl, mushroom umbrella, float slide, and pendulum are just a few of the options that will keep you engaged and entertained at Jalavihar all day.
6- Lumbini Park, Hyderabad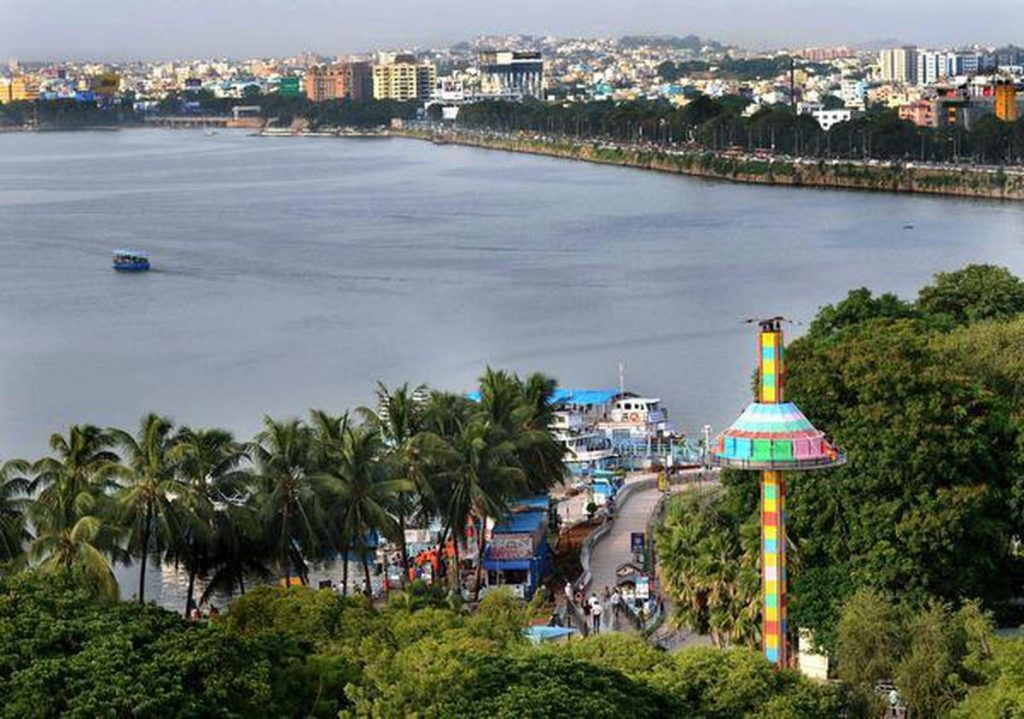 Lumbini Park is a stunning urban park named after the Lumbini garden situated in Nepal. The park is situated next to Hussain Sagar lake and has an artificial water tank. In the middle of the tank, there is a huge statue of Lord Buddha, which can be reached by paddle boats. Musical fountain shows are also held at the Lumbini Park and is an important tourist spot in the region. The Hyderabad Urban Development Authority created this park during the year 1994 and is spread over an area of 7.5 hectares.
Lumbini Park received its name from Lord Buddha's birthplace. Lumbini Park has many tourist attractions. It's a perfect tourist spot. This spot is ideal for picnic goers, lovers of nature, photo fanatics, wildlife enthusiasts, and adventure seekers. It's a perfect place to relax. One of the main attractions of this park is the Laser Show, which is hosted here every day. The best part of this show is when a 3D city is created using laser beams.
There is also a synchronized musical fountain in which the water from the fountains is released in accordance with the tunes of the music. The musical fountain is operational between 6.30 pm to 8 pm. At the entrance of the park, there is a large clock decorated with colorful flowers. This park also has a toy train and a wave pool exclusively for kids. Visitors can easily spend about 3 to 4 hours in this park and have fun.
7- Charminar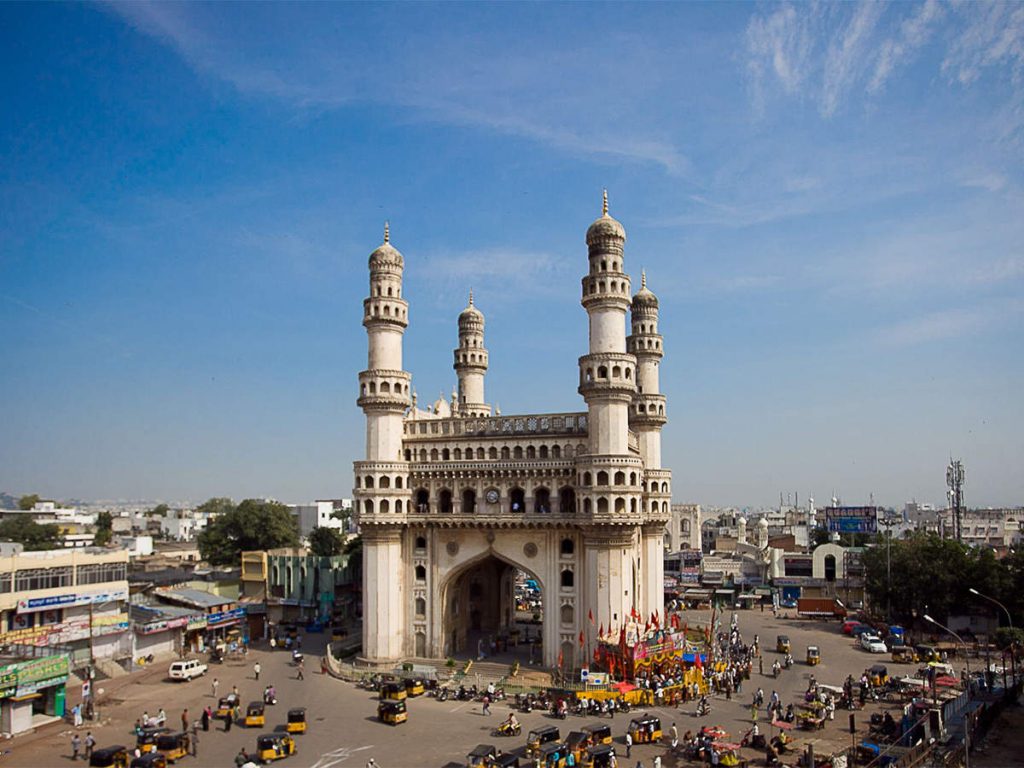 Situated right in the heart of Hyderabad, this place is this city's most prominent landmark. Quli Qutub Shah erected this monument to mark the establishment of Hyderabad. While it lies right in the city center with traffic and crowds crashing all around it, Charminar still manages to hold your gaze. It is also famous for the vast market around it called 'Laad' or 'Chudi' Bazaar. Since the monument was built in 1591, Charminar has been associated with Hyderabad's culture, standing tall, serving as a reminder of the glorious days of the past.
Charminar was constructed at the center of the city by Muhammad Quli Qutb Shah to commemorate the end of a deadly plague. Today, it's a bustling landmark surrounded by vibrant bazaars, with the melodious call to prayer from Mecca Masjid and the aroma of Irani chai filling the air.
Climb the spiral staircases for panoramic views of the city, then explore the markets for lac bangles, bidriware, and pearls. At night, Charminar is lit up, its arches and domes glowing like a jewel box.
It is a huge structure that has four minarets that many claim, reflect the first four prophets. Known as Char Kaman, towards the north of the monument, four gateways have been constructed in the cardinal directions. This structure was supposed to act as a Mosque or Madrasa. In its present form, Charminar has been added to the 'tentative list' of UNESCO World Heritage Sites along with Qutub Shahi Tombs and the Golconda Fort.
This is Hyderabad at its enchanting best, a perfect blend of history, culture and modernity. You'll soon see why Charminar holds such an important place in the heart of Hyderabad.
8- Chowmahalla Palace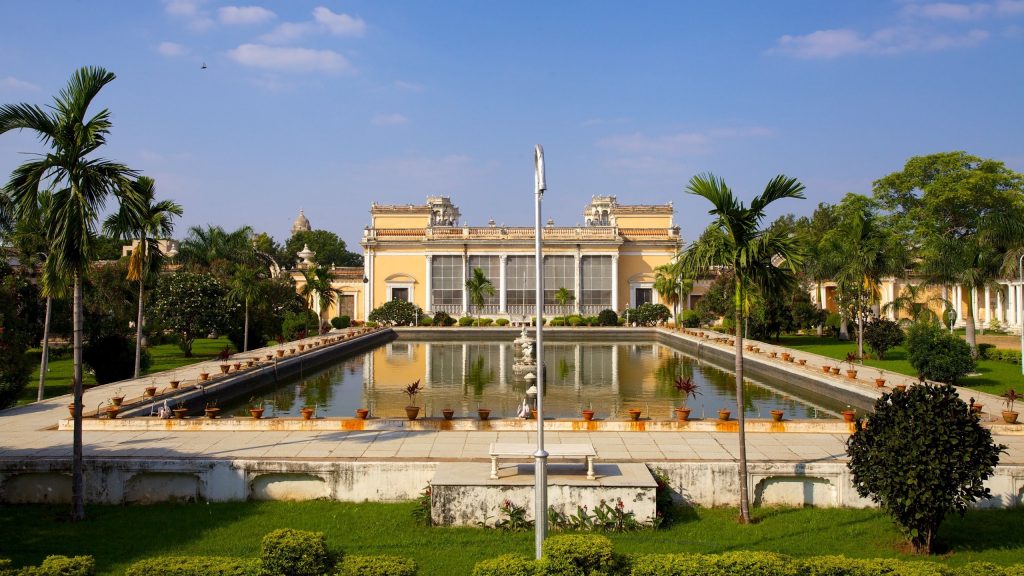 The Chowmahalla Palace was built between 1857 and 1869 in Hyderabad and was once the seat of the Asaf Jahi dynasty. Chowmahalla can mean 'Four Palaces' in essence. This splendid monument has two huge courtyards and a large dining hall which is known as 'Khilawat.' This palace, which once served as the official residence of Nizams of Hyderabad, still retains some of its past splendor. This property still belongs to the heir to the Nizams.
The Chowmahalla Palace architecture is a sight to behold. The facade itself is a delicate piece of the dome, arches, windows, and finely sculpted designs. The complex is elegantly decorated with lush vast gardens, various palaces, water fountains, Roshan Bangla, the Clock Tower, and the Council Hall. Here the Courtyard is a fairy tale venue for hosting the most elegant dinner parties, with the palace standing firm in the background.
9- Papikondalu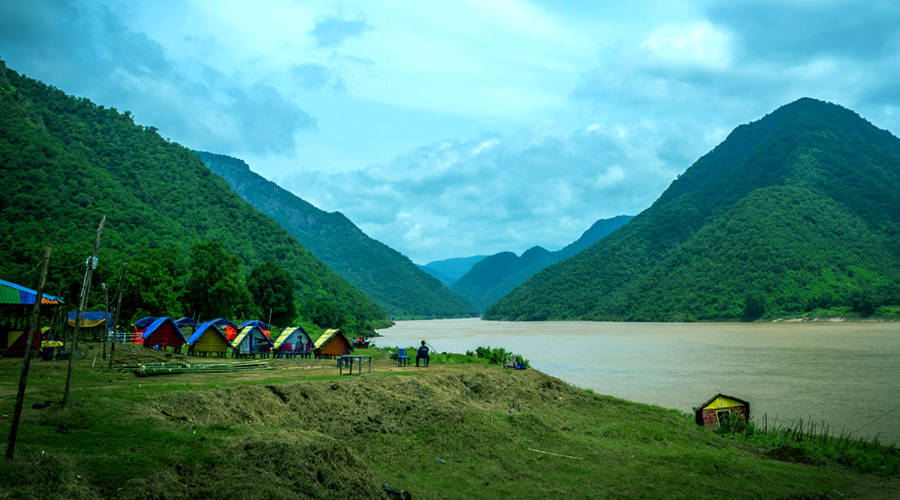 A very scenic spot on the East Godavari River, Papikondalu is one of the few nearby places around Hyderabad, one shouldn't miss. Though not very popular among tourists from outside, locals flock this place making it very crowded. Known as South India's Kashmir, Papikondalu is a hill range, which is one of Andhra Pradesh most-visited tourist attractions.
The stunning scenery combines with the lush green hills and scintillating skies. The river is clean and is a safe place to enjoy boating. Papikondalu also has a wide range of natural vegetation and wildlife, which stretches across three Andhra Pradesh districts. Papikondalu wildlife sanctuary is an animal shelter that includes wild animals like tigers, panthers, antelopes, hyenas, jackals, spotted deer, and several bird forms.
10- Wonderla Amusement Park, Hyderabad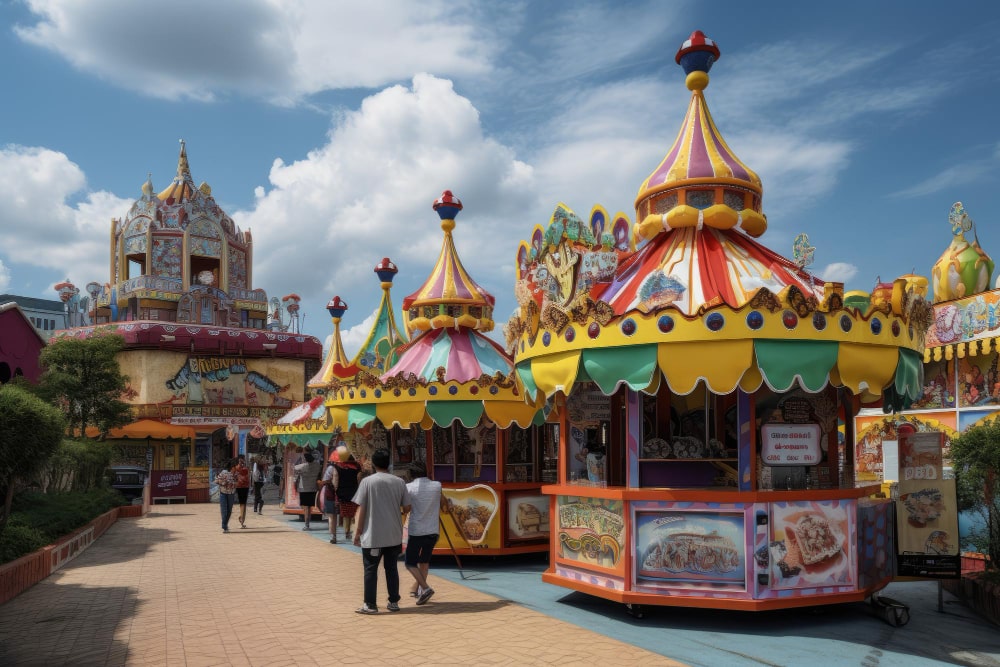 There is no better place to go out in Hyderabad and experience something different than this amusement park. Make sure to check out the most thrilling attractions the land rides and water rides. Keep a close eye on timings of various other fun programs around the park – whether it's the next wave at the Wave Pool, or the next dance at the Rain Disco, or the next performance at
'The adventures of Chikku'. Your visit here will be a non-stop fun ride. If family fun is on your mind, the Wonderla Amusement Park is the exact place to be. One of the city's most popular family attractions, Wonderla is all about fun and thrill. The amusement park offers a bunch of land rides and water slides to keep you fully engaged for a whole day. The Park's most famous attractions include the Wave Pool and the Rain Dance area. The best part is that there are a number of children's rides in the park, specially designed to keep the young brigade interested.
11- Explore the Magnificent Golconda Fort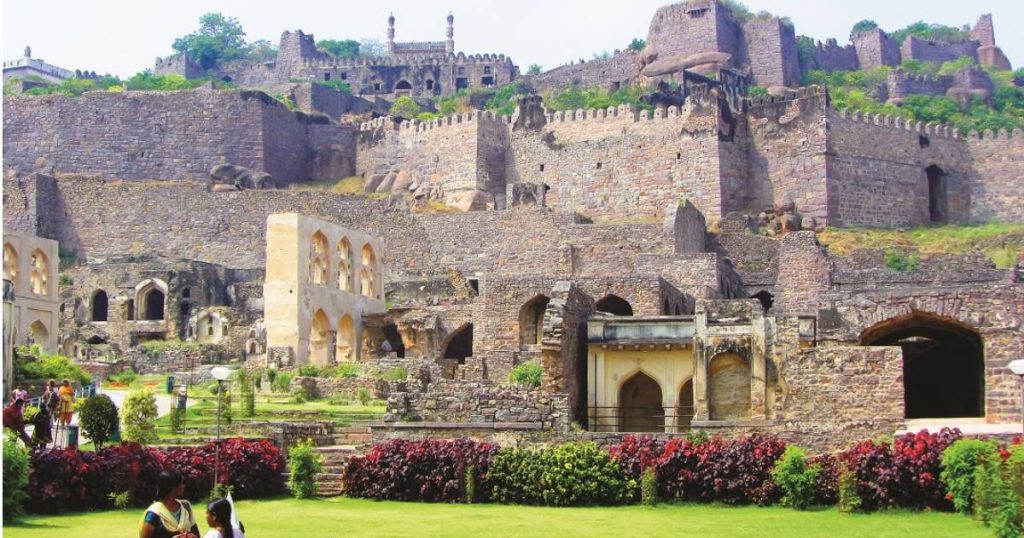 Once you've explored Charminar, head to Golconda Fort for a glimpse into Hyderabad's royal past.
Situated 11 km from the city, this massive fort was the capital of the Golconda Sultanate in the 16th century. You'll be awed by its eight gates and 87 bastions, each decorated with intricate designs.
The fort's architecture is an eclectic mix of Persian and Hindu styles. Walk through the ruins of the Durbar Hall, mosques, and barracks. Climb to the top of the fort to get panoramic views of Hyderabad's skyline.
At night, a spectacular sound and light show brings the fort's history to life. The tales of its diamond trade and the legends of the Koh-i-Noor diamond will captivate you.
A trip to Hyderabad is incomplete without exploring this magnificent fort. Its grandeur and history will leave you enchanted.
12- Find Solace at the Mecca Masjid
One of the oldest mosques in India, the Mecca Masjid in Hyderabad offers a peaceful respite from the city buzz. The massive hall can accommodate up to 10,000 worshippers, with its 15 large domes and two tall minarets. As you enter, the cool interior provides shade from the hot sun. Sit, reflect and find calm amid the chanting of prayers. Even for non-Muslims, the impressive architecture and serene atmosphere make it worth visiting.
13- A Treat for Science Enthusiasts: Birla Science Museum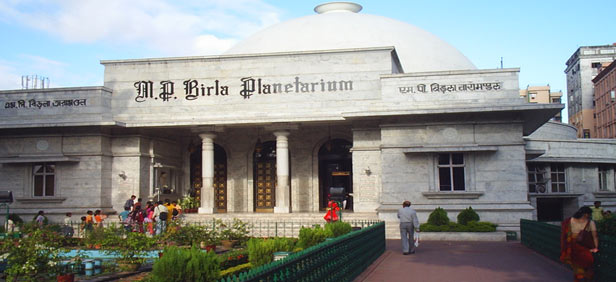 Have a passion for science? Then the Birla Science Museum is a must-see. This massive science center has over 300 interactive exhibits on topics like energy, mechanics, optics and more. You'll discover how scientific principles influence the world around us.
Some of the museum's highlights include:
A massive planetarium with shows on astronomy and space science.
"Prehistoric Life" – featuring giant dinosaur replicas, fossils and a glimpse into life on Earth millions of years ago.
An aquarium and "Butterfly Enclave" housing alluring fish, turtles and beautiful butterflies.
Over 20 themed galleries with hands-on exhibits on the human body, light and sound, transportation and other areas of science.
Whether you're 6 or 60, the Birla Science Museum has something to spark your curiosity about the natural world. Spend a few hours exploring all it has to offer—you're guaranteed to learn something new!
14- Salar Jung Museum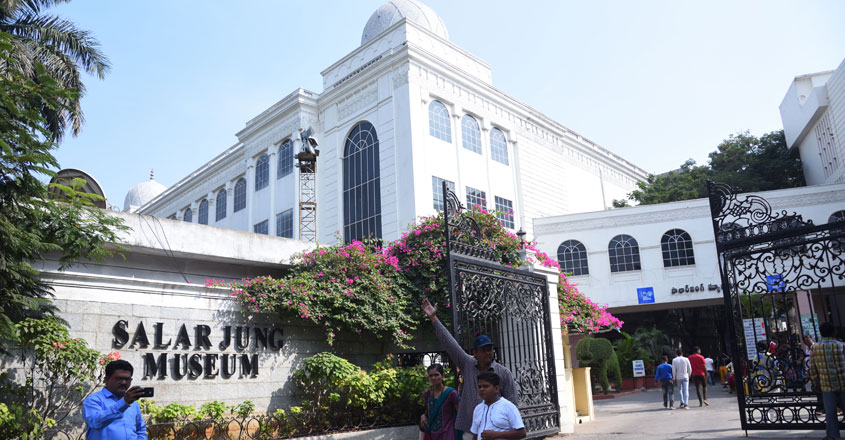 The Salar Jung Museum is one of the three national museums in India. It houses the world's largest one-man collection of antiques and artifacts in the world. Nawab Mir Yousuf Ali Khan Salar Jung III, the then Prime Minister of the seventh Nizam of Hyderabad, started collecting rare antiques and priceless artifacts from all over the world.
A Treasure Trove of Wonder
The museum has 38 galleries spread over two floors housing over 43,000 artifacts collected from various parts of the world. The collections include Indian art, Middle Eastern art, Far Eastern art, European art, statues, carvings, textiles, manuscripts, ceramics, metallic artifacts, carpets, clocks, and furniture from different countries representing different periods of history. The museum is a paradise for art lovers and history enthusiasts. Some of the must-see artifacts are the Musical Clock, the Double Statue, the Jade Book Stand, and Aurangzeb's sword.
15- Qutb Shahi Tombs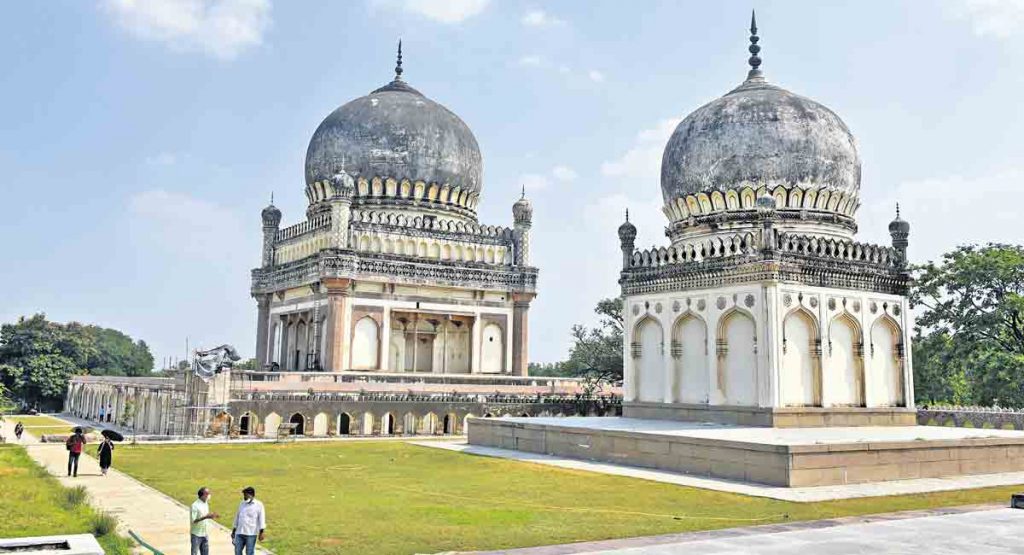 The Qutb Shahi Tombs are the final resting place of the Qutb Shahi dynasty. These magnificent domed granite tombs are located in a large park about a kilometer north of Golconda Fort.
Architecture
The tombs feature a unique architectural style that combines Persian and Indian influences. The domes and arched entrances are typical of Persian design, while the intricate stucco decorations and lotus motifs reflect Indian styles. The tombs are also renowned for their acoustic engineering—a person standing in the center of the main dome can hear the slightest whisper from any corner.
16- Nehru Zoological Park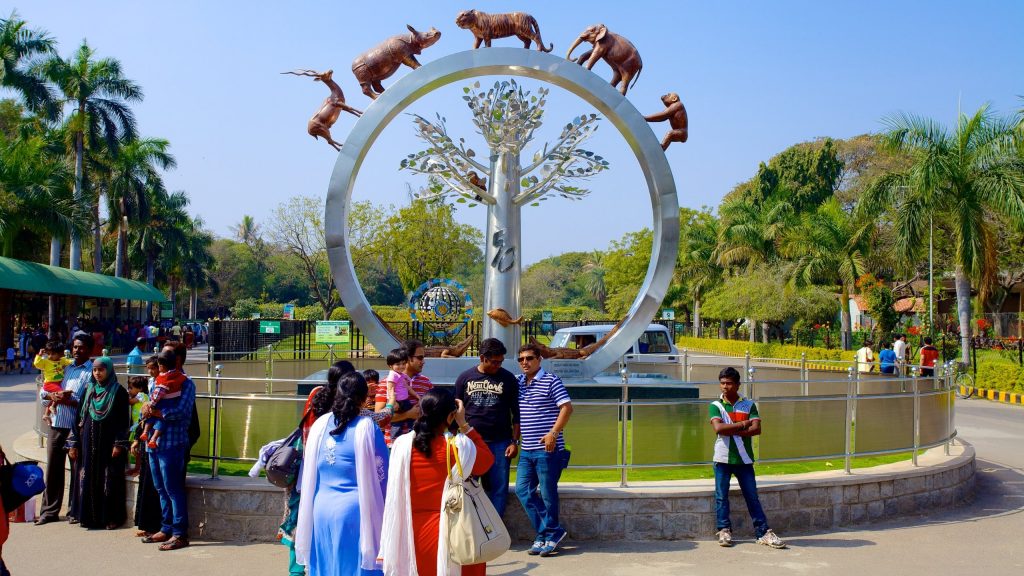 A Perfect Escape
The lush Nehru Zoological Park, set on 300 acres in the heart of the city, is a perfect escape from the hustle and bustle. Home to over 1,500 species including Asiatic lions, Bengal tigers, and giraffes, the zoo is divided into different sections representing various geographical regions like the African savannah and Himalayan highlands. Spend an afternoon wandering wooded paths and spotting your favorite animals in open enclosures modeled after their native habitats.
17- Falaknuma Palace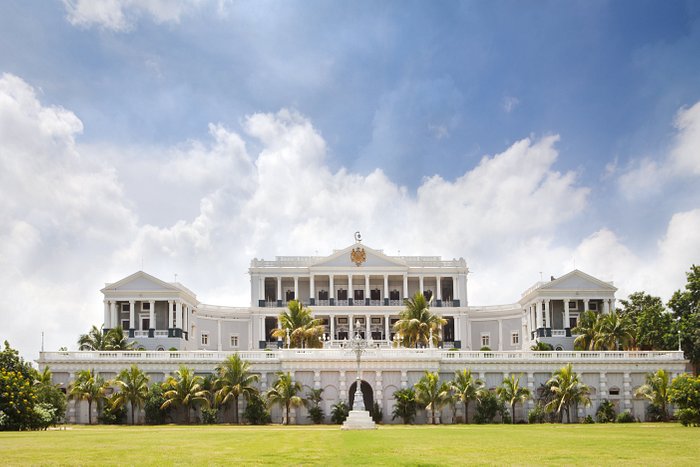 Once the royal residence of the Nizams, Falaknuma Palace is a rare blend of Italian and Tudor architectural styles. Built in 1884, the palace is set in 32 acres of beautiful gardens and offers a fascinating glimpse into the opulent lifestyle of the Nizams. The palace was designed by an Italian architect for the Prime Minister of Hyderabad and took 9 years to complete. It was purchased in 1897 by the 6th Nizam of Hyderabad and gifted to his son as a royal residence.
Today, the palace has been leased to Taj Group and serves as a luxury hotel. As guests, you can relive the glory days while enjoying a royal experience with lavish interiors, priceless artifacts, and top-notch hospitality. Escape the bustle of the city and journey back in time at this architectural marvel. A visit to this stately palace is a must when in Hyderabad!
18- Osman Sagar Lake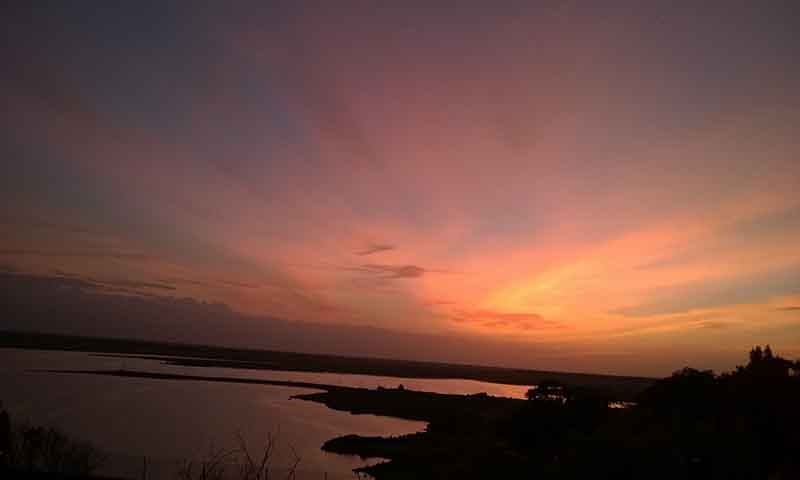 A Perfect Picnic Spot
Osman Sagar Lake, also known as Gandipet Lake, is one of the most popular recreational spots in Hyderabad. Surrounded by lush greenery, the lake is ideal for a fun family picnic. Pack a picnic basket with snacks and games, spread out a blanket, and spend the day enjoying the peaceful surroundings.
19- Chilkur Balaji Temple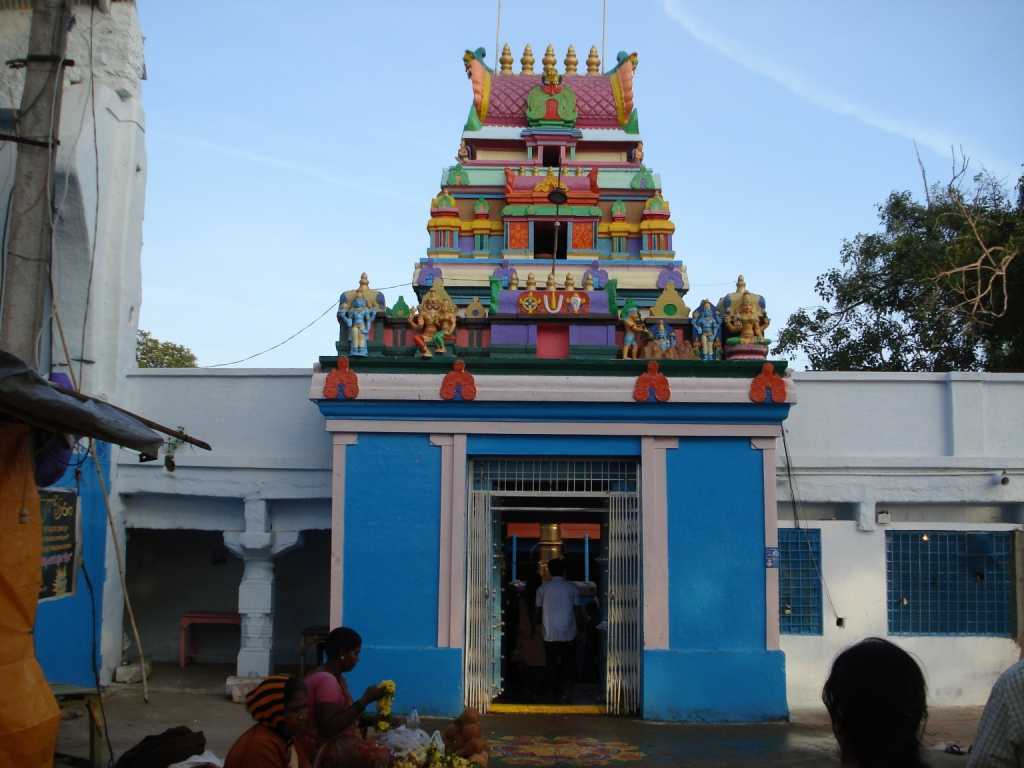 Chilkur Balaji Temple is one of the oldest temples in Hyderabad, located in Chilkur village. This temple is popularly known as "Visa Balaji Temple" as many believe that praying here will help in getting visas to travel abroad.
History
The temple was built during the time of Akkanna and Madanna, the uncles of Bhakta Ramadas. According to legend, a devotee who was unable to have children prayed here and was blessed with a child.
20- Sudha Cars Museum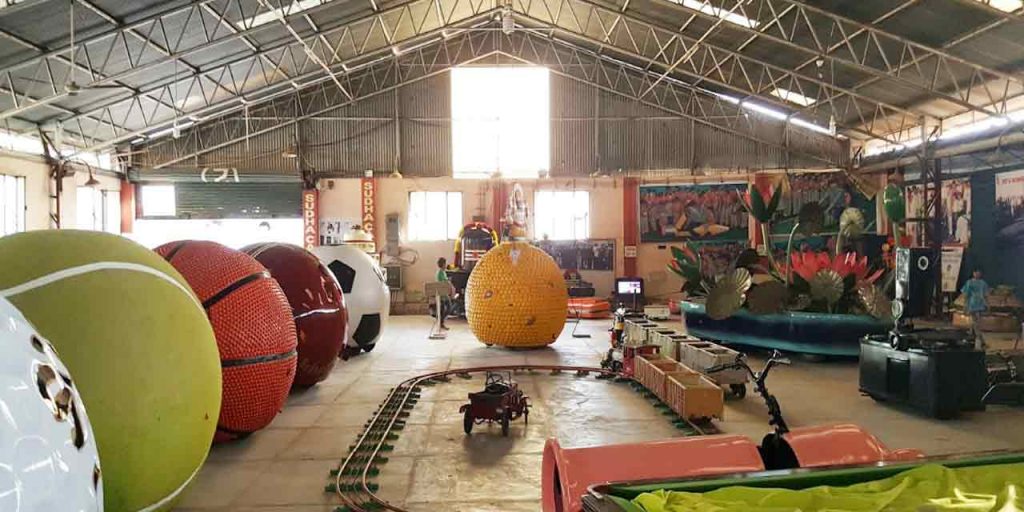 The Quirky Car Museum
The Sudha Cars Museum is a must-see for anyone interested in quirky vehicles. This one-of-a-kind museum houses the eccentric creations of automobile enthusiast K. Sudhakar. His handcrafted vehicles resemble everyday objects, from cameras to coconuts!
You'll spot a car in the shape of a cricket, guitar, burger and more. These whimsical rides are fully functional and have been recognized by The Guinness Book of World Records. A camera-shaped vehicle even has a lens that opens and closes. The ingenuity behind these automotive oddities is sure to spark your imagination.
This peculiar place provides an amusing look at one man's passion for cars and creativity. Be sure to check their website for the latest wacky wheels on display at this iconic Hyderabad institution. The Sudha Cars Museum is guaranteed to put a smile on your face and leave you wondering what else could be transformed into a car!
21- Shilparamam Cultural Society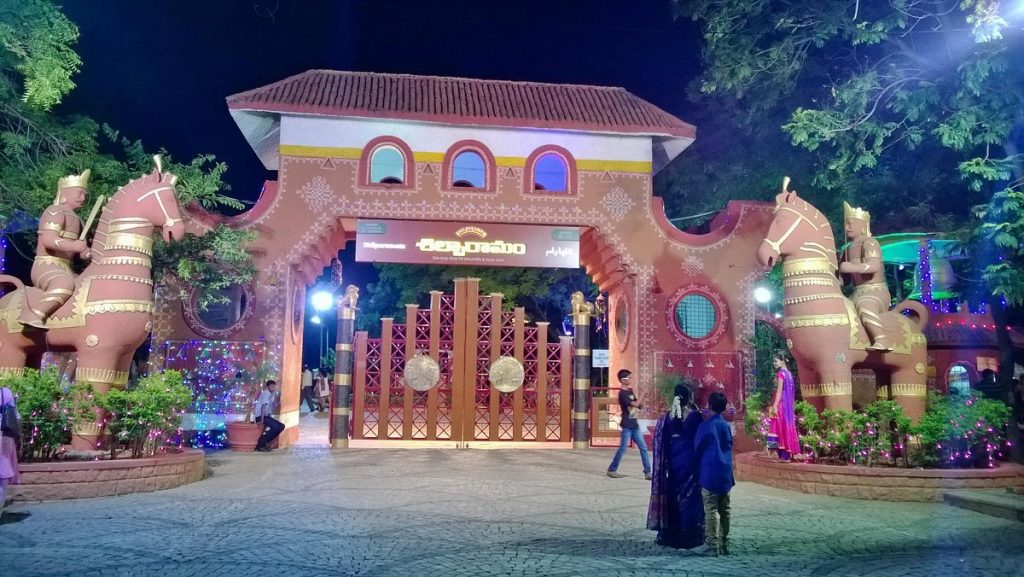 Shilparamam Cultural Society
The Shilparamam Cultural Society is a must-visit for anyone interested in arts and crafts. This open-air ethnographic museum depicts the vibrant cultural heritage of the Telangana region.
You'll find authentic replicas of village huts, each highlighting a specific tribal group's arts, crafts and way of life. See potters, weavers and other craftsmen in action as they create beautiful handicrafts using traditional methods passed down through generations. An amazing array of arts, crafts and textiles like Kalamkari, Bidri ware, Nirmal paintings and more are available for purchase, directly supporting the local artisans.
With colorful festivals, dance performances and cultural events held year-round, Shilparamam is a treat for all your senses. Lose yourself in the cultural heart of Hyderabad at this ode to the region's rich artistic legacy.
22- NTR Gardens
When in Hyderabad, you can't miss visiting the NTR Gardens. As the name suggests, this sprawling park was established in memory of the former Chief Minister of Andhra Pradesh, N.T. Rama Rao.
A Perfect Escape
Spread over 36 acres, the NTR Gardens offer a perfect escape from the hustle and bustle of the city. The lush green lawns, colorful flower beds and calming fountains make it an ideal spot for leisure activities like picnics, family outings or just unwinding in solitude. The musical fountain show in the evening is a spectacular sight with lights and music in sync. The park also has recreational facilities for activities such as boating, cycling and train rides for kids.
23- Hyderabad Botanical Gardens

Botanical Paradise
The Hyderabad Botanical Gardens, with its sprawling lush gardens and themed sections, is a nature lover's delight. Spread over 158 acres by the Musi River, you'll find themed gardens like:
The Palm Garden with over 140 species of palms from around the world.
The Cactus Garden housing over 100 types of cacti and succulents.
An Orchid House with fascinating orchids in full bloom.
A Butterfly Park where you can spot vibrant butterflies fluttering around.
A Rose Garden with captivating rose varieties.
The gardens also have scenic walking trails, a deer enclosure and an aquatic garden. Escape the hustle and bustle of the city in this urban oasis.
24- Snow World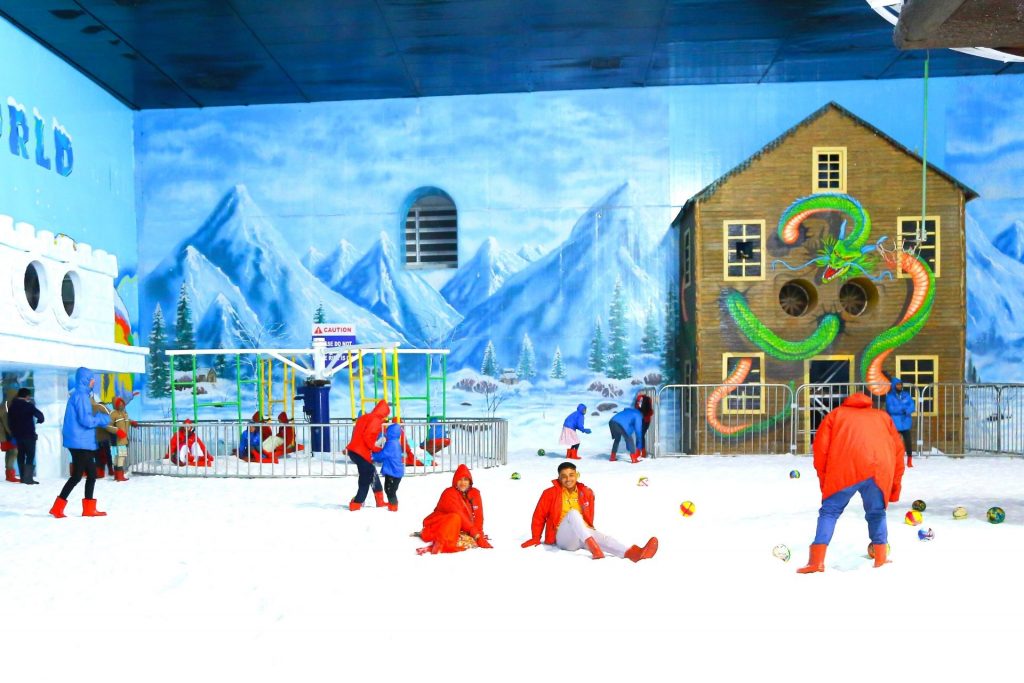 Chill Out in Snow World
When the Hyderabadi heat becomes unbearable, head to Snow World to cool off. This indoor snow theme park is the perfect escape from the sweltering summer temperatures. At Snow World, you'll experience real snow in a controlled alpine environment set at -5°C. Strap on your insulated shoes and jacket provided and play in the snow, go sledding or tobogganing, have a snowball fight with friends, or try your hand at skiing and snowboarding on the slopes. With all the snowy activities and rides, you'll forget you're in Hyderabad and feel transported to a winter wonderland. –
So if you are new to Hyderabad and have just shifted to this beautiful city, why not plan a visit to all these places and explore them on your weekends? It will help you to know more about the culture of this place and also get to know the locals. And if you are new to this city, our furniture and home appliances rental services in Hyderabad can help you settle down in this city, without burning a hole in your pocket. This is because we offer competitive prices on home furniture on rent in Hyderabad.
We not only help you with your furnishing needs but with us, you can also choose electronic home appliances on rent in Hyderabad. By visiting our website, you can browse through our categories of furniture and home appliances on rent in Hyderabad. Now that you know that you don't have to worry about spending a fortune on buying new furniture and appliances, you can relax and concentrate on your weekend plans and places to visit in this beautiful and historic city of Hyderabad.